13 essential bakeware items
If there's one trend that's captured the nation's imagination recently, it's baking. For all you baking mad folk, here's our baking guide to the right kit for novices and keen cooks alike.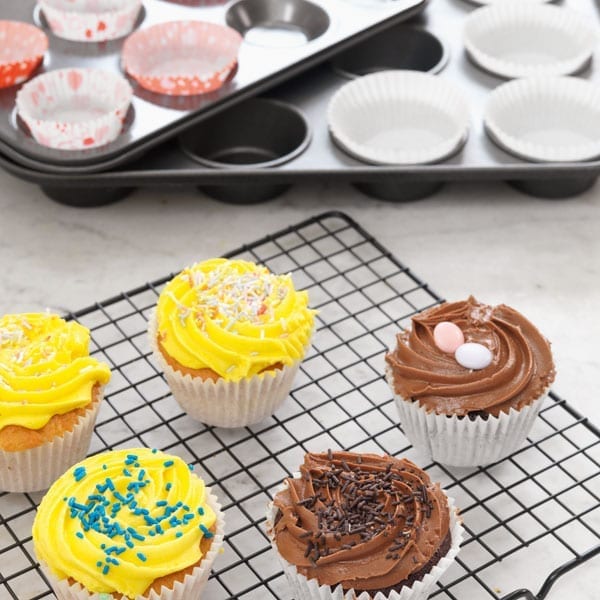 Our insider guide to the most reliable, best-quality bakeware, produced by the delicious. magazine food team, will set you on the path to success – whether you're already a fabulous baker or have only just been bitten by the baking bug.
So, here are our favourite, essential baking items, with a range of online stockists and stores. Also, scout your local cook shop – they should stock these high-quality items, or a similar version.
1 Cookie cutters
Cookie cutters come in a variety of fun shapes, so buy a set of round cutters, either plain or with fluted edges, but beware those that have double-sided edges as they can be uncomfortable on your hands. Try Bakeware's set of 11 Round Fluted Cutters, pictured (£8.50;
). For a retro feel, buy Hand-and-Heart Biscuit Cutters, heart pictured (£4;
). Most cookware shops will stock star and gingerbread-man cutters; adventurous bakers should visit Splat Cooking online, where you can find cutters shaped like everything from spiders to Aladdin's lamps (
).
2 Loose-bottomed deep tin
To make cakes that do not come in two halves – such as fruit cakes – you'll need a deep tin. Choose one with a loose bottom, to make the cake easy to release. A 23cm cake tin is the most useful size. We love the John Lewis 23cm Round Cake Tin (£14;
).
3 Baking sheet
This is a flat metal sheet used to bake pastries and biscuits that do not require moulding. Choose ones that feel heavy and have a lip, which makes them easy to remove from the oven. Cheap trays can buckle, leaving an uneven surface, so it's best to pay a little more for a better quality one. Go for the Silverwood Heavy Duty Baking Sheet, pictured (£17.57;
) or the Mermaid Hard Anodised Baking Sheet, (£25;
).
4 Springform tin
This tin has a spring-loaded clip that opens the sides – great for chilled cheesecakes that are hard to turn out. Check that the clip fits securely, or cake mixture may seep out of the bottom. We like the Meyer Circulon 23cm Springform Round Cake Tin (£13;
).
5 Loaf tins
While these come in a range of sizes, there is no ideal shape – it's up to you. For a compact loaf, buy the Silverwood Loaf Tin, pictured front (£9.09;
), and for a longer, thinner loaf, go for the Mermaid Hard Anodised Loaf Tin, pictured rear (£23;
). For a loaf tin similar to the straight-edged ones in the picture, visit
.
6 Hand-held electric beaters
A hand-held balloon whisk will do the job, but you can save yourself time and effort by using hand-held electric beaters. We love this Dualit Hand Mixer, which is robust and easy-to-use, and has interchangeable heads and five speeds (£54;
).
7 Mixer
Super-keen cooks can't do without a good free-standing mixer, which allows you to do something else while it's mixing. This one, a kMix by Kenwood, is our food editor's favourite (£299.95;
), but the KitchenAid Artisan Stand Mixer is also top-of-the-range and beloved of top chefs such as Nigella (from £389; also
).
8 Loose-bottomed tart tins
Used for both sweet and savoury tarts, flans and quiches, these tins come in a range of sizes, with thin or wide fluted edges. If you're only buying one, a 11" fluted tin is a good all-rounder. We like this Silverwood Deep 11" Fluted Flan with Loose Base (£11.99,
).
9 Rolling pin
Our favourite is the simplest wooden rolling pin, without handles – handles can get in the way, causing your knuckles to imprint the pastry/dough. Vic Firth Rock Maple Bakery Pin (£13.38;
).
10 Patty cake or fairy cake tin
This shallow metal baking tray containing six, nine or 12 indentations is used to make small cakes and pastries. You can line them with cake cases for fairy cakes, or grease the tin for jam tarts. We like the Mermaid Shallow Bun 6 Hole Tin (£5.99;
), which has an extra-large 'lip' for easy lifting.
11 Muffin tin
You can use this for both muffins and cupcakes. Recently, there's been a fashion for silicone muffin tins, but we prefer the traditional metal variety because they stay rigid and wash up well. This is a good, sturdy 12 Hole Muffin Tin (£7;
).
12 Cooling rack
Cooling racks allow heat to escape from all sides of the cake at once. If a cake is left in the tin or on a plate, the steam will condense onto the surfaces and make the cake soggy. We like this Extra Large Cooling Rack (£5.25;
).
13 Sandwich tins
These tins are made from steel or aluminium, sometimes with a non-stick coating, and are ideal for classic filled sponges. You'll need two so that you can bake the top and bottom halves of the cake at the same time. Sandwich tins are readily available. If you only want to buy one set, go for two 20cm round tins, as this is the most commonly used size. One of the best tins around is the Silverwood 8" Sandwich Tin (£9.25 each;
) because it has a loose bottom and a silver anodised finish that won't rust, peel or blister.
Fabulous bakers: Serious bakers might want to invest in these specialist tins.
1. Bundt or kugelhopf tin: Used for making ring cakes (£9.99;
).
2. Heart-shaped tin: For Valentine's Day cakes (£6.95;
).
3. Tarte tatin tin: The upside-down apple tart is so good it needs its own tin (£11;
).
4. Swiss roll tin: A rectangular baking tin suitable for Swiss rolls and roulades (£11.99;
).
5. Vintage cake tins: Check out fab vintage cake tins (£22;
)
6. Brioche mould: For the classic semi-sweet French bread (£4.99;
)
7. Madeleine tin: Used exclusively to make light French cakes of the same name (£19.25;
).
Other baking essentials
For top results, use good-quality equipment. Start with a reliable pair of scales – we like the traditional 'Queen' scales from Weylux, which are manufactured by weighing specialists H Fereday & Sons, and offer a generous pan and great accuracy (£59.99, plus £12.99 for the weights;
).
You'll also need some measuring spoons – we like the Oxo Good Grips 4-piece Measuring Spoon Set (£7.91;
) – and an oven thermometer, which is important as ovens can vary by as much as 50°C. Lakeland makes a good one that can be hung on an oven rung or left standing on the shelf (£4.99;
).
Other must-have items include solid mixing bowls. We like the iconic bowls from Mason Cash (from £5.65;
The Cooks Kitchen
). Start out with a set of three varying sizes – ones that fit inside each other take up less space in the cupboard.
You'll also need a thin skewer (any cook shop will have one), a fine-meshed sieve – we like this sieve (£7.99
) – and a pastry brush (£1.99; also
). Spatulas, meanwhile, are ideal for scraping out bowls. We like Le Creuset Spatulas (from £4.50;
).
Subscribe to our magazine
Subscribe to delicious. magazine for HALF PRICE
Subscribe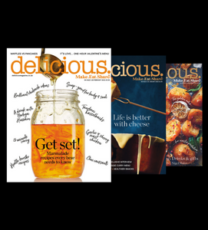 Join our newsletter
Packed with menu ideas, recipes, latest competitions and more...