15 recipes for a frighteningly fun Halloween
Forget that last-minute dash to the supermarket to pick up sweets for trick or treaters, prepare ahead with some scarily-good homemade recipes instead.
Whether you're hosting a spooky bash with friends, fancy shaking up some wicked Halloween cocktails or planning a party with the kids and want to bake up some treats they'll love, we have the recipes for you.
We've also got some ideas on how to use up the pumpkins after you've carved them.
These easy-to-make chocolate cookies are sure to go down a treat with the kids. With a choice of spooky ghosts or eerie bats – the whole family will enjoy creating these creepy afternoon treats.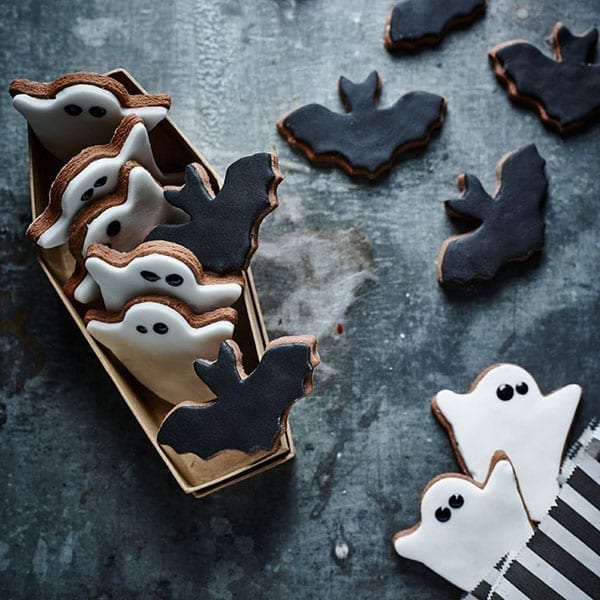 Embrace all hallows' eve with a truly spooky centre piece. The dark chocolate sponge is coated with peanut buttercream, drizzled with a rich chocolate ganache and topped with a clan of not-so-scary meringue ghosts, making it impossible to resist a slice.
3. Spooky mummy blackberry jam tart
Trick or treat? Go for the latter with this spooky blackberry jam tart recipe. It's guaranteed to shock, but it won't be long until people are tucking into a slice or two…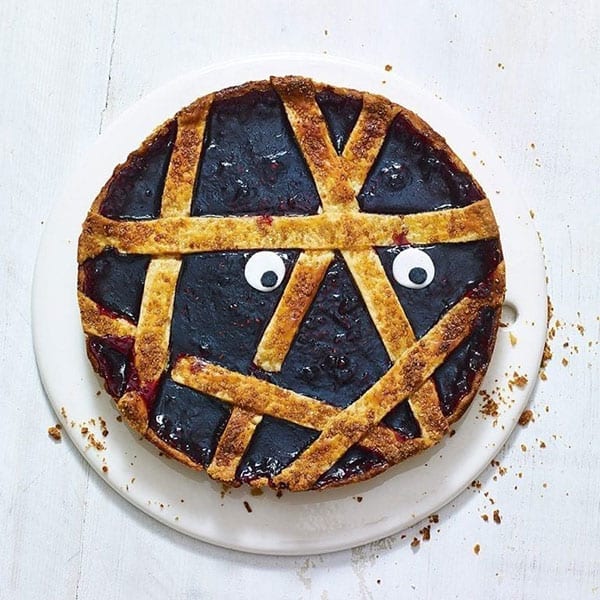 4. Spiced pumpkin muffins with cream cheese icing
What to do with all that pumpkin flesh? Turn your hand to making these moist and moreish pumpkin muffins, topped with a cream cheese icing for an added treat. Terrifyingly tasty.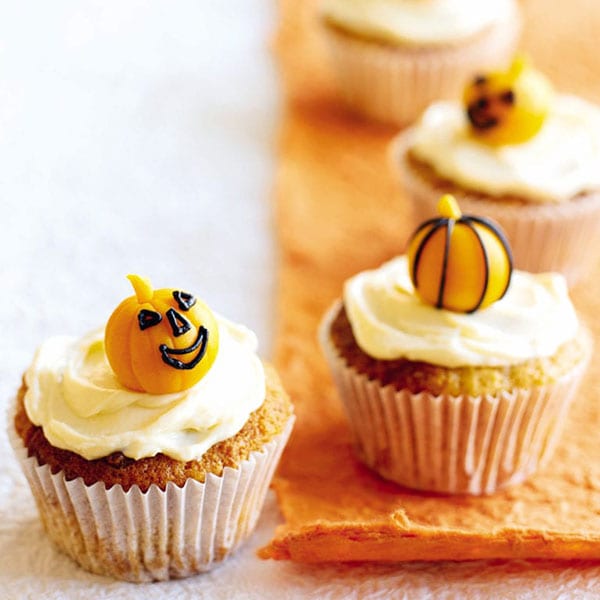 Toffee apples are the ultimate Halloween treat. Simple, but effective, get your five-a-day whilst enjoying the luscious glaze of sticky, sweet toffee.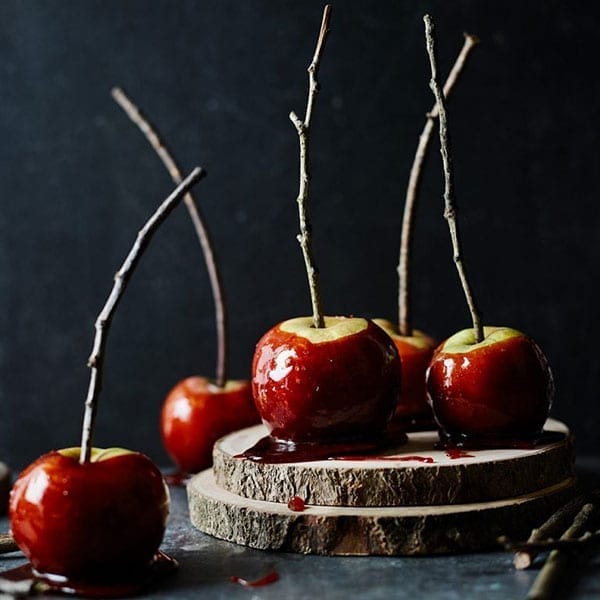 Forget about dead flies in a biscuit, whip up a batch of jammy dead fly pies and you've got a trick and a treat all in one!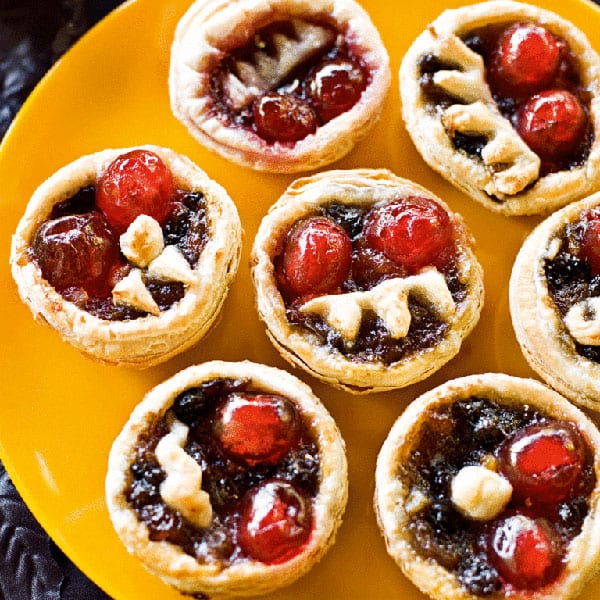 7.  Cheese biscuits skulls with tomato dipping sauce
A batch of these savoury biscuit morsels, swathed in parmesan and served with a punchy tomato dipping sauce, are so moreish that they'll vanish before you know it.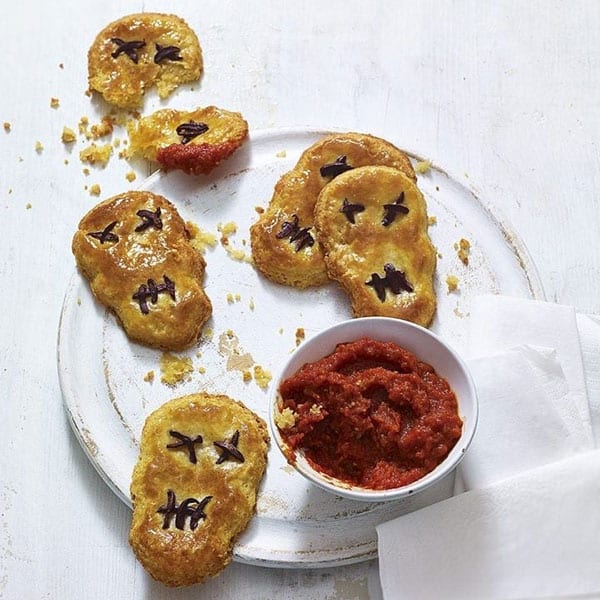 8. Toffee apple sticky toffee pudding
An autumnal twist on classic sticky toffee pudding – what's not to love? The sweet addition of toffee apples makes this pudding a stellar centre piece for Halloween celebrations. Destined to draw in crowds.
If you want to top with the toffee apples, find the recipe for them here. You can make them up to a day ahead of the pudding.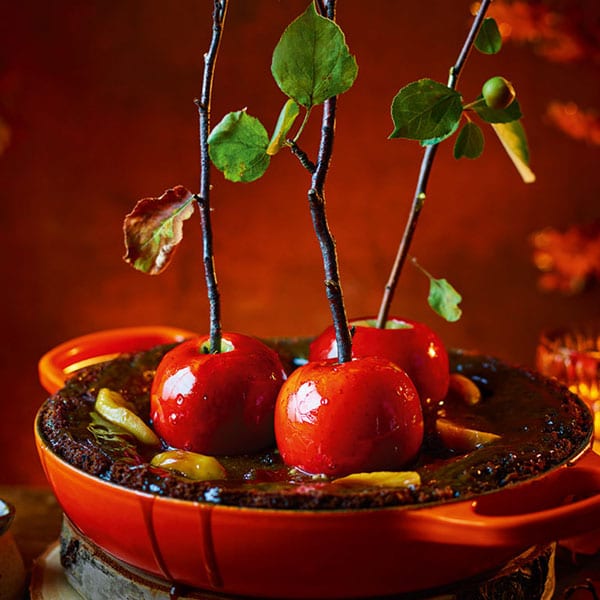 The perfect trick this Halloween – gooey jelly worms on a bed of crushed Oreos are great to make with kids and mark a spookily sweet addition for any Halloween party.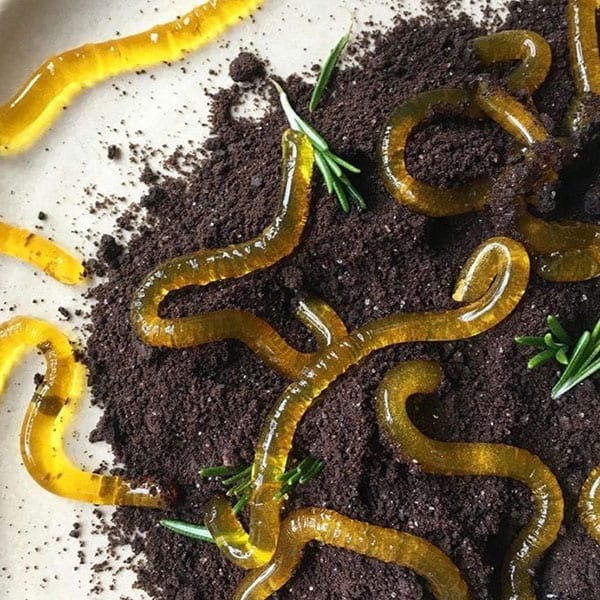 Watch how to make them here.
10. Witches' fingers with blood sauce
Nothing beats finger food at a party. Chicken strips are coated in crisps then baked and served with blood sauce (tomato ketchup) for dipping.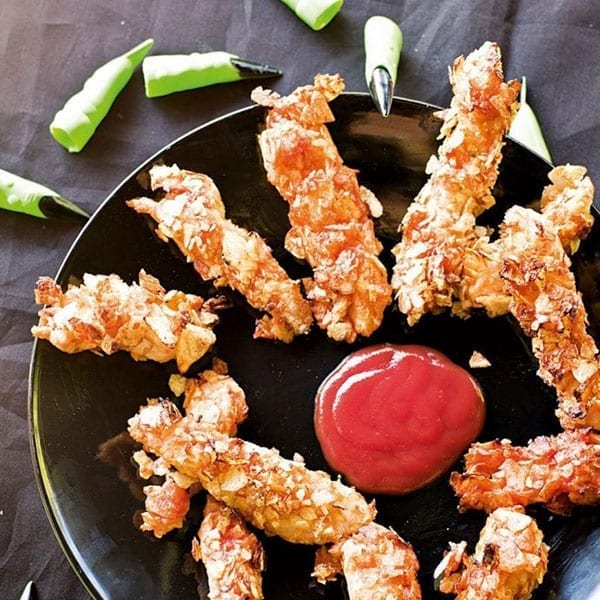 Easy to make and even more delicious easier to eat, a batch of these spooky spiderweb cupcakes will go down eerily well at any Halloween get-together.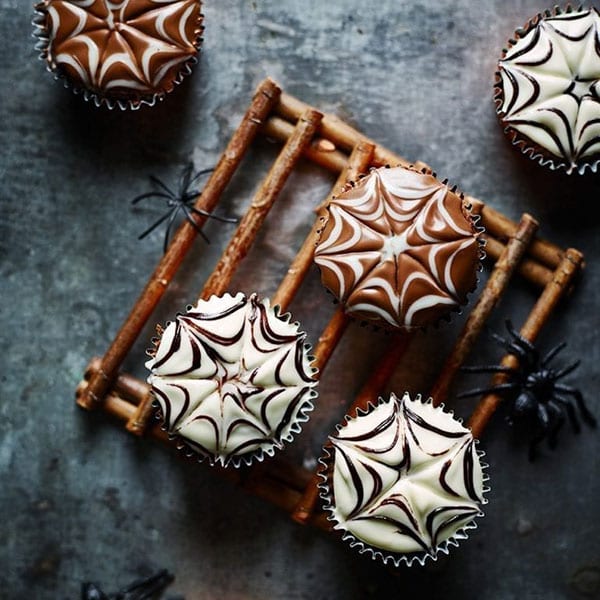 The ultimate accessory for any spooky party; get in the Halloween spirit with these simple, cheesy broomstick biscuits. Deliciously moreish and guaranteed to impress guests.
Check out how to make these cheesy morsels here.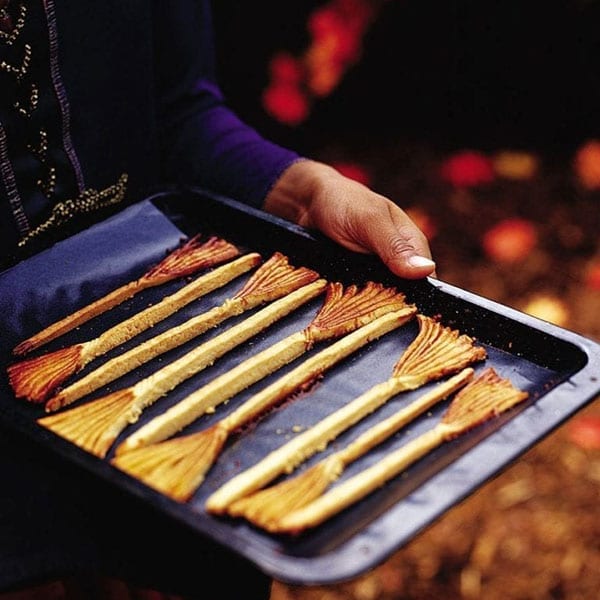 13. Sticky toffee pumpkin cakes
Dulce de leche, creamy pumpkin, toffee and cinnamon have come together in these moreish sticky toffee cupcakes.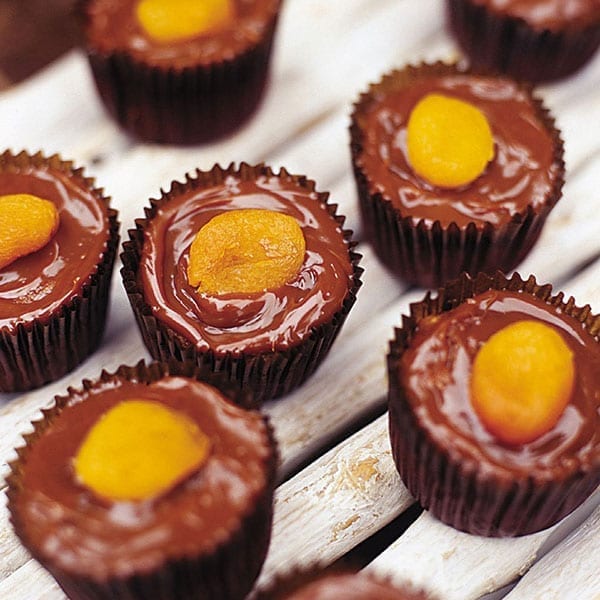 14. Orange cheesecake with Oreo crust and Aperol spritz
Cheesecake + Oreo + Aperol = the holy trinity of dessert. This vibrant boozy cake will do the rounds at any Halloween party and trust us, it tastes just as good as it looks.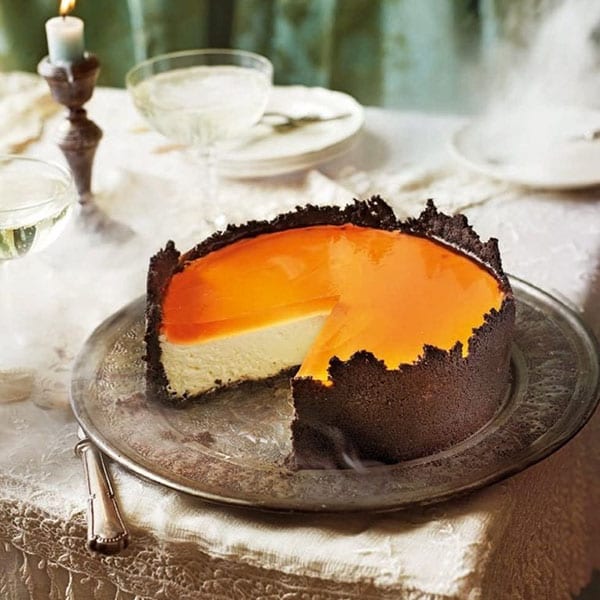 This show stopper (or should we say heart stopper?) blood-red velvet sponge is smothered in cream cheese frosting and topped with jagged shards of 'glass'. Not for the faint-hearted.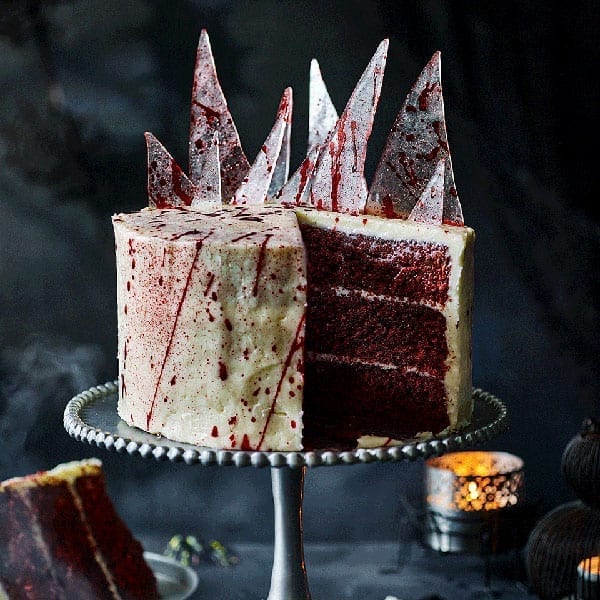 Still looking for more inspiration? Check out all of our tasty Halloween recipes.
Subscribe to our magazine
Subscribe to delicious. magazine this month for a half price subscription
Subscribe