Behind the scenes at Christmas time…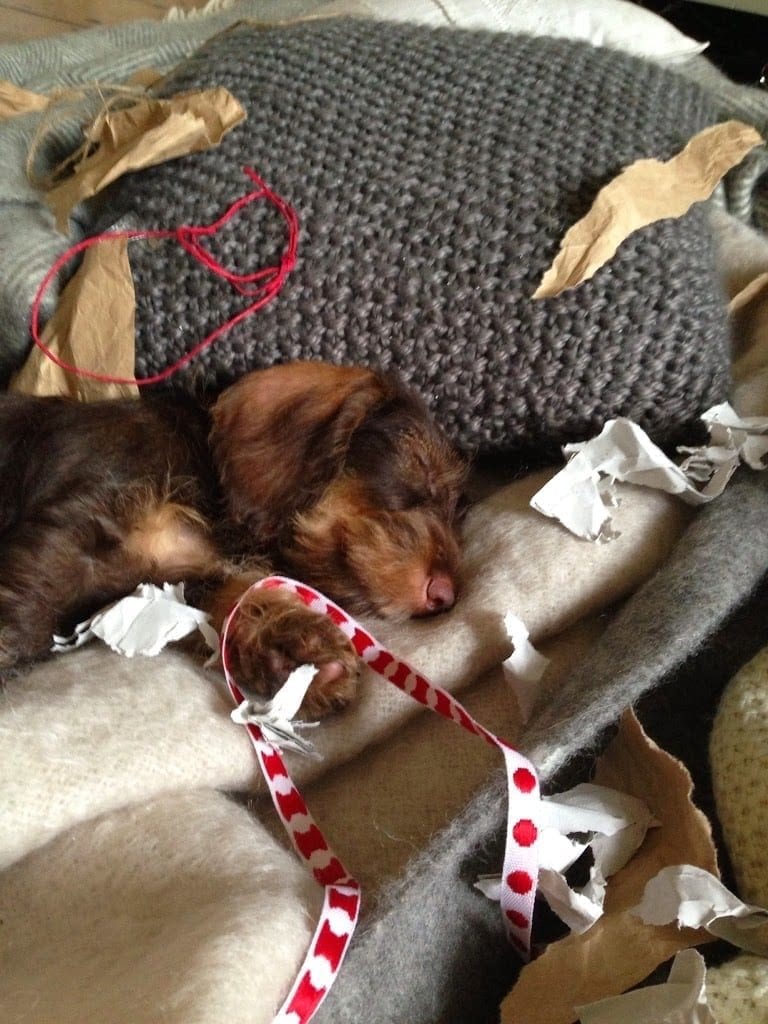 Exhausted from ripping up presents, Hilda finally sleeps
You might have noticed recently, a beautiful crackling ham looking out at you from a magazine cover as you browse the shelves. You might have taken the magazine down and flicked through, delighting in the cosy, twinkly feel, the comforting and festive recipes inside, thinking how lovely and tempting it all looks, now the nights are a bit chilly and there's winter in the air.
And after you've bought the magazine and had a proper look through, perhaps planned a potential Christmas menu and earmarked recipes for particular occasions, you might pause, and think how lucky the delicious. team are that they get to cook all this wonderful food at work, how fantastic it must be to work so seasonally with produce, to have a cast-iron excuse for indulgence in all that's best about winter.
But reader, that's where you'd be wrong.
Cast your mind back to August, when Britain was basking in the peak of the heat wave, sunning itself in parks and sipping on ice-cold rosé. We on the other hand, were roasting turkeys, simmering mulled wine, and steaming three dozen Christmas puddings for our taste tests. And if you're not a fan of Christmas pudding when it's sub-zero outside, imagine how it tastes in the sauna that was London this summer.
Our big Christmas lunch shoot happened just before the bank holiday in sunny, beautiful Kent. Those gorgeous shots of snowy twilight were in fact taken at around nine in the evening, when the August sun finally decided to go down and it was safe to get the fake snow out. The turkeys were very kindly donated from the deep freezes of Kelly Turkeys – this year's Christmas brood being barely out of short trousers at that time of the year. And as for where we managed to source 3kg of sprouts…well, there we have to thank the lovely people at M&S (and whoever creates the demand for sprouts in August that means they have to stock them).
Bob enjoys his Christmas knitwear
Luckily for us, we all love Christmas, although definitely some of us more than others – there was nearly a full-blown festive row about whether or not we could play carols. (The opposition won that one…scrooges…) And no matter how hot and sticky it gets, there's always a moment on the Christmas shoot, normally when the turkey starts to smell fragrant in the oven and the decorations come out, that you have to sit back and just say 'aaah'. Because even if it's 30 degrees outside, a bit of sparkle and warmth and festive cheer is always strangely welcome and comforting…although I definitely do think it's better in December…