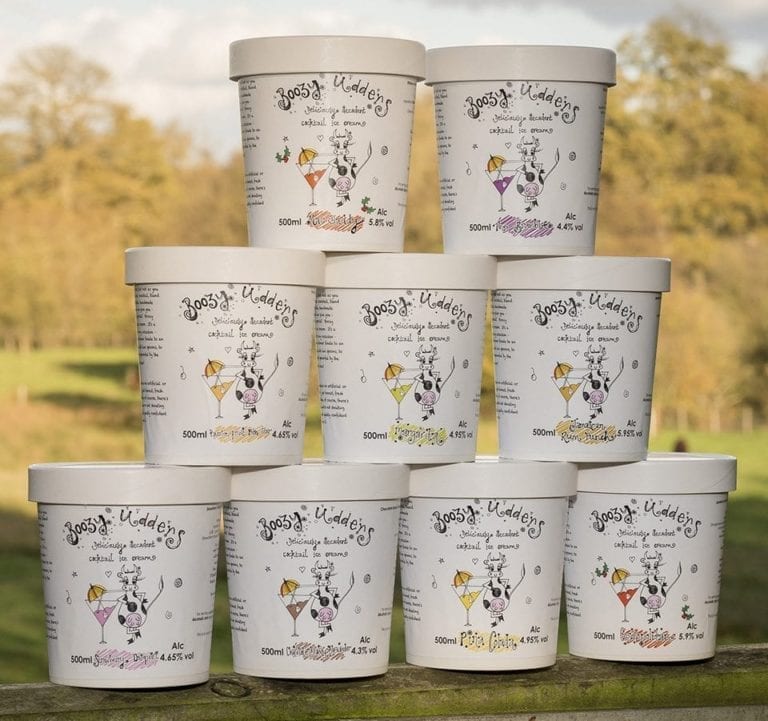 PRODUCER: Boozy Udders Ltd, Kent
PRODUCT: Boozy Udders Margarita Cocktail Ice Cream
REGION: London and the South East
CATEGORY: From the Dairy (Artisan)
WHAT THEY DO
Boozy Udders makes ice cream with an alcoholic twist. Inspired by the producer stories in delicious. magazine, Sarah Ward took her passion for creating cocktail inspired ice creams for friends and family and set up shop as Boozy Udders. 
All Boozy Udders' ice cream is handmade with cream from a local family business (Sarah is currently searching for a dairy supplier even closer to home to cut down on food miles). Flavours are seasonal, with Sarah finding great satisfaction in hand picking all the strawberries and blackberries for the summer and autumn flavours. Exceptions are made for the high-quality liqueurs and spirits that give Boozy Udders products their cheeky twist, and more exotic fruits – as Sarah says, "There aren't many flourishing lime or passionfruit farms round these 'ere parts!" The Margarita Cocktail Ice Cream, one of the first flavours Sarah created, is a blend of gold tequila, orange liqueur and hand-squeezed limes with no artificial ingredients.
Sarah produces all the branding design herself, with contributions from a friend with a talent for doodling, and materials are printed locally too. Boozy Udders sells to farm shops and at local events. With demand growing there are hopes to move to a food production unit, where Sarah would like to employ local mums like her. Having been inspired by other artisan companies' success stories, Sarah says, "I have to pinch myself with delight when I realise we could be set to make a successful business out of what, essentially, began as a fun experiment for friends!"
WHAT THE JUDGES SAID
The judges enjoyed the sense of humour behind Boozy Udders' great story and presentation of their products, and really liked the sense that this "characterful entry" was written by a real person. Sarah's commitment to sourcing local cream and desire to encourage mums in business were admired.
VISIT THE WEBSITE: boozyudders.co.uk