Cookery school review: John Whaite's Kitchen
The course: Festive Afternoon Tea (one-day), £180 including food and wine, with bakes to take home
Where: John Whaite's Kitchen, Wrightington, Lancashire
What it's like
Former Bake Off heart-throb John Whaite has opened a cookery school… near Wigan? I'm a Lancashire lass so I was thrilled to hear this. Down on John's family farm, inside a converted cattle shed, it's all white tiled walls, exposed beams and shiny induction hobs. John has big sister Jane Tasker to lend a helping hand. They make a fine team, with good sibling banter: Jane has everything prepped and ready, and deftly whisks away dirty bowls and spoons to wash up, leaving John to do what he does best – bake.
What I learned
We got straight into whipping up crème pâtissière for the gingerbread latte roll, sablé breton for the mont blancs, cranberry & orange scones and a heavenly scented filling for the fig, prune and stilton tartlets. Apart from the occasional demo, John baked with us. A qualified pastry chef (he trained at Le Cordon Bleu in London after Bake Off), he knows his stuff but isn't patronising. He explained the importance of properly whisking sugar into egg yolks (sugar is hygroscopic, so will draw out the moisture from eggs if not dissolved). "Prep is where many home bakers go wrong, so it's vital to get the basics right," he said.
I was introduced to ingredients I hadn't worked with before; chocolate mirror glaze (from cook shops, or you can make your own using the recipe on John's website) was a revelation – thick, glossy and festive.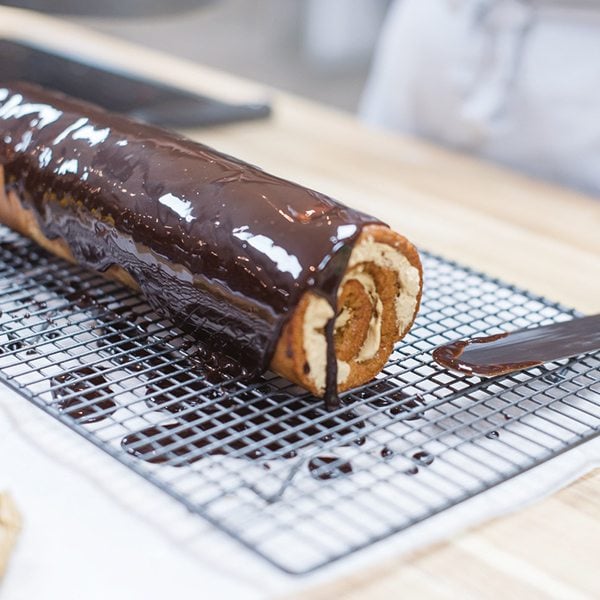 The verdict
This course is suited to those who like to impress and get ahead at Christmas (or any time). I was astonished at how professional everyone's treats looked – and how many each of us made. Best of all, they can all be frozen, so that's a big tick on the festive to-do list. I learned – and laughed – a lot. I'll be booking another course when I next visit the motherland.