delicious. Produce Awards winner: Thoughtful Producer
Meet the brother-and-sister team behind The Thoughtful Producer, who are changing the way chickens are reared. Their free-range birds are a taste that time forgot.
A quiet revolution is happening 
at Kings Coppice Farm in the countryside around Cookham in Berkshire. The surroundings are suitably peaceful, but brother-and-sister duo Tom and Sarah Copas are making a firm stand against mass-produced poultry in the best way they know how: by proving that there's a viable – and great-tasting – alternative to intensively farmed poultry. Disillusioned with the choices available to would-be chicken farmers, they decided to take action and do things differently. Thus the idea for The Thoughtful Producer was born.
"It's about doing things properly, 
in a traditional way," explains Sarah, who oversees sales and marketing, while Tom looks after the rearing and processing. "That means everything from the age of the bird, the welfare of the bird, the feed, straight through 
to dry-plucking after slaughter." 
When they set out, the pair weren't starting from scratch. They both grew up being roped into helping with their dad's turkey business, Copas Traditional Turkeys – but chickens were where the pair wanted to make their mark. "The turkeys are still special to us but we were never happy with the chicken we bought," says Sarah. "We knew so much about turkeys, so we thought, 'Let's relate that across to chickens.'" Tom chips in: "Dad had a go at rearing chickens in the past but he never cracked it, so we took 
on the challenge. But he still shares his opinion on how things should be done."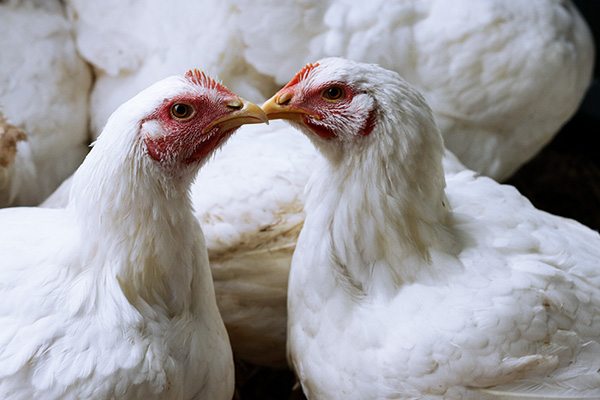 Bringing their idea of how chickens should be reared – and how they should taste – didn't happen overnight. "It took four trials over two years to get the breed 
right and more tests to refine the game hanging," says Tom. 
Sarah explains the difficulties of finding breeds to rear slowly. "Many chickens are attuned to growing quickly because of the pressure of industrial farming. And many traditional breeds have either died out or don't have a lot of meat on their bones." 
The white-feathered birds raised 
by The Thoughtful Producer are of the Ross breed. Sarah explains: "The Ross is 
a modern breed but we've found that they adapt well to our slower-growing methods. We've not yet found 
a traditional breed that can deliver the same flavour and build that our customers look for, but we'll continue to trial other breeds to perfect what we do."
The birds are all free-range, free to peck and scratch in the earth and forage for food to supplement their diet of cereal and maize. "We're currently trialling a number of other additions to their diet, such as 
herbs and apples, but there's nothing 
to confirm yet!" says Sarah. The birds 
in the Fabulously Free Range line (which were the ones that won the delicious. award) are reared to 9-10 weeks and 
the chickens in the Game Hung line are reared to 10-12 weeks (the average slaughter age for intensively reared broiler chickens in the EU is 6 weeks).
See our behind-the-scenes video from Kings Coppice Farm here… and wait until the end to see the most relaxed chicken we've ever seen!
After much trial and a bit of error, 
Tom and Sarah launched the first chooks to market in late 2015. Looking back on it, Tom says it was the best feeling: "It was exciting but also the most terrifying day since we started. All the theory was put into practice but we got 
some amazing reviews." For Sarah, the initial feedback from chefs and butchers in the area is her highlight. "Chef Tom Kerridge said our 
chicken knocked his socks off," she remembers. "That was phenomenal."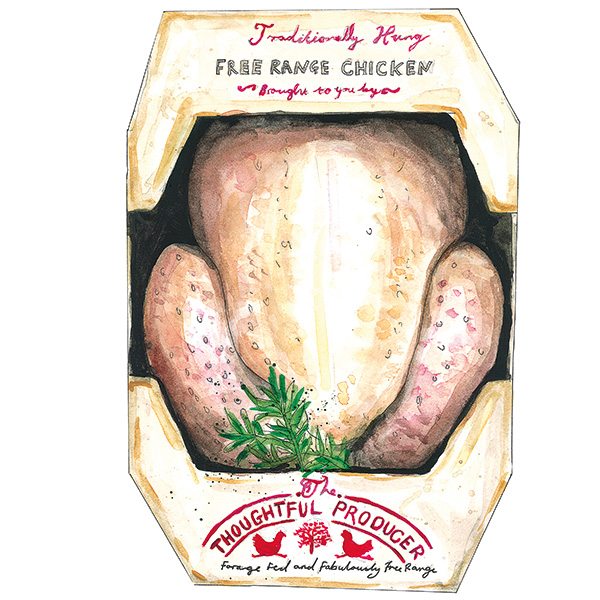 The pair hope that the taste of their traditionally reared chickens will knock the socks off home cooks, too. "People always say our chickens taste like chicken used to taste," says Sarah. And, funnily enough, those were pretty much the 
exact words the judges at the final of 
the delicious. Produce Awards, back 
in July, used to describe the simply roasted Thoughtful Producer chicken. 
"Ultimately," says Sarah, "our message to consumers is to buy better meat less often and support farms who are doing the right thing." And if you can have a top Sunday roast while doing that, all the better.
You can find our special recipe, roast chicken with lemon, oregano and olive breadcrumb stuffing, here.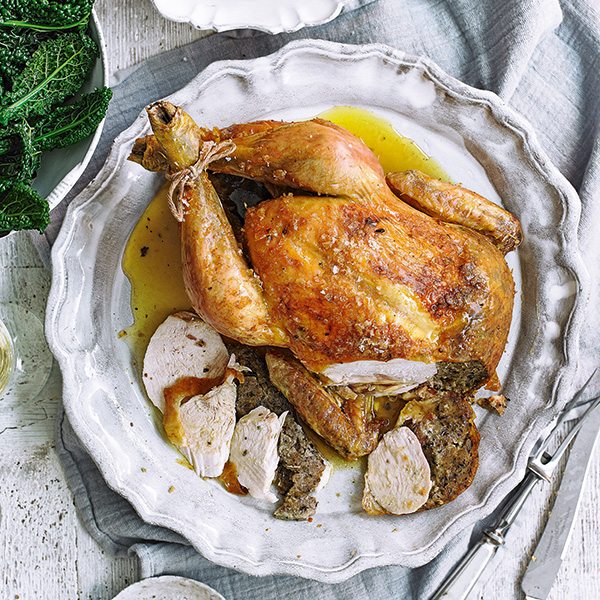 Find out more about the delicious. Produce Awards here.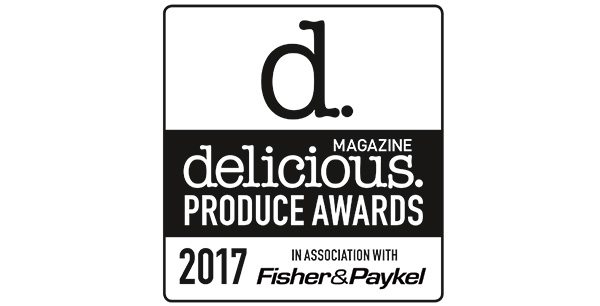 Subscribe to our magazine
Subscribe to delicious. magazine for HALF PRICE
Subscribe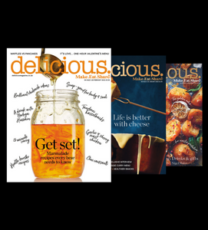 Join our newsletter
Packed with menu ideas, recipes, latest competitions and more...