Fancy inhaling your drink?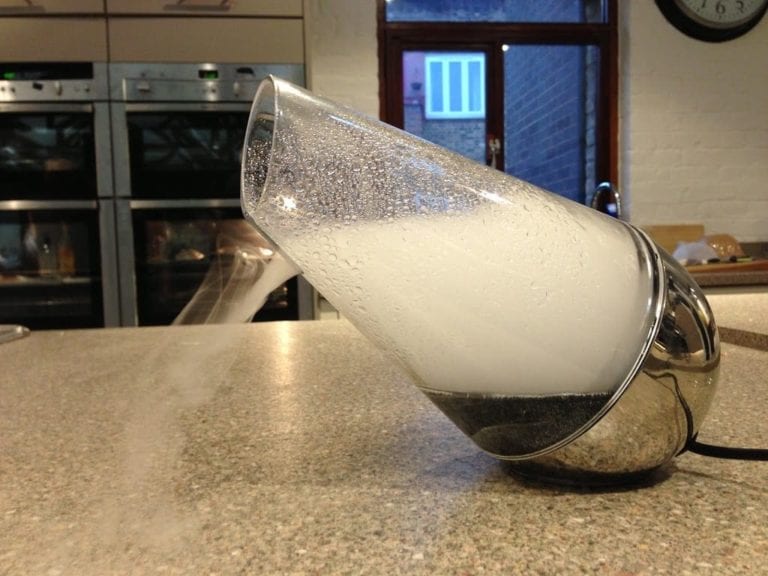 Le Whaf – turns G&T into vapour
As the resident mixologist at delicious. magazine (it's a dirty job and all that…), whenever I set out to make our Friday afternoon cocktail, there's a part of me that likes to imagine I'm doing something even more important: turning base metal into gold, isolating the philosopher's stone, or simply discovering the elixir of life (though a good manhattan comes close).
So when I read about Le Whaf, a machine that uses ultrasonic waves to convert drinks into a fine vapour, or 'cloud of flavour' as the machine's marketers have it, I had visions of myself as a potion-mixing potentate, a blend of Sir Isaac Newton and Dr Jekyll, with a soupçon of Beaker from The Muppet Show thrown in…
The co-creation of Franco-American scientist David Edwards and French designer Marc Bretillot, Le Whaf is a shapely little number that makes science a bit Gallic and sexy, like a carafe as reimagined in a futuristic Jean-Luc Godard movie from the Sixties, and is 'the latest in aerosol cuisine', a phrase that probably wasn't meant to evoke a new kind of squirty cream.
You can put any drink in Le Whaf – or any food you've made liquid, such as 'liquefied tarts'. Chefs around the world have been experimenting with it, so they say. The instructions don't tell you how to liquefy a tart. I guess you need another machine for that, such as a small nuclear reactor (Heston Blumenthal's probably got one.)
In the absence of a small nuclear reactor (I've put in a request to my boss. No answer yet…), I decided to keep things simple for my Le Whaf cocktail: a normal gin and tonic underneath and a Le Whaf vapour gin and tonic on top. 'Double gin and tonic', I'd call it.


"Ooh, what's that?" cooed colleagues as I set up the machine the other Friday afternoon. "Ah," I replied knowingly, "You'll find out". Isaac Newton was probably as teasingly smug about his theory of gravity, though he'd have been more "you'll find out if you jump out of that window…"
Using a special straw supplied with Le Whaf, you 'sip' the vapour, tasting the essence of whatever liquid it came from. The vapour is so fine, though, that a gulp of it only represents a microscopic amount of liquid. You'd have to be sucking for a week to actually get drunk on it. And it's a supermodel's dream: you probably use more energy inhaling than you gain in calories.
I added the exact amount of liquid (400ml of gin, tonic and a squeeze of lemon) – don't ask me why it has to be exact, but the instructions are most particular about it. The switch was thrown, Dr Frankenstein-style, and… nothing happened. I'd been loaned a dud.
Like all great scientists, I was undeterred by this setback. Next Friday I walked round to the marketing company's office and, amid hearty apologies, did the old switcheroo. We were back in business.
The boy who'd cried Whaf didn't disappoint this time. Initially, wisps of vapour appeared and, once the carafe was placed in its tilt position, it was all bubble bubble, toil and trouble. Thunderbirds were go.
And, miraculously, the vapour did taste quite intensely of gin and tonic. Colleagues "Ooohed" and "Aaahed" in delight. (Later, I tested it with wine – it was less successful, making us cough and tasting a bit like incense, or a hookah pipe. It's a bit fiddly to clean out between goes, too.)


My loan-out machine came with just two straws (you can buy them separately in packs of six), and I had about 20 people queuing up for a go, but we found that inhaling it directly was a perfectly acceptable – though not quite so elegant – substitute.
Comments ranged from "It's so cool, I want one!" To "It's cool, but I'd never actually buy one." And €129 plus postage (it's only available at a shop in Paris at the moment) is quite an outlay for something you might use once for a party piece, then put away and forget about forever.
It is fun, though. And may I finish with an echoing mad scientist laugh? Oh, go on…
To buy Le Whaf online visit labstoreparis.com
Subscribe to our magazine
Subscribe to delicious. magazine for HALF PRICE
Subscribe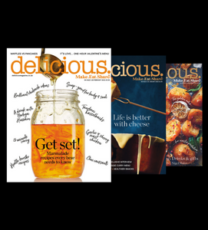 Join our newsletter
Packed with menu ideas, recipes, latest competitions and more...