Foraging for autumn fruits
In autumn, British hedgerows are teeming with wild fruit. Foraging guru Garry Eveleigh tells us where to find rosehips, blackberries and sloes and how to use them.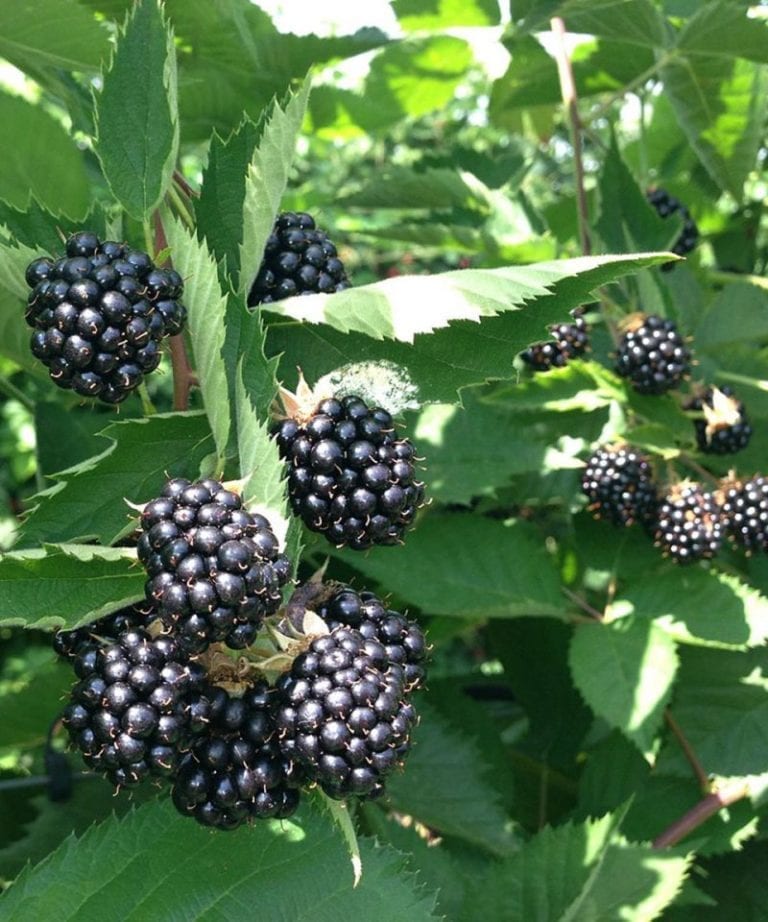 Blackberries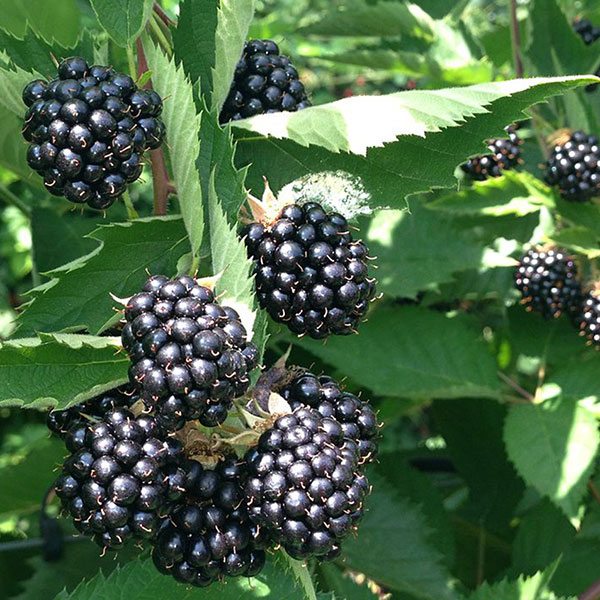 Picking season: August to October
How to recognise: The blackberry is the shiny black fruit of the wild bramble bush. It needs little description, as most of us have, at one time or another, plucked some from a bush and eaten them while out walking.
Where to find: The bramble bush grows in abundance throughout the UK. Those found in hedgerows and along footpaths and country lanes will usually provide the best pickings. The further away you can pick them from pollution-causing traffic, the better.
Picking tips: Pick berries that are deep black in colour, plump and shiny, as these fruits are the freshest and therefore don't need washing. Dull, squishy fruits are past their best. A stick with a crook, or even an old walking stick, is an ideal tool for reaching the branches that are just out of reach – these always seem to have the plumpest, shiniest fruits.
How to use: In desserts such as crumbles and steamed puddings, cakes, jams, jellies, cordials, liqueurs, gin, and even vinegars. See our blackberry recipes here. 
Rosehips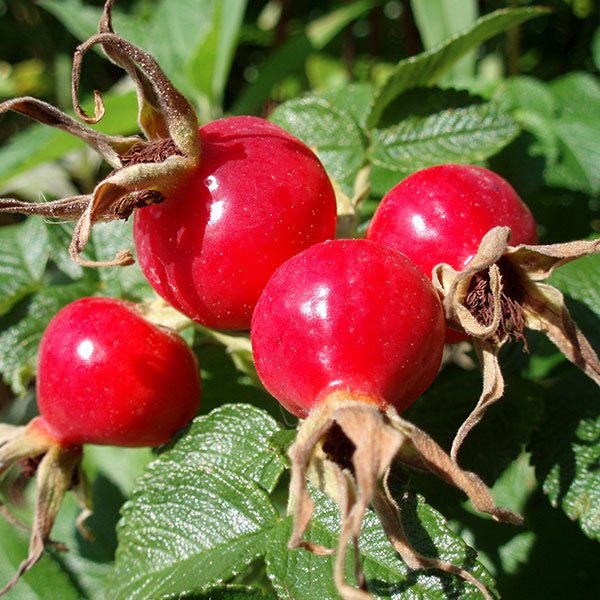 Picking season: September to November
How to recognise: The bright red 'hips' (pictured opposite) or berries of the wild rose are in fact the seed pods, whose covering is only a millimetre thick. The stems have sharp thorns, and the hips have a dried blossom end.
Where to find: Wild roses are very common and can be found growing throughout the UK, particularly in hedgerows around the fringes of woodland, among bushes in ungrazed meadows and along the edges of footpaths.
Picking tips: Carefully snip the hips, close to the base of each pod. If you try to pull them off, you'll get tangled in a mass of prickly thorns.
How to use: It's the fleshy covering that you eat – it's crammed with vitamin C. Inside are tightly packed, hair-covered seeds (traditionally used by schoolboys to make itching powder). Never eat rosehips whole – the seeds can be a dangerous irritant. Use rosehips to make wine, jellies, jams and a delicately flavoured syrup that makes a great cordial, or an alternative to maple syrup for ice cream and pancakes.
Sloes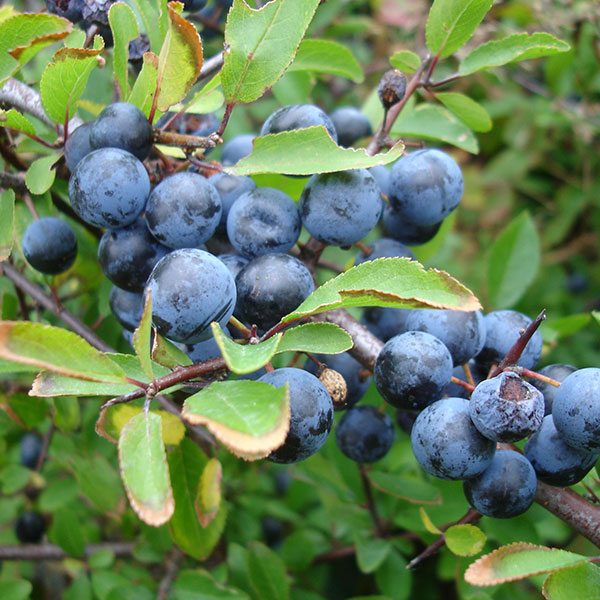 Picking season: October to December
How to recognise: Sloes are the small, hard, blue-black fruit of the blackthorn bush and are quite similar in appearance to large blueberries. They are harshly astringent and have a coating of pale blue powder that rubs off when picked. The blackthorn shrub has dense, spiny branches and small, oval leaves.
Where to find: It can be found growing in hedgerows, woodland and forest, but it grows particularly well in meadows and on scrubland.
Picking tips: Sloes should be picked after the first frost, as this softens their skins, helping them to release their juices. You can get round this by freezing an early picking of sloes overnight.
How to use: The fruit is 75% stone and a small amount of olive-green, juicy flesh. It is commonly used for flavouring spirits such as gin and brandy. Do not discard the alcohol-soaked fruits – these can be used in desserts. Sloes can also be used to make a jelly for lamb or duck. See our sloe recipes here.
Foraging dos and don'ts
Positive identification is the most important part of becoming a safe hunter-gatherer. If you are not 100% certain you have identified it correctly, under no circumstances eat any wild fruit, raw or cooked.
Never strip any one particular plant clean of fruit. Certainly never damage any plant in any way.
Always gain any landowners' permission before you go picking and keep dogs under control.
Beware of cattle or enclosures and shut any gates behind you.
Never gather wild fruits from busy roadside hedgerows.
Only ever pick enough fruits, nuts and berries etc for your own personal use.
Never leave anything behind but your footprints.
Subscribe to our magazine
Subscribe to delicious. magazine for HALF PRICE
Subscribe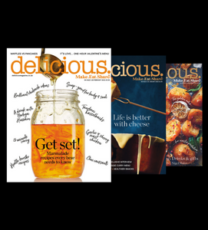 Join our newsletter
Packed with menu ideas, recipes, latest competitions and more...