GBBO episode 7… by a Bake Off virgin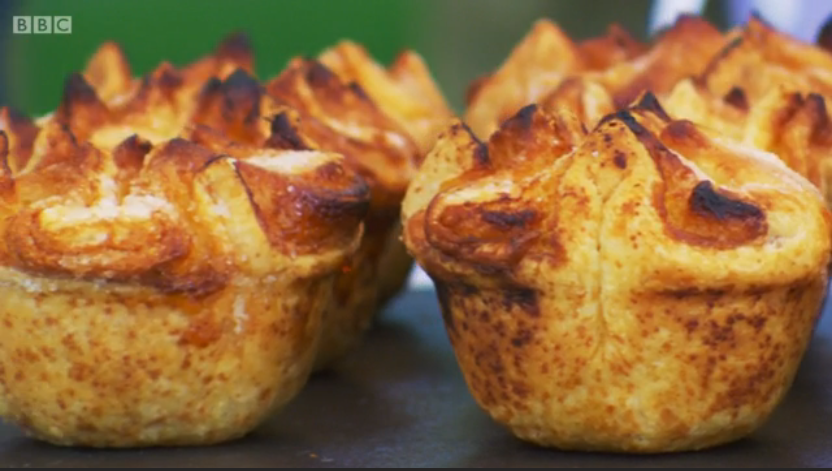 The technical challenge: Paul Hollywood's Kouign amanns
I've never seen The Great British Bake
Off before. But I know
it's the kind of show where literally anything can happen (well, as long as it's baking oriented). After the excitement of Bingate and No-onegoeshomegate, I couldn't resist any longer. Yet I confess I was slightly disappointed by my Bake Off initiation show. It was a tame affair – although Mary Berry, wearing her trademark teacosy jacket, did make Paul crack a smile with her comment about 6 inches being the perfect length… for an éclair.
If you watched it you'll know Week 7 was all about pastry. The signature bake was a pastry parcel – uneventful except for Kate messing up her first batch of pastry, then not noticing that her deep-fat fryer had turned itself off leaving her samosas pale and undercooked. Paul said brusquely "You should have kept an eye on your fryer". Had he taken against Kate?
Now make something with no recipe and no picture…
Next up was Paul's choice for the technical challenge and he went for a buttery, flaky Breton pastry called
Kouign amann. Nobody (including me and 98% of the viewers, no doubt) knew what it was or what it was supposed to look like, plus – as with every technical challenge – the instructions were deliberately sketchy and unclear (the amended and clarified recipe is here).
It's also a recipe that includes more than two hours of waiting around while the pastry rises or rests. While there is an air of tension about the show, watching dough rise doesn't make great TV. As it happens,
Richard guessed you add the sugar in one go at the end of folding and his were the neatest and best.
Going into the final showstopper round, Kate and Luis were in the hotseats for leaving, and Paul said maybe even Chetna, which seemed harsh.
For the grand finale they had to make éclairs, and (sorry) I sort of dozed off through this one, only waking up when Mary made her '6 inches Carry On Baking' quip and my pizza arrived (don't worry – a proper one. And, in my defense, I had no time to cook as I was watching the show).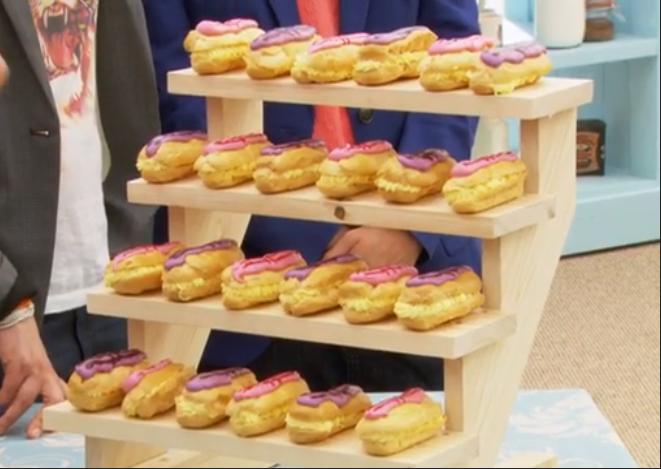 Richard's éclairway to heaven
Luis played a blinder with his shiny icing and chocolate choux and Chetna put in a solid performance. Richard, a carpenter by trade, decided having a pencil behind his ear wasn't enough to advertise his work, so he brought in a set of steps to show off his éclairs (above). Martha, despite having written an 8,000 word thesis on choux pastry, messed up her fillings and presentation – and there were tears.
Nancy (consistently good throughout the show, I gather) was pretty good for all three bakes, but for Kate the writing was on the wall.
Richard was the star baker and Kate was sent home, saying poignantly "Obviously I'll never stop baking, but I might not bake tomorrow… and I might not even bake the next day". A quote for our times.
So… I'm no longer a Bake Off virgin. But I'm not sure I'll be watching next week. What do you think? Do we need another Bingate to liven things up a bit? Was Kate the right choice for getting the boot? Or am I just a Bake Off Scrooge?
Tell us your thoughts – and meanwhile, why not have a go at making eclairs the delicious. way…