South Lodge, Horsham, hotel review
South Lodge is an elegant five-star country-house hotel hidden away in the lush Sussex downs. Originally a stately home for Victorian explorer Frederick Du Cane Godman, it's now split into 89 bedrooms and suites.
In the original part of the building, hallways lead to wood-panelled bars and heavy-curtained drawing rooms filled with antique paintings – all giving it a very Downton Abbey-esque feel.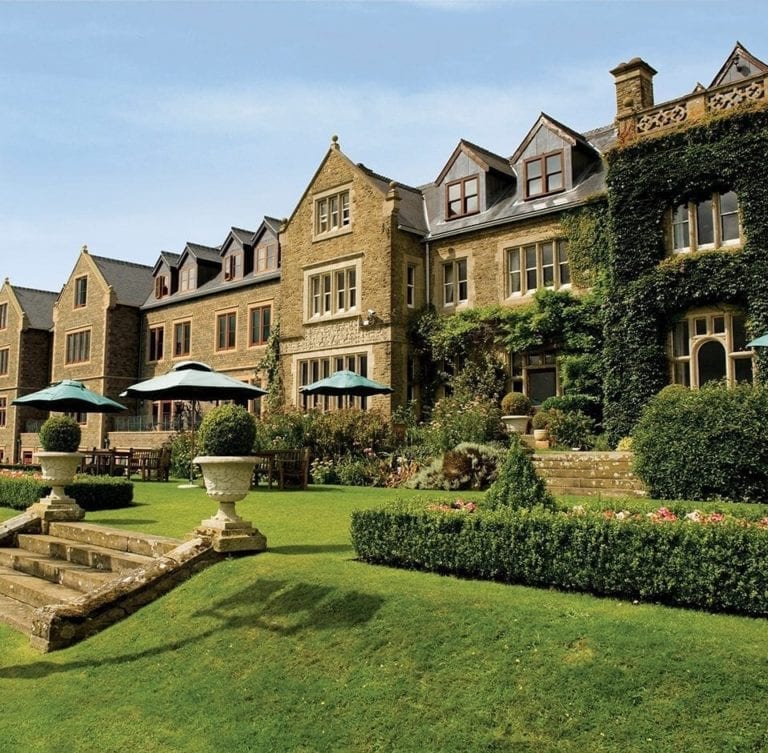 Tell us more…
Set in 93 acres of gardens, lakes, park and woodland, there were plenty of ways to spend our time. I tried my hand at croquet on the lawn (it's actually harder than it looks) before we lazed away the afternoon in a deck chair. But there's also maps for strolling around the grounds and bikes to borrow, if you like.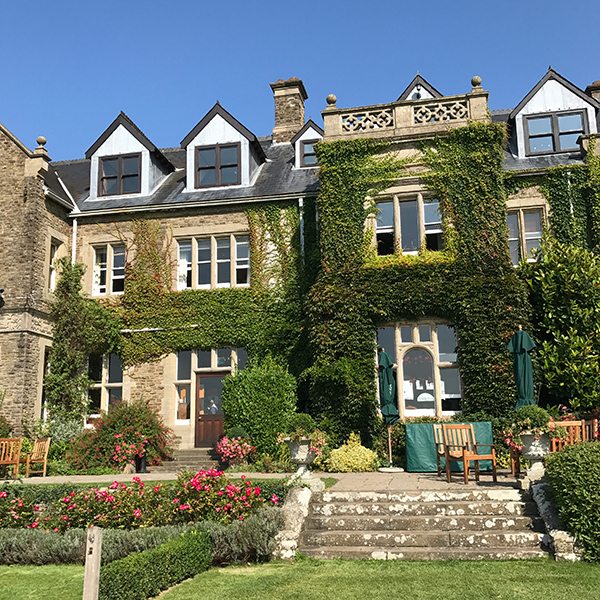 With space for so many guests, you might expect South Lodge to be unfriendly or impersonal, but the service was anything but. During our stay, staff were welcoming and incredibly attentive, they were always on hand to bring a tinkling glass of gin and tonic, spare toothpaste or even a lavender and manuka pillow, which I chose from the pillow menu (yes, really!).
How to get there
You can get to Horsham from London in less than an hour by train. Arrange for a local taxi to pick you up, it's only a 10-minute drive, or hop on a bus.
What's the room like?
We stayed in the Earl of Athlone suit. It's a lavish room with a free-standing roll-top bath, heavenly waterfall shower and a cloud-like bed so big that my boyfriend and I were practically on opposite sides of the room. There were fluffy dressing gowns and slippers hanging in the bathroom and an iPad for ordering any drinks or food. I could easily imagine hiding away there for a whole weekend.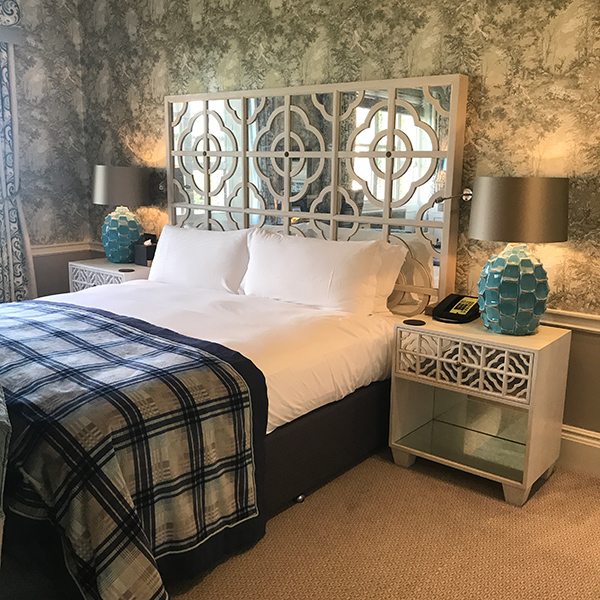 I found the decor a little too chintzy (damask wallpaper, deer's head painting… You get the picture) and the television was oppressively big. But the south-facing sash windows which overlooked the terrace made the room wonderfully bright and airy. As the sun started to go down behind the hills, the views were truly beautiful and the room felt quite romantic – very anniversary-worthy.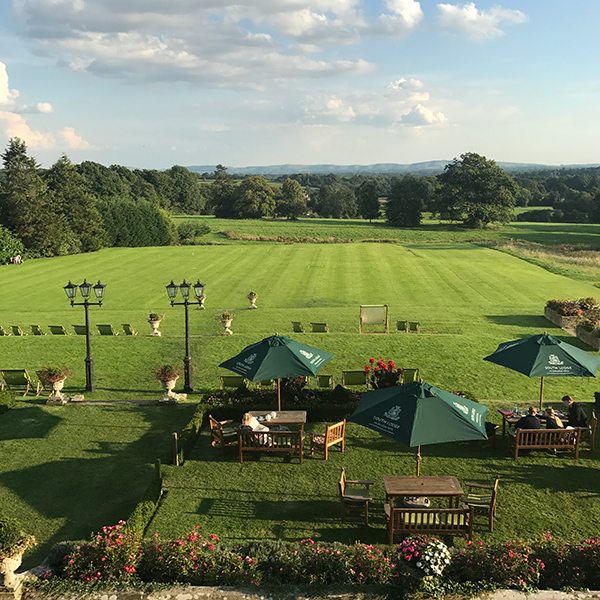 How was The Pass restaurant?
The Pass, named after the heat lamp-covered worktop where chefs finish a dish before it's whisked away for service, is part restaurant and part dining experience. It's mostly a working kitchen with enough space for 28 diners at the narrow tables squeezed down one side.
I'd heard brilliant things about the menu, created by chef Ian Swainson, and had high expectations. So, when the first dish put in front of me was butter with bone marrow, capers and not one but two varieties of salt for sprinkling, I was over the moon. When a restaurant puts that much thought into the butter, you know you're in for a good time.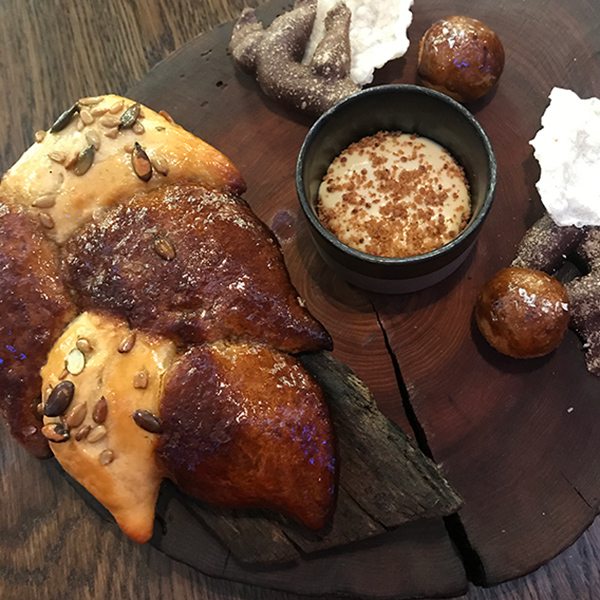 We opted for the 8-course tasting menu and it was fantastic. To start, sweetened sourdough bread was served with bacon mayonnaise and a small-but-mighty truffle doughnut. What I wouldn't give for a whole box of those.
Then a modern take on tomato and burrata, with puffed rice, raw tuna and the most refreshing basil consommé.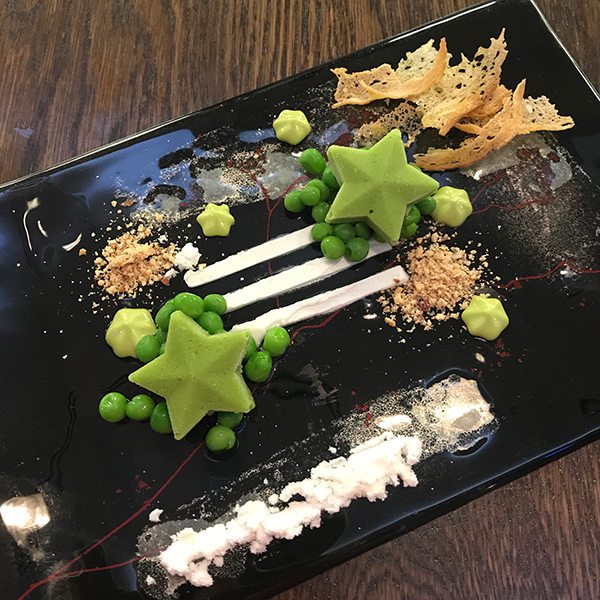 Next, my favourite course, a vibrant combination of minty pea puree, tarragon mayo, crunchy truffle crisps, goat's cheese and peas tossed in vinegar – together it was a perfect harmony of salty, tangy and fresh.
The fourth dish was delicate clams, mussels and sea vegetables with a white chocolate beurre blanc. It sounds bizarre but tasted really wonderful with the briny seafood.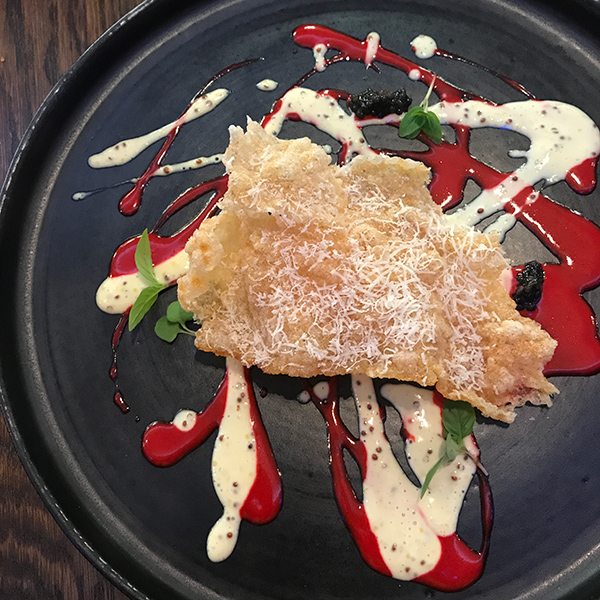 Next, the only dish I wasn't sold on, "spaghetti" made using Gorgonzola and served with pasta water foam. Sometimes the real deal is just better.
The final main course was a cheffy take on lobster thermidor, which came splattered with silky mustard sauce and a deeply flavoursome lobster bisque. My only con: a large shard of dehydrated tapioca which looked very Instagram-worthy, but tasted too salty for me, though not for my boyfriend who ate both his and mine.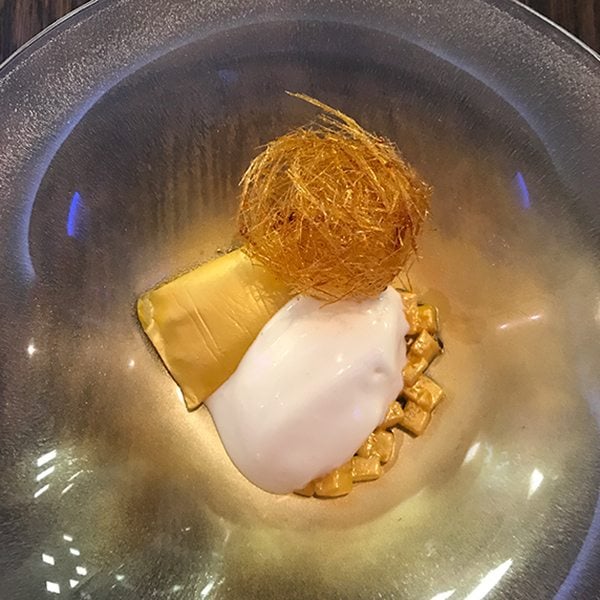 Dessert was a highlight – a golden pillow filled with mango and creamy rice pudding, topped with taken-too-far caramel, to give it the bitter flavour and crunchy texture of a creme brûlée top.
I'm not one for theatrical restaurants. "Entertainment" of any kind usually makes me cringe, but I really enjoyed having each dish brought to the table by a chef. There was no forced performance, it was simply a chance to soak up the personality of each dish as we heard of their inspiration.
What's the damage?
Tasting menus at The Pass start from £39.50 pp for lunch and £80 pp for dinner. An overnight stay costs from £195 per room for two.
South Lodge is a member of the Pride of Britain Hotels collection (never more than 50 hotels, to guarantee quality and exclusivity).
Find out more on the Pride of Britain Hotels website.