How to grow perennial herbs
Perennial herbs (ones that carry on growing from year to year) are simple to grow and terrific value. Here's how to grow them in your garden.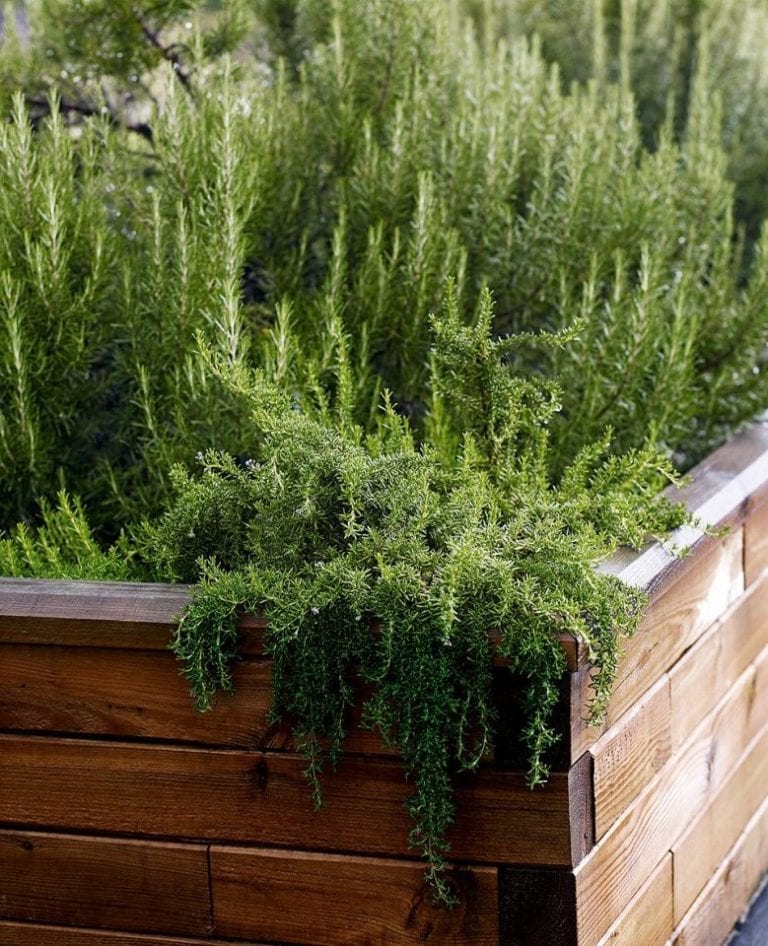 Always wanted to grow herbs in your garden? Why not start with perennial herbs. If you treat them right, they'll keep coming back year after year.
Hardy perennial herbs
Perennial herbs that are easy-going enough to fit in a flower border, or the corner of a garden, include: shrubby herbs, such as thyme, rosemary (see below for growing tips), marjoram, sage and oregano. A warm border alongside the house or a path can be ideal, they also do well in pots. In spring or summer they have flowers, which the bees love.
Leafy perennial herbs
Leafy herbs, such as fennel (see how to grow below), tarragon, sorrel, chives, chervil, and lovage die down in winter and produce clumps of shoots from ground level each spring. They need more fertile soil, and can do well in a flower border – tall ones such as lovage and fennel at the back, chives along the edge.
You will need
A spade, fork, trowel, watering can for planting; secateurs for trimming.
How much space?
You need to allow at least 60cm by 60cm for large herbs, and at least 30cm by 30cm for smaller ones – the plant label should give their height and spread. If you're planting among existing plants, allow a little more space.
Preparing the ground
Prepare the ground by forking over so that the soil is loose to 15-20cm depth, and remove all weed roots. If you find this hard work, it is a sign that the herb's roots will struggle too. Add a soil improver (from a garden centre) for leafy herbs, and grit for shrubby ones.
Planting
One plant is often all you need, but three small plants placed in a closely spaced group will give a quicker harvest. After planting, water around the roots to settle in, then keep watering in dry weather until growing strongly. Herbs grown in pots can be planted from March to September, but spring is best. Those planted in summer will need regular watering until autumn.
What is fennel? And how do I grow it?
Fennel is a tall (1.2m) elegant plant with feathery leaves. It forms domes of tiny flowers that will produce strong-flavoured seeds in autumn – a bonus for the kitchen. A sunny spot and reasonably fertile soil are all fennel needs to thrive. You could put it towards the back of a border, but its architectural qualities also allow it to stand alone – by a door or gatepost, or as a focal point. Allow it at least a 60cm by 60cm space. Once established, it needs little care. You should be able to pick a few feathery leaves before the end of the summer, but don't ravage it – leave more shoots to grow on than you take to eat. By the second year it should produce seeds, which can be harvested when the heads are dry.
Varieties to try
The common fennel has blue-green leaves, but those of 'Bronze Fennel' are strikingly burnished. Both are easy to find in garden centres, or mail order (from Jekka's Herb Farm). The fennel bulbs used as a vegetable are a different plant entirely, and are much trickier to grow.
Troubleshooting: Sticky shoots and leaves?
Greenfly love fennel. The insects usually start at the shoots tips first, so try to catch them before large colonies build up. Pinch out the affected parts or knock the insects off with a jet of water.
How to grow rosemary
Finding space for rosemary in the garden is easy as it grows into such a well-behaved and attractive bush. It likes a sunny, sheltered, well-drained spot – a bed alongside a wall or on the edge of a patio can be ideal. Allow at least a 60cm by 60cm space. Once established, it needs little care and you can pick sprigs all year round.
Varieties to try
The common rosemary has pale blue flowers, but varieties with darker blooms are good in the kitchen, too.
Subscribe to our magazine
Food lovers, treat yourself this Christmas... Enjoy 12 months of magazines for £29.99 – just £2.50 an issue.
Subscribe
Unleash your inner chef
Looking for inspiration? Receive the latest recipes with our newsletter