How to make choux pastry video
Fancy making your very own profiteroles and eclairs at home?  Master the art of choux pastry with our quick video.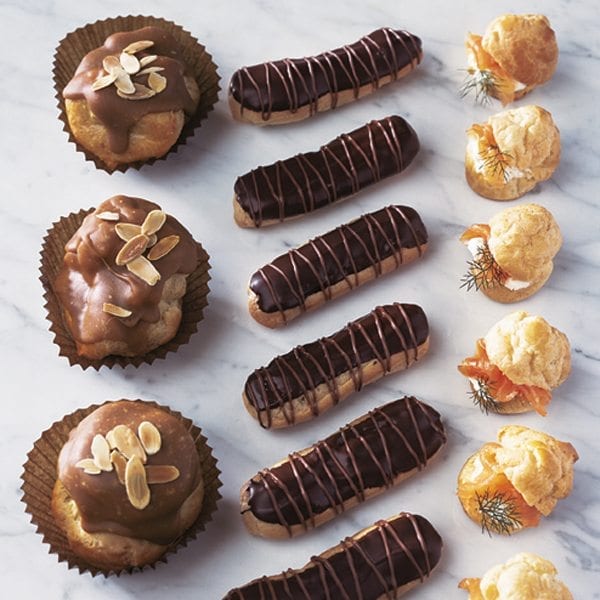 Steps on how to make your own choux pastry:
To make 12 eclairs or 16 profiteroles sieve 60 grams of plain flour on to grease proof paper with 1tsp of caster sugar and pinch of salt.
Put 150ml of cold water into a saucepan and add 50 grams of diced unsalted butter. Bring it to the boil.
Slide in the flour mixture off the grease proof paper and into the pan.
Beat immediately with a wooden spoon over the heat for 2-3 minutes to cook the flour, It should form a ball and pull away cleanly from the sides.
Beat  2 larges eggs together in a bowl.
When you mixture is cool beat the eggs in the dough a little at time until it becomes smooth.
To make eclairs pipe your choux paste onto a greased baking tray and for choux buns use a couple of dessert spoons to shape your mixture.
Bake it to 100 degree C for 10 minutes then increase to 220 degree C for a further 10 to 15 minutes until their pale and golden colour.
Remove from the oven and make a small hole in the underside to release any steam.
Put them back in the oven for 3 to 4 minutes to dry out slightly and brown a little more.
Set aside to cool on a wire rack and then store in air-tight container up for one day.
Fill  with cream and top with melted chocolate an hour before serving.
Subscribe to our magazine
Subscribe to delicious. magazine this month, save over 40% and get a free 1 year tastecard membership
Subscribe