Meet the creator of our cover-star recipe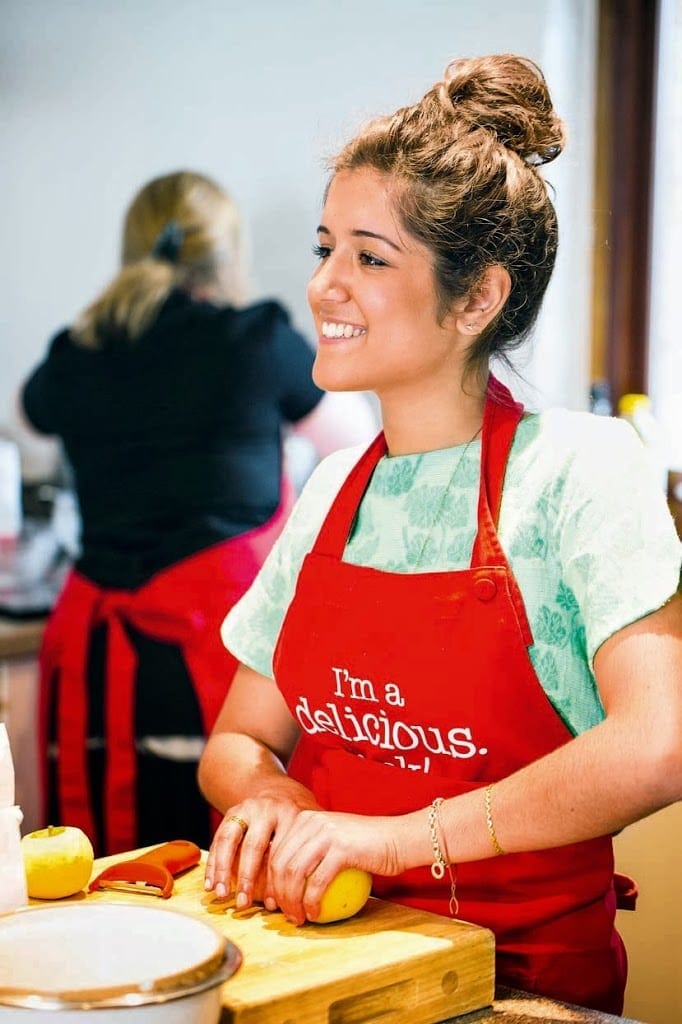 Reader Trisha Jones was the winner of our reader cake competition, which graces the cover of our October issue. She tells how her cake went from mere idea, to scrumptious reality – to delicious.
cover-star
Trisha works cake magic in the delicious. test kitchen
"It all began on a weekend trip to Manchester to visit my dear friend (and fantastic baker) Lucy. Lucy used to provide many a frosted cupcake and rocky road bar at university and, unlike me, is a devotee of fashion magazines. When she went to buy one such magazine, I opted for the May issue of delicious.
instead. Little did I know where this purchase would lead!
Trisha's cake on the cover
The issue had details of the baking competition, asking entrants to create a cake with 'cover-star credentials'. Lucy and I sat in one of Manchester's diners eating salty chips and salsa-covered burgers and discussing what I could enter. Rose and cardamom cake came to mind as did caramelised orange and marzipan cake. In the end, I went for nostalgia over adventure; apple crumble was the first dessert I learned to make and I still think it's still the most satisfying. Digging into the hot, stewed apple quilted into a layer of sweet, crunchy, sticky crumble is a great memory – one I wanted to celebrate.
While I was tempted to complement the apple cake with traditional flavours like custard or cinnamon, I didn't want to be too cautious so I chose to add a richer, darker flavor – caramel – and Greek yoghurt. Sweet, soft, apple cake, deep, rich caramel and unadorned yet tangy yoghurt: in my mind the perfect combination; so that's the recipe idea I sent in for my competition entry.
The three bake off finalists
When I got the email from the delicious. team inviting me to the bake off as one of the three final contestants, I jumped around like a crazy person! It was surreal. On the day of the bake off, my mum came with me and I was extremely nervous. But once I arrived and was greeted by editor Karen Barnes and met the other contestants, I felt at ease. Unlike my kitchen at home, where the oven and the hobs are wildly unreliable – this kitchen was kitted-out.
Trisha goes before the judges
The day of the competition was lovely, with lots of food, snacks and even sparkling wine. There were moments when I was sure everything was falling apart… Did I have enough caramel? Were the apples burnt? When we three finalists (Nora Killiane, Trisha and Maria Teresa Jorge, pictured above) took our cakes to be judged I had butterflies and kept imagining myself falling over and dropping the cake on the carpet.
All three cakes were spectacular, so when judge Meera Syal said I'd won, I genuinely didn't know what to do, such was my disbelief. All the judges (Meera, Great British Bake Off winners Edd Kimber and John Whaite, and TV chef Peter Sidwell, plus Karen Barnes and the mag's food editor Lizzie Kamenetzky) gave great feedback. One suggested I add oats to the sponge to give it a crunch like apple crumble – I will certainly be trying that!
As another part of my prize, on 2 October I attended the Breast Cancer Care fashion show at Grosvenor House in London. It was the most incredible ballroom I've ever seen and it was a very moving and inspiring night. Breast Cancer Care really is a wonderful organisation that supports people dealing with breast cancer. I'm very glad that delicious.
introduced me to them and their fundraising events – I'm definitely going to buy a ticket for next year's show!"
Subscribe to our magazine
Subscribe to delicious. magazine for HALF PRICE
Subscribe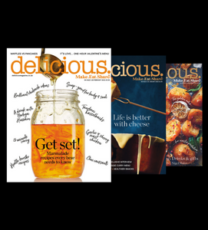 Join our newsletter
Packed with menu ideas, recipes, latest competitions and more...