Opening my own café part 4: barista training
By Fiona Mattesini
And so to barista training… and I think it's fair to say the internet is awash with choice.
In terms of coffee itself, having undertaken a recce in London, we found ourselves a bit disheartened by the new wave of pro-baristas producing blends that just don't fit the taste profile we're aiming for – we like a strong, discernible flavour but also one that's smooth, balanced and not too citrus'y or bitter. In terms of training, both of us being almost bereft of experience, we needed a bit of a one stop shop that included more general advice on commercial set up as well as, it appeared, a refining of our palates.
A friend recommended Youri, owner of Limini Coffee in Bradford, so we opted for his one day barista intro course, bracing ourselves for a serious caffeine hit. Here's Youri showing us how coffee starts its life – from this 'cherry' plant.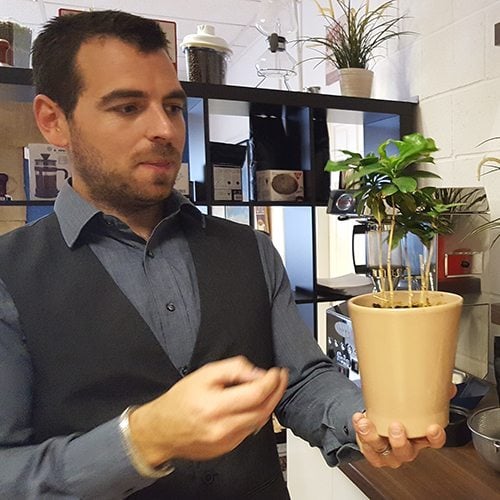 Three days later we found ourselves on the 12.51 Cross Country fast service to Leeds and wow, it's amazing what you can pack into one day. We learnt about single origin blends, the roasting process (super-citrus blends are achieved by slightly under-roasting the beans), equipment, and obviously creating the coffee itself. Somewhat gingerly we also undertook a bit latte art which is much harder than it looks.
Likewise we got to discuss price, profit and, on my wish list of topics, the importance of cup sizes. I think a 6oz cup will be perfect for the 'Italian bar' style less milky cappuccinos we want to offer. I hope people won't mind a smaller cup.
One of the things I was interested to learn is how quickly coffee can lose its flavour becoming almost 'stale' (in as little as ten minutes) and therefore how important it is to grind beans 'to order' and to buy a grinder which will do this.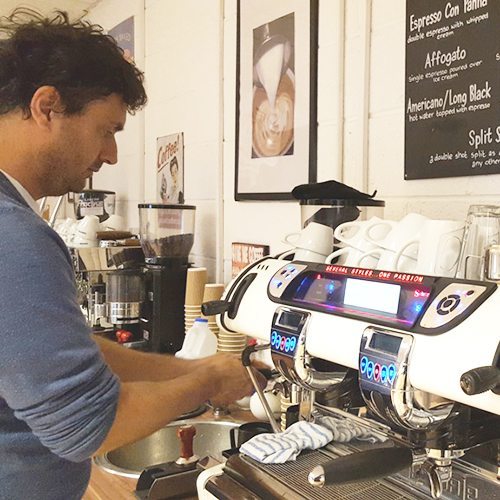 I must say, Youri is probably the most impassioned coffee aficionado I've ever met. We liked his attitude of ignoring trends and putting the customer first: "if a customer wants a skinny latte with syrup then don't be too good for that but make it the best skinny latte with syrup they've ever had."
The course wasn't as scarily technical as I feared it might be, though I imagine advanced courses would be full-on coffee geekery, and I definitely think we chose well with Youri as the vibe was small, relaxed, and with a lot of personal attention – much needed as I struggled at first with milk heating protocol… 90's-waitress habits, it seems, die hard.
A lot of coffee making is about practice and building confidence. In fact Youri's best advice was to practice like mad before opening and not to over-think it (go with a blend that you genuinely like). I also realised that with the right blend as well as milk:coffee ratio I'm more macchiato than cappuccino. I'm also leaning towards piccolos and definitely want those on the drinks menu.
Our only problem was being wide awake at 3am and needing to get all that coffee out of our system…
Fiona and Paul.
Twitter https://twitter.com/homecastlecary
Facebook https://www.facebook.com/HomeCastleCary/
Subscribe to our magazine
Subscribe to delicious. magazine this month for a half price subscription
Subscribe