How to plant edibles in pots
The most convenient way of growing a few crops is in pots or containers – no digging needed, nor much space. With luck, they'll fit just outside the kitchen door.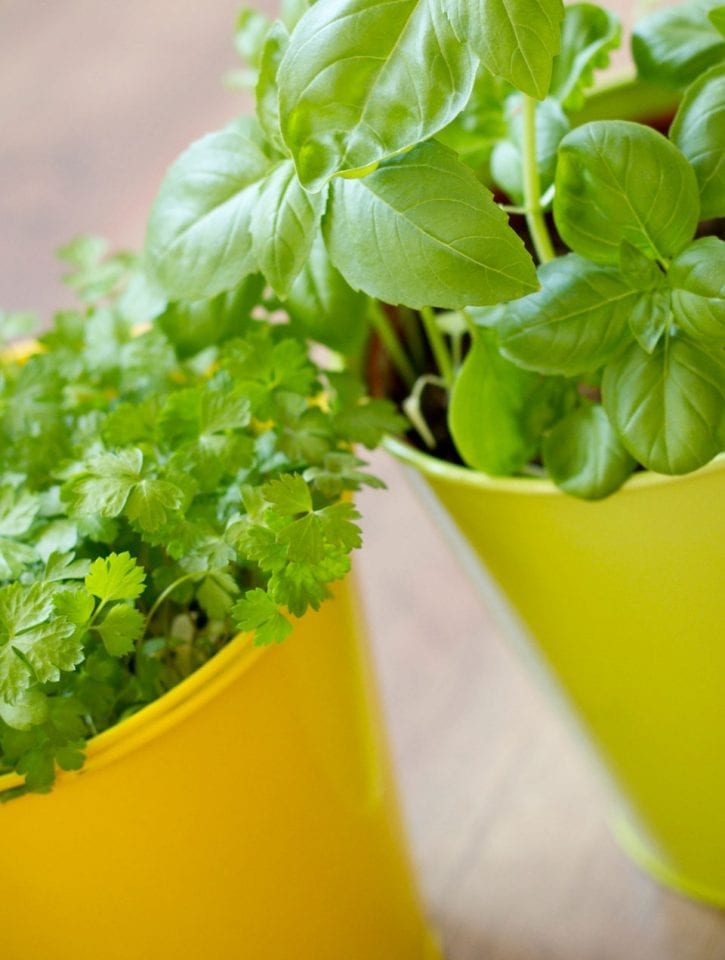 You will need 
Containers, bagged compost, a trowel, and a watering can with a 'rose' (spray end).
Choosing containers
These can be anything from plastic pots to decorative troughs or old sinks. The only rules are that the containers must be at least 20cm across and more than 15cm deep, and they must have drainage holes.
Where to put them
Most veg, herbs and fruit do best in sunny, sheltered spots, but summer salads do well in semi-shade. One great advantage of pots is that you can move them around to suit the season and the crop. Watering will be the main task, so make this easy by positioning your pots near a tap.
Filling containers
Buy 'multi-purpose' or 'container' compost, and fill the container to within 2-3cm of the rim, firming it lightly but not ramming it in. Don't use garden soil – it packs down too hard and also contains weed seeds.
Watering and feeding
The roots of plants in containers can't go far to search for food and water, so make sure the soil stays moist, which can mean watering daily. Quick crops such as salads won't usually need feeding, but other vegetables will. Use a 'liquid feed' or a 'slow-release' fertiliser. Both are easy to find in garden centres. Mediterranean herbs don't need much watering, and feeding established plants in spring should suffice.
What to plant in spring
Baby leaf salads
Home-grown salads can have an amazing variation in colour, texture and taste. Try familiar ones such as lettuce or rocket, or experiment with packets of 'salad mixtures' – such as the one that is free with this copy of delicious. and contains pak choi, rocket, mizuna, mibuna, cima di rapa, green mustard and red mustard. You'll find that one packet goes a very long way.
Sow seeds over the surface of the compost in the pot (see top tips, below), allowing roughly 1-2cm between seeds, then cover with a thin (0.5cm) layer of compost and sprinkle gently with water.
Now keep the surface of the container moist. When the seedlings are tall and strong enough, take the 'rose' off the watering can and water under the leaves using the spout.
Start harvesting when the leaves are about 8-10cm tall – in summer this can take as little as six weeks. Harvest just what you need straight away, either picking off individual leaves or cutting across patches with scissors leaving stumps 2cm high. Keep watering, and the plants should regrow once or twice more.
Once you have made your first harvest, start off a second batch of seeds in another pot. You'll need three or four sowings to ensure a continual supply throughout the summer.
Varieties to try
In addition to your free seeds, try 'Crunchy Lettuce Leaves', 'Continental Salad', 'Bright & Spicy Salad' (Thompson & Morgan).
Troubleshooting: Holes in your salad?
Slugs and snails can demolish seedlings and eat holes in larger leaves. Keep them away by using bands of copper tape or standing pots on copper-coated mats (from Agralan or The Organic Gardening Catalogue, see stockists info, opposite). Slugs and snails hate crossing copper as it gives them a mild electric shock.
Plot to plate
The variety of salad leaves means they go with just about any flavour. Peppery rocket and mizuna complement strong flavours such oily fish or chilli. Subtle, grassy lamb's lettuce works well with roasted meats, while the sweet, earthy flavours of young spinach complement blue cheeses, bacon and avocado.
Don't use a knife on salad leaves – leave them whole, or tear before serving.
Pour the dressing into the serving bowl and gently pile the leaves on top, and toss together when ready to eat.
Strawberries
Strawberries are the easiest fruit to grow in pots and, picked really ripe, they're likely to be the sweetest you've ever tasted. Choose 'everbearing' types (crops that produce throughout summer and early autumn) so you can keep picking odd handfuls.
Grow strawberries in individual 20cm pots (or buy a special strawberry planter which stacks plants upwards and makes better use of space) and make sure you give them a sunny spot. You'll need five to 10 plants for a worthwhile crop – buying by mail order is generally best and cheapest. Strawberry plants will usually have bare roots, so you'll need to plant them straightaway. Afterwards, water the young plants just enough to keep them moist – don't overdo it, they don't like to be waterlogged.
Once the plants form fruit, water more frequently and feed with a tomato liquid feed (from garden centres) once a week.
When you see berries that are red all over – wait, don't pick them quite yet. Give them one more day to develop their full flavour.
Varieties to try
'Mara du Bois' has the aromatic flavour of alpine strawberries (Ken Muir). 'Tarpan' and 'Pikan' have attractive pink flowers (Mr Fothergill'). Or try 'Albion' (Suttons).
Troubleshooting
Birds after the berries? Blackbirds are the worst offenders – they love red berries. A net supported away from the fruit (so they can't peck through it) is the answer and some strawberry planters come with nets and supports. However, this problem occurs mainly with midsummer crops. The fruit on everbearing strawberries, which ripens later, is often not attacked, because the birds have so much else in the hedgerows to eat.
Plot to plate
Strawberries are good with cream, basil, mint, black pepper, meringues, raspberries, custard, sponge, chocolate and balsamic vinegar.
Pick strawberries when they're very ripe. If you don't eat them straight away, chill but serve at room temperature.
Try this, halve some strawberries, put into a bowl, sprinkle with a good glug of Cointreau and leave for 20 minutes. Serve with vanilla-flavoured whipped cream.
Oregano
This useful aromatic herb is easy to grow and has pretty flowers which bees and butterflies love. One or two plants are all you need, and they will regrow year after year, so it's simplest to buy them as young plants from a nursery or garden centre.
Look carefully at the label, as there are several types. 'Oregano' (also called wild marjoram) and 'Greek oregano' are said to have the best flavour, but 'Pot marjoram' is similar in appearance and can often be used in the same way.
Make sure your containers are well-drained. It can help to put a layer of small stones or broken up polystyrene in the bottom before you fill them, and to add a few handfuls of grit to the compost.
After planting, water around the roots to settle the plants in and repeat when they get dry, but don't overdo it – Mediterranean herbs don't like to be waterlogged.
You can start harvesting small sprigs as soon as the plants are large enough, and carry on throughout the summer and autumn, as long as you leave more shoots to regrow than you pick. In autumn, cut back straggly stems to within 6cm of their base.
Varieties to try
Greek oregano, Oregano (wild marjoram), 'Hot and spicy' (Jekka's Herb Farm).
Troubleshooting
No problems with pests…The tough aromatic leaves of Mediterranean herbs, which we value for their pungent flavour, put slugs and insects off.
Plot to plate
Oregano (and marjoram) goes with tomatoes, grilled fish, chicken, lamb, lemons, aubergines, beans and peppers.
Oregano and marjoram are brilliant summer flavours, but they are hard to buy so it's worth growing your own.
Oregano or marjoram will transform a home-made pizza into an Italian delicacy.
Top tips
Can I put different crops in one pot?
You can, but it's often simpler to grow them separately, then you don't have to worry about one crop swamping the other, and as one goes past its best, it can easily be replaced.
The best way to sow seeds
Don't shake the seeds directly out of the packet. It's easier to put some seeds in the palm of one hand and take pinches to sow with your other hand.
How to pot plants
Use a trowel to make a hole large enough to take the roots of your plant. Hold the plant in the hole while you firm the soil around it. For most plants, the stem should be sitting at the same level as it was in the original pot.
Subscribe to our magazine
Subscribe to delicious. magazine for HALF PRICE
Subscribe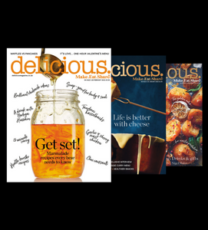 Join our newsletter
Packed with menu ideas, recipes, latest competitions and more...