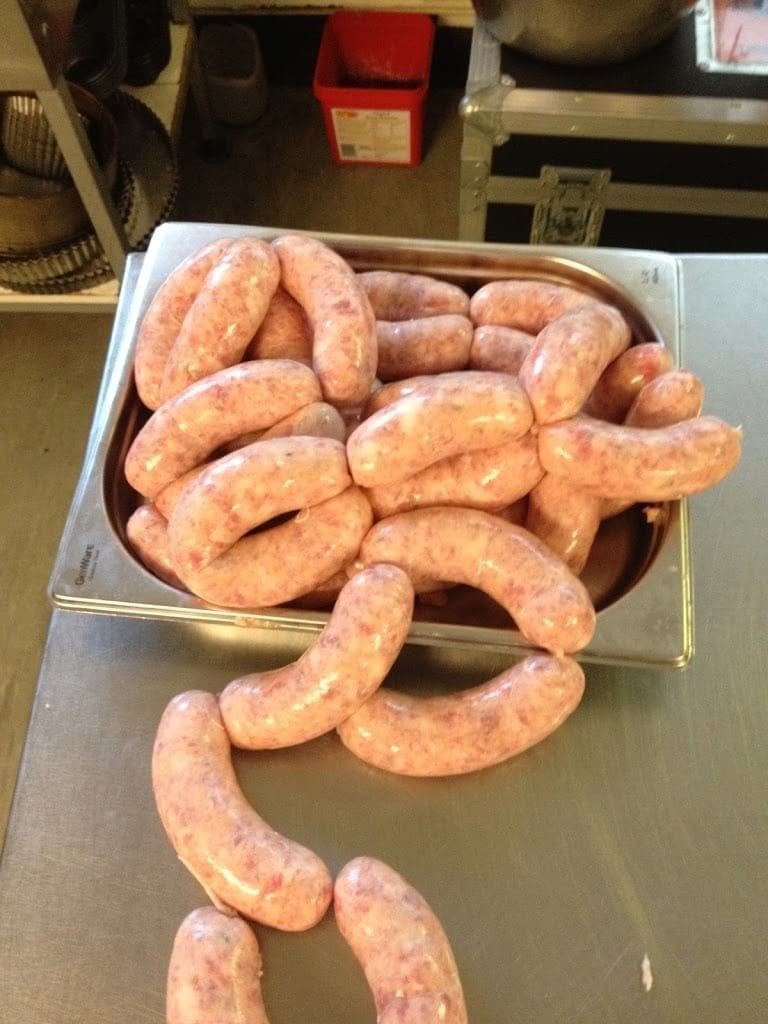 Last week I rang my sister and found her in the midst of making caramels to give as edible gifts for Christmas. Well, I thought, I refuse to be outdone by my little sister and her sticky sweeties and besides, why do edible gifts always have to be sweet? What could be yummier than, say, a string of hand-made, homemade sausages?

I have to say it's been a long time since I've made a sausage. I have memories of my mum making them when we were small, the mincer at full power producing long wiggles of meat, but how hard could it be? Time to enlist help…
Enter Dhruv Baker, MasterChef winner and my partner in crime for this sausage-making extravaganza, who has enough kit for a life-time of snag-making.
When I arrived at Dhruv's kitchen, I found him looking at 10kg of pork (a mix of belly and shoulder) with joy and some trepidation that we were going to have to mince the whole lot with a rather lovely but old-school hand mincer.
First up was to skin and chop the meat into manageable chunks. A quick blast in the freezer helps to make it firm and easier to mince, as the high fat content of pork belly (needed to keep your snorkers juicy) can be difficult to mince if too warm.
After an exasperating 10 minutes, where the pork was turning to meat mush rather than mincey strands, we finally got the mincer assembled correctly. The 10kg of pork was minced to perfection in no time, no thanks to my underdeveloped biceps – turns out I'm better suited to feeding the machine rather than providing the manpower.

To our tottering pile of porcine goodness we added a small amount of rusk (a sausage without rusk ends up bouncy and hard), seasoning (salt, pepper and fennel seeds) and a little water. Once it was all squished together by hand we were ready.
The best bit about making sausages, once you get past the childish-but-necessary smutty jokes, is the part where you get to fill the skins or cases with your homemade mince. It's a fine art, and not easily achievable on your own.
It requires two people to work together, making sure the mince is pushed through at a steady, regular speed so you don't end up with sausages that resemble Mrs Overall's tights, while the person at the other end scrambles to keep up.
Once we got over issues of air bubbles and over-filling, which turns sausages into bangers (literally), we hit our stride and set up a steady rhythm. Soon we were producing length after length of shiny, beautiful sausage.
I wanted to leave our masterpiece whole and curl it up into one big ring, but Dhruv pointed out that you can't give them away unless they're divided. He proceeded to show me the correct way to twist and link sausages – one of the most satisfying skills to acquire, next to learning how to tie a proper butcher's knot (which I did recently).
We fried a few up, just to check they were indeed the best sausages we'd ever tasted – and I now have a freezer full of beautiful sausages, ready to be given out lovingly to friends and family.
Subscribe to our magazine
Subscribe to delicious. magazine for HALF PRICE
Subscribe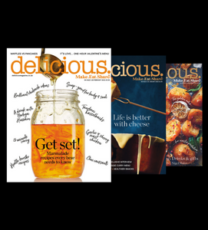 Join our newsletter
Packed with menu ideas, recipes, latest competitions and more...