Where to buy heritage vegetable seeds
Susan Low delves into the shadowy world of heritage vegetables including where you can buy heritage seeds.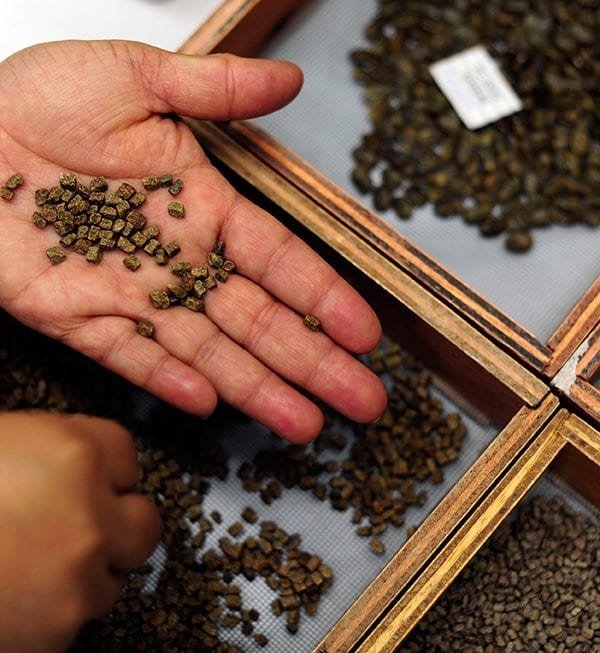 What are they?
They have shady pasts and are the stuff of local legend. They're strictly ex-directory and go by names such as 'Crimson Giant', 'Ragged Jack' and 'Purple Flowered Russian'. They may sound like bad guys from Reservoir Dogs, but they are actually heritage veg varieties. Grow-your-own addicts and top chefs are going wild for them. The catch? They're not strictly legal.
If gardening is the new rock 'n' roll, heritage plants are the illicit substances that fuel this back-to-the-roots revolution. No longer satisfied with the safe but predictable offerings of major seed catalogues, keen gardeners and discerning chefs are seeking out varieties that offer funky new flavours and colours, a rebellious lack of uniformity and a living link to the past.
Technically speaking, anyone offering to sell or swap heritage seeds is open to prosecution. And though in practice that's a highly unlikely outcome in the UK, it gives the trade in these seeds a frisson of danger not normally associated with grow-your-own veg.
Those who indulge in the trade can be a feisty bunch, too. "I am preserving our heritage," says seed-swapper Fran Saunders, "and these varieties are worth saving. I don't like my choice being taken away by the big seed companies."
'Heritage' describes varieties of plants and their seeds that pre-date the Government's National List of approved plant varieties. For hundreds of years, it was common practice for farmers and growers to keep seed from last year's harvest
to grow next year's crop, and to swap and sell local varieties. Then along came industrialised farming, and all that changed.
Why is it illegal to buy them?
First came Plant Breeders' Rights, intellectual property law designed to ensure the economic viability of newly developed varieties of plants, for which breeders receive royalties on sales. Then, in the 1970s, EU law made it illegal to sell seeds not registered on the National List or in the EU Common Catalogue, partly to protect consumers from buying inferior, untested seed varieties.
As well as being time-consuming, the process for getting on the List was expensive, so many of the smaller seed companies couldn't afford to register their varieties. As a consequence, many varieties fell out of common use, and the concept of the risqué heritage seed was born. 
The future of many heritage varieties is now in the hands of the Heritage Seed Library (HSL) at Garden Organic, a charity based in Ryton, near Coventry. The HSL lists around 800 varieties of rare vegetable seeds, which it protects from the threat of extinction.
Because seeds can't legally be sold, the Library operates in a grey area with its membership scheme. Manager Neil Munro says, "People pay a membership fee and we send them a catalogue. From this they can choose six varieties to grow each year. They keep the seed, then get another six varieties the following year, and eventually they can build up their own collection of seeds." In addition, members can of course swap seeds among themselves.
The seeds were saved through dedicated research. Munro says, "We received funding for a three-year project, which enabled us to look for varieties that might be disappearing, through working with allotment groups, food groups and national health groups. It involved a lot of legwork in putting out adverts, finding suitable seed and so on.
"A lot of the varieties we found are heritage in the sense that they pre-date the National List. We also have varieties that families have passed down for generations; then we have ex-commercial varieties that were once on the List but have dropped off for one reason or another; we've taken those up, too."
There are also some 'legit' heritage varieties, ie they are on the National List. "'Little Gem' lettuce: that's a heritage variety," says Munro. "It's been around since 1886, but you see it in every supermarket. So there are heritage varieties still around but the vast majority have disappeared."
Why grow them?
A major reason that gardeners and growers seek heritage varieties is that they're more suitable for small-scale growing. "Most of the newer varieties have been bred specifically for ease of agriculture," says Munro. "Take peas, for example. We have mostly older varieties that grow to six feet tall. There's only one tall variety available from the big seed catalogues – the others are all dwarf. They're easier to harvest, as they mature all at once. If you're in agriculture, you want to go out with a combine harvester and clear the field in one go. You don't want to have to hand-pick, or support them. For a gardener, that doesn't matter."
Another attraction for heritage seed-fanciers is individuality, while supermarkets want uniformity. "Our varieties are not so inbred – they might mature at different times and the leaves might vary," Munro says. The HSL has 9,300 members and sends out 40,000 packets of seeds a year – all grown, harvested, dried and packed by hand. It may sound like a lot, but it's nothing compared to the output of the big commercial seed companies.
Those who procure heritage seeds – whether from HSL, through one of the networks of seed-swappers, or from other growers – are passionate about growing these varieties. Fran Saunders, who's a member of one of the UK's largest seed-swapping networks, Seedy Sundays, is a great champion of her cause.
"I took a selection of heritage tomatoes, or as we prefer to call them, 'outlaw tomatoes', to work," she says. "My colleagues were amazed at the taste, the colours – I took in white, pink, yellow, orange, green and red ones. My colleagues have started growing them and saving the seed."
It's not just seed fanciers who are drawn to the varied textures, colours and flavours of heritage seeds. Increasingly, chefs and food writers are falling under their spell, too. Nigel Slater, in his latest book Tender, recommends 'Painted Lady' and 'Czar' runner beans, 'Prinz' celeriac, 'Hollow Crown' parsnips, 'Applegreen' aubergines and many others – all heritage varieties.
David Tanis is a chef at the Chez Panisse restaurant in Berkeley, California, which has been instrumental in the 'eat local, eat organic' movement that has swept the US and the UK these past 20 years or so. An ardent fan of heritage vegetables (or 'heirloom' as they're known in the US), Tanis says, "I can say adamantly that they have great appeal and value, especially for the home gardener. And they taste better, they absolutely do.
"Commercially grown vegetables are not produced with flavour in mind. They are hybridised to maximise shelf life and survive the shipping process. Hence we have seen in the last several decades the dwindling of many varieties to a few sturdy-yet-tasteless specimens of tomato, potato and onion. We do need variety in our vegetables."
Do they taste better? 
Not everyone agrees that heritage varieties necessarily taste better (taste is, ultimately, subjective) but London chef Tom Aikens is a believer. A keen gardener, he will soon be growing much of his own produce for his two restaurants on a plot just outside the capital, and will be planting heritage varieties. "I buy my meat direct from farmers and my fish direct from fishermen, so for me this is the logical next step," he says.
Another London chef, Arthur Potts Dawson, who set up two ecologically minded restaurants, Acorn House and Water House, describes heritage varieties as 'secret weapons' in a cook's arsenal. "They seem like a new thing to people, but in fact they're very old." David Tanis agrees that the vogue for heritage varieties is "a return to what was once considered normal: a basket of vegetables with real flavour, grown in a garden or plantation overseen with care and passion." And, if that's not enough, perhaps the idea of a flirtation with illegal substances will add extra excitement to your veg-growing this summer.
Where to find heritage seeds
Article from May 2010 delicious. magazine.
Subscribe to our magazine
Food lovers, treat yourself this Christmas... Enjoy 12 months of magazines for £29.99 – just £2.50 an issue.
Subscribe
Unleash your inner chef
Looking for inspiration? Receive the latest recipes with our newsletter