Which colours should you use in your kitchen?
Colours aren't there purely to make something like stylish or pretty – they have an enormous effect on our behaviour and even our health.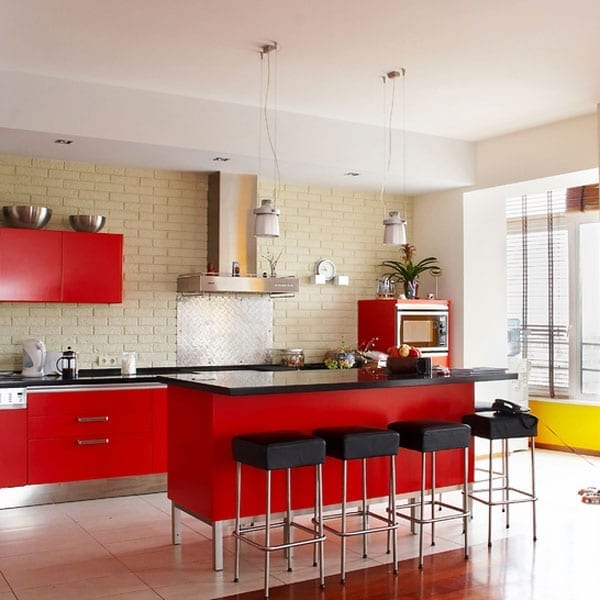 Using colour isn't a new-age idea dreamed up by TV interior designers; ancient cultures used colours in health treatments, and Feng-Shui has mixed colours to bring harmony to our homes for centuries. Colour can stimulate appetite, help to ease pain, and invite calm into frenetic lives.
There are four 'psychological' primary colours which relate to different aspects of ourselves: red (body); yellow (emotions); blue (mind); and green, which is a balance of the first three. So, if your living room doesn't feel homely, use harmonious greens and glamorous but understated browns; to balance things out in the bedroom incorporate sensual orangey-pinks or gentle blues to ease sleep. Avoid bright yellow at all costs in children's rooms – it's too stimulating; the same can be said for reds and black in the bathroom – go for relaxing, warm whites.
But this is a food lover's site, so what about the kitchen…
Do use
:
White
: it's clean and fresh, but to distract from its natural brightness – which can strain the eyes – include splashes of other colours.
Yellow
: a happy, positive, and sunny colour which is good for your – and your guests' – mood.
Orange
and
red
: both stimulate the appetite and represent warmth and comfort.
Don't use:
Blue
or
black
: blue can be a cold colour and, in nature, both blue and black represent poisonous or 'off' food. This has an adverse effect on your appetite; so much so, in fact, that serving food on blue crockery is recommended if you're dieting, as it stems hunger.
The colour of food is also important.
Eating brightly coloured fruit and vegetables can keep you fit and healthy and protect against certain cancers, arthritis, heart disease, cataracts and even premature ageing.
See out feature '
Eat the Rainbow
'.
for books about colour therapy.