100% natural skincare made easy
Mmm, a beauty regime that saves pennies and the planet? Skincare made from what you keep in your fridge or fruit bowl? We're right behind that notion. Check out these recipes from Star Khechar.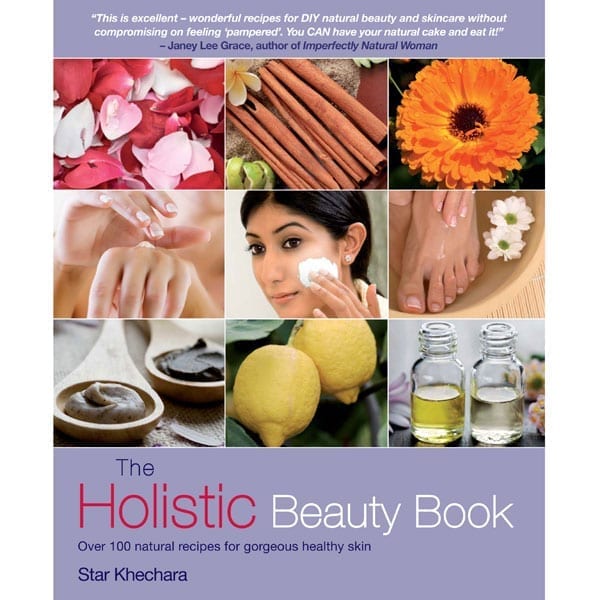 Making your own natural skincare products is a wholesome and Earth-friendly activity; it's also surprisingly easy even though cosmetic scientists would have us believe that is a most complex art form that requires a degrees in organic chemistry.
Not so. Apart from a Diploma in Aromatherapy Theory I'm entirely self-taught and have been making my own 100% natural skincare products for nearly 15 years. I now teach others how to make their own via workshops and in my book The Holistic Beauty Book (you can buy this book
)
Here's is bit of background information on holistic beauty as well as some favourite recipes of mine, to get you started on the potion path.
Toxic toiletries alert
When you consider that most skincare products are formulated from hundreds of different chemicals, some of which are known to be harmful to health, synthetics and preservatives, plus vast amounts of water, and then GMOs and nanotech particles are added to the malign mix, It's enough to turn your skin green thinking about it! It can be quite a shock to realise that your poor skin is being subjected to daily chemical warfare.
Some of the benefits of making your own skincare products are:
•    You know exactly what you've put in it
•    You can tailor make it for your own skin's needs
•    You can make it smell the way you like
•    You can make them to your ethical specifications
•    Your potion is freshly made
•    You can avoid ingredients that you're allergic to.
Keep it simple and sustainable
When formulating a product always aim to keep the recipe as simple as possible; it isn't at all necessary to have 30 different ingredients in a potion to make it effective. The best potions for the skin are the simplest – in fact, ingredients like cocoa butter or almond oil can be use plain, just as they are. There's no need to overcomplicate the process.
I, personally, try to keep the potions as ethical as possible; try to use mainly local or at least UK-grown ingredients and buy Fairtrade versions of imported ingredients. Buying organic ingredients where possible is a bonus to natural skincare. And save up pretty jars for the packaging.
Ingredients such as coconut fat, almond oil, beeswax, honey, salt, oatmeal, nuts, herbs, spices and other gorgeous treats, like vanilla essence, can be found in most grocers, health food shops and are probably in your cupboard already. Don't feel you need to make potions from fancy and exotic-sounding ingredients. You don't even need any special equipment; your kitchen is likely to contain the essential items.
Making beauty potions is a really lovely way to offer an eco-friendly and low-cost gift too. Here are some of my favourites. Enjoy.
After eight(ish) chocolate mint scrub
Shelf life: 3 months
Skin types: suitable for all
Ingredients
•    50g fair-trade/organic dark brown sugar
•    30g organic or raw cocoa powder
•    50g dried peppermint (or peppermint tea bags)
•    100-150ml virgin coconut oil/butter
This yummy-smelling scrub was invented while presenting this book at a conference; I wanted to show how easy it can be to make a gorgeous product from easily available ingredients (in this case bought en route from the tube station to the conference venue). Everyone attending left the building smelling edible.
How to make
1. Mix the sugar, cocoa powder and dried peppermint in a bowl
2. Gradually add the oil while stirring to make a thick paste
3. Store in a jar (Kilner jars look pretty)
How to use
Massage the chocolatey mixture gently all over damp skin; rinse off thoroughly.
Honey, I licked the lips
Shelf life: 12 months
Skin types: suitable for all
Ingredients
•    20g natural (preferably local or organic) beeswax
•    25ml organic cold-pressed sunflower oil
•    10ml cold-pressed wild/organic honey
Optional essential oils (drops per pot of balm):
•    2 drops sweet orange or
•    2 drops peppermint or
•    2 drops lime
This non-vegan lip-balm contains tasty, lip-softening honey along with beeswax to protect from cracking and drying out.
How to make
1. Chop up the beeswax roughly
2. Melt together honey, wax and oil in a bain-marie
3. Remove carefully from heat
4. Pour the molten lip-balm into small pots
5. While molten stir in essential oils using a cocktail stick
6. Leave the lids off while cooling
How to use
Apply to the lips as often as needed and try not to keep licking this sweet-tasting balm off!
Twinkle toes foot scrub
Shelf life: 6 months
Skin types: suitable for all
Ingredients
•    50g organic adzuki beans
•    20g fine salt
•    40ml organic sunflower oil
•    30ml plant glycerine
•    20 drops peppermint essential oil
•    10 drops rosemary essential oil
•    10 lavender essential oil
This foot treat makes the skin soft, scented and super-gorgeous.
How to make
1. Grind the beans to a powder in the coffee grinder
2. Mix with the salt in a bowl
3. Add the glycerine and stir
4. Then trickle in the oil until you have a thick paste
5. Add more oil if necessary
6. Now add the essential oils and put the mixture in jar
How to use
Wet the feet and massage the scrub thoroughly into the skin, paying special attention to any cracked or calloused areas. Rinse with warm water.
Subscribe to our magazine
Subscribe to delicious. magazine for HALF PRICE
Subscribe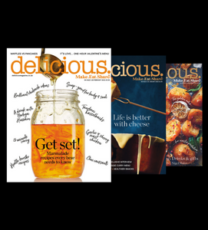 Join our newsletter
Packed with menu ideas, recipes, latest competitions and more...