What's inside our latest issue?
Our August issue is a celebration of freedom, sunshine and – if we're lucky – holidays. Our new issue brings you ideas for barbecue burgers, campervan cooking and most excitingly of all, our experts guide to sustainable fish eating. We've got fishy recipes from Rick Stein, Mark Hix, Pamela Yung and more. The brilliant Chetna Makhan brings us a fast Indian feast from her new book, and we've got a host of savoury tarts to liven up midweek meals. Our brilliant one-pan dinners, from gnocchi to pilaf, are ideal for making at home or away, and our technical bake is a mile high lemon meringue pie that is well worth reading on for… 
The issue of delicious. Magazine is available to buy online now, in stores from the 1st August and will be landing on subscribers' doormats on 25th July.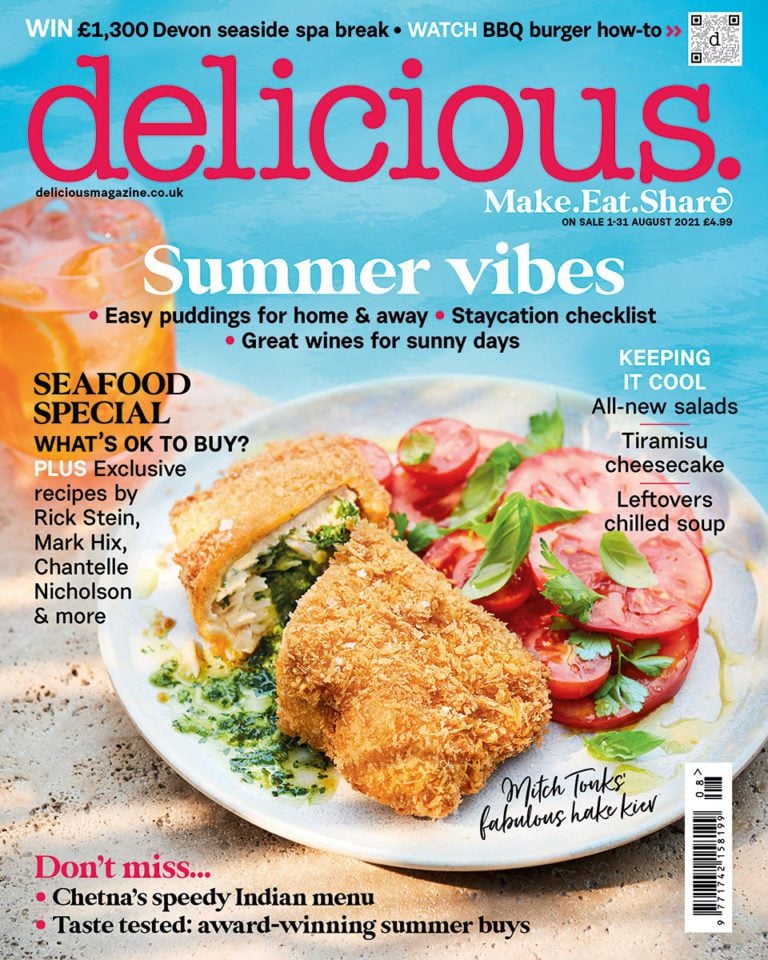 We are so excited about our Great British seafood special feature this month. Not only does it include all the up-to-date information you need on what fish you can still enjoy sustainably and which are best avoided, it's also got 6 brand new recipes from exciting chefs made with fish that you can enjoy with a clear conscience. We've got coley with beer and bacon from Rick Stein, oysters with radish kimchi from Pamela Yung, and of course, our coverstar hake kiev from Mitch Tonks, plus many more…
Our Cooking on the go feature includes 5 recipes that will see even the most seasoned campers through a weekend away. Think one-pan breakfast fry ups, sausage and sauerkraut hot dogs, mediterranean stewed veg with feta, and breakfast stroopwafels to have the crowds coming back for more. If it's impressive al-fresco lunches you're after, our veggie tarts include a leek, almond and tomato galette, greens, seeds and cheese tart, and a truly inspired use of carrots in our caramelised carrot tart with carrot top salsa verde.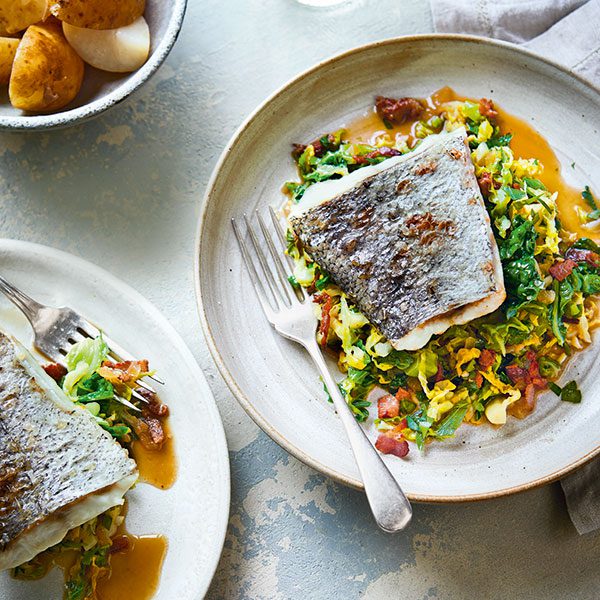 This month's recipe from Debra Robertson is all about preserves and pickles – that age-old way of preserving summertime bounty. If you've never tried a pickled peach before, allow us to acquaint you. They're perfect for enjoying alongside soft cheese and bread, and take only 20 minutes of hands-on time to prepare. Then it's just letting the vinegar do its magic…
Our Menu of the month comes from Chetna Makan, and we are so excited about her alu chaat: with its tingly-tangly crunch, it's the ultimate Indian streetfood. Follow it up with her masala chicken, tamarind aubergine curry and quick uttapam pancakes, which are made with dosa batter and finished with different toppings, and you'll be positively beaming with pride. There's a chickpea curry made with pickling spices (fennel, nigella, mustard and cumin seeds) and we finish things off with Chetna's rose and pistachio cake with cardamom toffee sauce. This is a menu to come back to again and again.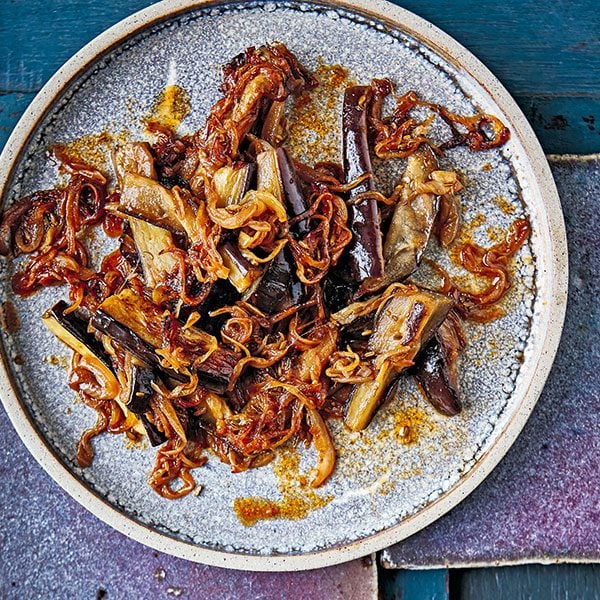 Speaking of the sweet stuff, we've gone all out for summer, think raspberry and lime self-saucing pudding, hazelnut tiramisu cheesecake, and a peach and passionfruit crumble traybake that hits all the right sweet, sour and crunchy notes. It's versatile enough to be taken on a picnic too, so is a winner in our book. Our Easy bake Maderia cake needs only 7 ingredients and proves that sometimes simplicity is just best! If your preference is for a make 'em look masterpiece, then the Technical bake is one for you: it's London restaurant Gloria's signature pudding: mile high lemon meringue pie. We will forever be in awe of what 4 eggs and a cup of sugar are capable of.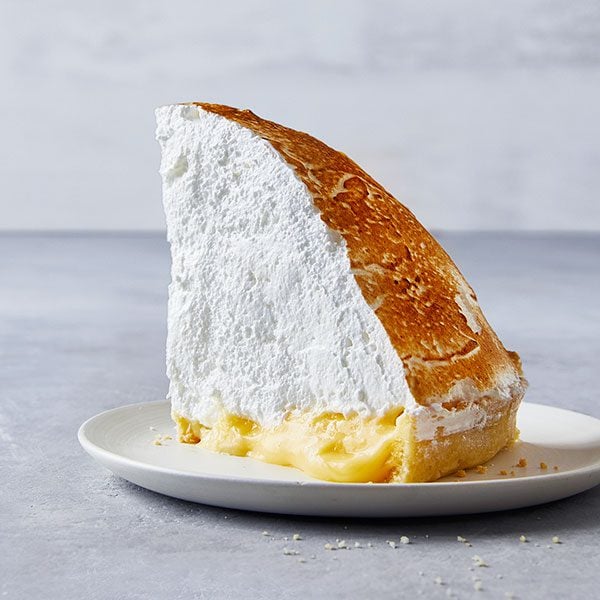 Our Budget recipe is cheese and onion pasties which come in at just 82p each: these are a crumbly and rich picnic crowdpleaser that are delicious hot or cold. If it's healthy dinners you're after, our salads with benefits are worth getting excited about – we've got everything from a smoked trout and fennel concoction to a prawn, chilli and lime vermicelli noodle number. Summer lunches will never be an issue again.
Our Made for sharing recipe is the perfect accompaniment to a chilled glass of white wine or an Aperol spritz: it's zucchini fritti! Also known as courgette fries, we're all for serving them up with spicy mayonnaise made with chilli pesto or bomba calabrese. Sometimes a summertime snack is all you need to give you that holiday feeling. Leave your self control at the door.
For fantastic fish, sweet treats, summer tarts and more – grab yourself a copy of our August issue. This is food to accompany summertime freedom and to bring good vibes – heaven knows you've earned it. Whatever you cook from the issue, send us a picture via our Cook it like delicious. competition for your chance to win a 29-piece range of tableware worth over £500.
Discover it all and much much more. Treat yourself to a delicious subscription and never miss an issue.