What's inside our latest issue?
Our July issue is a berry-licious feast of summer delights. We've got a warm weather special issue for you with recipes from Ben Tish, Ching He Huang, and Gill Meller. We hear firsthand from Olia Hercules about her homeland Ukraine and the far-reaching effects of the conflict going on there. And it's heavy on summer fruit with a berry bonanza, including our cover star beauty. Read on for more…

The July issue of delicious. magazine is available to buy online now, in stores from the 1st July and will be landing on subscribers' doormats from 25th June.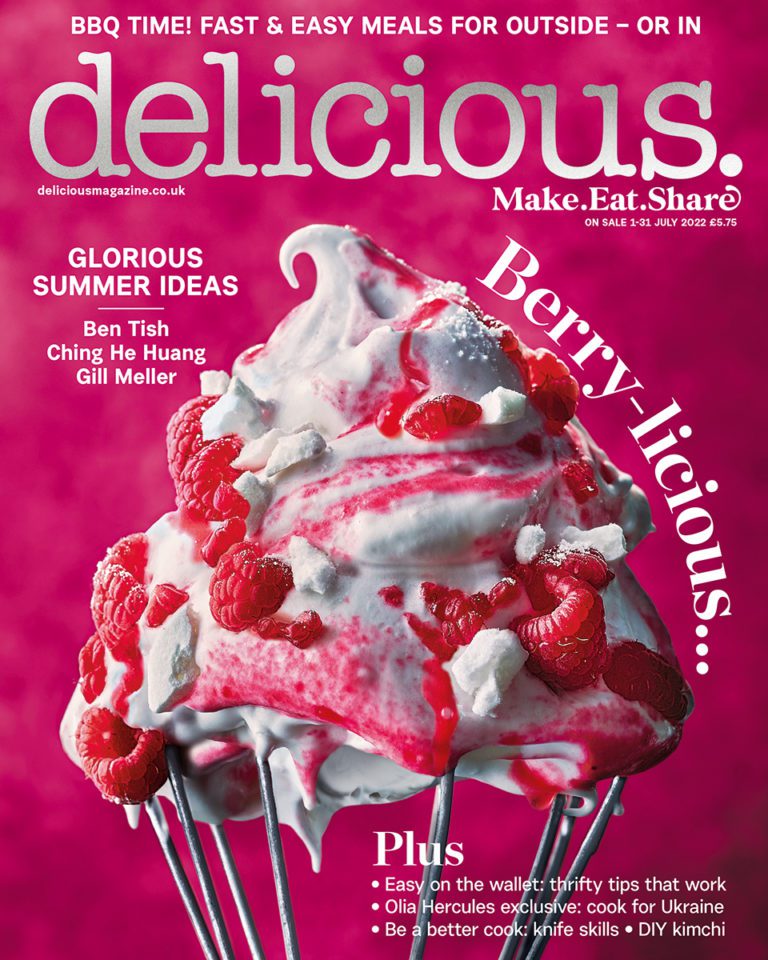 July means warm days and al fresco eating, or so we hope! We're optimistic, and we've got plenty of ideas for you there. Food editor Tom Shingler has put together 3 summer menus for the occasion; a picnic one, a colourful one and a barbecue one, including Korean wings and charred potato salad, and a sardine panzanella.
When it comes to picnics, Gill Meller's got us covered with the ultimate finger food: his courgette, chard, basil and goats cheese pasties. They're decorated with black onion seeds and salt for a real flavour hit. Or how about fishy scotch eggs? Made with smoked mackerel, cream cheese and mashed potato, this clever little number sees Scandi cuisine meet Scottish. Meat eaters can enjoy a raised chicken and pork pie: made with a hot water crust and parsley and chives, it serves 8 along with Gill's fantastic beetroot salad.
We go big on summer fruit with berry shortcake and raspberry cream maritozzi for those wanting to achieve wow-factor. There's an American-style blueberry and peach pie and of course: our cover star of boozy raspberry summer mess. Cassis is involved and it's lick-the-spoon good.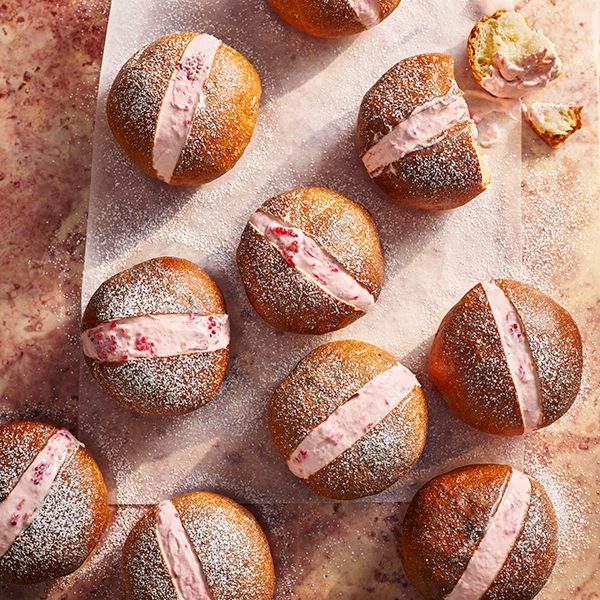 Chef Josh Katz of London's Berber & Q packs in the good stuff with his vegetarian delights: his three cheese and egg pide will genuinely have your guests drooling quicker than you can say salsa verde. His galette of courgettes, manouri cheese and chilli honey is all about the flavour, and a burnt aubergine soup will have you wondering why you haven't made soup with this member of the nightshade family before. Plus don't skimp on the crispy shallot topping – it's the savoury crunch that completes the dish.
It wouldn't be summer without a good burger, and this year we've only gone and brought you the most sustainable burger recipe we could find, our spiced venison burger. The UK's deer population is culled to control numbers, which is important to maintain biodiversity, so selling the meat ensures it doesn't go to waste. The recipe makes 6, so get your favourite pals over and devour.
Mediterranean master Ben Tish brings us a summery menu to try out this month: courgettes are stuffed with feta, anchovy and breadcrumbs, lamb shoulder is slow cooked then served with summery beetroots and carrots with a mint and garlic vinaigrette, and dessert is a make-ahead marvel in the form of a rhubarb and pistachio cake.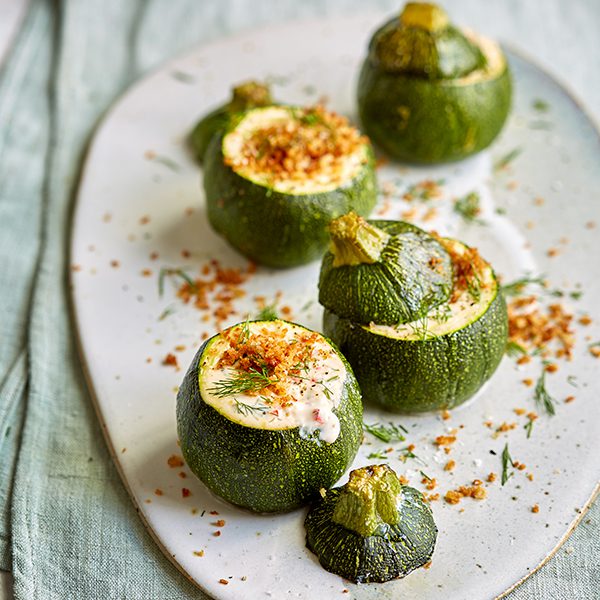 Award-winning food writer Olia Hercules' world was turned upside down in February when Russia invaded Ukraine. Her immediate family were still in her homeland, and each day was spent worrying when she would hear from them again. A fire in her belly gave Olia strength to bring the Cook for Ukraine campaign to life, which has raised over £1 million for the cause. Hear from Olia herself in this special feature, and then cook her Borsch recipe in Ukraine's honour.
Lap up the last of mango season with Avinash Shashidhara's alphonso mango cheesecake, which he was inspired to devise to pay homage to a childhood spent eating the fruit in Southern India. The buttery flesh of the alphonso is ideal here, so be sure to try and hunt down a box at your local Asian grocers.
The cost of living crisis isn't going anywhere, and we've brought together our 15 best tips for budgeting in the kitchen, from ways to save on ingredients, make fresh produce last longer and keep fuel costs as low as possible. We speak to experts on how to stock-take in the home kitchen, and what a difference a bit of time with your freezer can make…
For easy weeknights, we've found ways to get the barbecue into the everyday: paneer tandoori skewers, pomegranate glazed aubergines, pork and corn tacos, Korean style barbecue wings and Istanbul style fish sandwiches are all achievable and FULL of flavour. Whether you have a barbecue or not, these dishes all scream summer and will help make the most of the brighter evenings, without making you break up a sweat in the kitchen.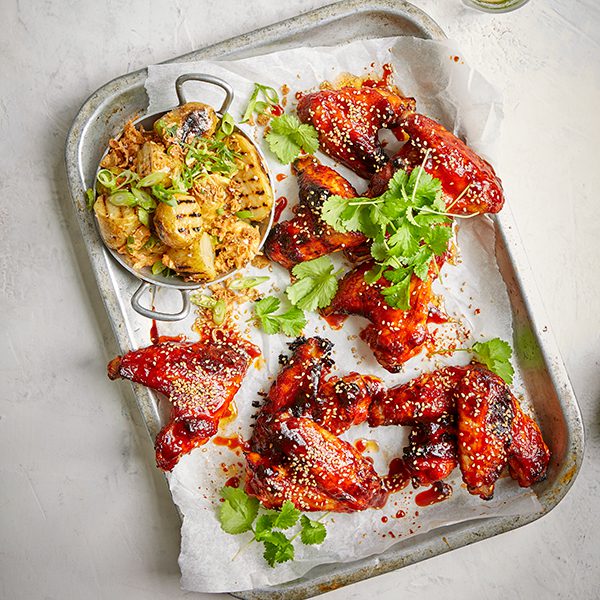 In our Be a Better Cook section we take a deep dive into sourdough. What can you make with all that sourdough discard, why do you need to discard it anyway, and how to make baguettes are all covered! PLUS, we give you tips on knife skills, and how to keep knives razor sharp as well.
So if you're looking to delight with maritozzi buns, burgers, homemade bread or midweek barbecue – don't miss our June issue. There's much to be mulled over and enjoyed here, and we know you'll find something tempting to devour (we're eyeing up those cheesy pides ourselves). Send us a picture of your creations on Instagram or Twitter or in our Facebook reader panel, and have a relaxing, joy-filled July.
Discover it all and much much more. Treat yourself to a delicious subscription and never miss an issue.
Subscribe to our magazine
Subscribe to delicious. magazine for HALF PRICE
Subscribe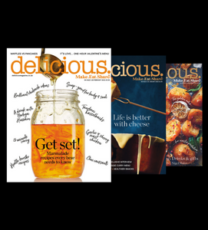 Join our newsletter
Packed with menu ideas, recipes, latest competitions and more...