What's inside our latest issue?
Our September issue is a cheering celebration of harvest! We've got knock-your-socks-off cakes to wow the crowds, herby pesto, pickles galore and so much more. That's not forgetting our easy dinner ideas, from speedy pastas to chicken casseroles. Then we've got healthy brunches to get excited about, thrifty halloumi burgers and Andi Oliver's shrimp and grits. The brilliant Richard Bertinet shares his bread recipes with us, and Pierre Kofmann's lamb stew and scallops will have your chef skills well and truly honed. We learn about the science behind pickling, how to properly chill wine, and where to go on a UK vineyard stay. Our technical bake is a truly magnificent tarte tatin, but you'll have to keep reading to find out more…
The September issue of delicious. Magazine is available to buy online now, in stores from the 1st September and will be landing on subscribers' doormats from 27th August.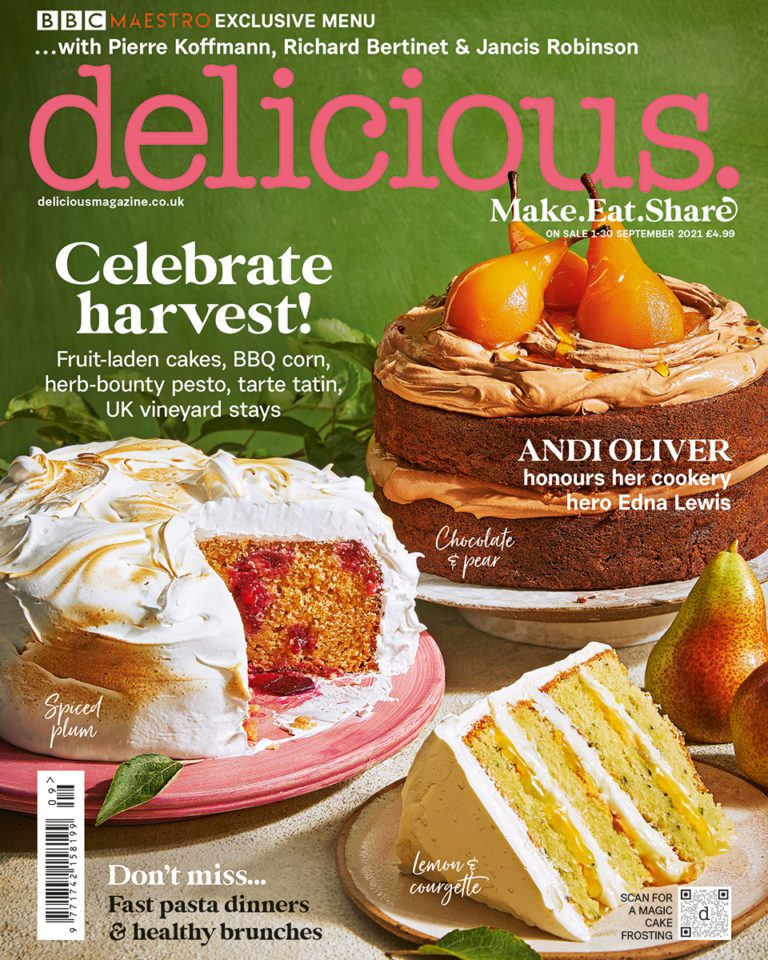 Did you know that statistically September has the most birthdays compared to other months? We are so excited about our cakes feature this month, full of showstopping ideas to make the crowds stare – birthday or not. Our rich chocolate and caramel poached pear cake with Swiss chocolate buttercream is frankly irresistible, and our spiced plum cake with swiss meringue frosting is a feast for the eyes. And that's not all: our lemon and courgette layer cake with white chocolate frosting is a beautiful masterpiece that'll sort out any courgette glut.
Our Make life simple section features 5 brand new speedy pastas that are big on flavour but require just a few ingredients. Think cannelloni parmigiana, sardine linguine and a sausage and fennel ragù with orecchiette that is meaty and filling and all things nice. If it's new brunch ideas you're after, our smashed fried eggs with baba ghanoush, and dhal with scrambled eggs from Aussie chef Tom Walton will have you full up and raring to go.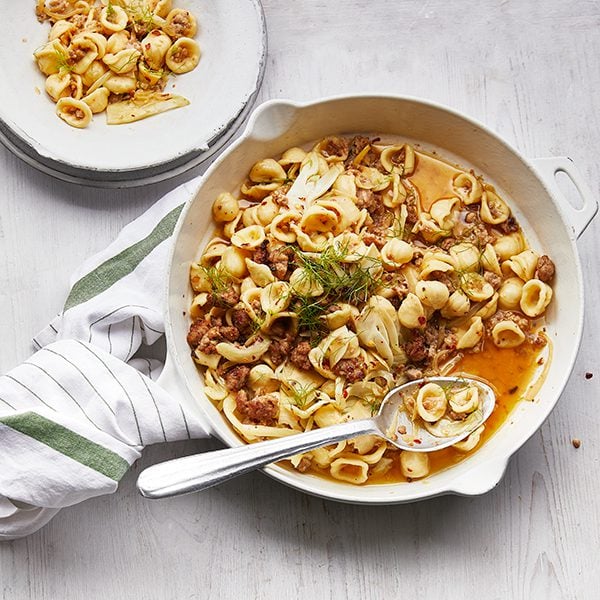 This month's recipe from Debra Robertson is a chicken tarragon casserole – and it comes with invaluable tips for new cooks. Ease into the new term with a warming, comforting bowl of this and you won't feel quite so bad about the chilly nights after all.
Our How to cook like a chef feature brings recipes from BBC Maestro's Richard Bertinet and Pierre Koffman, with Jancis Robinson bringing us wine pairing ideas. From Richard Bertinet we've got mini baguettes and a bread and butter pudding to die for. Paul brings us scallops with squid ink sauce, and a lamb stew with cheffy pommes purées: hooray.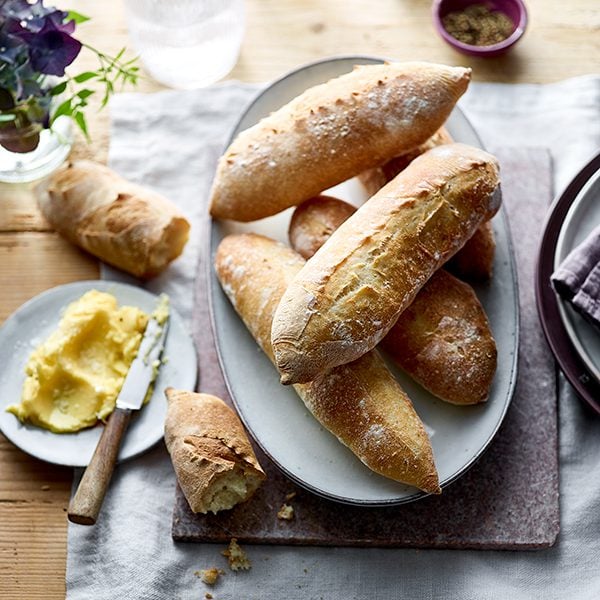 And if our cakes weren't enough to satisfy your sweet tooth, you NEED to try our technical bake which is a tarte tatin from London restaurant Galvin. They take five simple ingredients and turn them into something extraordinary; this is the perfect dessert for a chilled evening at home, guests or no guests. Then there's our peach and blackberry knickerbocker glory – it's made for one, and is the big nostalgic treat you deserve whenever you finally get that elusive moment to yourself.
We talk to Jay Rayner about allotments, food writing and restaurant staff shortages, and Patrick McGuigan enlightens us on a raw milk Wensleydale from Yorkshire called Old Roan. There's a recipe for marinated Wensleydale totstadas to enjoy with the cheese – its yielding texture and milky flavour make it stand far apart from the crumbly supermarket imitations.
Our Made for sharing recipe for pot sticker dumplings filled with pork and cabbage comes highly recommended. They are therapeutic to make, and whether for a starter, snack or side dish, tucking into these and their dipping sauce is worth every second of prep time.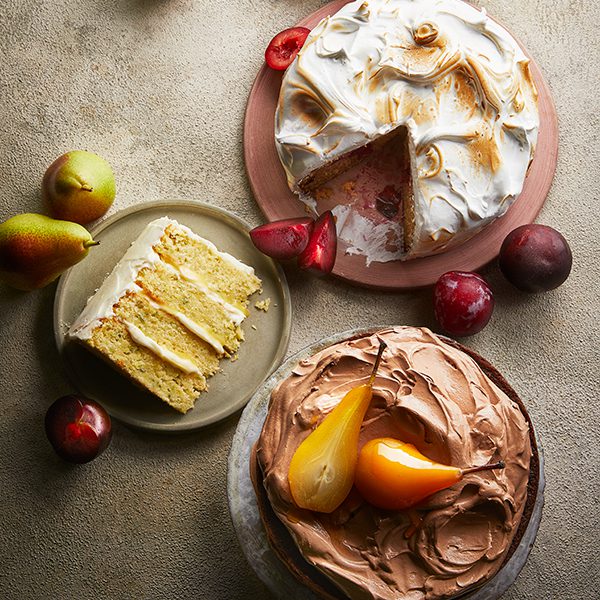 So for next-level cakes (above), sweet treats, speedy pastas and more – grab yourself a copy of our September issue. This is food to make you anticipate the coming of autumn, not dread it. Whatever you cook, pickle, or preserve from the issue, send us a picture via our Cook it like delicious. competition for your chance to win a stunning set of kitchen goodies from Russel Hobbs x Emma bridgewater worth over £525. That's something to get excited about.
Discover it all and much much more. Treat yourself to a delicious subscription and never miss an issue.