What's inside our latest issue?
May might have been a washout, but June is here and it's promising to be a sizzler – both on the barbie and in the weather reports. From T-bone steaks to trout wrapped in banana leaf, our new issue has the recipe inspiration you need to welcome back al fresco dining, and finally – dinner parties! We've got a soothing Sicilian menu from Ben Tish, that'll make you feel like you're on holiday even when you can't be. We hear from James Ramsden on why Nigel Slater means so much to him, and our technical bake (saffron buns!) comes from culinary legend Rick Stein. Our coverstar Eton mess roulade is the perfect summer pudding – sweet, refreshing and totally irresistible. And what's more, there's over 45 recipes in this month's issue, too!
The issue of delicious. Magazine is available to buy online and in stores from the 1st June and will be landing on subscribers' doormats on 28th May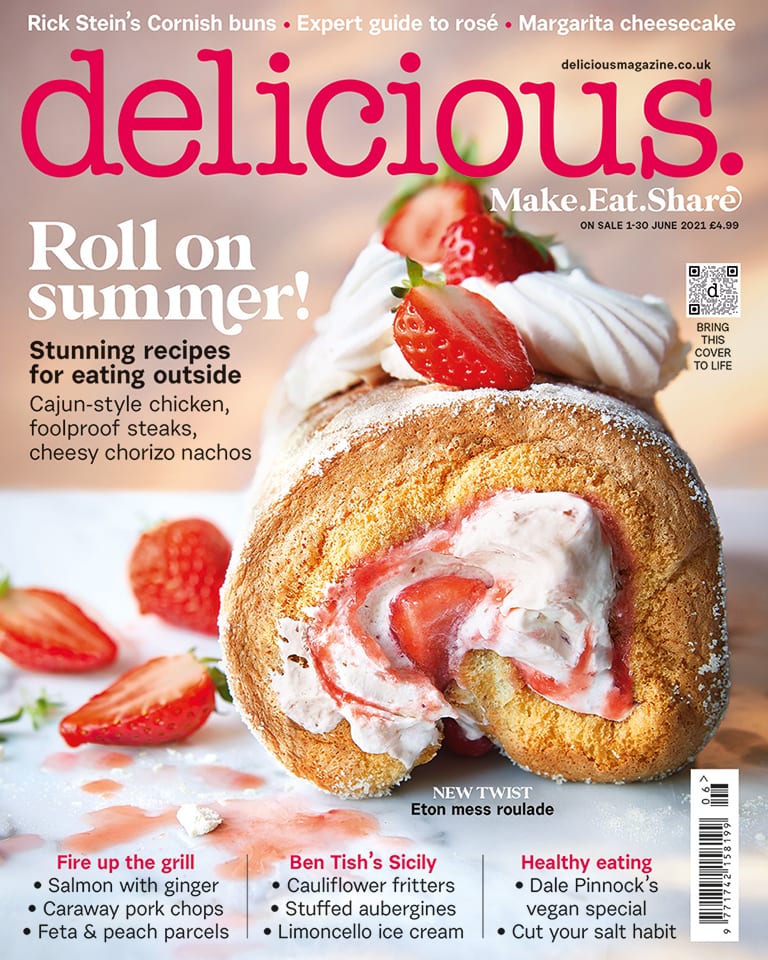 It's all things summer at delicious. for June! We've got seasonal recipes to make you fall back in love with the barbie (but don't worry, they all work well on a grill too) – from T-bone steak with a coffee rub to our feta parcels with courgette and peaches, this is proper British summer time goodness! We bring you family-friendly recipes including five ideas for a picnic dinner including sesame chicken skewers and Vietnamese-style meatball subs. While over in our feature pages, we learn about the MSG myth, how to reduce your salt intake, and Solstice cheese from Somerset, plus tips for choosing a stellar rosé wine.
With dinner parties at last a thing again, our June menu from Ben Tish will bring Italian terraza vibes. There's a cauliflower, anchovy and parmesan fritter starter, followed by ricotta, parmesan and lemon ravioli; stuffed aubergine with pork, pine nuts, rice and ricotta; and finally a limoncello semifreddo with cherries. There's even a simple Sicilian bread – a wonderful addition to the menu – and everybody knows Italy means double carb heaven. Impress your guests with this Mediterranean marvel of a menu, we are sure they will be talking about it for a while after…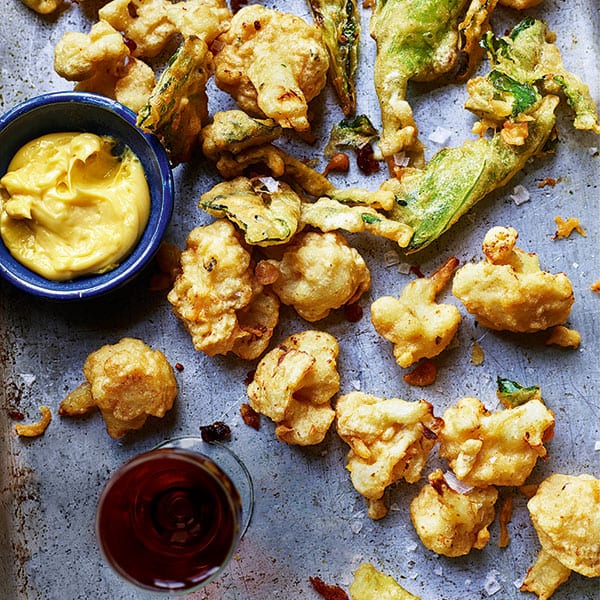 This month's recipe from Debra Robertson is a speedy Marmite cheese scone, the perfect recipe if you want to get back into hosting tentatively. Your tea drinking pals will thank you – and if you're not a fan of Marmite, don't worry, it just adds a subtle hint of savouriness that'll transform your cheese scones forevermore.
Our Letter to a food legend feature is from James Ramsden this month, who writes a tribute to Nigel Slater, whose way with words in The Kitchen Diaries inspired James to get into the food industry himself. And James's sausages with braised courgettes and polenta is exactly the kind of comforting plate of food that we know Nigel would be proud of.
Our Make Life Simple recipes use store-cupboard ingredients to create interesting dinners that can be taken outside to enjoy. This month we've got roast aubergines with giant couscous, sesame chicken skewers with noodle salad, and a feta, spinach and filo pie that's ideal picnic fodder. These are meals which require few ingredients but which will liven up your midweek meals. There's even courgette flatbreads with ham, peaches and burrata, and a bahn mí which is ideal for the sizzling June we are set to see…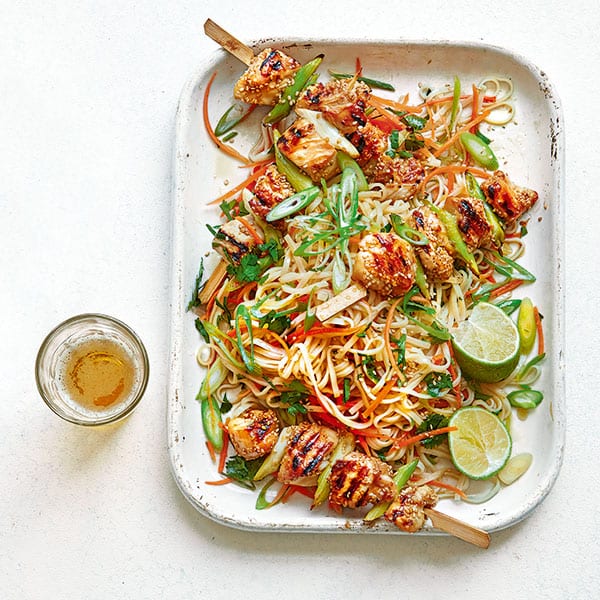 When it comes to baking, there's much to look forward to in our brand new easy bake, strawberry delights. From strawberry custard creams, to fondant fancies and lemon drizzle madeleines, there's a fruity teatime treat here for every occasion. Perfect for playing afternoon tea at home… why? Because (at last) you can!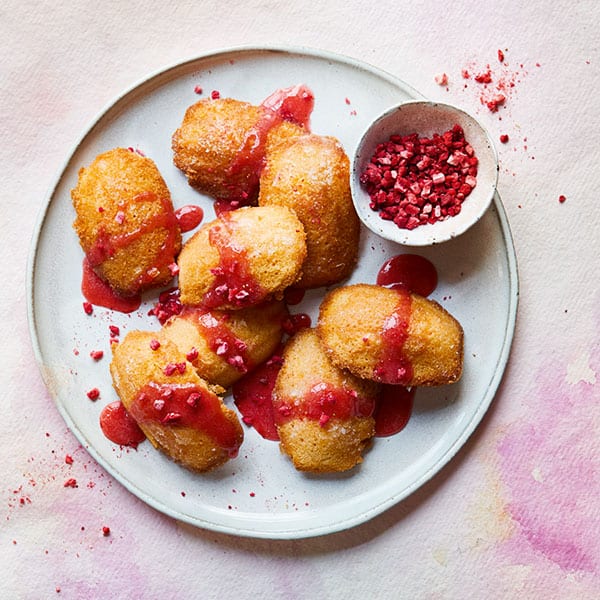 In our health pages we take a look at how to reduce your salt intake, and learn that retraining the taste buds takes just 2-3 weeks, but brings with it long term health benefits that we should all be aware of. We've also got 5 vegan recipes from Dale Pinnock – each is colourful, light and packed with vitamins and minerals – from orzo to tofu skewers.
And how could we forget our coverstar? Our Eton mess roulade is the summer pud to brighten up 2021. With its almond enriched sponge, strawberry cream filling and meringue nest decoration, it's the ideal recipe for those who want to give their summer dinner parties a stamp of pure sweet indulgence. It only takes 30 minutes to prepare, and the cake just needs 12 minutes in the oven, so this showstopper is definitely worth the effort.
So if you're on the hunt for summertime recipes and more, grab yourself a copy of our June issue – we are sure you'll find something new to cook up! Whatever you cook from the issue, send us a picture via our Cook it like delicious. competition for your chance to win a year's worth of English specialty vodka. Perfect to enjoy in a cocktail in that long-awaited heat! Any day now….
Discover it all and much much more. Treat yourself to a delicious subscription and never miss an issue.