What's inside our latest issue?
delicious. magazine has had a makeover! Yes that's right, our fresh new-look April issue has all the inspiration you need to celebrate Spring with gusto.
Enjoy herb-filled recipes to shake up your cooking, and dive into our new chicken roasts, selection of technical bakes, and a quick and easy salted caramel loaf cake. We look into the science of Yorkshire puddings (and help you master them for good), find out about Scotland's answer to Manchego, and interview the Great British Menu judge Andi Oliver. Our coverstar wild garlic ravioli is a must try – a verdant bowlful of spring to brighten up your weekend.
This issue of delicious. Magazine is available to buy online now, in stores from the 1st April and will be landing on subscribers' doormats on 27th March.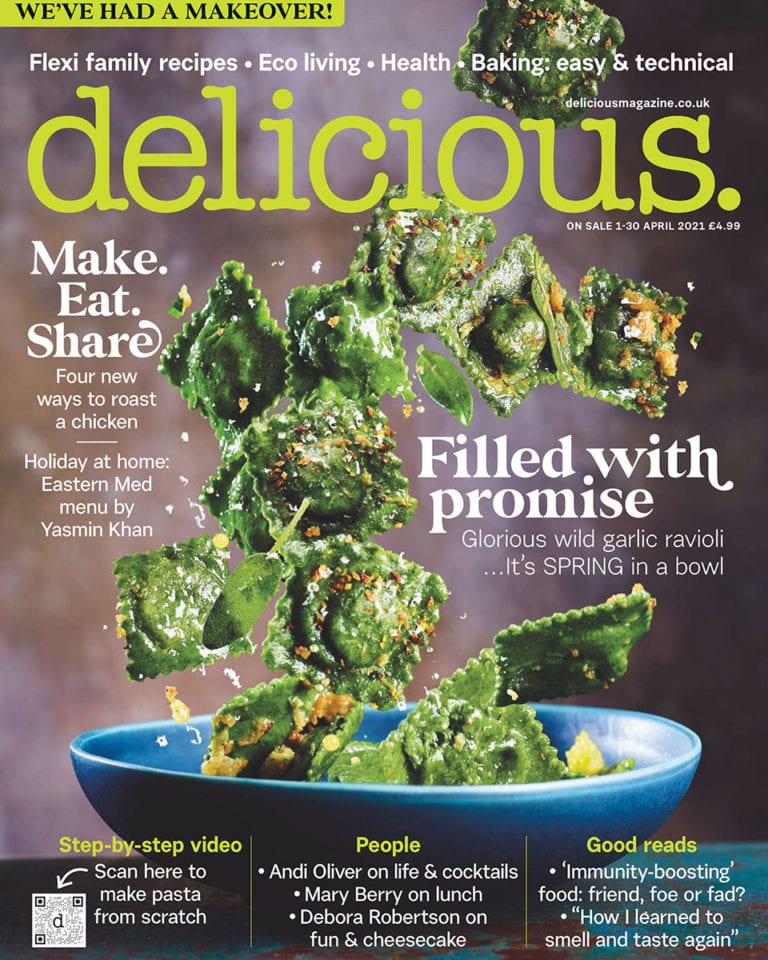 It's all things new at delicious. for April! Exciting new features have blossomed, and have joined the reliable midweek recipes you've come to expect from us. We can't wait to hear what you think of the redesign. Our new Make. Eat. Share section includes seasonal recipes, menus and a technical bake (this month it's the famous lardy buns from London's Flor). Our health pages include a thought-provoking piece on the science behind immunity foods. The Make Life Simple section brings you family-friendly recipes with a focus on storecupboard ingredients, and The Hub is full of products and produce we have tried and tested, including a new Green Kitchen feature, full of eco-friendly tips.
With spring well and truly in the air, our brand-new herb-packed recipes are all about flavour. There's a herbed monkey loaf which is a vessel for all sorts of delicious toppings: the new alpine cheese spread or lemony cream cheese and herb option are just two lovely bright and fresh ideas. We've got herby lamb chops with griddled bread and salad, or pasta with crispy bacon, courgette and three kinds of soft herb: a twist on the classic pasta primavera that you will love. Our citrus cured fish and herby roast beef will satisfy the carnivores, and there's a lemon verbena cordial to keep you hydrated.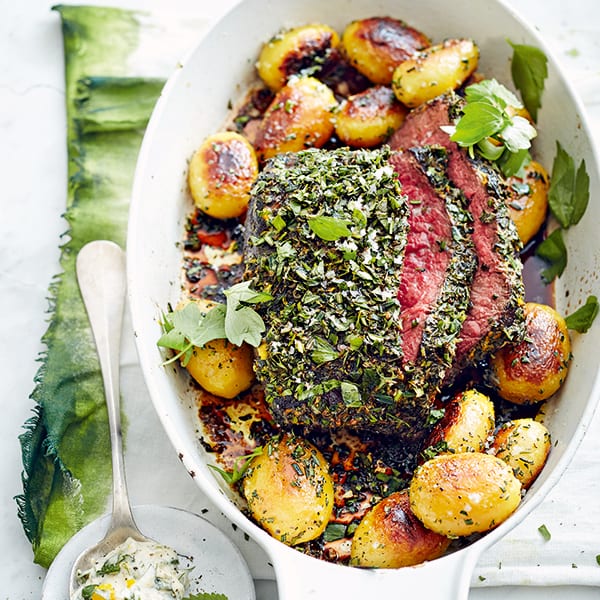 This month's Always a winner feature is all about chicken! From a Southern-style chicken with chips, to a harissa roast chicken with flatbreads and preserved lemon yogurt, these are ways to use your weekly bird in new and interesting ways, as well as twists on the classics. Lemon thyme roast chicken, anyone?
Our Make Life Simple recipes use store-cupboard ingredients to create dishes to spice up your midweek. From a salmon and avocado rice bowl to creamy tomato orzo with ricotta and artichokes, these are meals which require few ingredients but which are full of fresh flavours and satisfying textures. There's a grilled mango chutney chicken with lentils and yoghurt that's ready in 30 minutes, as well as a speedy schnitzel served with mayonnaise and a fennel salad.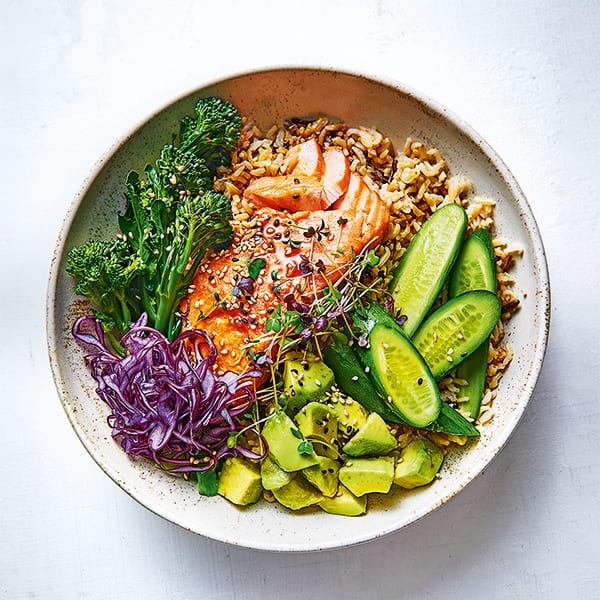 When it comes to baking, you can trust in our brand new salted caramel cake – it's a cinch and only takes 25 mins to prepare, with the cream cheese frosting taking things up a level. This is the treat to have in your tin ready for a walk with a friend or an afternoon pick-me-up. Talking of sweets, the banana and miso caramel pudding on page 68 is a marvel – not quite a pudding, not quite a cake, the subtle saltiness of the miso compliments the milky sweet caramel beautifully. Try a square drizzled with sauce and custard for dessert, and enjoy the leftovers for a 3pm treat in the days that follow.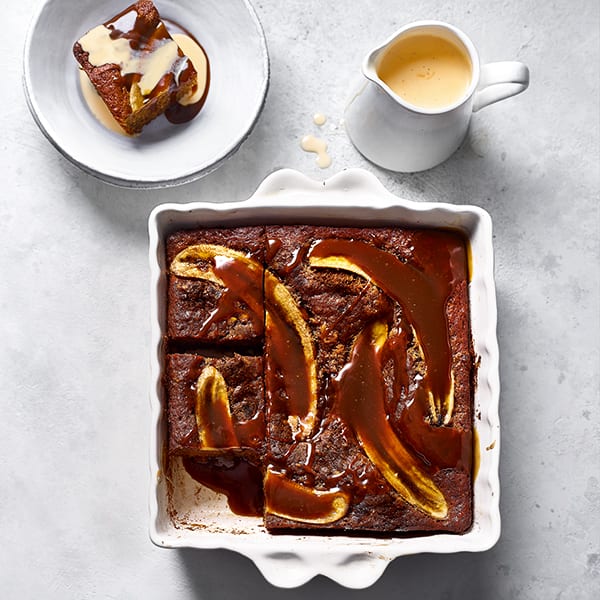 Our health feature looks at the truth behind immune boosting foods – can they do as they promise? Sue Quinn unpacks the science, while nutritionist Kerry Torrens assesses four examples of products with 'immunity' packet messaging.
In The Hub we have a new science feature from food writer Lucas Hollweg who talks us through how to get the perfect Yorkshire puddings by understanding the chemistry at work. There's more to it than just not opening the oven door (though that matters, too!). We take a tour of UK cheese with Patrick McGuigan. First stop: Lanarkshire, where Errington Cheese's corra linn is made – a hard, unpasteurised ewe's milk cheese that has fruity, caramel sweetness. And Susy Atkins talks us through the best canned drinks, from cocktails to Nebbiolo.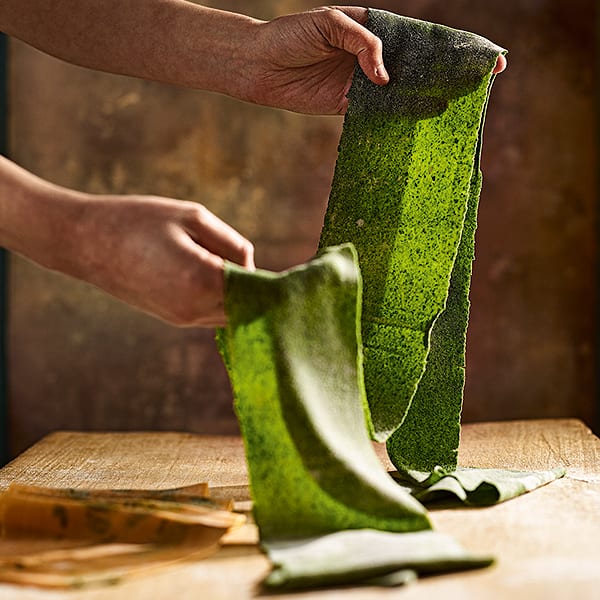 Then of course, there's our coverstar. Our wild garlic ravioli recipe uses fresh spinach pasta, with a flavourful filling of wild garlic, cheese, lemon zest, nutmeg and sage, and there's even an optional pangrattato (crunchy breadcrumbs) and saffron butter, for those who want to make their dinner proper cheffy. It might require some muscle power to roll out all that dough, but the resulting meal will be a mightily impressive, showstopper of a plate.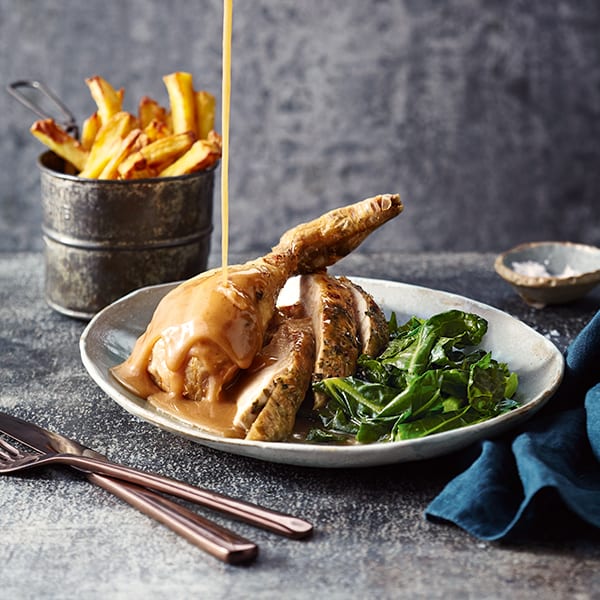 We are sure you'll find yourself something to love in our new-look April issue, whether that's a comforting twist on a roast chicken, a vegetarian moussaka, or something sweet and energising to bake. Whatever you cook from the issue, send us a picture via Instagram or Twitter, and here's wishing you some much-deserved sunshine this April.
Discover it all and much much more. Treat yourself to a delicious subscription and never miss an issue.