140 years of food trends in one meal
When I think about the food trends of yesteryear, it's not avocados, kale and freakshakes but 1970s prawn cocktails and fish-shaped terrines that spring to mind.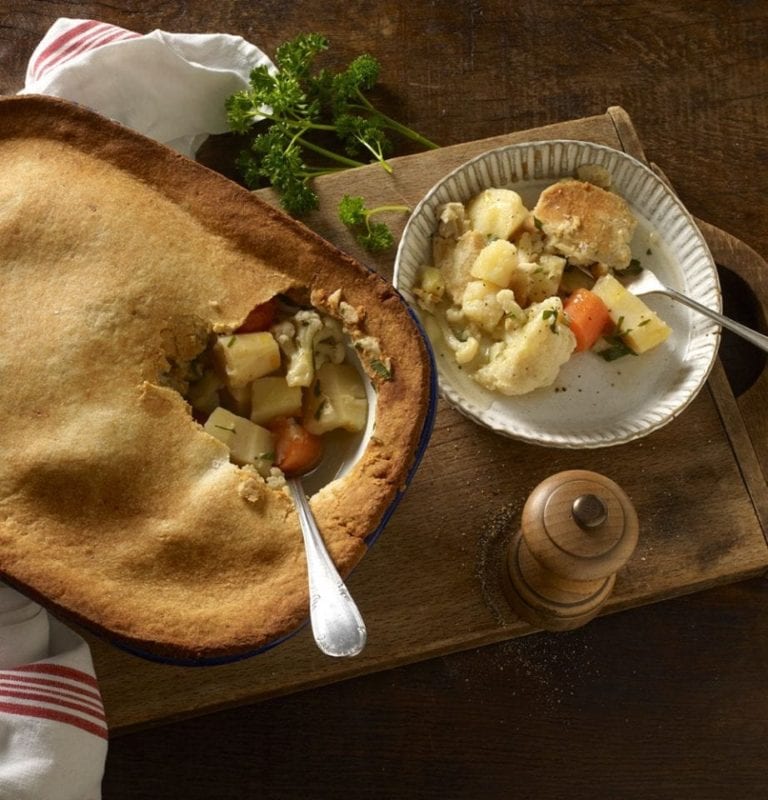 There have been plenty of brilliant trends that have stood the test of time – along with some that are best left in the past (I'm thinking quite a lot of 1970s dinner party horrors.)
On a recent trip to Bretten, Germany, I was able to taste some of the most important food trends in Europe from the past 140 years, all in one massive menu. The meal, created by Olia Hercules for NEFF, was a long one, I was pleased to be wearing stretchy trousers.
Here's what I ate, in order of the decades they came from.
1877 – 1887, from Germany: Huzelbrot with cheese and pears
During the Industrial Revolution, farmers were moving from rural areas to cities and taking regional dishes with them – including this sweet, sticky bread made with spices, nuts and dried figs.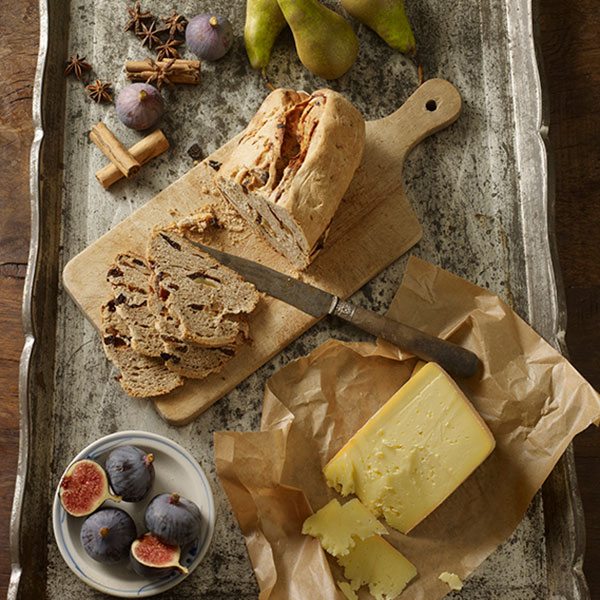 1887 – 1897, from Spain: Churros with chocolate sauce and coffee
At this time the popularity of chocolate in Spain was rising as chocolaterias appeared across the country and churros were quickly becoming fashionable. These days you can find these heavenly cinnamon and sugar-dusted doughnuts, with rich chocolate sauce for dunking, at plenty of street food stands and markets.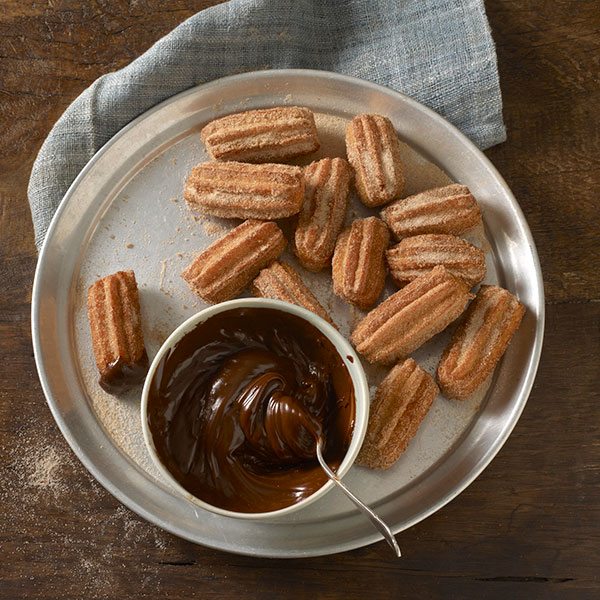 1897 – 1907, from France: Melba toast with pigeon and chestnut pâté
This decade marked the beginning of fine dining and was heavily influenced by French chef Auguste Escoffier. He popularised and updated traditional French cooking. This canapé was inspired by a forgotten Viennese dish from the era.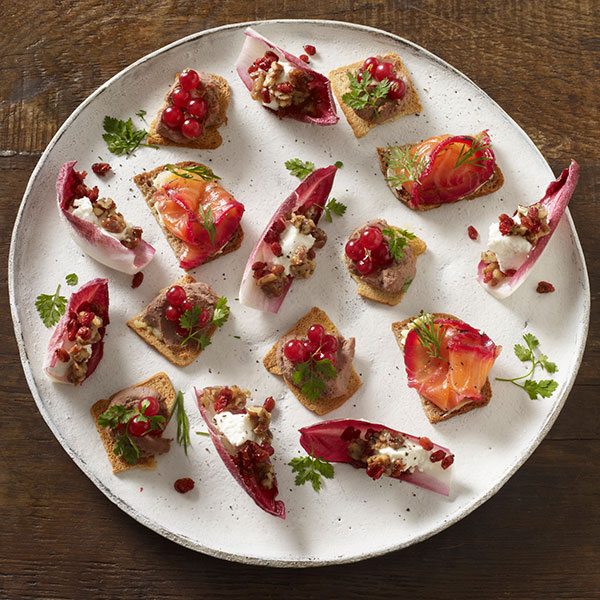 1907 – 1917, from Britain: Oxo cube with gold leaf
The iconic Oxo cube began to make its name in 1910 when, during WWI, 100 million hand-wrapped cubes were provided to the armed services. This dish was created to reflect the status of Oxo in British kitchens: a strong beef stock frozen into a cube wrapped in gold leaf and served in a delicate tea cup.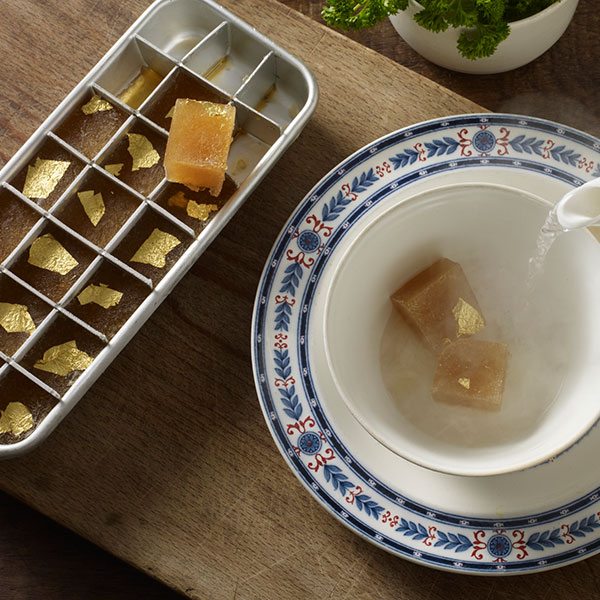 1917 – 1927, from Britain: Rosemary and blood orange Buck's Fizz cocktail
The 1920s witnessed the rise of a more glamorous lifestyle – indulging in small bites and drinking champagne. The legendary morning champagne cocktail Buck's Fizz was invented as an excuse to begin drinking earlier in the day. It was named after London's Buck's Club, where it was first served in 1921.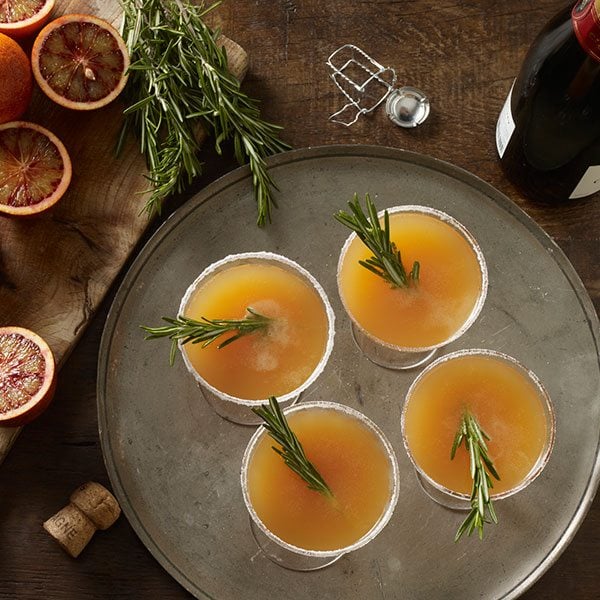 1927 – 1937, from Sweden: Rye crostini with gravlax, beetroot, orange and dill
In the late 1930s the Swedish smorgasbord, a board made up of a selection of small dishes, became internationally known following the New York World's Fair where it was presented at the Swedish Pavilions Three Crowns Restaurant. This dish was created to reflect a traditional smorgasbord, using proper Nordic-style rye bread.
1937 – 1947, from Britain: Lord Woolton's pie
During WWII rationed meat, eggs and dairy were considered ultimate luxuries in Britain. The government launched the 'Dig for Victory' campaign, urging people to use gardens, parks and every spare inch of land, even tennis courts and golf clubs, to grow their root vegetables. It can't have been easy to create new dishes at this time, but the head chef at The Savoy managed it. His creation was Woolton Pie, mainly consisting of potatoes, cauliflower, swede, carrots, onions and oatmeal, in honour of the head of the Ministry of Food, Lord Woolton.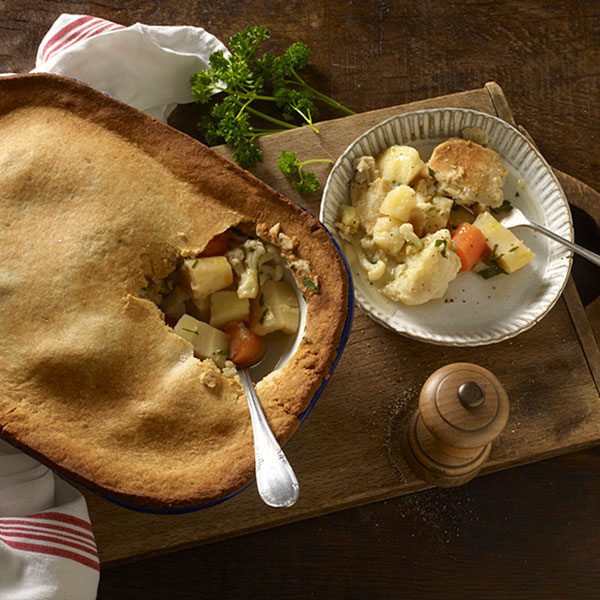 1947 – 1957, from Italy: Bistecca alla Fiorentina
In the years following the WWII, Italy became more prosperous and women began to abandon more traditional recipes (which took a long time to prepare) in favour of quick, simple and tasty dishes. This huge T-bone steak was served with the Woolton Pie and together they tasted absolutely delicious. This was one of my favourite dishes.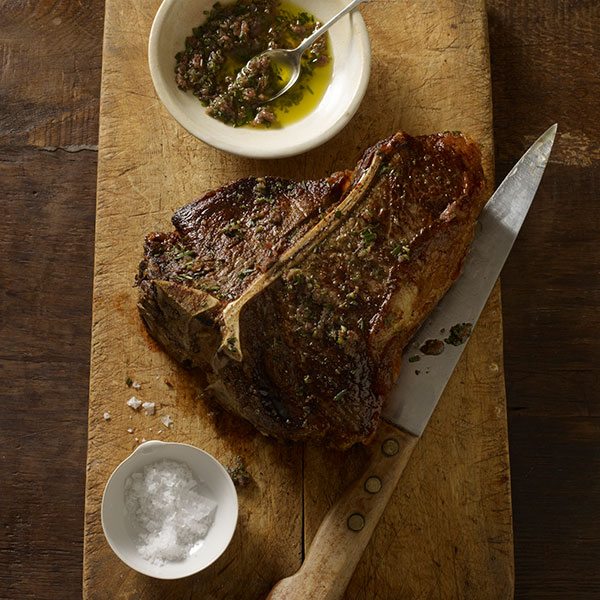 1957 – 1967, from Switzerland: Fondue
This decade is the era of dinner parties, where restaurant-style dishes were brought into people's homes. It's not surprising that fondue was the biggest craze of the period. Who wouldn't love dunking bread into boozy melted cheese?
1967 – 1977, from Eastern Europe: Fermented pickles
While other parts of the world enjoyed rapid economic growth, people all over the Soviet Union were experiencing food shortages. Empty shelves, which often held bottles of vinegar, led to pickling as a way of preserving any foods available.  These crunchy, tart pickled vegetables, including cauliflower and carrots, provided a nice relief after a few heavy dishes.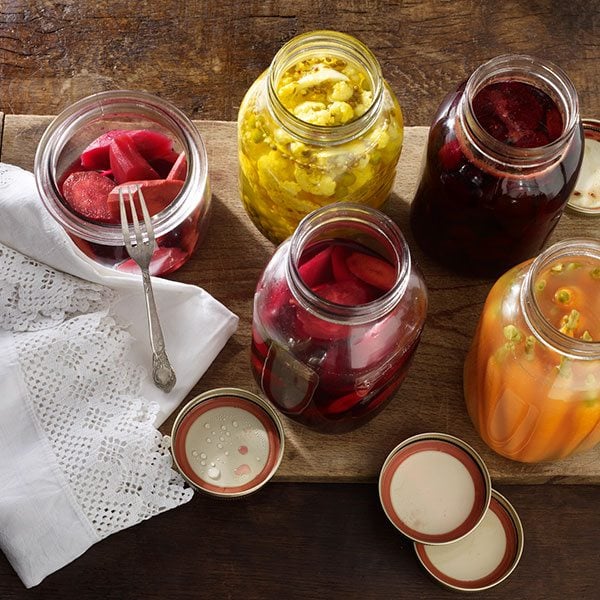 1977 – 1987, from Belgium: Endive with goat's curd, sorrel and rehydrated barberries
During this decade, the nouvelle cuisine trend continued to rise. Dishes were daintier, less butter-heavy and there was a new obsession with exotic ingredients and fresh, high-quality produce. This canapé was served first and, as I knew how many courses were still to come, I was thankful that it was a light start.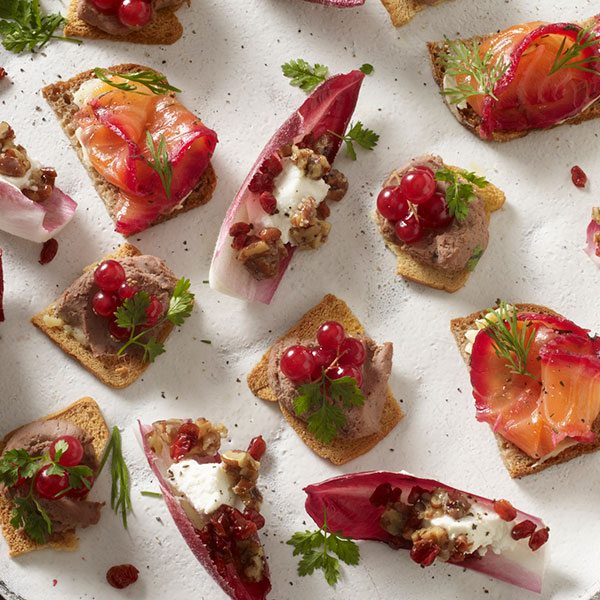 1987 – 1997, from Italy: Sourdough bread and fermented butter
This decade saw the growth of Carlo Petrini's Slow Food movement which started in the 1980s as a protest against a new McDonalds opening near the Spanish Steps in Rome. This dish was a true celebration of this movement. You can't rush a sourdough or fermented butter – they both take a lot of time and care to produce. Served with fresh figs and pears, it was an amazing combination.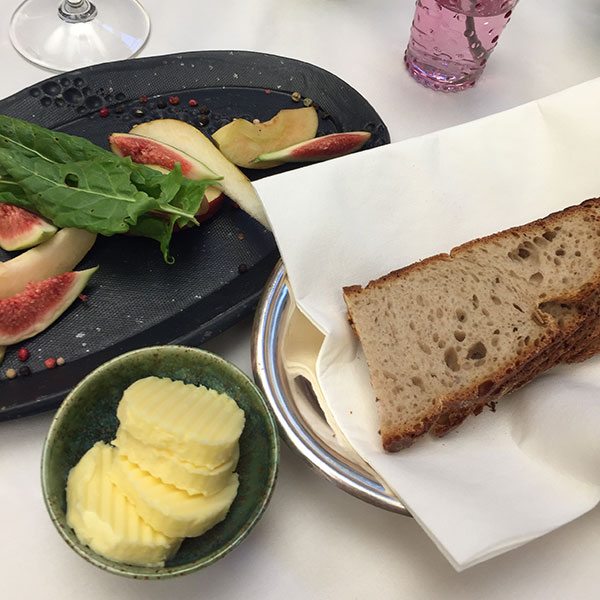 1997 – 2007, a Spain/Greece fusion: Grilled octopus with skordalia 
This decade kickstarted the beginning of the tapas and sharing plates era, moving away from the more conventional starter–main–pudding meals. This combination of garlicky mashed potato purée, grilled octopus and pickle rhubarb was inspired by Greek meze and Spanish tapas.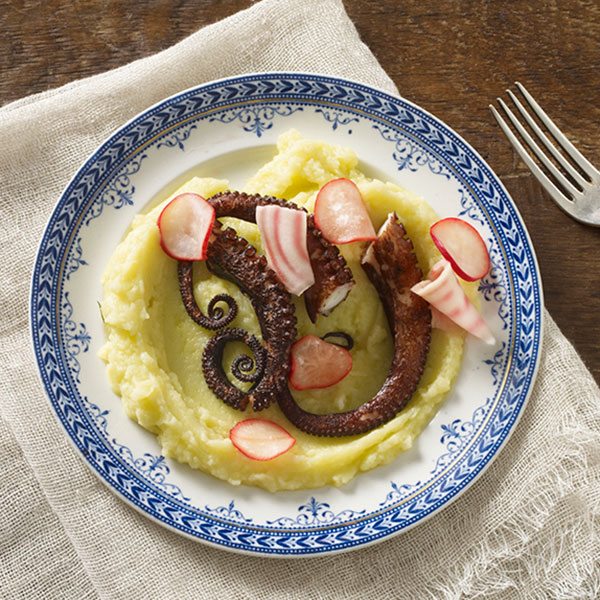 2007 – 2017, from Germany: Black forest gateau
The decade of Great British Bake Off – it seemed only right for the final course to be a classic German cake. I thought I wouldn't have room for my mini gateau, made with layers of chocolate, cherries and cream, but we all know there's a separate stomach for desserts so I managed to squeeze it in.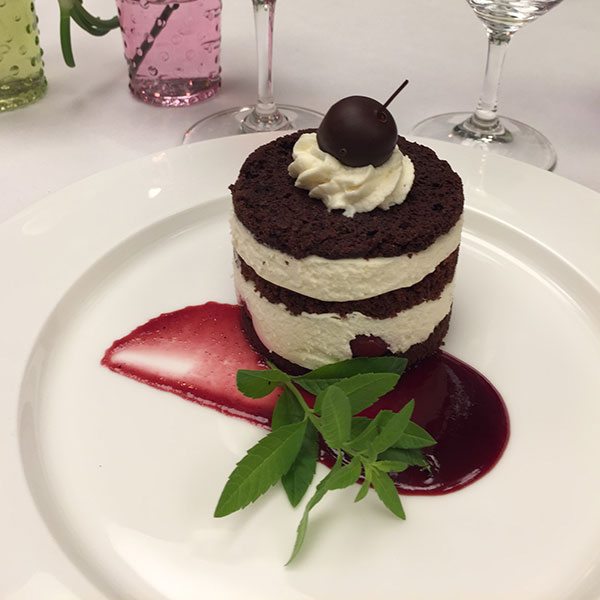 Thank you to NEFF for taking me on a journey through 14 decades of dinner.
Subscribe to our magazine
Food lovers, treat yourself this Christmas... Enjoy 12 months of magazines for £29.99 – just £2.50 an issue.
Subscribe
Unleash your inner chef
Looking for inspiration? Receive the latest recipes with our newsletter