Produce Award 2018 winners
The delicious. Produce Awards seek out and celebrate the most exciting and talented small-scale producers from across Great Britain.
In this, the third year of the awards, we've unearthed an incredible bunch of producers who are doing the nation proud. Food in the UK has never been better, and it's something to shout about – which is exactly what we intend to do.
Drum roll, please!
THE ENTRIES
Back in March last year, we asked you to nominate your favourite artisan food producers – the people who make the kind of food, from sourdough bread to smoked fish, that you go out of your way to buy – and you came up with the goods. Nominations poured in, along with inspiring stories about these producers' skill and passion. We divided our entries into nine regions for first-round judging.
THE REGIONAL JUDGING
From June through September, delicious. and our brilliant sponsor, Fisher & Paykel, went on tour with expert panels of local judges to taste-test entries at food festivals from Scotland and Northern Ireland to Wales, and the length and breadth of England.
At each show, the produce was taste-tested and assessed by a panel of regional food experts. Overseeing proceedings was our Produce Awards ambassador, the talented chef, cookery teacher and broadcaster Valentina Harris.
THE FINAL JUDGING
Winning produce from the regional judging went through to the national finals, held at London's Borough Market in October 2018. Here, after much discussion and debate, the winners in each of our eight categories were chosen by an illustrious panel of judges.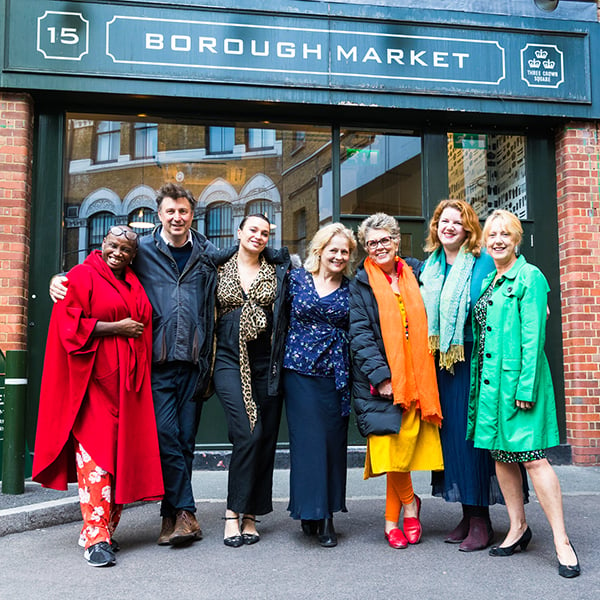 Here are the 2018 Produce Awards winners…
DRINKS WINNER
The Preservation Society, Wales, for Blissfully Blackcurrant Sirop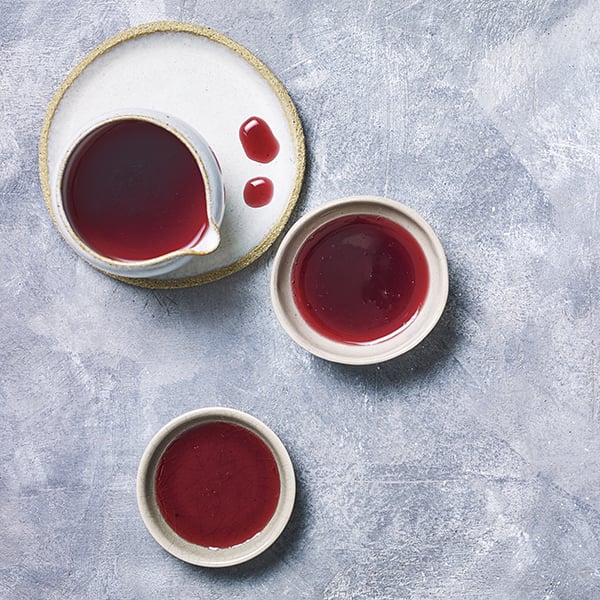 This inky elixir was inspired by a historical recipe from producer Angharad Underwood's grandmother. Called a 'shrub', it was used to ease a sore throat or lift the spirits. Angharad's updated recipe involves steeping the blackcurrants for a week in local cider vinegar before they're hand-pressed in a cider press. The resulting juice is heated with a small amount of sugar to preserve it, then bottled. Angharad describes her sirop as 'grown-up Ribena'. She recommends serving it with ice cream, prosecco or drizzled over salad leaves.
Buy from thepreservationsociety.co.uk
What the judges said:
"I can imagine that as a cooking ingredient" Susy Atkins
"Outstanding, versatile and complex" Karen Barnes
"Wonderful undernotes" Xanthe clay
HIGHLY COMMENDED
Gusbourne, London and the South East, for Gusbourne Rosé 2014
Buy from gusbourne.com
Dunnet Bay Distillers, Scotland, for Holy Grass Vodka
Buy from dunnetbaydistillers.co.uk
FROM THE SEA
WINNER, ARTISAN
Lough Neagh Fishermen's Co-operative Society, Northern Ireland, for Smoked Lough Neagh Eel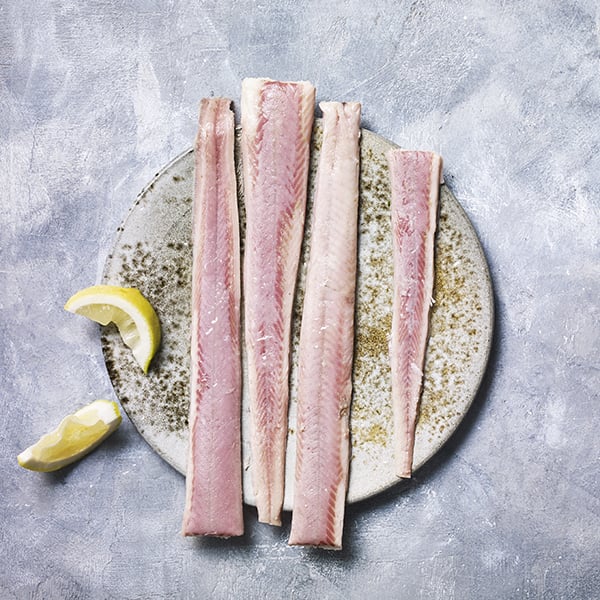 The Society was established in 1965 to manage the lake and support the fishing families that depend on it. Today it's the largest producer of wild eels in Europe and successfully campaigned for the Lough Neagh eel to receive Protected Geographical Indication (PGI) – a first for Northern Ireland.
Contact info@loughneagheels.com for stockists
What the judges said
"I like the light smoke, great taste and sexy softness" Prue Leith
"Meaty and wonderful" Karen Barnes
HIGHLY COMMENDED
Seafood & Eat It, South West, Isles of Scilly and The

Channel Islands, for Cornish Crab Pots with Brown Shrimp


Buy from major retailers including Waitrose, Ocado, Abel & Cole and Whole Foods Market; see seafoodandeatit.co.uk
St Davids Kitchen, Wales, for Crab & Lobster Pâté
Buy direct from Pembrokeshire; see stdavidskitchen.co.uk
FROM THE SEA
WINNER, PRIMARY
Rooney Fish, Northern Ireland, for Millbay Pacific Oysters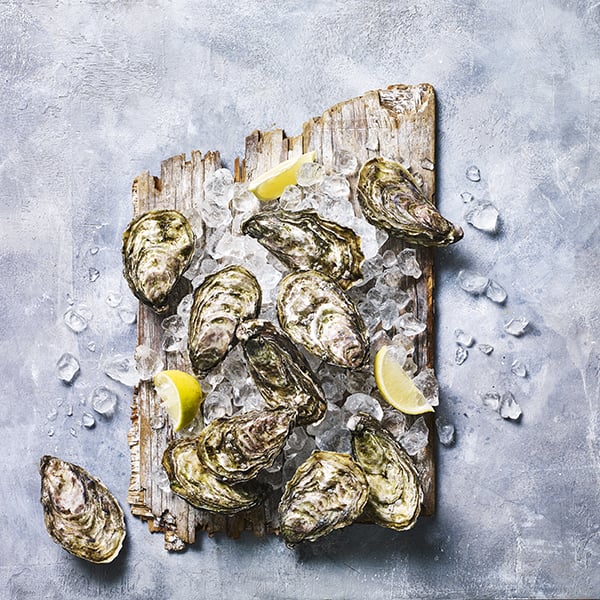 Originally founded by John and Rosemary Rooney, Kilkeel-based Rooney Fish has been in the seafood business since 1975 and today is run by the couple's son, Andrew. In 2014, the firm opened its own oyster farm on the shores of nearby Carlingford Lough, where its award-winning Millbay pacific oysters are grown. All oysters are depurated (purified in clean water), cleaned and graded in Rooney Fish's state-of-the-art facility, and the business also exports seafood, including langoustines and crabs, caught by its own boats and those of other local fishermen.
What the judges said
"Lovely creamy texture, – but with a rockpool freshness and mineral finish" Lucas Hollweg
"That's a big fat oyster"  Andi Oliver
"I've never had to eat an oyster in two chunks before!" Prue Leith
"Ozone-y, huge, outstanding. Creamy, gentle flavour" Karen Barnes
FROM THE DAIRY
WINNER, ARTISAN
Dart Mountain Cheese, Northern Ireland, for Sperrin Blue Cheese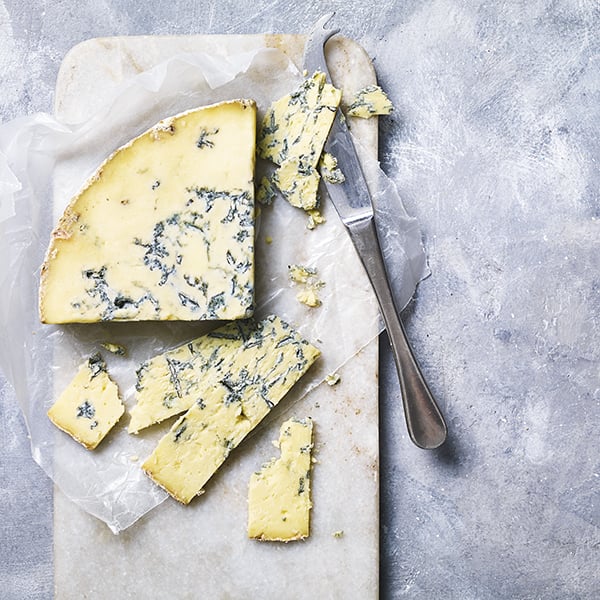 This semi-soft pasteurised blue cheese is named after the Sperrin mountains, where it's made by hand with local milk. Cheesemaker Julie Hickey and husband Kevin converted a farm shed into a custom food unit in 2012, complete with ageing room. Sperrin Blue was their first release in 2014; the range now includes five other cheeses.
Buy from tamnaghfoods.com
What the judges said
"Nice acidity and fresh flavour" Prue Leith
HIGHLY COMMENDED
Rodda's Creamery, South West, Isles of Scilly and The Channel Islands, for Cornish Clotted Cream
Buy from major supermarkets and independent retailers; see roddas.co.uk
Longley Farm, North West, for Cottage Cheese
Buy from selected supermarkets and independent retailers; see longleyfarm.com
FROM THE FIELD
WINNER, ARTISAN
Broughgammon Farm, Northern Ireland, for their Goat Bacon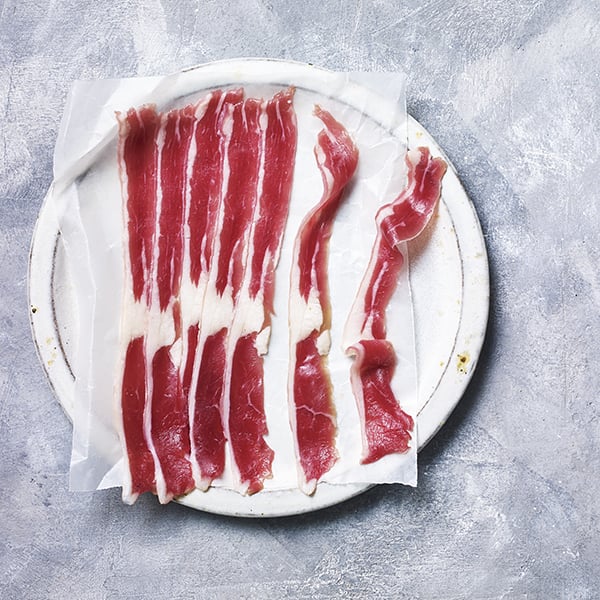 Becky and Charlie Cole began rearing male kid goats at their Ballycastle farm in 2011. Today they also farm free-range rose veal and sell seasonal wild game in an effort to promote sustainability and diversity in farming. They host classes at their on-site butchery, run farm tours and goat supper clubs, and have a farmshop and café.
Buy direct from the farm shop (open Fridays)
What the judges said
"That's outstanding – the best thing I've eaten today" Gizzi Erskine
"Better than most pork bacon" Andi Oliver
HIGHLY COMMENDED
Truly Traceable Venison & Game Pies, Eastern England, for Homemade Venison Pie
Buy from stockists in Eastern England; see trulytraceable.com
Wild by Nature Meats, East and West Midlands, for Woodland Reared Pork Sausages
Buy meat boxes via mail order from wildbynaturemeats.com

   
FROM THE FIELD
WINNER, PRIMARY
Cavanagh Ltd Free Range Eggs, Northern Ireland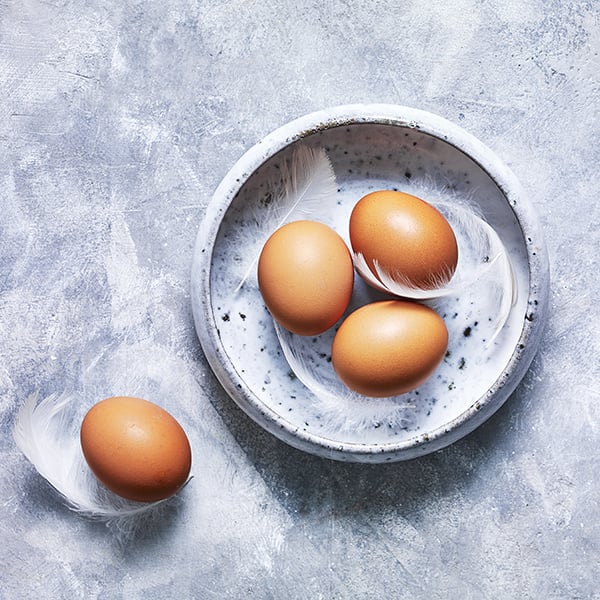 John and Eileen Hall welcomed their first flock of chickens in 2002 and today produce 13 million eggs annually, from 59,000 birds across three family-run sites. The Cavanagh Free Range brand was born in 2012 when the Halls began doing all their own grading, packing and deliveries. Their hens enjoy a free-range lifestyle in the grassy County Fermanagh countryside.
Buy from Asda, selected Tesco branches and independent retailers in Northern Ireland, and from an egg vending machine in Co Monaghan; cavanaghfreerangeeggs.co.uk
What the judges said
"That yolk is what you want yolks to be like – large, but also rich and creamy" Lucas Hollweg
"Great rich, savoury yolk"  Xanthe Clay
"Buttery and packed with flavour – even the white" Karen Barnes
HIGHLY COMMENDED

The Primrose Herd, South West, Isles of Scilly and The Channel Islands,
for Traditional Breed Shoulder of Pork
Buy via mail order at primroseherd.co.uk, at Helston Farmers' Market and direct from the farm in Redruth, Cornwall
The Butchery Ltd, London and the South East, for Flatiron Steak
Buy from local stockists; see thebutcheryltd.com
FROM THE EARTH
WINNER, PRIMARY    
Wye Valley Salad, East and West Midlands, for Wye Valley Salads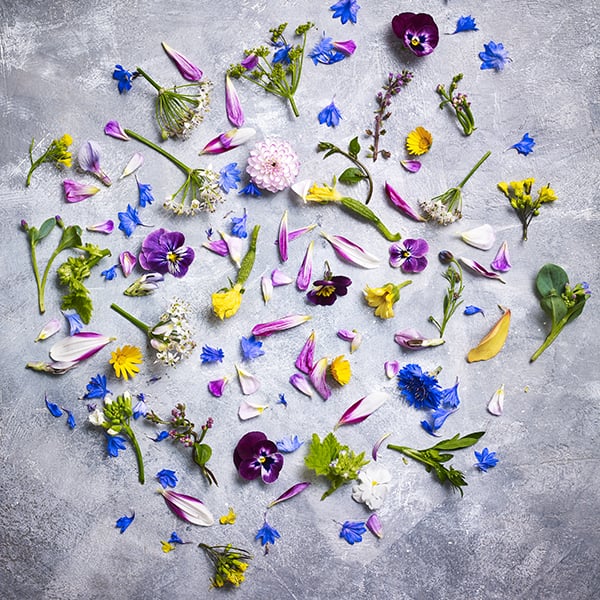 Green-fingered Amanda Stradling grows the delicate flowers and leaves that make up her salads in the heart of the Wye Valley, where she's been supplying a number of high-profile restaurants for years. Her exceptional produce dominated this category, with Wye Valley Salads' edible flowers and barba di frate (also known as monk's beard or agretti) highly commended.
Available March to November; email amanda@wyevalleysalads.co.uk
What the judges said
"Amazing, fresh and exciting" Susy Atkins
"Extraordinary, delicious leaves. Distinct flavours and wonderful surprises"  Lucas Hollweg
"Just love this. Like a treasure hunt!" Andi Oliver
HIGHLY COMMENDED
Wye Valley Salads, East and West Midlands, for Edible Flowers (available March to November, see contact details above) and also for Barba di Frate (available April to October; buy via mail order from barbadifrate.com)
WINNER, ARTISAN
Sarah Nelson's Grasmere Gingerbread, North West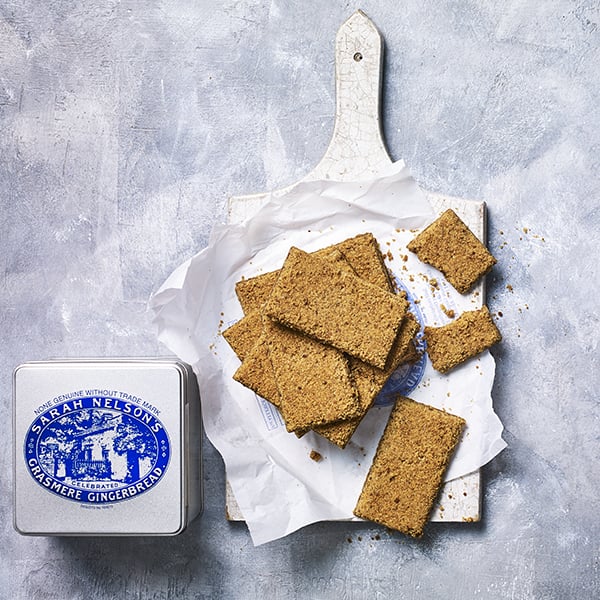 Invented in the Lake District village it takes its name from, Grasmere Gingerbread is a unique spiced, chewy bake. Made to Sarah Nelson's secret 1854 recipe, it has a registered trademark and its legacy is now in the hands of third-generation owners Joanne and Andrew Hunter. The Grasmere Gingerbread Shop, on the site of Sarah's house, is a popular tourist attraction. The gingerbread is magically transformed in a warm oven – but it's great cold too.
Buy it from grasmeregingerbread.co.uk
What the judges said
"I've never had anything like this" Gizzi Erskine
"Unique flavour and texture" Andi Oliver
"Amazing: tough and chewy when cold, crumbly and soft when warm" Prue Leith
HIGHLY COMMENDED
Lottie Shaw's, North East, for Yorkshire Parkin Cake
Buy via mail order from lottieshaws.co.uk
Swoon Gelato Ltd, South West, Isles of Scilly and The Channel Islands, for Lampone (Raspberry) Sorbetto
Buy from Swoon Gelato shops in Bristol and Bath; see swoononaspoon.co.uk

A GREAT PARTNERSHIP
Once again, we have been delighted to partner with kitchen appliance specialist Fisher & Paykel for a third year in our search to find the nation's top food producers. Fisher & Paykel shares our commitment to quality by designing and creating innovative, beautiful kitchen appliances that help to make great cooking even more achievable and enjoyable.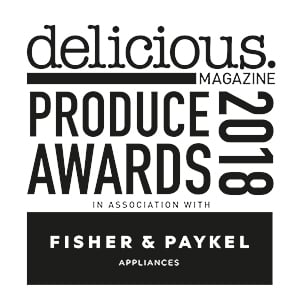 Subscribe to our magazine
Food lovers, treat yourself this Christmas... Enjoy 12 months of magazines for £29.99 – just £2.50 an issue.
Subscribe
Unleash your inner chef
Looking for inspiration? Receive the latest recipes with our newsletter