Where to eat in Edinburgh, Scotland
From the steep cobblestone lanes in the Old Town to the craggy green hill at Holyrood Park and all that's in between, there's a lot to discover in Edinburgh – especially when it comes to the fantastic food scene.
My boyfriend Dan and I ate our way around the stunning Scottish capital, with great gusto, over a long weekend – we even managed to fit in a deep-fried Mars bar.
Here's my pick of the best.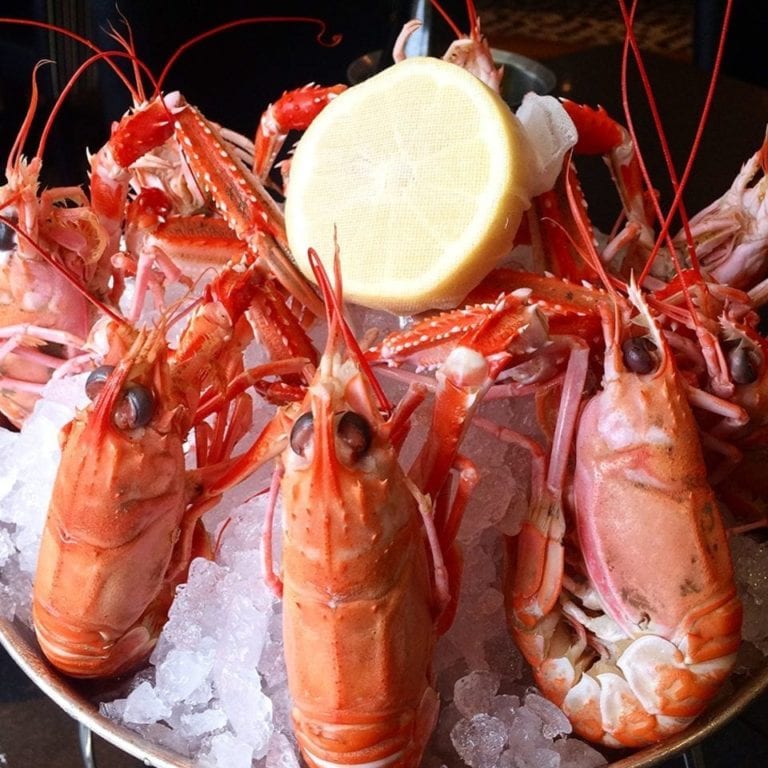 Ondine
We travelled straight from the train station to Ondine for lunch – we didn't even check into our hotel beforehand. There was no better way to satiate our hunger and celebrate our arrival in Edinburgh than with a glass of bubbles and some seafood. But this wasn't just any seafood, I had the biggest, freshest, juiciest langoustines I've ever eaten. Served simply, with a HungryBecs-size portion of aïoli, they were the most incredible example of the best Scottish seafood.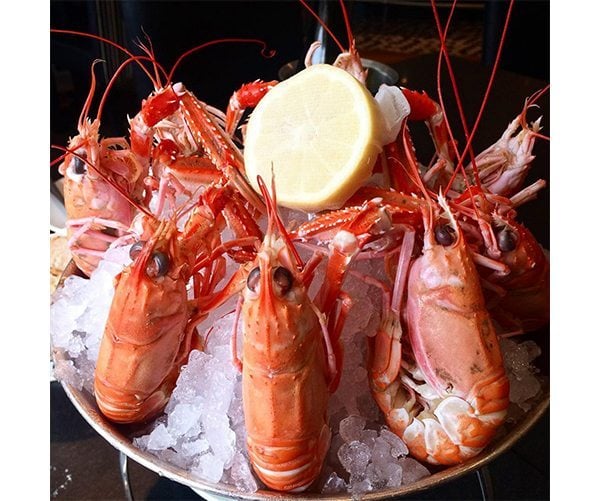 We went back the next day for more of the same but this time for dinner. With the memory of those blushing pink langoustines still on our mind, we ordered a huge roasted shellfish platter, with lobster, langoustines, oysters, crab, cockles, clams, mussels and scallops, to share. If you're in Edinburgh and you love fresh seafood, Ondine will not disappoint.
Timberyard
Stripped back, über cool and Scandinavian in style, this modern restaurant, which was once a brick warehouse, is unlike any other restaurant I've been to. You choose a tasting menu of four, six or eight courses (for £55, £65 and £75 respectively) and then await a feast that's made using ingredients supplied by small local producers.
The menu changes with the seasons so unfortunately you might not get to try this extraordinary asparagus, truffle and hen's egg starter that I loved, but be assured you'll eat well at Timberyard – you'll also get little snacks between courses and perfect, freshly baked bread to start.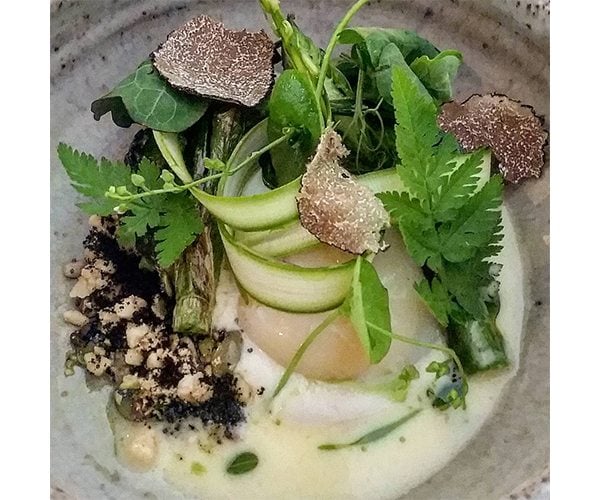 The wine list is really good too. They serve wines by the glass and at the table – a waiter comes along with a magnum of wine to pour you a glass. We had a fantastic Clemens Busch riesling which was so good I've searched high and low for it since but to no avail… I'll just have to get myself back to Edinburgh for more of the same.
Brew Lab
If you're planning on walking up to Arthur's Seat from the town centre, this coffee shop is a must-visit pit stop on the way. We made sure we got a hill-climbing caffeine fix from the cooler-than-cool café which serves coffee in every which way, shape and form.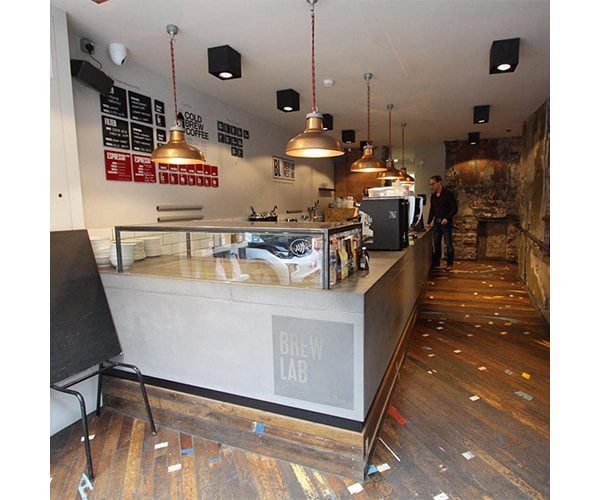 The Dogs
This canine-loving restaurant (see if you can count how many tributes to dogs there are in the small room) is in the middle of the main shopping area – perfect for taking the weight off your 'plates of meat' after some retail therapy. The menu is simple and inexpensive, with a focus on Scottish ingredients. I had the soup of the day with bread and Dan had stovies (a sausage and potato stew – pictured below), all for less than £10.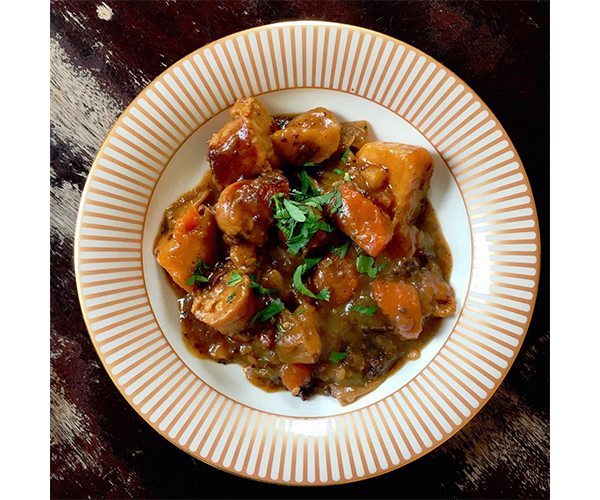 The Scran & Scallie
Over near the Botanical Gardens (walk around them to work up an appetite/walk off a big lunch) is Tom Kitchin and Dominic Jack's gastropub. Make sure you book a table beforehand as this charming pub gets pretty busy – it was especially so on Sunday lunchtime when we visited.
The menu is full of classics such as roast dinner, burger, and fish and chips – I had the Scran & Scallie fish pie, a creamy fish and seafood mixture covered in a buttery potato blanket, and Dan had a bavette steak with ox tongue hash and a rich meaty jus – proper comfort food and just what we needed before the long journey back to London.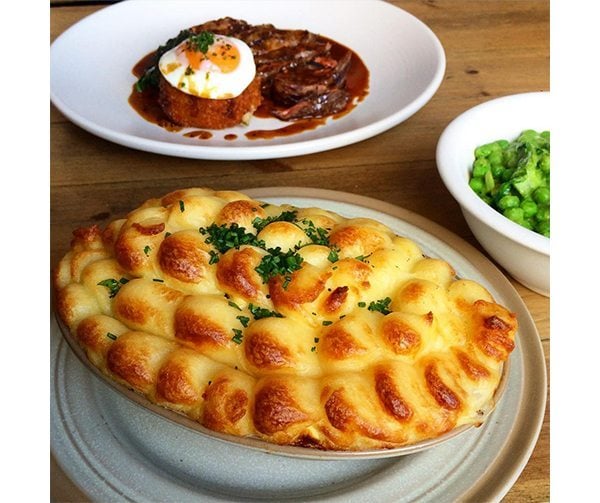 Where to find a deep-fried Mars bar
Yes the locals scoffed at my request (contrary to popular belief those Edinburgh folk don't make a habit of tucking into them) but there was no way I was travelling to Edinburgh without trying a deep-fried Mars bar for the first time. You can pretty much bet that any chippie will sell them but, if you can, head to Café Piccante near the town centre to get what is supposed to be the best. Opinion on the battered treat was divided – I wasn't keen but Dan enjoyed it.
I'm desperate to go back to Edinburgh; hopefully the next visit will be sooner rather than later. If you have any more recommendations of places to go, I'd love to know them.
Subscribe to our magazine
Subscribe to delicious. magazine this month for a half price subscription
Subscribe