Sponsored by
Sacla'

A history of the Colomba di Pasqua cake
Perhaps you've spotted this dove-shaped Italian breaded delicacy making an appearance at Easter time. The Colomba di Pasqua is a sweet, dried fruit-filled yeasted bread which boasts many similarities to a panettone. We take a look at the history of this sensational loaf and discover the options you can buy online from Sacla' this Easter.
We're also offering 15% off all orders of Colomba cakes and loaf cakes at Sacla' for a limited time only. Scroll for an exclusive discount code.
A history of the Colomba di Pasqua cake
This sweet, yeasted bread, studded with candied peel and topped with a sugary almond crust, is a seasonal delicacy that decorates bakery and delicatessen windows throughout Italy in the run-up to Easter – in fact, it's best described as the Easter equivalent of Christmas panettone. Although Colomba requires only flour, eggs, sugar, yeast and butter to make, it takes a great deal of time to prove, so most Italians buy their Colomba rather than making it from scratch.
Although toppings can vary across the country, depending on the produce native to each region, all traditional Colomba share the same dove shape, from which the Colomba takes its name. This shape is linked to the delicacy's historic back-story, with various legends telling how the Colomba was baked as a peace offering or symbol and celebration of peace.
One legend has it that the Colomba was baked to celebrate the thwarting of the Holy Roman Empire's attempt to capture Lombardy in 1176AD: at the end of the battle, two doves were spotted on the battleground. Another story tells of how the bread was baked as a peace offering to placate the sixth-century Lombardian King Alboin, who captured the city of Pavia the day before Easter and demanded that 12 young girls be brought to him – thanks to the Colomba, he decided to set the girls free and show mercy on the city.
The Colomba also pops up in a tale about Saint Columbanus, an Irish abbot who, on a visit to the Lombard kingdom in 612AD, turned down a royal feast of the finest meats because he and his pilgrims were doing penance during Lent; to appease his host, the abbot blessed the banquet, turning the dishes into white dove-shaped loaves.
Why the Colomba cake makes the ultimate sweet treat
Since its creation, the Colomba has become an indispensable part of Italian Easter festivities. Rich, buttery and not too sweet, Colomba can be enjoyed for breakfast accompanied by a strong cup of coffee, as a snack topped with honey, jam or chocolate spread, or as a dessert with whipped cream, poached fruit and perhaps a glass of sweet wine. It really is the treat that keeps on giving, as a Colomba cake stays lovely and moist for days.
A Colomba cake stays lovely and moist for days
The best Colomba cakes to buy online this Easter
Classic Colomba cake by Vergani 
For a traditional fruit-studded loaf, try Vergani's classic option, which comes beautifully wrapped for Easter time. Serve yours with fresh berries and perhaps a drizzle of chocolate, a ladle of zabaglione or a dollop of whipped cream. Available from Sacla' (£20).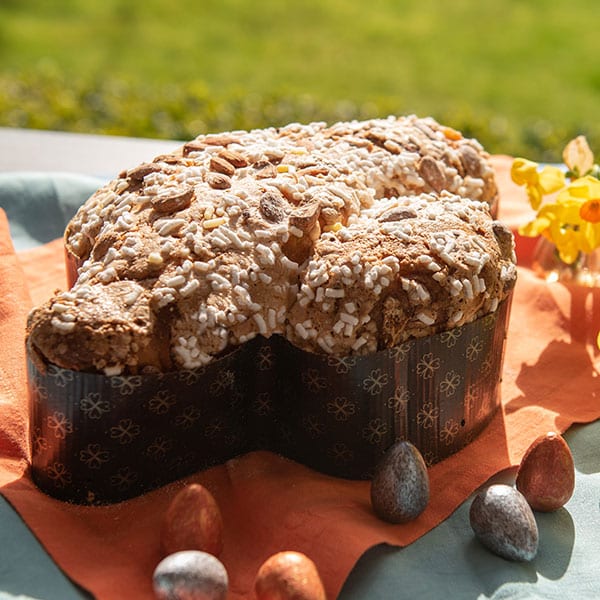 Black cherry Colomba cake by Sal De Riso
For something a little different, this sourdough Colomba is scented with Bourbon vanilla and then filled with sweet candied black cherries and vanilla custard. The white chocolate covering is its crowning glory. Available from Sacla' (£40).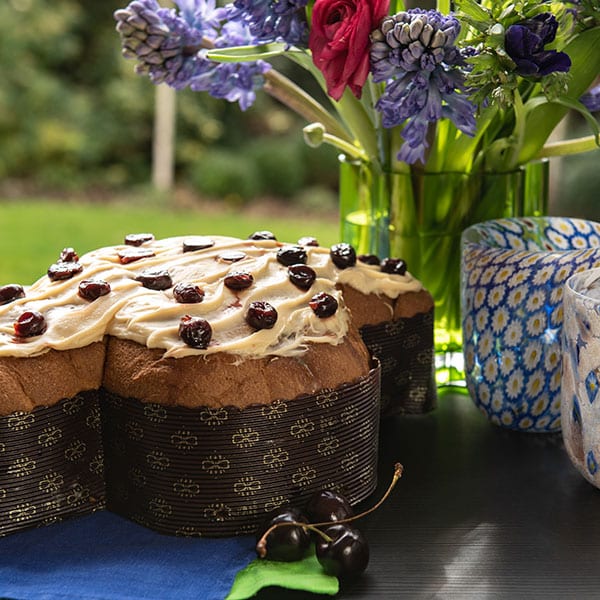 Citrus fruits Colomba cake by Sal De Riso
The sourdough for this Colomba is made with buffalo milk butter and studded with candied oranges, lemons and mandarins grown along Italy's Sorrento coast. And it's all finished off with a drizzle of hazelnut icing for added decadence! Available from Sacla' (£40).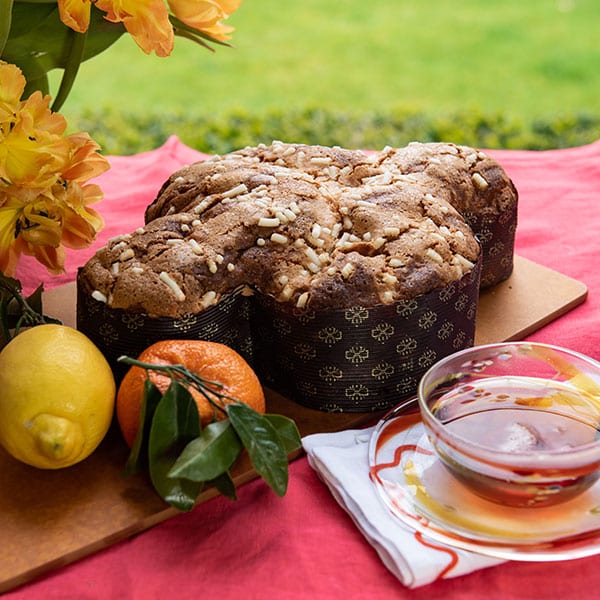 Suffer from an intolerance? No problem! Sacla' also offers a vegan Easter cake and a gluten-free Colomba cake, so that nobody needs to miss out this year.
Fancy a 15% discount off your Colomba cake?
We've teamed up with Sacla' to offer delicious. readers 15% off all of their Colomba cakes and loaf cakes online. Use code DELICIOUS15 at the checkout.
Subscribe to our magazine
Food lovers, treat yourself this Christmas... Enjoy 12 months of magazines for £29.99 – just £2.50 an issue.
Subscribe
Unleash your inner chef
Looking for inspiration? Receive the latest recipes with our newsletter