The best (and most fabulous) afternoon teas in London
From opulent to whimsical, the diverse range of afternoon teas in London means there's always a cake or finger sandwich with your name on it; regardless of what takes your fancy.
Take a look at some of the best afternoon teas that the capital city has to offer including classic teas to a Taiwanese take on the tradition.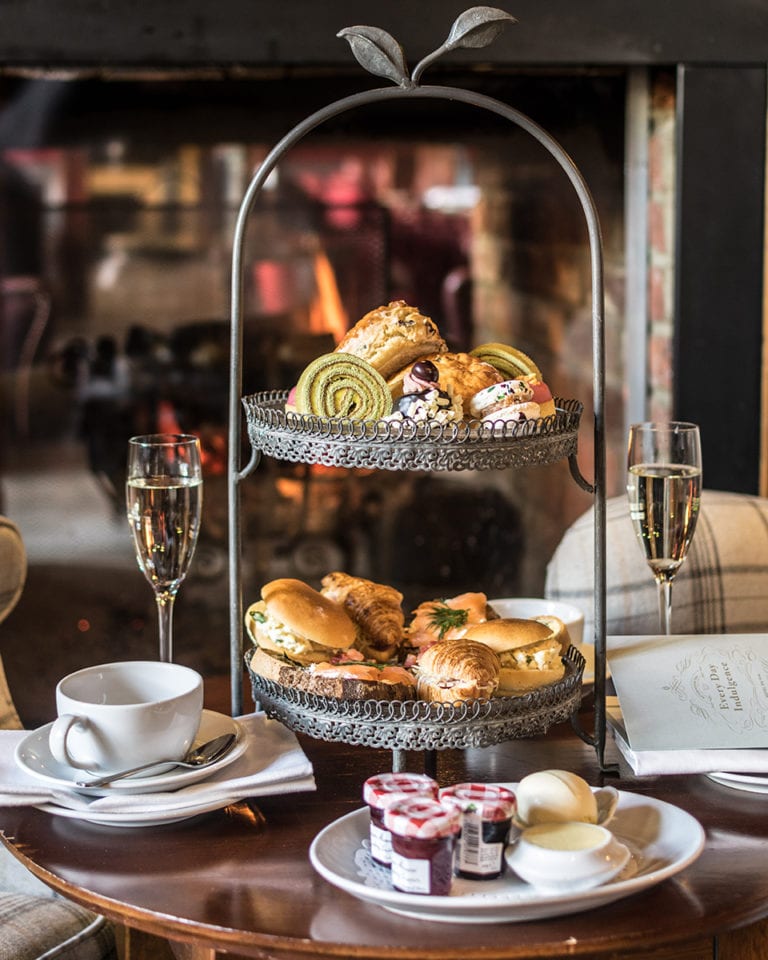 Sheraton Grand London Park Lane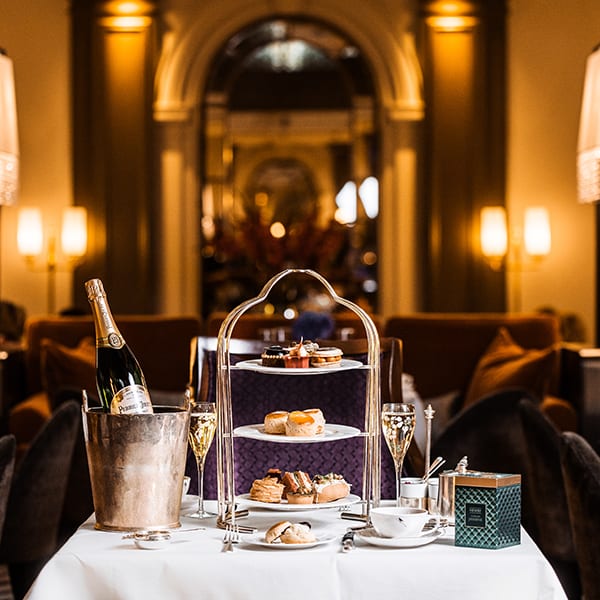 For a traditional afternoon tea with a contemporary twist, experience 1920s London glamour at The Sheraton's Nineteen Twen-Tea Afternoon Tea. Sip on tiramisu-flavoured tea and eat truffle egg sandwiches in the glitzy surrounds of the Palm Court – one of the hotel's original features from when it was completed back in 1927. The Court's stunning Art Deco-inspired interiors, from marble floors to grand ceilings, are stylishly echoed in the intrinsically designed pastries (pistachio and blackcurrant Paris-Brest is a stand-out treat). We suggest opting for the free-flowing champagne option, set against the soothing sounds of the hotel's harpist, for next-level indulgence. Prices start from £42 per person.
Sheraton Grand London Park Lane, Piccadilly, Mayfair, London W1J 7BX
020 7499 6321
https://www.palmcourtlondon.co.uk/afternoon-tea
Art Afternoon Tea at Rosewood London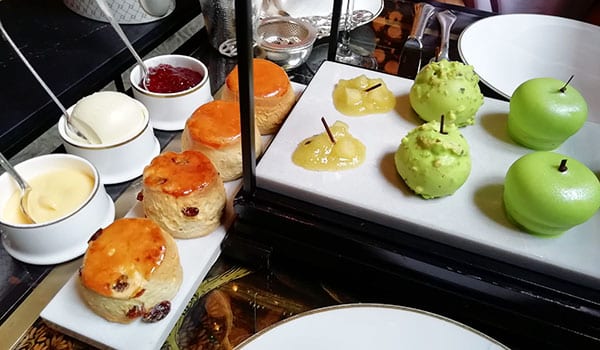 Rosewood London have launched their latest collaboration for their popular Art Afternoon Tea, this year with award-winning British sculptor Anthony Gormley. Served in The Mirror Room, with its bubble-shaped lighting, plush sofas, many mirrors and contemporary-styling, it's a fantastic experience from start to finish. The three-course affair begins with a selection of oh-so fresh finger sandwiches – think salmon on charcoal bread, egg mayonnaise served in caramelised onion bread and a turmeric-spiked number holding coronation chicken.
Then, guests can enjoy a series of masterpiece desserts inspired by Gormley's life and work. In homage to his One Apple, for example, are four different apple-themed confections featuring apple mousse, blueberry cheesecake, praline choux and apple compote. In a similar essence, treats such as a black forest gateau, chocolate mousse filled with mandarin jelly and ginger jaconde sponge with a pear bavarois centre all stand as delicious reincarnations of some of Gormley's most famous pieces. It's a structural and gastronomic triumph – with an educational element to it too. Who knew that art could taste so good?
Prices start from £60 per person, served with a selection of loose leaf teas
252 High Holborn, London, WC1V 7EN, United Kingdom
+44 20 7781 8888
https://www.rosewoodhotels.com/en/london/dining/Art-Afternoon-Tea
The Gin Lovers Bus Tour with Slingsby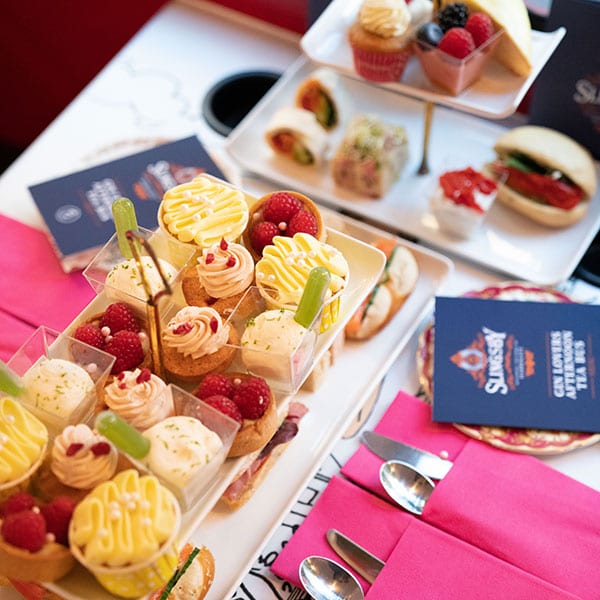 Gin lovers, rejoice! There's now a whole afternoon tea dedicated to the nation's favourite tipple. The Gin Lovers Bus Tour, partnered with Yorkshire gin producer Slingsby, is a somewhat traditional tea, given a twist or two. The first thing to note is that you'll be gliding across Central London on a revamped 1960s double-decker bus, beautifully adorned with flower garlands and sinkable leather booths. Secondly, your breakfast brew is swapped for a refreshing trio of Slingsby gin cocktails; an idea which we are fully on board with (on board, gettit?). Savoury morsels and scones are more in keeping with tradition; expect minty cucumber sandwiches, salmon pretzels with cream cheese and mini pastrami burgers with mustard mayonnaise. Finish with an enticing assortment of gin-infused treats from Brigit's Bakery – from raspberry tarts to lime mousse jellies and strawberry moelleux – giving you an extra boozy kick to sail you through the afternoon.
The tour is priced at £62.50 per person.
Departing daily from Trafalgar Square or Victoria Coach Station
020 3026 1188
www.london.b-bakery.com
CUTcakes & Tea at 45 Park Lane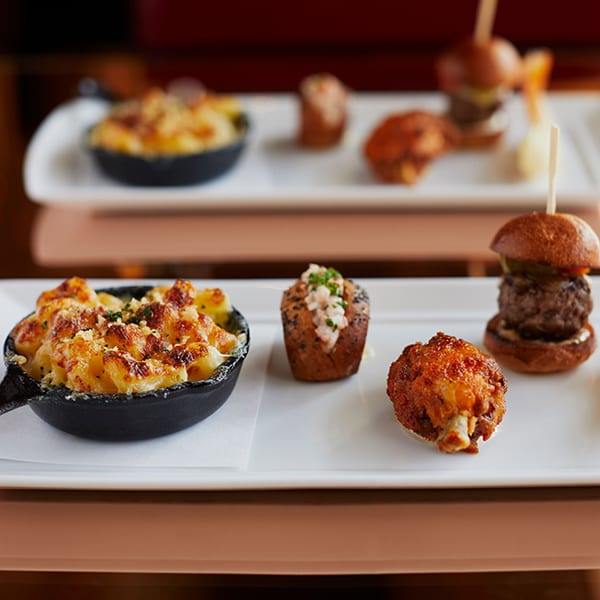 Tradition goes out the window at 45 Park Lane's 'CUTcakes & tea' and trust us, you won't be missing the cucumber sandwiches. This unique afternoon tea plays an elegant ode to American-style classics. Mouth-watering savouries include wagu beef sliders, tuna tartare 'sandwiches', minuscule lobster rolls and lollipop Southern fried chicken served. It's fun, smile-inducing, carby heaven and you'll love sampling every bite-sized morsel. The showstopping element, though, has got to be the sweet course. There are seven different options all based on quintessential American favourites. Giant buttermilk scones, with clotted cream, jam and passion fruit curd, are paired with a strawberry ripple milkshake. Not forgetting the small but hefty New York cheesecakes, red velvet bites dappled in hundreds and thousands, rotund key lime pies, peanut butter Twinkies and the fudgiest chocolate devil's food cake you've ever eaten. It may not be classic but, boy, is it good. 
45 Park Ln, Mayfair, London W1K 1PN
020 7493 4545
https://www.dorchestercollection.com
The Ritz Hotel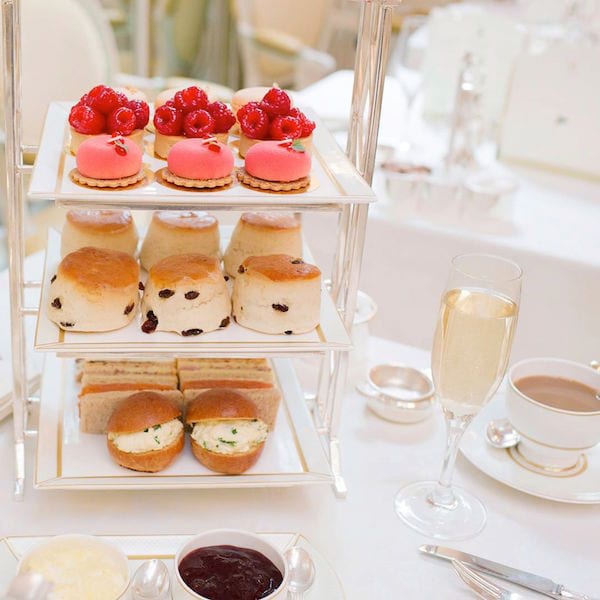 Nothing conjures a more iconic image of luxury and indulgence than tea at the Ritz. Afternoon tea is served amidst lavish Louis XVI furnishings, glittering chandeliers, and elaborate draperies in the grand Palm Court. Enjoy the views of the royal gardens in Green Park and let the soothing melodies of live classical music in the background take you back to more glamorous era. Prices start at £58 per person.
150 Piccadilly, London, W1J 9BR
020 7300 2345
www.theritzlondon.com
National Portrait Gallery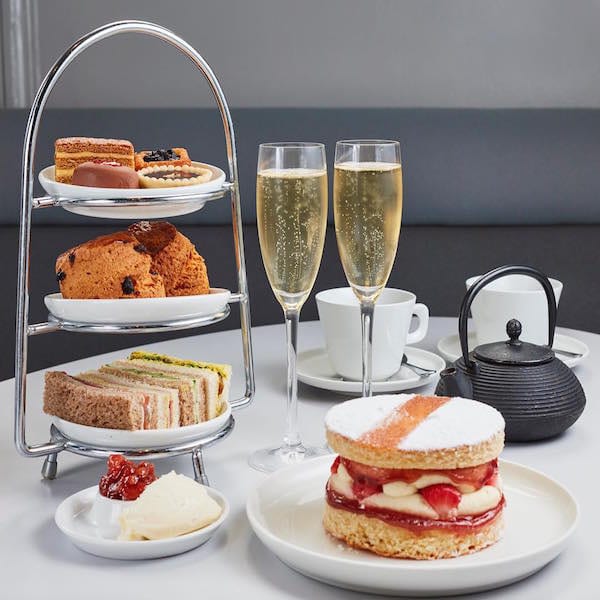 If you're looking for a room with view to relax in after browsing some of the world's finest paintings then the National Dining Room is the perfect spot for afternoon tea. Overlooking Trafalgar Square, this relaxed yet buzzing room is a great place to expand your waist having expanding your mind in the galleries. The Classic Afternoon Tea offers sandwiches with Severn & Rye smoked salmon or egg mayonnaise with mustard cress, followed by warm sultana scones with strawberry jam and clotted cream, battenburg cake and macarons. The 'English Fizz' Afternoon Tea includes a glass of Chapel Down English sparkling rose wine. Prices start from £29.50 per person.
The National Gallery, Trafalgar Square, London, WC2N 5DN
020 7312 2490
www.thenationaldiningrooms.co.uk
Browns Hotel
The oldest hotel in London, graced by royalty and celebrities throughout the years, Brown's Hotel exudes a sense of nostalgia and warmth. Enjoy a traditional afternoon tea or go for the healthier 'Tea-Tox' option – there's hummus with roasted peppers and rocket; dainty 'sandwiches' including avocado cream and pickled radish or mushroom and nori algen, all on gluten free bread; desserts such as coconut and mango chia seed pudding and banana and caramel loaf cake will keep your sweet tooth in check. Treat yourself to a glass of extra-Brut Champagne, which is low in calories. Prices start from £55 per person.
Albemarle Street, London, W1S 4BP
0207 518 4006
www.brownshotel.com
Fortnum & Mason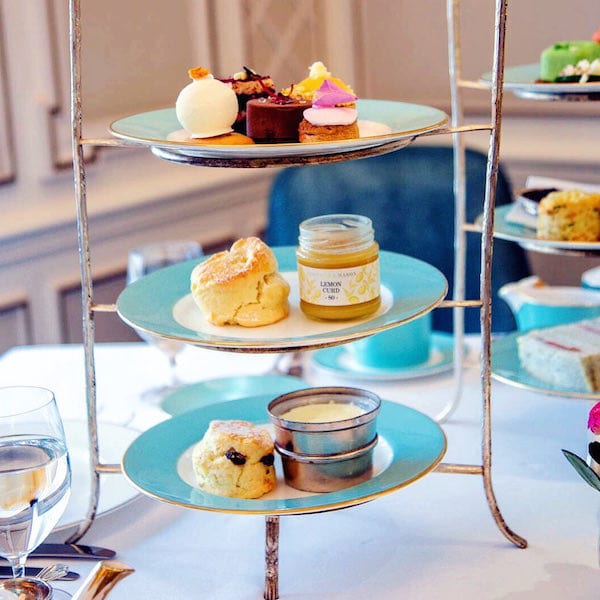 Like tea drinking itself, Fortnum & Mason is one of Britain's oldest traditions. There are various offerings at Fortnum's classy St James's Restaurant including the Classic Afternoon Tea (£55), Savoury Afternoon Tea (£58), and High Tea (£57). Their Classic Tea is traditional but perfectly executed; think cucumber sandwiches, plain and fruit scones, battenburg cake and eclairs. The 'Rare Tea' afternoon tea takes guests through different styles of Chinese, Indian and Sri Lankan teas, whilst High Tea – originally created for hungry travellers passing through the capital – offers delights such as Welsh rarebit, Scotch egg and lamb wellington. All variations are served with scones with clotted cream and F&M preserves, cakes and biscuits. The 4th floor restaurant is a haven of quiet sophistication; guests eat while listening to a live pianist.
181 Piccadilly, London, W1A 1ER
020 7734 8040
www.fortnumandmason.com
Bea's of Bloomsbury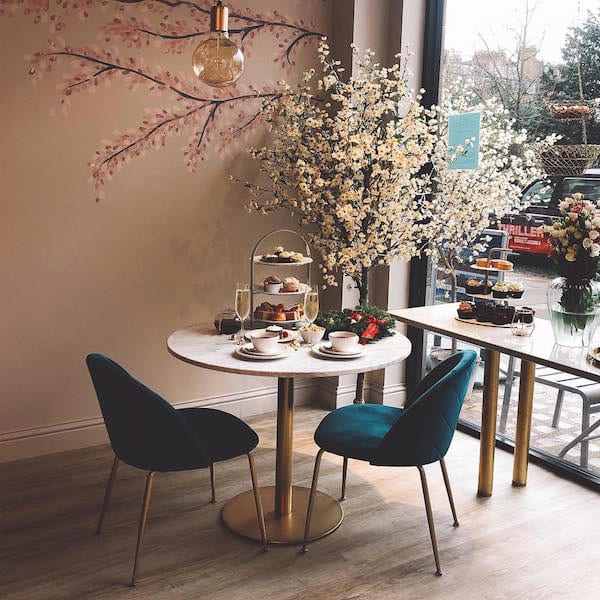 Named Time Out's Best No-Frills Afternoon Tea, this stylish café boasts a wide selection of unique treats including cakes, brownies and 'duffins' along with superior teas and coffees that are as easy on the eye as they are on the wallet. Bea's offers three variations of afternoon tea (Bea's Signature, Gluten-Free or Vegetarian), which each costs £30 and includes a range of dainty sandwiches, scones, and a selection of 5 sweet treats. Or, for just under £10 why not try  Bea's Cream Tea, which features two freshly baked scones with the finest 'English Preserves' Jam, Cornish clotted cream and your choice of speciality tea or coffee.
72 Russell Square, London, WC1B 5BA (plus two other locations in Marylebone and St. Paul's)
0207 278 7949
www.beasofbloomsbury.com
The Berkeley Hotel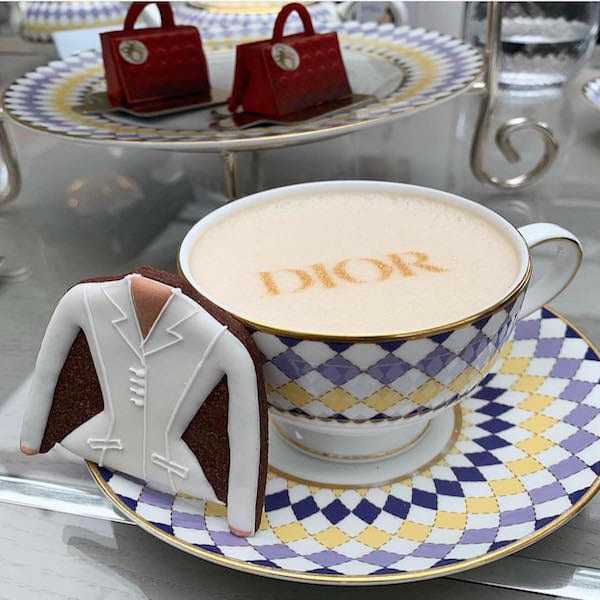 The skilled pastry team at The Berkeley has designed a couture afternoon tea service cunningly named 'Prêt à Portea' that is sure to delight fashionistas with a sweet tooth. Designs from the fashion houses of Christian Dior, Burberry, Christian Lacroix, Mulberry and Louis Vuitton take their shape in the form of delectable biscuits, cakes, and pastries on your plate. Prices start from £60 per person.
Wilton Place, London, SW1X 7RL
020 7107 8866
www.the-berkeley.co.uk
The Dorchester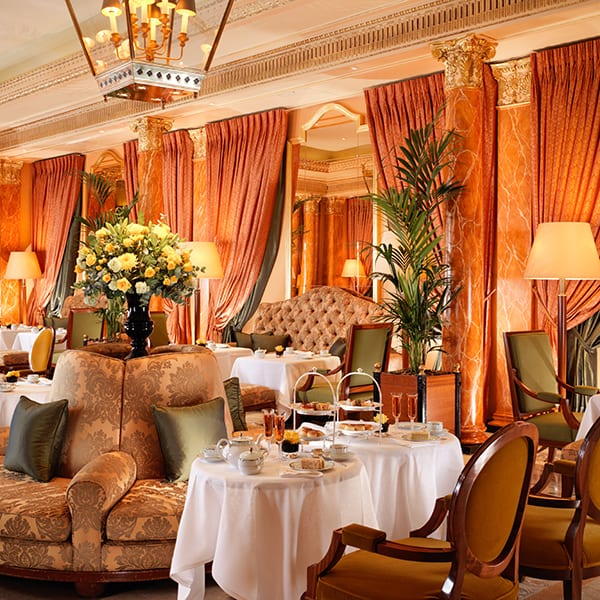 Glitz, glamour, and flawless execution are to be expected when partaking in a spot of tea at The Dorchester. Boasting its very own tea chef along with a team of 15 pastry chefs, the hotel is, not surprisingly, the recipient of numerous awards for its afternoon tea service. The famous Promenade entrance lounge with its marble and gold detailing provides a stylish yet comfortable setting in which to enjoy a selection of teas, sandwiches, scones, and pastries. Prices start from £65 per person.
Park Lane, London W1K 1QA
020 7629 8888
www.thedorchester.com
Claridge's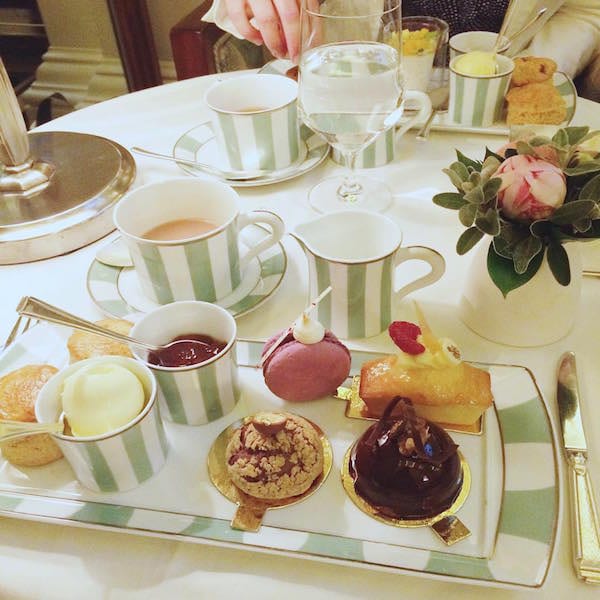 Immerse yourself in the luxurious environs of Claridge's while sipping a cup of one of 30 different blends of tea from around the world. Afternoon Tea at Claridge's is a feast for the eyes and the palate. The luscious pastries, scones and scrumptious sandwiches are as sumptuous as the glamorous surroundings. Prices start from £70 per person.
Brook Street, London, W1K 4HR
020 7629 8860
www.claridges.co.uk
The Sanderson Hotel, Mad Hatters Tea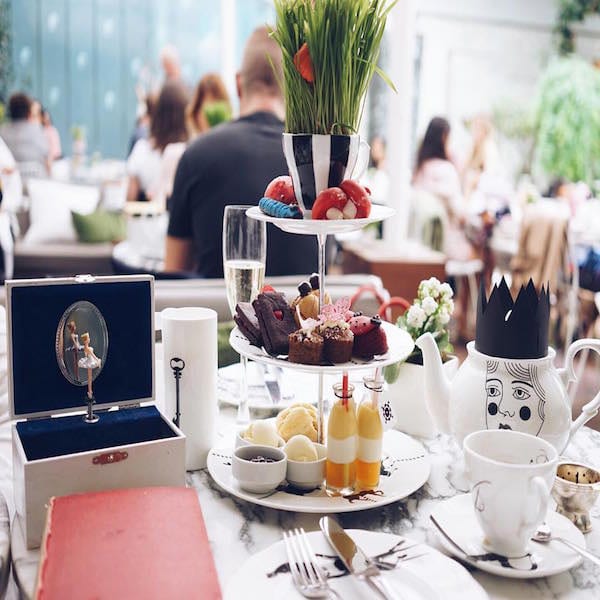 Tumble down the rabbit hole and discover the Mad Hatter's Tea, inspired by the fanciful world of Alice's Adventures in Wonderland. Marvel at the creative selection of treats including a King of Hearts ham and parmesan croque monsieur and White Rabbit cucumber and cream cheese sandwich on pesto bread. For those with a sweet tooth, there's Wonderland marshmallow magic mushrooms, a Queen of Hearts rose and strawberry Jammy Dodger and Tweedle Dum lemon curd financiers. For traditionalists, classic scones with clotted cream and fruit preserves are still on offer, plus a range of Alice-inspired tea infusions. A truly unique afternoon tea experience you won't want to be late for! Prices start at £48.
50 Berners Street, London, W1T 3NG
020 7300 5588
www.morganshotelgroup.com
The Café at Cake Boy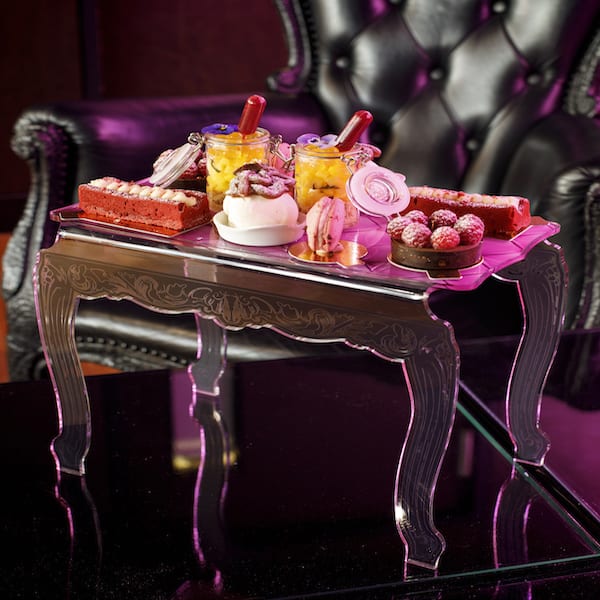 Eric Lanlard's luxurious, yet relaxed, cake boutique in the heart of Battersea offers a distinctly French take on the British classic – think sandwiches made with brioche, exquisite patisserie and a notable absence of scones! Eric Lanlard has also launched an entirely plant-based afternoon tea for vegans; served with vegan champagne and organic tea, it's a sumptuous feast which doesn't compromise on flavour.
Prices start at £40.
Unit 2, kingfisher house, Battersea Reach, Juniper Dr, Battersea, London SW18 1TX
0207 978 5555
www.cake-boy.com
The Delaunay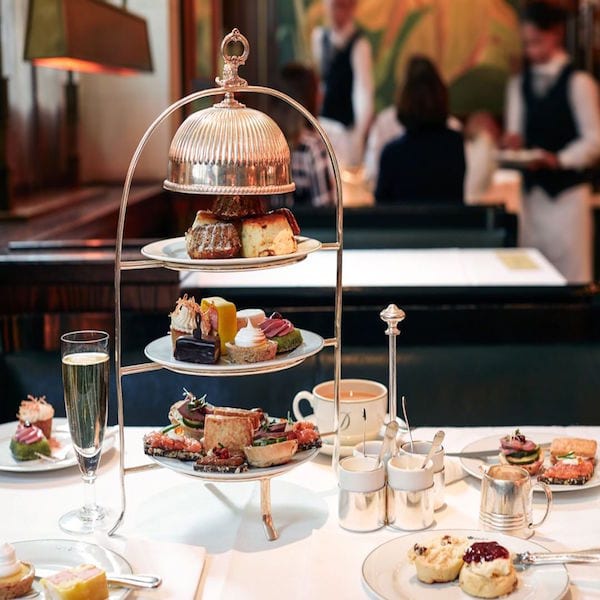 Experience a slice of Continental glamour with the Delaunay's Viennese tea, inspired by the classic grand cafés of central Europe. Alongside traditional fruit scones, you'll find their signature poppy seed Gugelhupf (a yeasted bundt-shaped cake) served with apricot jam and whipped cream, as well as a selection of classic Viennese 'kuchen' including linzertorte and slices of oh-so-rich sachertorte. It's excellent value, too, at £19.95 per person, although for a lighter alternative they also offer a cream tea priced at £9.50.
55 Aldwych, London, WC2B 4BB
020 7499 8558
www.thedelaunay.com
Dominique Ansel 
An award-winning pastry chef and creator of the cronut, French-born Dominique Ansel has now turned his hand to the art of afternoon tea. However, as you might have expected, his is an afternoon tea with a bit of a difference. Set in a covered garden terrace featuring an entire wall of flowers, afternoon tea at his Belgravia bakery is very much a floral affair. The menu concept – which was a year in the making – follows the journey of a seed as it progresses to bud and eventually fully bloom into a flower. Expect exceptional, hand-crafted sweet and savoury pastries, and fluffy, glossy scones, served with jam and clotted cream concealed within homemade white chocolate strawberries. Prices start at £42 for the signature tea, £55 for the sparkling tea, or go all out for the splendid tea (£80), which includes champagne, butter-poached Canadian lobster rolls and caviar blinis.
17-21 Elizabeth Street, London, SW1W 9RP
020 7324 7705
www.dominiqueansellondon.com
Sketch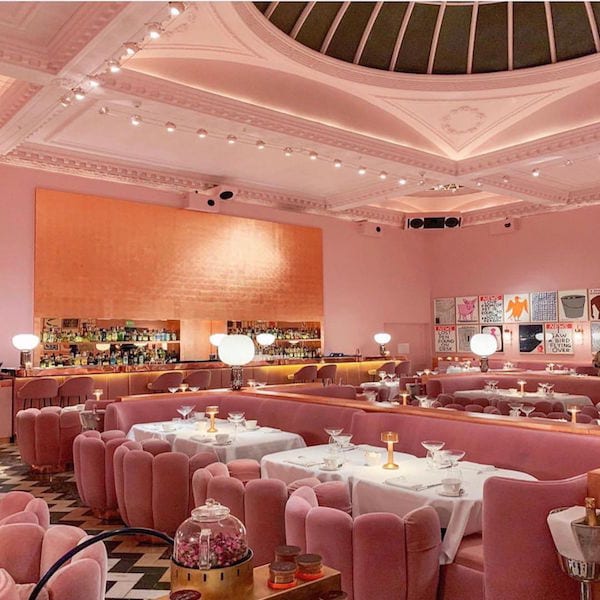 Half the allure of afternoon tea at Sketch is the characterful decor – the David Shrigley Gallery is a cult classic for the capital's uber-fashionable; with pink velvet shell chairs, quirky crockery and walls covered with David Shrigley's (often-risqué) artwork.
Afternoon tea here is delicate yet fun, a union of the modern and traditional; foie gras tartelette and homemade raspberry marshmallow 'flumps' can be found alongside a quintessential Victoria Sponge, served from a cake trolley. A master tea specialist can be consulted to navigate you through the choice of 27 tea varieties, although there's also plenty of champagne on offer. Makes sure you arrive hungry – the sandwiches and pastries are unlimited, so you can request as much as you can manage. Prices start at £59 per person.
9 Conduit St, Mayfair, London W1S 2XG
02076594500
www.sketch.london
XU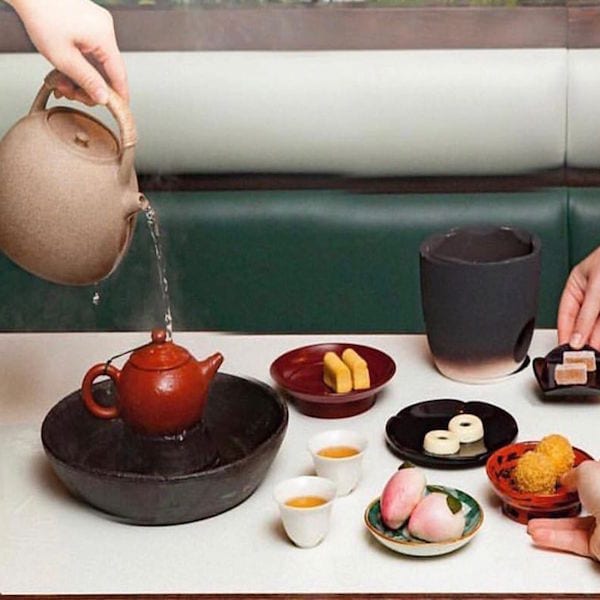 'There are few hours in life more agreeable than those dedicated to the ceremony known as afternoon tea,' wrote Henry James in The Portrait of a Lady.
This is a sentiment that is fundamental at XU, the Soho-based Taiwanese teahouse and restaurant. XU's 'afternoon tea ceremony' is a unique Taiwanese interpretation of the classic British afternoon tea in which tea firmly takes centre stage. Guests are encouraged to choose two different teas from their extensive menu of exotic loose-leaf blends, around which the rest of the 'ceremony' will be based. Teas are sorted according to levels of oxidation, and there are also fermented and aged teas, all served in a hand-crafted clay pot and tea brewing tray. Alternatively, try one of Xu's selection of hot or cold house-brewed teas. To accompany the tea, expect savoury delights such as the char sui girolle puff or sweet potato taro dumpling and sweet pastries including steamed red bean bun and fried peanut mochi. Prices start at £32.
30 Rupert Street, London, W1D 6DL
020 3319 8147
xulondon.com
G & Tea, Mr Fogg's Gin Parlour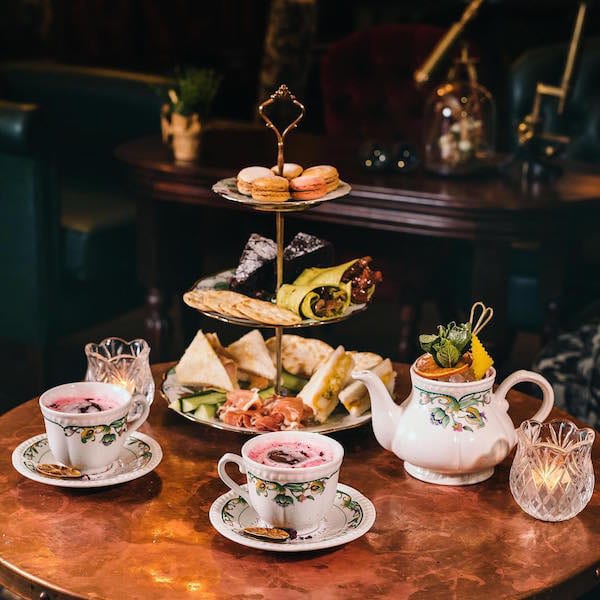 Afternoon tea gets a boozy makeover at Mr Fogg's Gin Parlour in Covent Garden. Guests are given an introduction to the history of 'mother's ruin' by one of the parlour's in-house gin experts, before having the opportunity to sample a selection of gins from their collection of over 200 varieties. Next, gin cocktails infused with flavours of Earl Grey, rooibos and sencha are served in china teapots alongside a selection of sweet and savoury morsels including classic finger sandwiches, buttermilk scones and brownies. G & Tea is the perfect experience for any ginthusiast. Prices start at £44.
1 New Row, Covent Garden, London, WC2N 4EA
020 7590 3605
www.mr-foggs.com
'Fancy tea' at Lyaness, Sea Containers London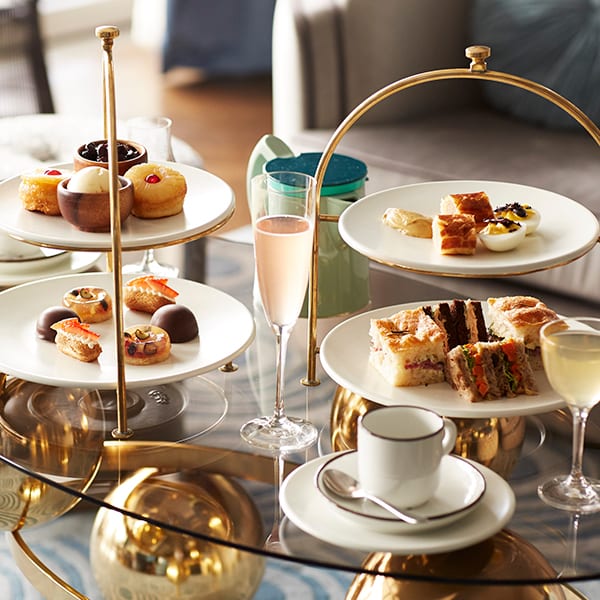 80s dinner party favourites are given the 'fancy' treatment in this elegant afternoon tea.  Lyaness at Sea Containers London, on London's South Bank, serve up retro-style party food – think devilled eggs, bite-sized sausage rolls and mini eclairs – in the daintiest of forms. The real stars of the show are the sweets, though. Pineapple upside down scones are served with clotted cream and cherry jam, trifle-inspired tarts are topped with jelly and filled with a zingy fruit compote and teacakes get an overhaul,  featuring an exceptionally crunchy base and with the addition of sunflower sea salt. The cocktails are the 'thing' to go for here, with four boozy creations designed to lead you from the savoury to sweet course, but champagne and boozeless options are also available.
Sea Containers London, 20 Upper Ground, South Bank, London SE1 9PD
020 3747 1000
https://www.seacontainerslondon.com/
Subscribe to our magazine
Subscribe to delicious. magazine this month for a half price subscription
Subscribe