Auckland
The godfather of fusion food, Peter Gordon – TV chef and co-owner of The Providores in London – is one of New Zealand's treasures. No one is better placed to take you on a foodie tour of his home turf.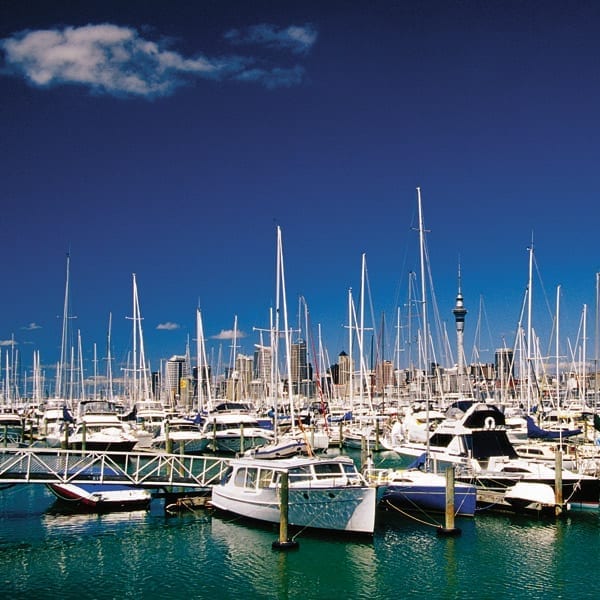 New Zealand may seem like the other side of the world (well, actually it is) but I manage to travel there four times a year. I was born and grew up in the coastal town of Wanganui (its one claim to fame internationally being that it was the town where Prince Edward spent his gap year). However, on my trips back, I spend most of my time in Auckland, the country's largest city.
Auckland is called the City of Sails, famously hosting the America's Cup for two years. It's also the largest Polynesian city in the world with immigrants from Samoa, Fiji, Tonga, Niue, The Cook Islands and other Pacific nations now calling it home. Its Asian population is fast increasing, too, as are its communities of South Africans, Greeks and Italians.
Much like Sydney, Auckland is a city of beaches. It also has a magnificent bridge, a vibrant café culture, spectacular views and truly delicious food. Auckland's skyline is dominated by the tallest building in the Southern Hemisphere, the needle-like Sky Tower, and what's brilliant about it (apart from the breathtaking views) is that you can use it to pinpoint exactly where you are in the city. And this is a great area to begin your foodie journey around Auckland.
Auckland
Near the Sky Tower, with its entrance off St Patrick's Square, is
The Grove
. Head chef Sid Sahrawat has been serving his delicious food to diners for two years now (the bizarre-sounding beef agnolotti with burnt butter ice cream is fabulous).
From there, take an exhilarating ride in the glass-fronted elevators to the top of the Sky Tower, and on your way down I can't help but recommend you visit my restaurant,
dine by Peter Gordon
. It's a rather grand affair with a soaring ceiling and huge modern chandeliers; leather banquettes and a marble fireplace. My head chef is Ben Mills and, when I'm not in town, he runs the show, serving fusion cuisine based around prime New Zealand ingredients (wagyu beef, fresh wasabi, piko piko fern fronds and delicious South Island blue cod).
Across the road is another restaurant that I'm involved with –
Bellota
('bey-otta'), which means acorn in Spanish. With this tapas bar, my aim is to bring the cuisine of my favourite European country to Auckland. The food is modern Spanish, rather than fusion (think: grilled ox heart with soured red onion and coriander salad), and the Spanish wine list is complemented by some brilliant Iberian varietals produced by NZ vineyards. Hawkes Bay's Trinity Hill Tempranillo is one of the best.
Head south of the Sky Tower to Mount Eden and you'll find
The French Café
– which has won more 'Best Restaurant' awards than seems fair – although having eaten the contemporary European cuisine of London-born and trained chef-proprietor Simon Wright several times, it's not surprising. It's always a pleasure to tuck into his snail and parsley risotto, and crispy duck leg.
Geoff Scott is another talented chef-proprietor at
Vinnies
on Jervois Road, and the small dining rooms (and wine room) are some of the more intimate in Auckland. Geoff has a great way with the local lamb, and his cheeseboard is legendary.
However, what I really believe New Zealand excels at is the smart casual restaurant – and its cafés. These are not 'caffs'; they tend to be owner-operated places, often only open during the day. Their counters are heaving with home-baked cakes, friands and muffins, while creamy scrambled eggs and perhaps smoked fish hash is to be found on the menu, alongside fresh juices and superb coffee. And I mean superb.
While I had to move to Melbourne in 1981 to experience my first espresso-based coffee (I can still remember that cappuccino in St Kilda), New Zealand has now taken on the mantle of the best coffee nation in the world – and I don't say that lightly. In fact, coffee-making has become a national obsession.
Peter Gordon at the Gypsy Tea Room
Allpress Espresso
coffee is roasted within a stone's throw of the Sky Tower, and is served in the best Auckland restaurants and cafés. Michael Allpress and his team also have a wee café attached to this state-of-the-art coffee-roasting concern. Order a macchiato and also try the toasted schiacciata (like a thin focaccia) stuffed with fennel sausage and cumin Gouda.
Just up the road is Ponsonby – a very trendy neighbourhood.
Dizengoff
is one of the longest running cafés in the area. I always have one of the chicken mayo and pesto salads and a few soya flat whites (a latte served in a cup with a saucer).
Around the corner is the popular
Blake Street Espresso
– originally set up by the team behind Rocco and Magnum. Further along on Jervois Road there's
Dellows Kitchen
, where Grant Allen heads up a more European-based café concept, having famously been head chef at Pierre's restaurant in Wellington in the heady days when I was running the kitchen at the original Sugar Club.
Just off Ponsonby Road is the tiny
Agnes Curran
. It serves delicious salt beef sandwiches and chocolate lamingtons (sponge cakes rolled in coconut), with retail space selling the most bizarre things: a stuffed peacock, a Poole tea service, tea cosies and antique glass cake stands.
Over towards Mount Eden again and you'll find
Gala
. Admittedly a little hard to find, it's well worth the effort. Chef-proprietor Peter Chichester's mother-in-law's northern Indian eggs – fried, smothered in masala with crispy lentils, tomato and coriander – are a must. Or order a tomato with toast and you'll be delivered a beautiful plate with one perfectly ripe tomato, a Laguiole knife and NZ olive oil. It's all in the attention to detail.
Not far from Gala is
CAC
. This enterprise, housed in a gorgeous stone building, has live music a few nights a week, and the food never fails. Try the 12-hour cooked lamb or spicy pork rissoles and a fruit cocktail.
Situated opposite CAC is Jacqui and Phil Dixon's foodie haven
Sabato,
where most of the city's best restaurants source ingredients. Here you'll find small estate olive oils, artisan cheeses and pasta, cured meats and micro greens.
Molten
Molten
is just up the road in Mount Eden village. Mike Van de Elzen cooks really creative food. If there's a group of you then book the upstairs Red Room and feast on his daily changing menu. But if his Pinot Noir braised Pokeno pork shoulder is on, you really should try it.
From here, why not head over to Grey Lynn and sample a glass of New Zealand's best wines at Brett Simeti's
Gypsy Tea Room
. I've never personally had a cup of tea there, but it's a gorgeous spot to drink a glass of Matakana Pinot Gris and nibble on some local olives.
Opposite are a few foodie spots, the busiest being
Delicious
, which serves fantastic fresh pasta made on the premises. Heading back towards Ponsonby is the
Richmond Road Café
, with huge windows on three sides and brilliant café food – this place is the place to be at the moment.
Cross the Harbour Bridge and you'll find the neighbourhood of Northcote Point and a great example of a fantastic local restaurant serving seasonal food at decent prices.
The Engine Room
is run by partners Carl Koppenhagen (chef) and Natalia Schamroth (ex-chef and maître d' turned food writer). It's wonderful. Open evenings only, it was voted Restaurant of the Year in 2007 by Auckland's Metro magazine. The churros with espresso sauce are legendary, but Karl is a dab hand with fish and slow-cooked dishes, too.
The Engine Room
Three of my favourite chefs in town are Michael Meredith, Celia Harvey and ex-pat Brit Sarah Conway. Michael is chef-proprietor at
Merediths Restaurant
, where he serves modern NZ food with European influences, and a touch of molecular gastronomy – smoked Northland eel, watercress curd and lemon skordalia says it all. Celia, formerly of The River Café and Soho House (UK and New York), is head chef at modern bistro
Magnum Dining Bar
. Popular dishes include an amazing plump fish pie, a far-too-rich macaroni cheese, and a smoked wagyu beef salad. Sarah – who was head chef at London's Heartstone – serves modern European food at Ponsonby favourite Rocco. A piping-hot cazuela of chorizo, calamari, white beans and pork belly is her speciality.
However, for something different, and to take in the flavour of Auckland and its many cultures, visit
Avondale Market
near the racecourse. Head there early – it's open on Sundays from 6am-midday. You'll find tubs of takeaway Cambodian delicacies, 'boil-up' (a Maori dish of boiled pork bones, potato and native puha – like a cross between watercress and dandelion) and Polynesian vegetables.
All in all, culinary Auckland has tastes to suit all palates; prices to suit every pocket; dishes both exotic and familiar; and décor and ambience to every individual's liking. You simply can't go hungry.
Auckland fact file
October to April is the best time of year to visit Auckland. Air New Zealand flies from most major UK cities to Auckland. Visit the
for more information and bookings.
Visit i-SITE visitor centres for info on local attractions, transport and accommodation. Look out for the Qualmark sign, which indicates it has been quality-assessed. Click
for information.
The
is just a short drive from Auckland. In addition to great restaurants and food producers, this region has magnificent beaches.
Wine connossieurs will love
winery, south of Auckland. Take a 30-minute ferry trip to
where there's olive groves and boutique vineyards.
Auckland Directory
£££ = Splash out
££ = Mid-range
£ = Cheap and cheerful.
It's worth remembering that even the £££ restaurants are still relatively cheap by UK standards.
Agnes Curran
£
181 Franklin Road
T: +64 9 360 1551
Allpress Espresso
£
8 Drake Street
T: +64 9 307 5555
Avondale Market
£-££
Avondale Racecourse, Ash Street
T: +64 9 818 4931
Bellota
££
91 Federal Street
T: +64 9 363 6301
Blake Street Espresso
£
Cnr Blake and Prosford streets
T: +64 9 360 6261
CAC
££
26 Normanby Road
T: +64 9 630 5790
Delicious
£
472 Richmond Road
T: +64 9 360 7590
Dellows Kitchen
£
212 Jervois Road
T: +64 9 378 6156
dine by Peter Gordon
£££
SKYCITY Grand Hotel, 90 Federal Street
T: +64 9 363 7030
Dizengoff
£
256 Ponsonby Road
T: +64 9 360 0108.
Gala
£
23 Edwin Street
T: +64 9 623 1572
Gypsy Tea Room
£
455 Richmond Road
T: +64 9 361 6970
Magnum Dining Bar
££
165 Ponsonby Road
T: +64 9 360 1611
Merediths Restaurant
£££
365 Dominion Road
T: +64 9 623 3140
Molten
££
422 Mount Eden Road
T: +64 9 638 7236
Richmond Road Café
£-££
318 Richmond Road
T: +64 9 360 5559
Rocco
££
23 Ponsonby Road
T: +64 9 360 6262.
Sabato
£-££
57 Normanby Road
T: +64 9 630 8751
The Engine Room
££
115 Queen Street
T: +64 9 480 9502.
The French Café
£££
210 Symonds Street
T: +64 9 377 1911
The Grove
£££
55 Albert Street
T: +64 9 368 4129
Vinnies
£££
166 Jervois Road
T: +64 9 376 5597
Subscribe to our magazine
Subscribe to delicious. magazine for HALF PRICE
Subscribe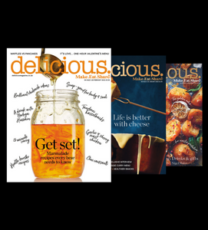 Join our newsletter
Packed with menu ideas, recipes, latest competitions and more...