Behind the scenes: Inside the Spirit of Yorkshire whisky distillery
Scottish whisky is world-renowned, but over the the past 10 years, its English cousin has started to make a name on the scene…
Yorkshire whisky might be a new term, but the spirit speaks for itself when it comes to quality. England's biggest shire is known as God's county for a reason so who better to show us how English whisky should be done than the Spirit of Yorkshire distillery?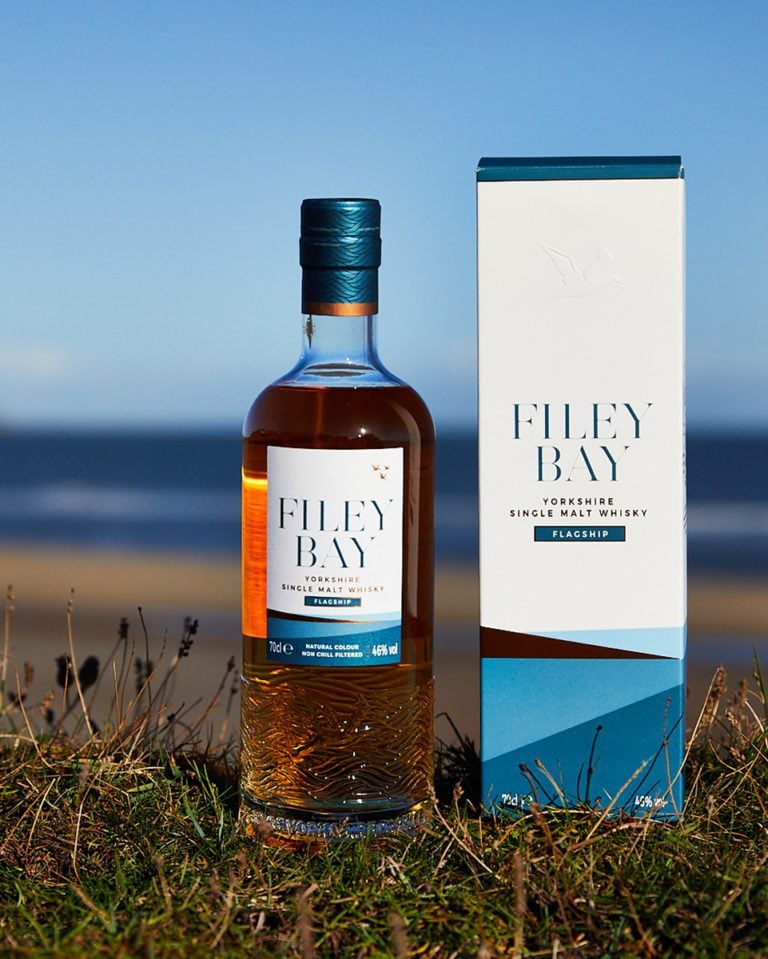 A traditional approach to whisky making
The team at Spirit of Yorkshire set about making their whisky in 2016, when friends David Thompson and Tom Mellor put their heads together to start the business. The distillery is located on the Hunmanby Estate (built in the 19th century) and has been in Tom's family since 1945 (Tom is 3rd generation, his children Jenni and Kate 4th). The plan was to diversify the farm which had traditionally been a Yorkshire wolds arable farm growing barley, oil seed rape, wheat, potatoes, beans, and legumes. Because of the soil type, the farm specialised in malting barley. Previously, that barley would have been malted and sent up to Scotch distilleries. So the next step to start a brewery – Wold Top – in 2002, and then their whisky, was a natural move.
Uniquely, all the grain for their spirit is grown on-site, on the farm that has been in the family for 3 generations. Filey Bay are one of only a few genuine "field to bottle" spirits in the world. And chalk aquifers directly underneath the farm provide a consistent water supply, which is ideal for whisky distilling – so Spirit of Yorkshire can hand on heart say they have control over every ingredient that goes into making its whisky. The company are pushing themselves to set a standard in terms of quality and sustainability in English (and world) whisky making.
This is how they do it…
The team invested in two of the largest Forsyth pot copper stills operating in the UK outside of Scotland, which were fired up for the first time in 2016. Their four-plate copper column works in tandem with the spirit still which adds to the uniqueness of the Spirit of Yorkshire distillery.
The first part of making a whisky is to produce a barley wash – something a bit like beer – which then gets sent to Munton's malting factory in Bridlington. This comes back to the farm as a malted barley, which then gets steeped and heated to become a sticky sugary solution. This is then added to yeast, and alcohol starts to be produced – at about 8% ABV. This product then gets put into the copper stills, where it is boiled, and will later become whisky.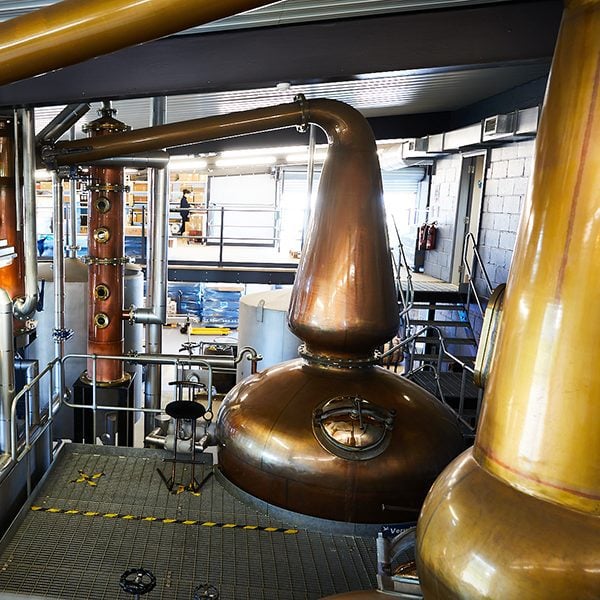 The team have thousands of various cask types, all of which will impart complex flavours. The result is a distinctive whisky which is creamy, light and fruity with flavours of citrus, honey, caramel and vanilla. More pepperiness and character comes from maturation in a range of ex-bourbon and sherry barrels. All the whisky is matured on-site in a special barn. The whiskies are matured for at least 3 years (as per whisky regulations) but predominantly longer.
Yorkshire's first ever whisky
The distillery has an array of ranges, with the core expression being the Flagship, and sits alongside a range of finished releases; Filey Bay's Moscatel finish, which is soft, sweet and fruity with flavours of orange, honey, dried fruits and cocoa and Filey Bay's STR Finish (the name stands for shaving, toasting and recharging which is what the team do to the casks before the whisky is matured in them). It's light, floral and fruity with flavours of red fruits, vanilla ice cream and toasted oak.
The main cask used for maturation is bourbon, but, sherry (PX, Fino, Moscatel, Oloroso), red wine, peated and port casks are also used for full term maturation, as well as for 'finishing' bourbon matured whisky too. The distillery only bottles a small percentage of the whisky they make each year, which means many older casks can remain in the warehouse, patiently waiting for their time to come.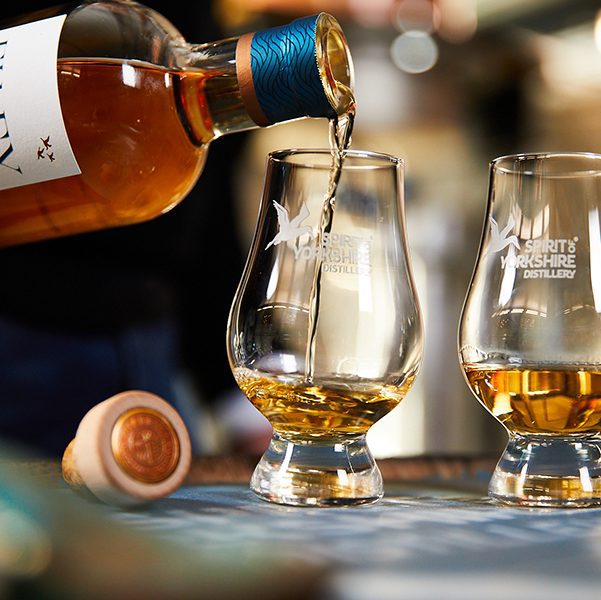 Then there are the rarer, limited edition runs that the team work on, with the latest being their IPA finish, which as the name suggests, is matured in ex-IPA casks from Wold Top brewery. This has a unique apply, savoury flavour, and fans of rare whiskies should keep an eye out for it!
Sustainability: looking after the land
Spirit of Yorkshire are acutely aware of the need to look after the land that they farm on. After burning coal, the ploughing of fields is one of the biggest carbon emitters in the world. If humans stopped ploughing, it would have a huge effect on climate change, and at Spirit of Yorkshire distillery, they've done just that. All crops are planted via direct drilling, which means the soil is left undisturbed and the carbon stays where it should: in the ground. The naturally chalk rich soil provides natural drainage, which is ideal for growing barley.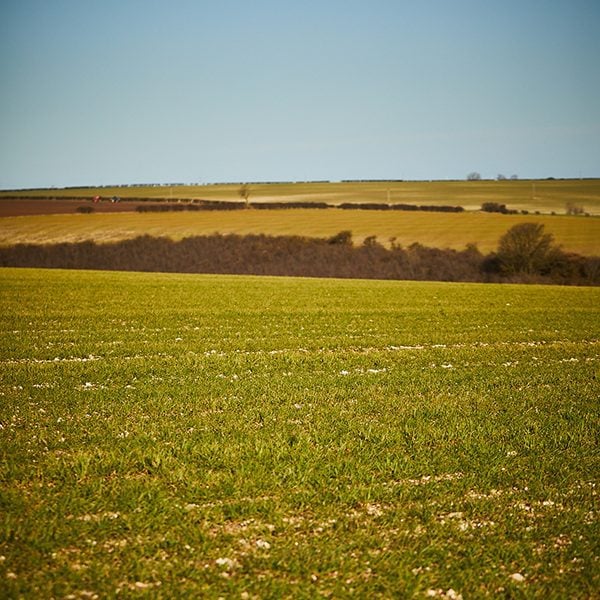 Cover crops, such as radishes and other vegetables are planted on top of the soil to promote biodiversity and the natural habitat of wildlife. The area is full of skylarks and Filey Bay still has the biggest gannet population in the country, so this practice is clearly working.
The distillery is located just a short drive from the brand's namesake and local beach Filey Bay which is visible from the distillery windows. This beautiful stretch of sand goes from the outcrop of Filey Brigg to the headland of Flamborough Head and is worth a visit. Fans of whisky will be delighted by a tour of the area, the Spirit of Yorkshire distillery, and of course an obligatory follow-up whisky tasting.
The one-hour distillery tours run 7 days a week three times a day (twice on Sundays), at 11am and 1pm and 3pm Monday – Saturday, 11am and 1pm on Sundays. For those looking for more detail, there's a Distillery Tour and Deep Dive Tasting every Friday at 3pm, which finishes with a 5 dram flight, including one that's very special indeed. Tours must be booked at least 12 hours in advance.
To find our more about Spirit of Yorkshire, visit their website here.
Subscribe to our magazine
Food lovers, treat yourself this Christmas... Enjoy 12 months of magazines for £29.99 – just £2.50 an issue.
Subscribe
Unleash your inner chef
Looking for inspiration? Receive the latest recipes with our newsletter