Paul Rankin's Belfast restaurant guide
Once a gourmet backwater, Belfast is now a foodie haven. We asked Paul Rankin, the Michelin-starred chef credited with transforming the city's cuisine, for his personal guide to this revitalised city.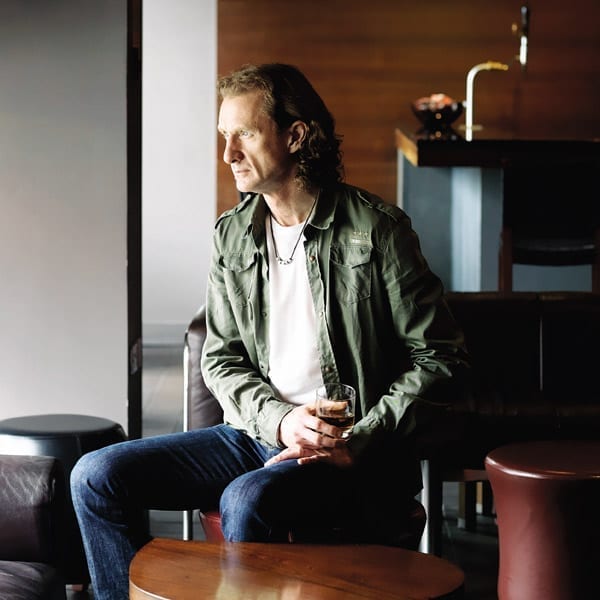 A gritty city with humorous, down-to-earth, hospitable people: that's how I'd describe Belfast. In the bad old days, visitors to Northern Ireland were such a novelty that most of us would bend over backwards to welcome them. Back then, the lack of interest in food throughout the UK and Ireland coincided with the Troubles, so the Belfast restaurant scene was pretty sad.
Nonetheless, there was a steely determination among many chefs to get on with things, which is why my wife Jeanne and I went ahead and opened Roscoff in the 1980s. Happily, the Michelin stars won by Roscoff and Deane's served as an incentive to other chefs, and a second generation of good restaurants arose, despite the political situation. Since the ceasefire, the scene has blossomed with many chefs returning home to open up their own restaurants.
Now I'd say Belfast can easily compete with any UK city, and there's no brighter place for a weekend of good food, fun and Irish flavours.
Breakfast
In the past, breakfast was the very best thing about Northern Irish cuisine. But as our restaurants get up to speed with more sophisticated food cultures, we've lost a little of what made us unique. You can still find a fantastic local breakfast if you look for it, and you'll know you're having a real Ulster fry when your plate comes loaded with crisp fried soda and potato farls, our distinctive griddled breads.
Your best bet is a B&B where there's an emphasis on home cooking. I haven't stayed there but I'd swear by the
Ravenhill Guest House
(690 Ravenhill Road, T: 028 9020 7444)
Roger and Olive Nicholson always shop for artisan sausages and bacon at the farmers' markets and they make their own wheaten bread and jams, the other must-haves of the Northern Irish breakfast table.
If you want to eat on the hoof, do what the taxi drivers do and stop off at a home bakery such as Millers (18 Chapel Lane) for a sausage or bacon and egg soda. Equally tasty are breakfast sarnies made with Belfast baps – massive, airy rolls with caramelised crusts.
If you prefer something more continental, downtown cafés, such as the one at Smyth & Gibson (Bedford House, 16-22 Bedford Street, T: 028 9023 0388), the Belfast shirtmakers, offers the best espresso coffee I've tasted. It also bakes fantastic muffins studded with lush dark or white chocolate, and good buttery croissants.
Shopping
Equinox (32 Howard Street, T: 028 9023 0089), around the corner, is the place for smart kitchen and lifestyle gear. It also has a bright café for pasta and panini lunches – all served on the designer dishes they sell in store.
For food shopping, don't miss St George's Market (12-20 East Bridge Street, T: 028 9043 5704). On Saturday this is where all the decent food producers gather. If you're peckish, pick and choose between the stalls selling food to go. On Fridays it's a complete mishmash of clothes, 'craft' items and fish. All of Belfast gathers here, from grannies with their wheelie trolleys looking for big knickers, to High Court judges in for prime fish, organic eggs and fine cheeses. And the banter is brilliant.
For more Belfast colour, visit the Asia Supermarket (189 Ormeau Road, T: 028 9032 6396), which has turned one of the old trouble spots into a mecca for chefs and foodies – I often shop there myself. Belfast has a large Cantonese population and its Asian restaurants can veer from dire to brilliant and back again.
I enjoyed an excellent steamed turbot with ginger and garlic at the Four Seasons (53 Dublin Road, T: 028 9031 1318), but Macau (271 Ormeau Road, T: 028 9069 1800) is another one the critics like.
Lunch
If you want a breather from the boutique shops of the Lisburn Road, then I'd go to Cargoes (613 Lisburn Road, T: 028 9066 5451), a deli café that's been going strong for as long as I can remember. The owner, Rhada Patterson, has run countless cookery demos over the years, but still the local ladies flock here for her home-made waffles with syrup, perfect poached eggs and Moroccan orange cake.
But do venture into other parts of town, too. What I think is great about the current political stability is the development of downtown Belfast. Barriers used to be erected after dark, and there was absolutely no night life there for the duration of the Troubles. Now hotels, bars and restaurants are colonising the stunning old buildings that were derelict for decades.
Nick Price was the first to move into what is now known as the Cathedral Quarter. His restaurant, Nick's Warehouse (35-39 Hill Street, T: 028 9043 9690) has practically become the staff canteen for the law courts and the Belfast newspaper journalists, and you can see why. He serves big plates of traditional comfort food – pork chops with onion and apple gravy, followed by banana and gingerbread cake and custard. In the evening, his menu goes off the beaten track and the food is more refined and modern. You'll also get excellent wines and buckets full of Nick's charm. It's a loud buzzy restaurant, great for a group of friends.
If you're in the university area you should try Molly's Yard (1 College Green Mews, T: 028 9032 2600), a great neighbourhood bistro with its own micro-brewed beers. It's very handy for the art house cinema.
At Deane's at Queens (2-3 College Gardens, T: 028 9038 2111), which has a fantastic night-time view, you can snack on local tapas-style dishes or satisfy a larger appetite with a venison and celeriac mash pie. Belfast's famous Botanic Gardens are just across the road.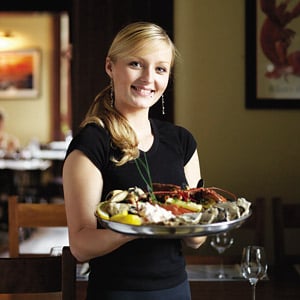 Dinner
Close to the centre, meanwhile, is the Mourne Seafood Bar (34-35 Bank Street, T: 028 9024 8544) which belongs to my old right-hand man, Andy Rea. He's caught the new wave of interest in seafood with a gastronomic menu of everything from smart fish and chips to Lough Neagh pollan niçoise – its spare banquette-and-blackboard décor attracts all sorts.
If you're in the mood for rich food, then visit my old rival Michael Deane at Deane's (36-40 Howard Street, T: 028 9033 1134). Try his poached and roasted fillet of Fermanagh beef with braised ox cheek, triple-cooked chips, and sauce bordelaise with bone marrow and you'll never think of us as plain eaters again.
At my restaurant, Cayenne (7 Ascot House, Shaftesbury Square, T: 028 9033 1532), our food's a bit lighter, but we still cater for more adventurous eaters. Ginger and pork pot stickers might be followed by a nice piece of hake with Asian greens, lemon and soy vinaigrette. At Roscoff (7-11 Linenhall Street, T: 028 9031 1150), the first Northern Ireland restaurant to win a Michelin star, the menu is modern brasserie fare.
Newer kids on the block include Niall McKenna at James Street South (21 James Street South, T: 028 9043 4310), and Simon McCance from Ginger (7-8 Hope Street, T: 028 9024 4421). James Street South is a serene, cool space with a new world approach and upmarket food: say, carpaccio of venison with artichoke and walnut dressing, brill with chicory and wild mushrooms. Ginger's the place to go when you want to chill out. Simon's cosy backstreet room has great individual style. Seared rare beef with wasabi mayo, pickled ginger and crunchy raw onion salad is his signature. He also does good veggie food.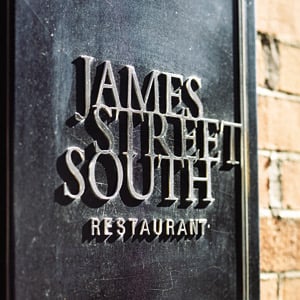 You'll also find some of the best eating around at Shu (253 Lisburn Road, T: 028 9038 1655). Like so many young chefs who've returned to the city, Brian McCann has done his apprenticeship in many world-class restaurants. He may have toned down his à la carte to appeal to simpler tastes, but he gives classic brasserie food a sophisticated edge. If you really want to go to town, Brian will blow you away with his cheffy specials, which are all the better for their very reasonable price tag.
Bars
In the Cathedral Quarter, there's a plethora of bars – try the John Hewitt (51 Donegall Street, T: 028 9023 3768) where you might get a poetry reading, or the Duke of York (7-11 Commercial Court, T: 028 9024 1062) for some session music.
Or, you could go for cocktails at the seriously swanky Merchant Hotel (35-39 Waring Street, T: 028 9033 4888). I've heard mixed reports about the food there, but I kind of like the idea of dinner in a vault – it used to be a branch of the Ulster Bank – and the rooms are the best you'll find in Belfast.
From the city centre restaurants, it's a quick dander to the Crown Bar (46 Great Victoria Street, T: 028 9027 9901), a Victorian liquor saloon with very sociable snugs and lavish interiors. Or you can go to Apartment (2 Donegal Square West, T: 028 9050 9777), one of the nicer modern superbars with great views of City Hall.
Out of town
Here are a few places outside of the city that you might want to check out during your stay. Picnic (47 High Street, Killyleagh, T: 028 4482 8525) is a fantastic deli run by John Dougherty and his Aussie wife Kathy. They go to great lengths to source good stuff – John's mother even drives down from Co. Derry with Ditty's oatcakes.
Next door is the Dufferin Arms (35 High Street, Killyleagh, T: 028 4482 1182), a great country pub. Rick Stein took a liking to it when he was filming on Strangford Lough. Balloo House (1 Comber Road, Killinchy, T: 028 9754 1210) where Danny Millar, who worked with me at Cayenne, now heads up the kitchen. He's in his element cooking with great seafood from Strangford Lough and game from the local estates.
Subscribe to our magazine
Subscribe to delicious. magazine for HALF PRICE
Subscribe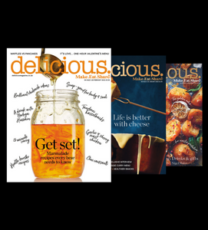 Join our newsletter
Packed with menu ideas, recipes, latest competitions and more...