Blog: Viva Venice
One of our favourite bloggers heads to Venice (with a Contessa, no less) for a gastronomic adventure and finds, in this saturated Italian city, that whetting your appetite means sometimes getting your feet wet.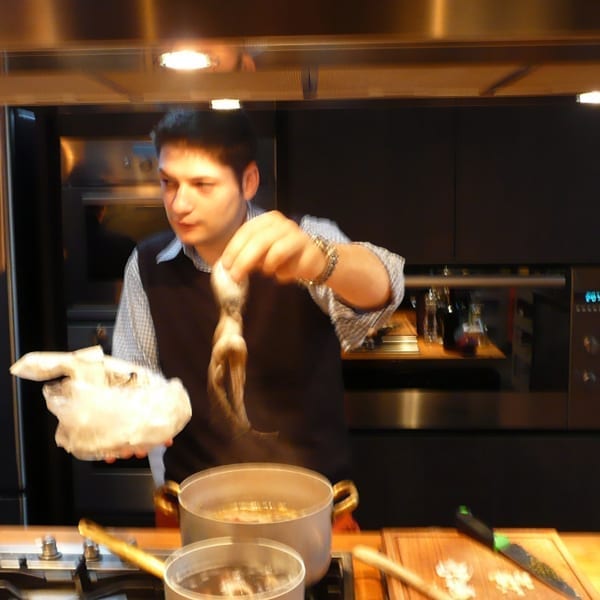 "Welcome to the Queen of the Adriatic!" proclaimed Enrica Rocca. Following a repellently early flight, the Contessa and I had finally thawed away our tiredness over a couple of bottles of Prosecco. The hazy, peach-scented bubbles were tamed by bite-size 'cicchetti' – bready parcels fattened by fillings of suspiciously titled 'Sorpresa' salami, moist tuna and sweet horsemeat paste. Buoyed by the apéritif, I imagined not unreasonably that she was describing herself. But she meant Venice, the ancestral Rocca seat and setting of the sequel to her Notting Hill cookery school, freshly acclaimed by 'Vogue'
Enrica is so fiery that she is almost flammable: spirited, intrinsically aware and therefore inevitably controversial. For example: "If food is the first thing we allow to suffer in the credit crunch, how can we call ourselves civilised?" I met her as a civilian a year ago. Reading about her gripping tours of Borough and Portobello markets, my Genoese mother enrolled me on a class. We became very firm friends. It was time, she implored, to guide me through the gastronomic treasure trove underpinning her historic city. Once a superpower, it has defied plague, rising waters and military invasion (as well as the annual influx of 20 million visitors).
On arrival, the implausible network of 118 islands and 409 bridges felt more private than usual. A transport strike had hushed the slippery jade corridors. En-route to her family's 250 year-old Palazzo in Dorsoduro, Enrica greeted friends, fans and shopkeepers. We bumpily wheeled our cases past acutely aromatic bakeries, kiosk sized grocers selling sweet, luminous Muscat grapes and gelaterias with thrilling mounds of creamy temptations (even in winter).
The interior of Enrica's apartment nervily refutes the classic adornment of the adjoining wings. The floor is ash stained oak, walls are polished plaster and exposed supports varnished steel. An enormous canvas of a glossy-eyed beauty rises towards the 20-foot high, beamed ceiling. The table is custom made 'Plexiglass' (Enrica visited the factory). The ovens are Concorde in their output and the knives, frighteningly sharp. Suitable equipment to handle any ingredient we would expertly forage.
I am desperately curious when it comes to culinary matters. I squirm at nothing. With Enrica, I wanted to encounter raw ingredients unavailable at home, taste worryingly mature cheese and even kill things in the pan.
After rousing cappuccinos with silken foam, we passed an orchid only florists bound for a butcher by the Rialto market. Established in the 11th century, this is widely regarded as the source of the finest protein and piscine protagonists in northern Italy. Meat on our minds, we saw a whole pig hanging from rafters by its cloven hoof. A pair of veal breasts (better young, according to the cheeky butcher) and mottled gums reclined in the chilled display, as did a long, leathery ox tongue. We bought scentless, snow-white veal tripes, shredded into strips, to make floury 'Trippa alla Parmigiana' (tripe, onions, celery, carrots, tomatoes, butter and parmesan) and spiced sausages to butterfly on Enrica's charcoal grill.
Canal-side, acres of fresh greens glistened in the cool, damp mist. We sieved handfuls of earthy, almost truffle scented, magnificently messy, pert mushrooms and filled a basket with tightly-pursed indigo-flecked artichokes, scarlet cherry tomatoes, and a special, slightly acrid lettuce leaf which only grows where there is ice. We inhaled profoundly perfumed clumps of spiny rosemary, woody sage, bright basil and peppered rocket.
Further along, the fish market is held under the shadow of tall arches with Corinthian columns and half-drawn Venetian blinds. Ferocious, translucent shrimp like 'Canocchie', (pictured above) a speciality of the lagoon, waived their fins in the air. Enrica gestured to a sign, erected hundreds of years before, advising on legal weights and sizes of catches, sadly long since ignored. There were cobalt-coloured mussels, soft scallops, handsome, sizeable prawns (delicious raw), symmetrical octopus and inky cuttlefish. I would cook the latter in their own ink, releasing them slowly into the saucepan. Crabs writhed and clenched in buckets, reminding me of a morning aboard the London Underground. We would later embalm the soft shell versions in flour and egg before drenching them in hot oil, eating them immediately. Addictively moreish, they had the texture of dry leaves.
On our return we stopped at 'Pane Vino e San Daniele', a Sardinian restaurant, to buy some brittle 'Pane Carasau', nicknamed 'carta da musica' meaning sheet music because of its wide, thin shape. From sealed Tupperware, we also tried an incredibly sharp, aged Pecorino. Its 'cell-mate' was so pungently ripe, it was swimming with worms, which the Sardinians rather like, apparently.
The following day I was gently woken by the sound of lightly rippling waves licking the front door. This was the 'aqua alta' – particularly high tide. I asked Enrica why she hadn't told me to bring my swimming trunks…
After an almost neon orange coloured Venetian 'Spritz' (Campari, Prosecco and seltzer) and gossamer thin, nutty San Daniele ham (Parma's rival) we headed an hour into the rising and falling, moss green, olive and asparagus-coloured countryside. We had a rendezvous arranged with Princess Collalto at her castle, set amidst crucified prosecco vines. Her father, almost from ruins – his last act – faithfully rebuilt the elegant, serene structure. We spent a cosy afternoon by the fire, sipping passito and then a very sturdy chestnut moonshine.
Our last supper in Venice occurred at 'Alle Testiere', San Lio. This hostelry is one of the few remaining restaurants to celebrate Venice's history at the centre of the Eastern spice route. Sitting at one of only eight tables, we had a mixed salad of lean chard, pears, poppy seeds, rocket and mint. Razor clams were delicate with a texture like asparagus and licked by ground hazelnuts and butter. A purely simple pasta was plucked into life with more mint and sweetly acidic paprika. Flavours were forced to harmonise like an arranged marriage, although the experiment ultimately worked. Ironically the proprietor, who yearns to make a pilgrimage to the source of the spices, has a fear of flying.
Three days with the Contessa roaming the Queen of the Adriatic had unravelled: a brief, but serious introduction to the nourishment of a unique island beyond the picture postcard…
Click
here
for Enrica's Cookery School
Check out Douglas' blog
here
Subscribe to our magazine
Subscribe to delicious. magazine for HALF PRICE
Subscribe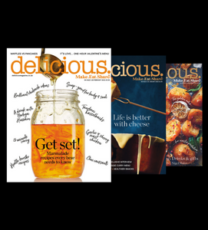 Join our newsletter
Packed with menu ideas, recipes, latest competitions and more...