Cater your own
In these cash-strapped times, we talk to some women who give tips on how to do your own large-scale caterering – starting with our food editor Lizzie Kamenetzky, who fed 140 at her wedding.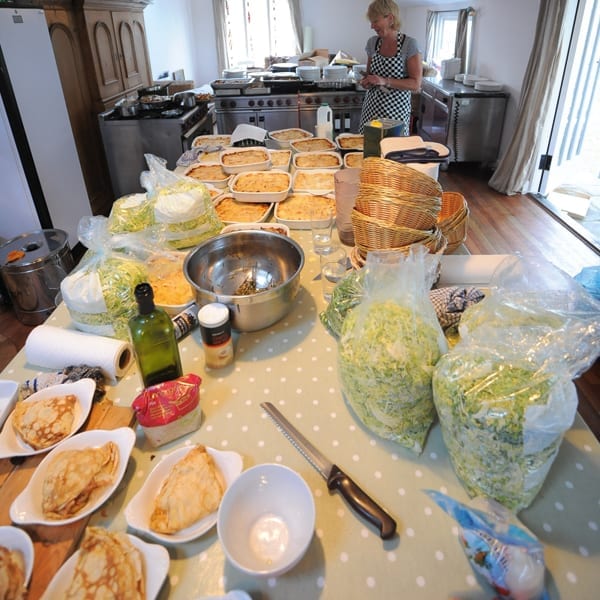 When Adam and I married in February, we decided that having the food we wanted on our big day meant preparing it ourselves – well, Mum and I prepared it; Adam's role was chief sampler! It was daunting – there were 140 guests, and I come from a food-loving family. And when you work for a food mag, you're expected to do something spectacular. No pressure, then!
We settled on Sunday lunch on a grand scale. We wanted local food and a relaxed atmosphere, so each table would have its own leg of lamb and veg to share. The starter was charcuterie, sun-dried tomatoes and mozzarella, with home-made focaccia (made in advance and warmed through on the day). Then came leg of Kentish lamb (we had to buy 18), slow-cooked with rosemary, white wine and garlic, and roasted local root veg with potato gratin, followed by treacle tart, rhubarb jelly and custard.
The reception was in a marquee in the garden of my family home – we hired ovens from a catering company and turned the barn into a giant kitchen. It was planned with military precision. Mum and I made canapés, some of which – such as filo parcels and tartlets – we froze a month before. We had fun, working well as a team – I couldn't have managed without her.
Three days before the wedding, the manic prep began – imagine spending three hours making 18 pints of custard and you'll get the picture. It was all hands on deck: an army of my mum's friends turned up to peel spuds and wash up, and a team of local girls supervised by a family friend (who is an experienced cook) took over on the day.
A wine merchant friend supplied good, reasonably priced bin ends. We saved masses of money – the food cost less than £10 a head – and there were only a few small disasters. Some jellies didn't turn out properly, but nobody noticed. Overall, it was a triumph – loads of people said it was the best wedding food they'd ever had, and we all felt very proud.
Lizzie's tips
Planning is key. Get as much done in advance as possible and plan the logistics, such as how much oven and freezer space you'll need. Don't be afraid to rope in friends – people want to help.
Keep it simple. Don't be tempted to try recipes you've never cooked before.
Avoid canapés that involve assembly on the day.
Sarah Whitmore is from Thame in Oxfordshire. She catered her wedding four years ago and is now a professional caterer.
I was really into food from a young age. After uni I worked in HR, but by then I really wanted to be a caterer. I started catering my own parties, including my 30th, for which I prepared a big curry buffet. When planning our wedding in August 2005, Mathew and I didn't have much money. I'd had disappointing food at other weddings, so catering it myself seemed the obvious choice. It wasn't plain sailing – there were 80 guests and I'd never done anything on that scale before.
I chose a cold buffet of dressed whole salmon, cold meats, pavlovas and fruit salads, and did as much in advance as possible. Stupidly, however, I decided to make 10 different salads – even on the day itself I was working hard. I put my dress on at the last minute – and only then because the photographer made me! It was chaotic and stressful and I hadn't taken into account the fact that I'd be emotional – it was my wedding day, after all. There was lots of shouting – I had to go outside for a walk to calm down. In the end though, it all came together brilliantly and saved us loads of money. The food cost less than £10 a head, whereas a caterer would have charged at least £30.
So, I would recommend catering your own wedding – with a few reservations. I learned a lot that day, and a year later I decided to leave my job and start Flametree Catering. Preparing food for my own wedding was a real baptism of fire, but it was also the start of a whole new life.
Polly Robinson lives in the market town of Framlingham, Suffolk, with her husband Tim and their two children
spent lots of time on a relative's farm as a child, and since moving to the country with my family, my dream has been to show people behind the scenes on a farm and cook them some local produce. My husband and I love cooking, and we decided to organise a group visit to Peakhill Farm, near our house, as part of a local food festival.
Around 30 people came, and after a long farm walk, we sat down to a feast of local produce. Peakhill ingredients included unusual things such as beetroot tops, sorrel and purslane, and the farmer's father is a traction engine fanatic, so we roasted a topside of local beef in the machine's steam engine. I baked different breads using local flour, and we had an excellent local goat's cheese, Buxlow Wonmil. It was informal: we used upturned crates as tables, whatever chairs we could find, and disposable, biodegradable cutlery for an easy clear-up. The whole day went just as planned, and now Tim and I are hoping to combine our cooking with farm tours in our new business, Food Safari – so hopefully there will be lots more cooking for a crowd in future.
Sarah & Polly's tips
If you're the bride, handing over to someone else on the day itself is essential.
Employing local youngsters as waiting staff is a great idea, but they'll need direction.
Consider hiring a village hall. The rates are usually reasonable and they will often have tables and chairs.
Be realistic about your time plan.
Write a shopping list, stick to it and check your storecupboard ingredients in advance.
Don't hire things that you can borrow from your friends.
Use biodegradable tableware from vegware.com.
Use any surface as a table and throw over tablecloths to disguise it.
Support your local producers – your guests will love hearing the stories behind the food that you serve.
Subscribe to our magazine
Food lovers, treat yourself this Christmas... Enjoy 12 months of magazines for £29.99 – just £2.50 an issue.
Subscribe
Unleash your inner chef
Looking for inspiration? Receive the latest recipes with our newsletter