"Chocolate was the foodstuff that truly melted my heart"
For the award-winning chocolatier and patissier Will Torrent, visiting cocoa farmers on the Ivory Coast gave him even more of an emotional connection to one of his favourite ingredients…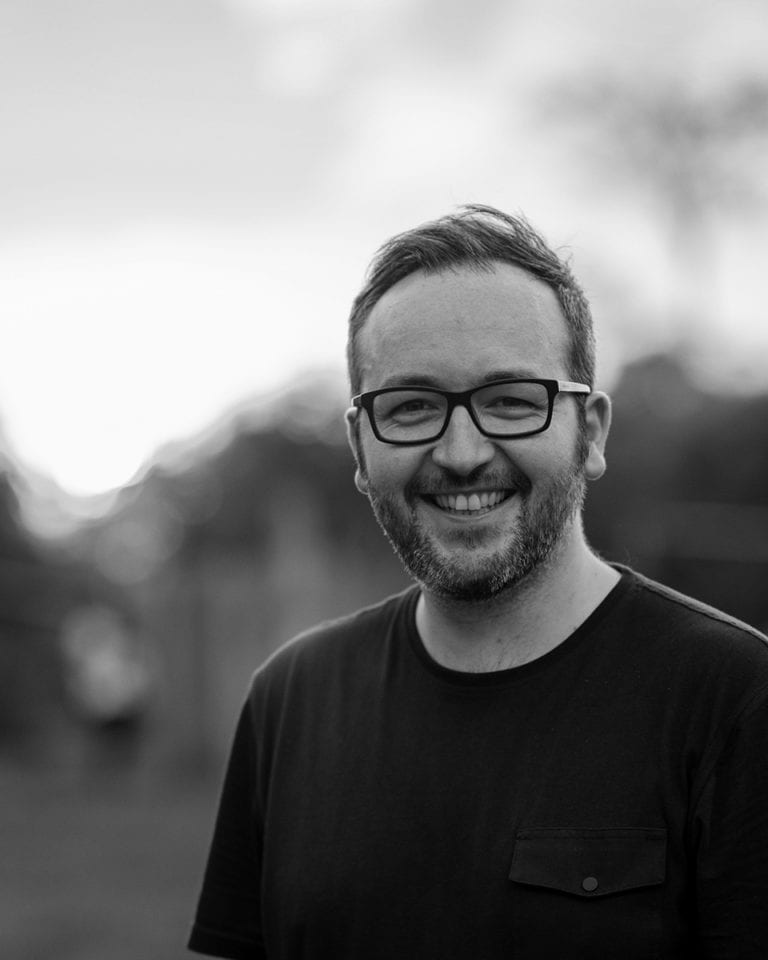 Somebody once said I had icing sugar in my veins, and it's true I use (and eat) a lot of sugar in my role as a consultant pastry chef. But it was during a visit to cocoa plantations on the Ivory Coast with international development charity Tearfund that I realised chocolate was the foodstuff that melted my heart. I've always loved chocolate, but seeing the cocoa farmers' dedication to their demanding crop, and their pride when all their hard work paid off, made me realise what a cherished resource it is.
In the UK, one in six of us eats chocolate daily, and our nation is in the top five chocolate consumers per capita globally. Yet in spite of our love of the confection, we don't know very much about how cocoa farmers grow the beans or the challenges they face, and this is something I'd love to redress.
"It was a sheer delight to talk about cocoa with the people who lovingly tend these valuable plants in a spirit of hope and joy."
Richard, a cocoa farmer, showed me around his plantation. "Can you imagine how much work it is to prepare the land for sowing the seeds?" he challenged, explaining the labour involved in clearing weeds, tending and pruning the young trees and spreading compost. Yet when he reflected on the decade since he planted his first trees, he proudly added: "With patience, you get good results. I knew a time would come when I would smile. I knew that, if you don't take any risks in life, you won't get any results."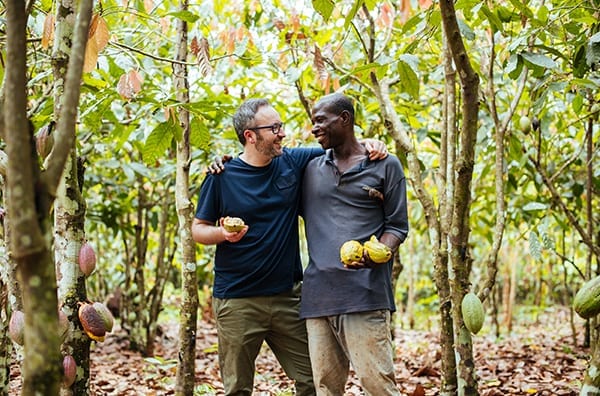 Richard showed me how to harvest cocoa pods, scooping out the fleshy white beans, wrapping them in banana leaves to ferment them, then laying them out to dry before they are bagged up for sale. As we breathed in the intoxicating yet somehow familiar smell of cocoa drying in the hot Ivorian sunshine, Richard and I bonded through our love of the precious cocoa beans he'd grown, which my profession as a chocolatier depends on.
Tearfund's local partner, ADIAS, runs projects to help farmers improve their cocoa plantations and diversify into other areas of food production. Advice on pruning, making organic compost from freely available resources and other technical skills to make plantations more fruitful, helps to lessen their reliance on agrochemicals. Growing a greater variety of crops means farmers can take advantage of market shortages and feed their families when cocoa prices fluctuate. For Richard, the switch to organic homemade fertiliser freed up money for schooling and improved his household income, which in turn improved his family's diet and health.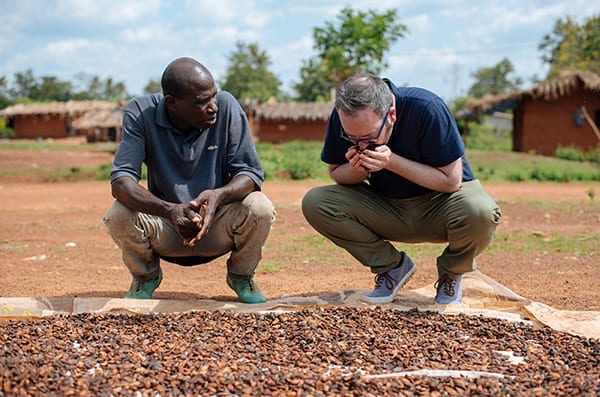 The peace and tranquillity of the cocoa plantation will stay with me for a very long time. It was a sheer delight to talk about cocoa with the people who lovingly tend these valuable plants in a spirit of hope and joy. It's a world away from the kitchens where I create my chocolate treats, but the smell of melting chocolate still reminds me of the smell of cocoa beans drying in the sun and the connection I share with cocoa farmers, like Richard, around the world.
Source for statistics: World Atlas, 2018
Tearfund is a Christian relief and development agency and a member of the Disasters Emergency Committee. Founded in 1968, the charity works in countries around the world responding to disasters and helping lift communities out of poverty.
All images by Tom Price
Subscribe to our magazine
Food lovers, treat yourself this Christmas... Enjoy 12 months of magazines for £29.99 – just £2.50 an issue.
Subscribe
Unleash your inner chef
Looking for inspiration? Receive the latest recipes with our newsletter