A chef's guide to Copenhagen
British chef Paul Cunningham is something of a star in his adopted home of Copenhagen, a city that's one of Europe's most exciting foodie destinations.
Here are his recommendations on where to go for breakfast, where to go food shopping, the best smørrebrø in the city, the hippest bars and the ultimate in fine dining.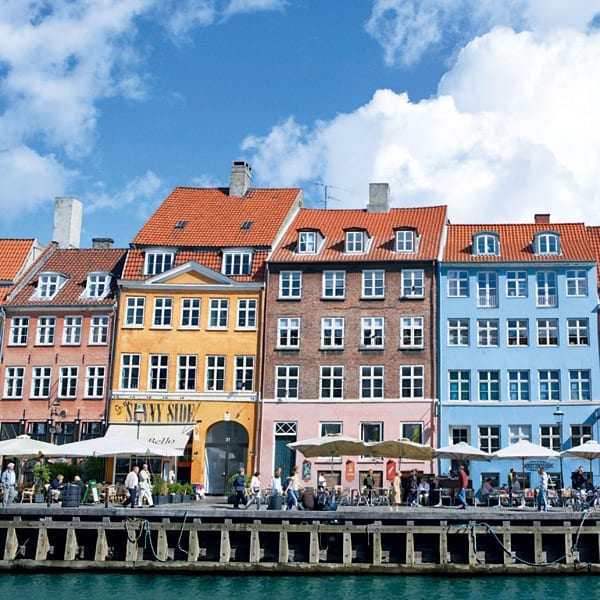 It was an affair of the heart, rather than anything culinary, that first brought me to Denmark. More than 10 years ago, I fell in love with Lene, a Danish girl, while we were both working in the UK and, ready for adventure, I followed her home.
At the time, I never dreamed I'd end up running my own Michelin-starred restaurant in a glass pavilion in the middle of the Tivoli Gardens – a place that's been an institution in Copenhagen since 1843. I still can't believe my good fortune, nor can I imagine living anywhere else. Copenhagen is a fantastic, forward-looking place where you can eat extremely well.
It's chef heaven, as summed up by Derek Bulmer, chief Michelin inspector, who recently wrote that Copenhagen 'is beginning to make a real mark on the world gastronomic map'
Where to go for breakfast in Copenhagen
The Danish are allegedly the happiest nation on earth and that's definitely reflected in the café culture. My favourite stop for a wake-up call is a low-key café – more a glorified cubby-hole really – called Ricco's, much frequented by people in the music business.
Ricco' serves great lattes and has an old-fashioned record-player and a stack of LPs. I like to stick an old Bowie track on and plan my day.
At the weekend I'm more likely to have an indulgent breakfast at Lagkagehuset. The Danes take their bread seriously and Lagkagehuset is definitely one of the best bakeries. It makes up to 25 different doughs each morning and I'm especially partial to its rugbrø: a dark rye bread, which is great when made into a quintessentially Danish sandwich with frikadeller (Danish meatballs) and plenty of pickled cucumber.
They also bake traditional Danish pastries such as kanelgifler, which are made from a teacake-style dough with butter, sugar and cinnamon. I can never resist a kartoffelkage, a choux bun filled with crème pâtissière and marzipan, then dusted with chocolate powder so it looks like a muddy spud.
Arguably the best – although among the most expensive – coffee in town can be found at Café Europa, three-time winner of the world barista championships. On cold days rugs are provided for its pavement tables on Højbro Plads, a large city square.
Food shopping in Copenhagen
Løgismose is a classy and stylish food hall selling the only truly original Danish cheese, dansk rygeost, a fresh young cow's milk cheese. It is smoked over oat straw to give it a distinctive style and customarily served on rugbrø with radish, chives, salt and pepper. Another speciality that can be bought at this food hall is krydderfedt: a pot of melted, spiced pork fat, mixed with deep-fried onions and traditionally served with pickled herring on top. It's an acquired taste, but one that has to be experienced.
Chocolate with marzipan is a very Scandinavian combination and Peter Beier Chokolade has an impressive range. You must try fløedeboller – chocolate logs with a marshmallow-like filling and a marzipan base. I always say they are for my sons Valdemar, three, and Christian, eight, but I often end up eating them myself.
Meyers Deli is the brainchild of TV personality and new Nordic culinary pioneer, Claus Meyer. It's in the basement of Copenhagen's grandest department store, the Magasin du Nord, and stocks delicious comestibles such as apple balsamic from Meyer's own orchards. It's also a stylish place for a quick meal – hot green pea soup with crispy bread; grilled Danish lamb with carrot relish on toasted rye; and buttermilk dessert with red fruits are all good.
The best smørrebrø in Copenhagen
Sometimes there's nothing better than a thoroughly traditional Danish spread with a selection of open sandwiches, known as smørrebrø.
Grøften, the first restaurant to open in Tivoli (a famous old amusement park and garden), is unbeatable – I always bring visitors to Copenhagen to lunch here. On a recent visit with my family, the model-turned-photographer Helena Christensen was at the next table.
I always end up ordering far too much: Baltic herring, salted and brined with star anise and cumin and served on rugbrø, is a must, as is sol over Gudhjem that translates as 'sun over God's home': pickled herring with egg yolk, onions and chives on rugbrø.
Everything is served on the kind of cut-glass dishes my granny brought out on special occasions and drinking beer and Aalborg Akvavit – a caraway-flavoured schnapps – is pretty much compulsory. I've recently discovered Aamann', a contemporary smørrebrø café, which scooped an award at the Copenhagen Cooking Festival.
Its smørrebrø consists of traditional ideas with a modern twist: choose from pork breast marinated with sweet-and-sour plums; honey balsamic vinegar with spring onions; or Icelandic herring with marinated dill flower, lemon and soured cream. There's a good range of deli products and my favourite pudding, rødgrød med fløde: a mix of gently cooked and puréed blackcurrants, blueberries and strawberries with vanilla and lemon rind, served with ice-cold milk or cream.
Smushi at The Royal Café is also great – it's inspired by sushi: smaller smørrebrod are given a contemporary flavour such as gravadlax with a shot of Akvavit and dill jelly; and pork with crackling, spiced apple and rosehip compote.
Where to have tea in Copenhagen
Café Glyptoteket is in the Ny Carlsberg Glyptotek, a wonderful art museum opposite the Tivoli gardens. Mette Blomsterberg, who runs it, is justifiably renowned for her cakes. I like the pistachio crescents or apple and caramel cake.
La Glace, meanwhile, is a charming institution which dates back to 1870. It's rather old-fashioned with green marble-topped tables and a touch of the Viennese café about it. The cakes are absurdly indulgent – notably the so-called Sports cake, which is a sort of mixture of profiterole, caramel and cream, and the Danish teatime speciality known as the Sarah Bernhardt – a delectable combination of macaroon and chocolate truffle.
Fine dining in Copenhagen
Even the most high-end restaurants in Copenhagen are incredibly laid-back. It's a relatively small city, and we chefs genuinely nurture and inspire each other.  At my place, The Paul (nobody believes me when I tell them it's named after the famous architect Poul Henningsen, who designed the building), the menu is grounded in a commitment to seasonal Nordic produce, such as langoustines from Laesø and smoked pine-infused olive oil.
Yet, while I love innovating with the latest experimental culinary techniques, I like my comfort food, too. Absolutely in the culinary vanguard is Noma, which now has two Michelin stars. I've known and cooked with chef René Redzepi for years, and I think he's been really clever in creating a new kind of Nordic kitchen and sourcing produce from the Faroe islands, Greenland and Iceland.
Chef René Redzepi at his two Michelin-starred Noma I came here for my last birthday and it was absolute perfection. Most memorable was a dish called 'vegetable field' served on a warm stone: potato purée with tiny turnips, carrots and beets scattered with herbs, and sweetbreads, onions and chickweed.
Chef Bo Bech of Restaurant Paustian is far more avant-garde than me, culinarily speaking – no novel technique is off-limits. Even the bread is dramatically different – long, dark scrolls of malt crispbread served with a slightly caramelised brown butter. The best dish I tried there recently is braised Icelandic lamb neck with juniper berries, elderberries and sea buckthorn purée. Bo likes to work alone in an open kitchen in the middle of the dining room, while the rest of his team are in the engine room.
Another favourite is Restaurant Prémisse, a vaulted cellar once part of Moltke's Palace, in the royal quarter. Rasmus Grønbech's cooking explodes with flavour, and he doesn't hold back on luxurious ingredients. His most extraordinary dish is suckling pig braised in duck fat with crackling and caviar sauce. It's so good I end up licking the plate!
Microbreweries are making a huge impact in Copenhagen (25 new beers have been launched this year alone), and Nørrebro Bryghus makes interesting beers that complement food. You can also eat lunches and suppers at the brewery restaurant. Try foie gras ballotine marinated in King's County Brown Ale, served with pickled onion and figgy rolls, or hake poached with trout roe, egg, cucumber and herbs, served with butter bean purée and beurre blanc – great with Pacific Summer Ale.
Bars in Copenhagen
K-bar is where everyone in the restaurant business likes to hang out. It's quite small and cosy, and the cocktails are legendary. My favourite is the passion fruit mojito.
Another fantastic destination for a drink is Umami, where Japanese food meets Scandinavian design. You can get good sushi, sake and cocktails here and it's a great way to end a day in wonderful, wonderful Copenhagen.
Restaurant and bar index
£ = Cheap and cheerful
££ = Mid-range
£££ = Splash out
Aamann's £
Øster Farimagsgade 10
T: +45 3555 3344
Café Europa
££
Amagertorv 1
T: +45 3314 2889
Café Glyptoteket
£
Ny Carlsberg Glyptotek, 7 Dantes Plads
T: +45 3341 8128
Grøften
Tivoli, Vesterbrogade 3
T: +45 3375 0675
K-Bar
££
Ved Stranden 20
T: +45 3391 9222
Lagkagehuset
Torvegade 45
T:  +45 3257 3607
La Glace
£
Skoubogade 3
T: +45 3314 4646
Løgismose
££
Nordre Toldbod 16
T: +45 3332 9332
Meyers Deli
££
Magasin du Nord, Kongens Nytorv 13
T: +45 3325 4595
Noma
£££
Nordatlantisk Brygge, Strandgade 93
T: +45 3296 3297
Nørrebro Bryghus
££
Ryesgade 3
T: +45 3530 0530
Peter Beier Chokolade
££
Skoubogade 1
T: +45 3393 0717
Restaurant Prémisse
£££
Dronningens Tværgade 2
T: +45 3311 1145
Restaurant Paustian
£££
Kalkbrænderiløbskaj 2
T: +45 3918 5501
Ricco'
£
Istedgade 119
T: +45 3331 0440
The Paul
£££
Tivoli, Vesterbrogade 3
T: +45 3375 0775
The Royal Café
£
Amagertorv 6
T: +45 3814 9527
Umami
£££
Store Kongensgade 59
T: +45 3338 7500
Subscribe to our magazine
Subscribe to delicious. magazine for HALF PRICE
Subscribe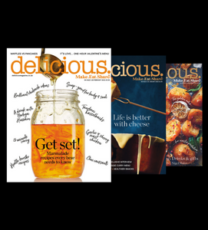 Join our newsletter
Packed with menu ideas, recipes, latest competitions and more...