Diana Henry meets… Stanley Tucci
In her new series of interviews for delicious., Diana Henry meets actor Stanley Tucci. They discuss Tucci's memoir Taste, his foodie childhood and his lifelong passion for cooking, cocktails and enthusiastic eating. Yet his 2017 diagnosis with oral cancer meant there were times when a sip of water was almost more than he could face…
Feature image by Francois Berthier.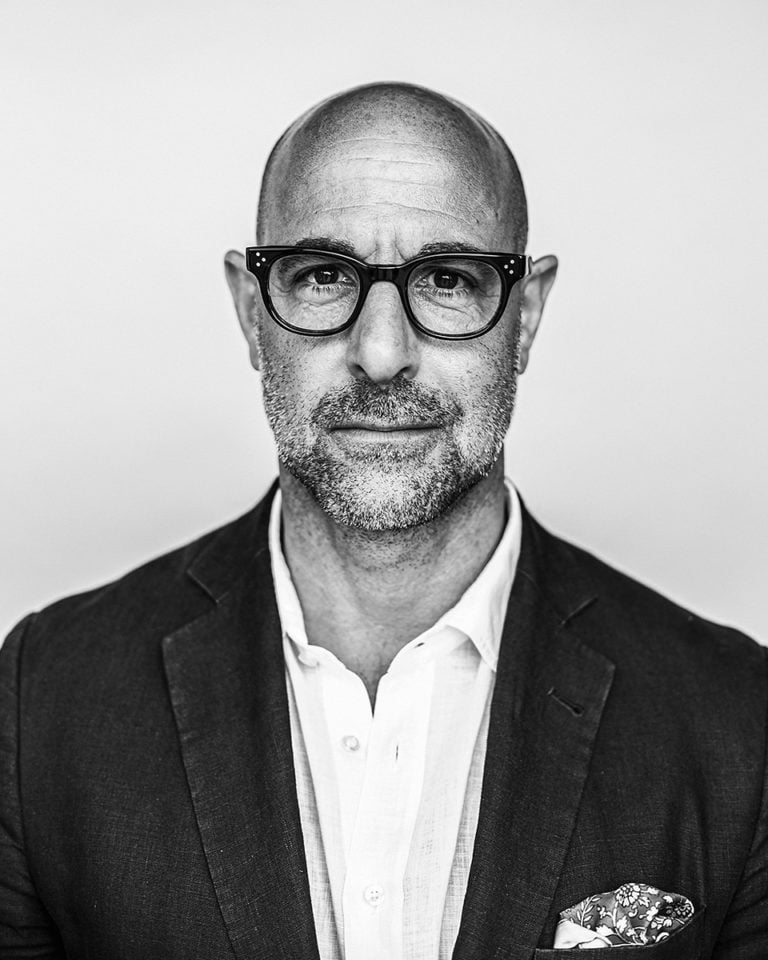 Stanley Tucci has just finished lunch. "An omelette-frittata kind of thing. I didn't have much time," he explains. Made with olive oil or, since he now lives in England, butter? I ask. "Both," he laughs. "But if I had to choose between them, it would be olive oil." Tucci's love of cooking and eating is intense. In his recent memoir, Taste: My Life Through Food (Fig Tree £20), he lists the contents of his school lunch box, packed daily by his mother when he was growing up in Katonah, a town 40 miles north of Manhattan. It would usually be leftovers from the previous night's dinner, so meatballs on Monday, chicken cutlets on Italian bread on Tuesday, a wedge of aubergine parmigiana on Wednesday and so on. These lunches were coveted by the other kids and he would sometimes swap with his friend, Ricky, who had marshmallow fluff on white bread everyday.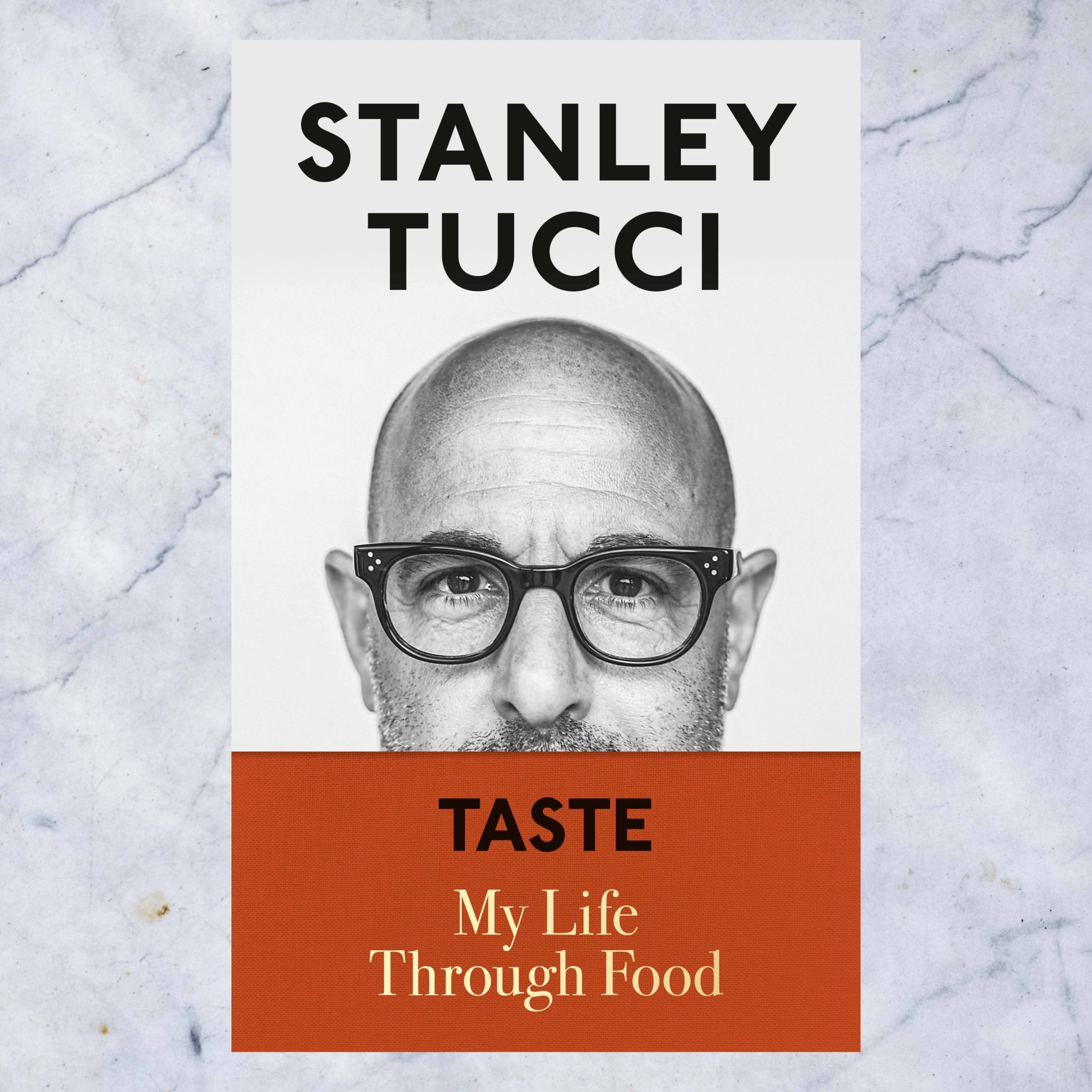 A food-loving childhood
The Tucci family have Calabrian roots, and talking about food and looking forward to food were the norm, though the Tucci children loved peanut butter and jelly sandwiches just as much as pasta with rapini. There's a lovely scene early in the memoir in which young Stanley tries to get his mum to stop watching a TV cooking show to make him a peanut butter and jelly sandwich. The show ends and she makes him the sandwich, which he eats ravenously. "Wow, you were hungry," she says. Stanley, mouth still full, nods and says, "What are we having for dinner?"
Hitting the big time with Big Night
Tucci already had a solid acting career when he hit the big time with Big Night in 1996, the movie he co-directed, co-wrote and starred in. It tells the story of two Italian immigrant brothers, one a chef, the other the business mind, trying to save their restaurant. It dramatises the struggle between art and commerce and became a cult classic for food lovers. I've seen it a dozen times, just so I can enjoy the spectacle of the timpano, a huge drum of an Italian pie filled with ragù, meatballs, eggs and pasta, being made. Once it's turned out the brothers gaze at it, caress it, even put their ears to it as if to check its timbre. Timpano dominated every Tucci family Christmas as his parents spent an entire day making it. It requires dedication.
Big Night is about perfectionism and honouring culinary roots and putting these ahead of making money. But it's also about the pleasure cooks derive from building a dish, bit by bit. Tucci tells me it was inspired not just by the various restaurants he worked in during his early acting career – but also by Babette's Feast, another food lovers' classic. In that film, a French chef cooks a meal so exquisite it confounds the values of the sober Danish Lutheran community in which she finds herself. In Big Night, there's a different kind of religious devotion. It comes from the chef as he cooks with the love of a disciple and experiences the deep peace cooking can bring.
"When I was ill I realised just how much food meant to me. It's domestic and creative. It anchors me — gives me safety." Stanley Tucci
A life-changing diagnosis
This is something Tucci understands. His love of food was made clear in the cruellest way when, in 2017, a pain in his jaw became so intense that he had a wisdom tooth removed. It didn't stop the pain, so he saw a consultant who told him he had a huge tumour at the base of his tongue and that it was probably cancerous. The consultant was right, but surgery was impossible as it would have meant removing such a large part of the tongue. Tucci wouldn't have been able to eat or speak properly.
Instead, there followed a regime of chemotherapy and radiotherapy, something Tucci had witnessed with his first wife, Kate, before she died of breast cancer. The treatment was brutal and its effects devastating. "It was worse than I could have imagined. Food tasted terrible, it even smelt terrible and eventually my mouth was so sore that even drinking water was painful. It burnt like battery acid. Ulcers erupted and lasted for months. I can still get them; I have to be careful with acidic foods. Then all this dead stuff came out of my mouth. It started to look like a baby's mouth as my body shed the old tissue and a new mouth formed. I had morphine for the pain."
Food and drink – and medication – were taken through a tube in his stomach. This was bad enough, but he also developed labyrinthitis, a kind of extreme vertigo, which meant he had to lie in bed all the time.
"I felt as if I was a ghost in my own life, like I was watching it on a screen" - Stanley Tucci
His wife, Felicity, gave birth to their second child during his treatment but Tucci couldn't help her or take much part in family life. "I was lying down 24 hours a day. I got depressed – I felt as if I was a ghost in my own life, like I was watching it on a screen."
Even when the feeding tube was removed, eating was still challenging. "I couldn't just pick up a bit of bread, put salami on it and eat it. I didn't have enough saliva." Two years ago I had breast cancer and, although the treatment wasn't as harsh, Tucci is desperate to know whether my saliva glands – or anything else about my tongue – have been damaged. We exchange notes, talk about our constant need to drink water and eat food that is 'moist', the pain of chillies on our tongues. "During the illness I realised how much food meant to me. It's domestic and creative. It anchors me – gives me safety – and takes me places too. I didn't think – years ago – that my passion for it would ever eclipse acting. Acting and directing and cinema were who I was. But that changed after my diagnosis.
"Food not only feeds me, it enriches me. All of me. Mind, body and soul. It is nothing more than everything." Stanley Tucci
New directions
In turn, it changed his life. In 2020 he filmed a culinary travel series for CNN Stanley Tucci: Searching for Italy – in which he sips aperitifs and sniffs wheels of cheese with cooks and farmers and chews the intellectual cud with scholars and food activists. The programme is a fantasy of Italy made real, seasoned with intelligence. As Tucci strolls round pretty villages, charming and, ironically, glowing with health, you get that feeling, a balance of peace and excitement, that good food, even watching good food, can bestow.
The series recently won an Emmy and the filming of series two is underway, with Tucci flying off to cook duck in Venice and visit Friuli, up in the northeast corner of Italy. "I'm drawn to the northern areas," he says. "Fall and winter are my favourite seasons. I hate being too hot. I like it up where there's not a tomato in sight." When he's finished with Italy he's going to start on other countries, though he won't stop acting. "I have it all now!" he exclaims, with the 'I-can't-believe-it' joy of someone who has dodged death and discovered the secret of life.
He still has problems with some ingredients. "Can you eat 'nduja?" he asks. He was offered the chilli-rich Calabrian pork paste recently and found it was okay on a scallop. "But then I bit into some bread covered with it and it was just "F***! Too hot! The pain!" Pain, yes, but he's laughing. The illness was hell, but it has brought rewards. As he writes in his book, Taste, 'Food not only feeds me, it enriches me. All of me. Mind, body and soul. It is nothing more than everything.' A few of us can identify with that.
Subscribe to our magazine
Subscribe to delicious. magazine for HALF PRICE
Subscribe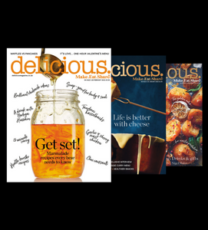 Join our newsletter
Packed with menu ideas, recipes, latest competitions and more...