Five minutes with MasterChef's Santosh Shah
Santosh Shah won the hearts of millions of TV viewers when he made the final of MasterChef: The Professionals 2020 – BBC One's massive pre-Christmas hit. He may not have taken home the trophy, but Santosh dazzled with the Nepali dishes he created.
And his reward, he tells Kerry Fowler, was putting the spotlight on the food of his homeland.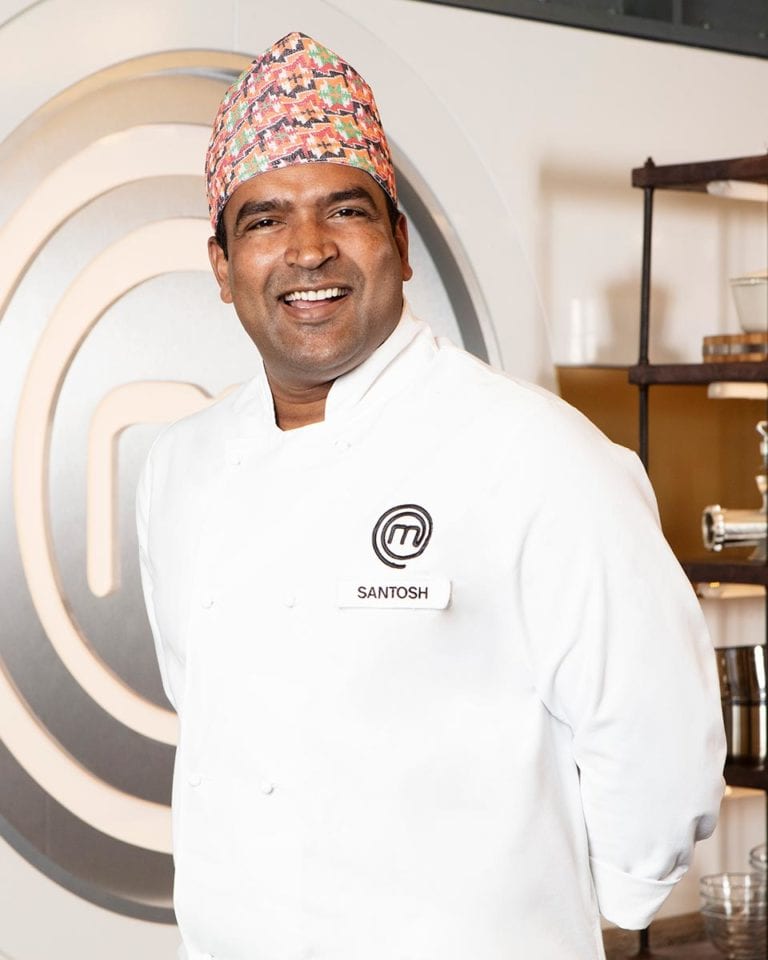 It's often the last question in an interview that prompts a gem of a reply. Our 'and finally…' to Nepali chef Santosh Shah was to name something he couldn't live without. He didn't understand – why should he miss any one thing when he has so much? "There is nothing that I couldn't live without. I am a happy person."
Anyone who watched Santosh trailblaze his way to the finals of MasterChef: The Professionals 2020 with his creative, complex food and a gentle, smiling demeanour would know his answer is authentic. "I draw inspiration from when I was growing up," says Santosh. "I came from a very poor family and my father died when I was five.
You learn from how your mother took care of you, and how you took care of her – that gives you a strength," he says. "If I look at where I am now and what I have, I don't need to feel sad about my childhood: I am grateful for it."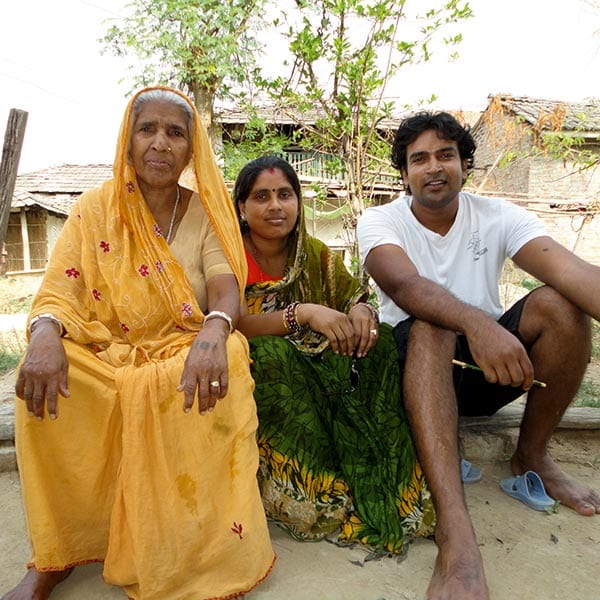 Santosh's childhood
Santosh grew up in the small village of Karjanha in Siraha. He sold plastic bags and bread, dug canals, and then, like many young people in Nepal, moved to India to find work. He went from pot-wash to chef in a five-star Gujarat hotel, then to a curry house in Croydon. He went on to work at Dishoom, Brasserie Blanc, Benares, Vivek Singh's Cinnamon Club and five-star hotel The LaLiT. He is now head chef for the Cinnamon Collection. "My story looks like a movie to me sometimes," says Santosh, who won the hearts of MasterChef viewers and was lauded as the 'people's champion'. "If somebody asked would you like to be the winner or the people's champion, I know what I would choose." He's been overwhelmed by the response. "Lots of big love from everyone –it makes me emotional to think about it – and so much support from Nepal."
In his home country, Santosh is now a figure of inspiration for young people. A chef quoted in The Himalayan Times said: "In Nepal, a chef is often described as bhansey, or cook, but Shah has achieved so much it has made people realise that a chef is also a reputed job, and chefs too can make a difference."
What prompted this outpouring? Maybe it was when Santosh dedicated his stuffed okra, crab curry and a chocolate pudding to his mother, which prompted Marcus Wareing to thank him for sharing a story of 'passion and love'; or Grace Dent's proclamation that his octopus dish was the best-looking she'd ever been served on MasterChef. Or the final, when Santosh, wearing his woven Nepali hat, accepted his position of runner-up to winner Alex Webb with kind, warm resignation.
"Being a chef is like a fever – and MasterChef is a thermometer measuring how good you are."
"Being a chef is like a fever – and the show is like a thermometer measuring how good you are," says Santosh. "I went with the thought of winning, but I changed my mind: winning plus making people aware of Nepali cooking became my aim. Even if I lost, I could still promote my country."
Plans for the future
It's no secret that Santosh plans to open a Nepali restaurant in London. He has the concept: a 20-course tasting menu embracing native flavours, ingredients and spices, including the deep, earthy colocasia leaf he remembers from his mother's garden. He also has the name for his venture: Ayla by Santosh Shah. "Ayla is a rice wine that we drink at festival time in my country. It means halo of light and, in other languages, beautiful," he explains.
Putting food on the table, Santosh knows, is not a given. "At home in Nepal, many people don't have enough food," he says. "It isn't what are we going to eat today, it is eat to survive."
Life in the pandemic
He's been proud to see chefs and restaurants helping others during the pandemic. Hospitality is struggling too, but he remains positive. "Within a year I hope there will be a boost to the industry," he says. Santosh has faith in human resilience and believes in finding satisfaction in all you do. "On MasterChef I was runner-up, but I am not sad at all," he says. "I made so many mistakes in the final round, but there was a satisfaction: I was talking about my culture, my food, my home." He got to tell the world about his mother, too. She's happy he follows her principles, but one thing remains on her wish list. "She always wants me to get married, but I haven't done that yet," says Santosh, "I am planning to next year…if I find my soulmate."
Quick-fire Q&A
Who is your greatest influence?
There are many… My mother taught me that whether we have or have not, we should be satisfied. When I came to work in the UK, I learnt so much from chef Vivek Singh: how he remains humble, how he manages his team. Another influence is chef Bella Giordimaina from Malta, who helped me so much with MasterChef. And Barack Obama; he was one of the best presidents in history.
What do you cook at home?
After I have been cooking all day, I want comfort food. We all have our idea of comfort: for Italians it is pasta, for some people it is bread. For me it is lentils, rice and curry.
How do you unwind?
I'm on social media in my free time and watch Netflix, YouTube and movies. I love stories, documentaries, action… everything apart from horror!
Subscribe to our magazine
Food lovers, treat yourself this Christmas... Enjoy 12 months of magazines for £29.99 – just £2.50 an issue.
Subscribe
Unleash your inner chef
Looking for inspiration? Receive the latest recipes with our newsletter