Five minutes with Sophie Ellis-Bextor and Richard Jones
Singer-songwriter Sophie and her husband Richard, who plays bass guitar in band The Feeling, brightened up lockdown Friday nights with a series of discos live-streamed from their kitchen.
Now, the couple have written a cookbook in the same spirit. Love. Food. Family: Recipes from the Kitchen Disco is an exciting look into what they love to make at home, inspired by family dinners through the years and adventures abroad. They tell us about their favourite backstage snacks, fantasy dinner party guest list and what tunes are playing when they sit down to eat with friends.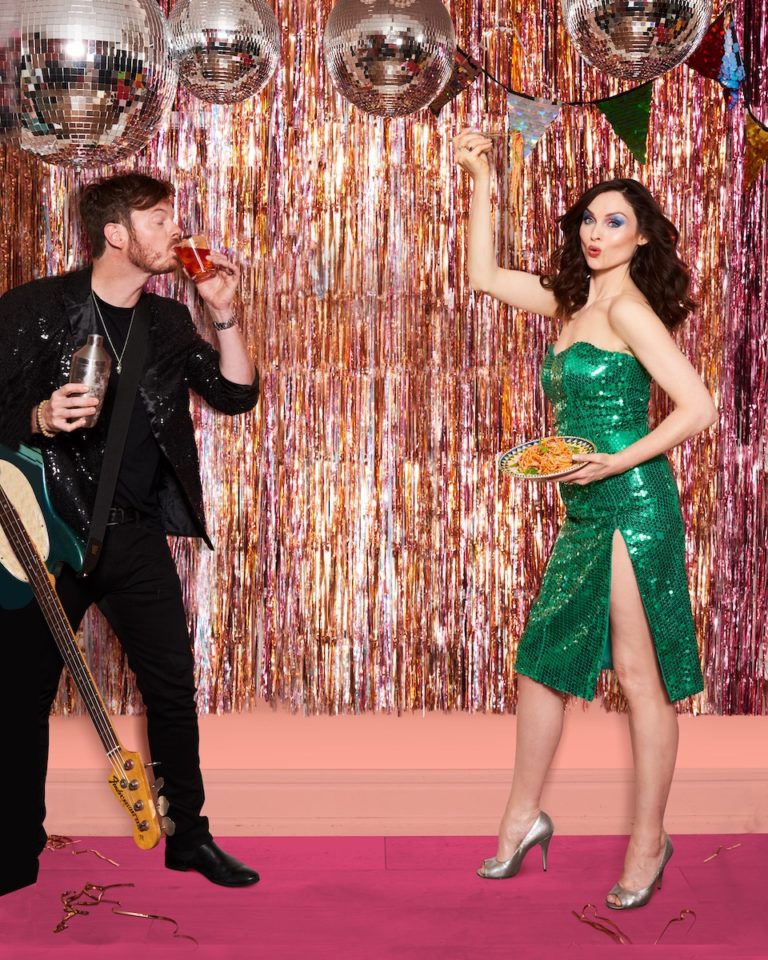 What's your very first memory of food?

Sophie: A birthday cake my mum made me. I must have been about three and she made a cake that looked like a hamburger. I thought that was very funny. It wasn't supposed to – it's just the way it turned out!
Richard: My dad was a chef. He was working in the local hotel's kitchen when I was about six, and sometimes my brother and I would be there, hanging out. Someone ordered a pie to the bar. I'd often take orders down because people thought it was cute, and I tripped on the stairs and the pie went everywhere. I still remember it – everyone laughing at me. And they started calling me Richard 'pie on the stairs' Jones from then on. I asked my dad and he told me it was steak and Guinness pie, so he gave me the recipe and we put it in the book with the story.
What's the first recipe you properly learned to cook?

Sophie: I was brought up helping to make bolognese, so that was under the belt from an early age.
Richard: Definitely penne pomodoro – just a basic tomato sauce.
Sophie: Oh, yeah! Did you make yours at four in the morning after coming home from clubbing as well? My mum would get annoyed with me because she'd find tomato sauce splashed around the walls.
Richard: No – I used to put fish fingers and chips in the oven!
What's your Friday night drink?

Richard: A negroni or a margarita – I'm holding a negroni on the cover of the book, one of our regular kitchen disco cocktails. But a margarita, because it has tequila in, is probably the best party drink if you want to get people dancing.
Sophie: For every kitchen disco, Richard made me a different cocktail. I also love a negroni now, but my favourite is a margarita. I love the combination of the sweet with the salt on the top. If you need a little ramp into enthusiasm, it will provide it for you.
Can you recall any memorable meals from touring?

Richard: The first time I was in Portland in America I went to a restaurant where they pour a load of shellfish straight onto the table. You've got a bib, hammer and chisel and you just dig in.
Sophie: I used to go to Eastern Europe a lot, so I had to put a borscht in the book, because that's one of the first things I'll order when we get there.
What's on your rider?

Sophie: I have gherkins on my rider. Gherkins, teabags and I'm happy.
Richard: We eat a lot of nuts – almonds are always good for a healthy bit of protein. But then there's also always the naughty stuff like Kettle Chips and pick and mix. We had to take the Haribo off the rider at one point, because when you start eating it, it's impossible to stop.
What music is playing when you have people round for dinner?

Sophie: The War on Drugs and Vampire Weekend have got a good tone – happy, communal.
Richard: I love Sinatra. It makes me feel Christmassy – but it doesn't have to be the Christmas songs.
Sophie: We might as well go for Doris Day then, if we're going in that direction. I love a bit of Doris Day.
Richard: There are playlists linked in the book, divided up into different moods.
What's the one recipe that you can't live without?

Sophie: A roast dinner, because it's got echoes in all directions for all generations, hasn't it? It reminds me of being at my granny's house and when I was still living at home. It's one of those meals – you make an elaborate version for Christmas, a more spring-like version when the sun comes out. You tweak it throughout the year for all the times that you need those family moments.
Richard: Spaghetti vongole, which we often make just for the two of us. In the book is the way we do it and its one of our favourites. It feels indulgent and special but is actually really easy to do.
What food do you absolutely hate?

Sophie: I will eat everything, but I don't get as excited about pizza as other people do. Ditto pastries – things like pain au chocolat. It doesn't raise my heart rate.
Richard: Something that Sophie really likes is liver and bacon, while I'm not a big fan. I know it's about having good quality ingredients and it being cooked well, but…
What's the one ingredient that you'd take to a desert island with you?

Sophie: I'm taking ketchup. I can put it with the fish I catch.
Richard: Sugar. Because you've got fish in the sea, you've got lime on the trees, you can make salt from the sea. So I want a bit of sweet to go with it – or chilli. If I can't grow chillies there, I'd want spice. Maybe paprika.
What's the meal you'd miss the most whilst there?

Sophie: Chips. I'd miss chips.
Richard: I was going to say sushi, but you could probably make that!
Sophie: Or toast. I think I'd like simple, carby comfort. I have toast every day for breakfast: one slice with peanut butter, one slice with marmite. I'd miss that. And chips. I'm thinking fish and chip shop ones, but I will eat any.
Richard: I'd just want a proper roast dinner with gravy and all the trimmings.
You can have a one-off dinner party on your desert island… who would you invite and why?

Richard: David Bowie, Prince, Tina Fey…
Sophie: Julie Andrews. She's like the other voice of my childhood. Growing up, I felt like her voice was just behind my mum's voice as a comforting female voice.
Richard: We've got a band forming. We need a drummer: Keith Moon. And then Professor Stephen Hawking – he could keep us inspired and interested.
Sophie: I'm trying to think of some slightly eccentric people who'd be good fun. A Spike Milligan type.
Richard: We should go back further.
Sophie: Queen Victoria?
Richard: She might be quite high maintenance!
Sophie: Let's go for Elizabeth I!
Which cookbook would you take with you to the island?

Sophie: I'd take any Nigel Slater book. Years ago, I did a Radio 4 programme they do late at night where you'd take a passage to read aloud, and I chose Nigel Slater's recipe for roast potatoes.
Richard: I'd agree with that – or our own cookbook. Since we've had it, it's been great, because we spent a lot of time going through all the things we love to cook and the way we do it. Now we literally flick through it to remind us.
Sophie: Our family is interwoven into every recipe. That's why food is such a resonant thing for people, because it's all tied into who you're sat around the table with.
Love. Food. Family: Recipes from the Kitchen Disco by Sophie Ellis-Bextor and Richard Jones (Hamlyn £20) is out now .
Subscribe to our magazine
Food lovers, treat yourself this Christmas... Enjoy 12 months of magazines for £29.99 – just £2.50 an issue.
Subscribe
Unleash your inner chef
Looking for inspiration? Receive the latest recipes with our newsletter