Five minutes with Stacie Stewart
The glamourous MasterChef finalist talks proper British cooking and making it to the top as a self-taught cook. Catch Stacie at the Gloucester Quays Festival 22-24 July 2011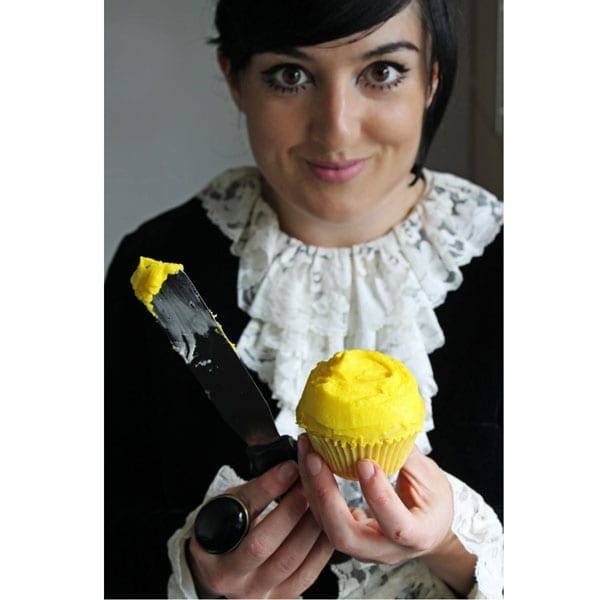 I've noticed from your blog that you're really into 60's fashion and you have a really strong image- how do you think that affects the way people see your cooking?
I think people look at me and see a traditional British girl who likes to cook traditional British food – regional wherever possible.  I would like to think that people would look at me as the new Delia, and maybe as someone who might not be the greatest cook in the world but can feed the family and can show every day working class people how to provide for the family and to make the ingredients go a little bit further.
You were approached last year in a Dragon's Den style by two local businessmen to expand a bakery and create The Beehive Bakery as a national brand. How was that experience?
It was very overwhelming. I went from making cakes on my kitchen table (part-time) to employing three staff and running a really big business. Well, it's big to me! Where I've gone in the months since I finished MasterChef is unbelievable. It's been a lot of hard work but I'm really, really enjoying it. I've had one day off since Christmas day!
Your recipes range from traditional hearty British recipes to cakes, puddings and biscuits. As The Beehive Bakery expands, do you think you'll stick with the traditional British recipes?
I think I'll always stick with the traditional British recipes. I can also cook French food, I can cook Italian, and now I've got a Pakistani family so I can cook Pakistani food as well. I do make a good curry! I'm self-taught, I've read books on all different kinds of food,  but my style and what I would like to be known for,  is my traditional British regional dishes.
As a self-taught chef, who would you say have been your biggest influences along the way?
From my early age it was my Nana Jane, she wasn't great, but she was inspirational. She taught me how to make a pastry, how to make jam tarts, how to make cakes – really good life skills. Jamie Oliver was the first chef I really got in to. I looked up to him massively, so I read all of his books. I like chefs like Richard Corrigan and Mark Hix who have very similar values to me. They don't want to do anything fancy, they just want to use really great ingredients to create food they ate when they were growing up.
Who is your idol?
Brian Jones, from the Rolling Stones.
I noticed you've set up a cookery school in the North East. This is a great way to pass on your knowledge and tips. How is that going?
It's going really well. The good thing about the school is that it's really informal and laid-back. If you make a mistake, we'll laugh about it and we'll start again. Everybody makes mistakes, even I make mistakes, but it doesn't matter. It's nice, friendly, and informal – it's a proper girls' afternoon out and the guys love it too. We have Champagne, we have canapés, we'll have a chat about our cooking disasters, and we do a lot of cooking. It's a really good fun experience.
You've achieved so much so quickly. Tell me three things on your must-do-next-list
I would like my own series on TV, I would like to get my cookbook published and I would like to start doing more charity work.
We think it's great that you're out there living your dream and I'm sure you've inspired people through what you've done. What advice would you have for young aspiring chefs trying to fulfil their dream?
I would say go for it 100 per cent, don't look back, learn everything you can, put 100 per cent into it. If you can't afford a book, get it from the library, if you can't afford to eat out at restaurants, get on the internet and Google restaurant menus and try to re-create them at home. These are all the things I did when I was growing up. Just absorb as much as you can from the industry, maybe get a Saturday job or get some work experience in a kitchen.  Make sure that you're enjoying it and make sure that you're happy- that's the most important thing.
Do you have any plans to set up The Beehive Bakery in London?
I would like to think there will be a franchise there in the next decade! I'm not going to get too ahead of myself until next year, but I'd like to think that it will expand, definitely!
What's the next big thing for you?
The next big thing in my social life will be Brighton Mod Weekender, which I go to every year, and the next big career thing for me is probably my cookbook. I'm trying to write my second one. The first one I wrote before I was even on MasterChef was kind of like a collection of my recipes, and when I was on MasterChef, I put it into a story and formatted it into a book. So I suppose I'm just going to keep writing and keep enjoying myself, that's the most important thing!
Subscribe to our magazine
Subscribe to delicious. magazine for HALF PRICE
Subscribe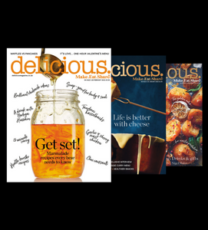 Join our newsletter
Packed with menu ideas, recipes, latest competitions and more...