Five minutes with William Curley
Renowned patissier chocolatier William Curley has won numerous awards for his edible creations and has two shops in London's Belgravia and Richmond.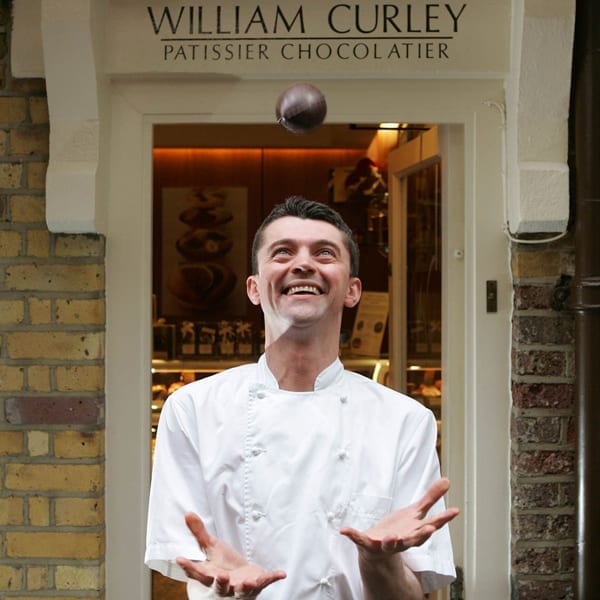 You've won numerous awards, including Best British Chocolatier. Which accolade has a special place in your heart?
It's always deeply satisfying when you receive awards and win competitions for your work, especially when your work is your greatest passion. In our trade, as in many others, there is a huge difference between awards and competitions. In competitions you either win or lose. Awards are something that you are recognised for by your peers, like Best British Chocolatier, for which I'm hugely proud and grateful.
The recognition that holds a special place in my heart was winning Gold at the Culinary Olympics in Germany in 2004. It was great working alongside Suzue, my wife and business partner, in such an important event. Suzue and I are a team in life and work and this award praised our combined efforts and skills along with our team, which makes all the hard work worthwhile.
What is it about working with chocolate that you love so much?
Chocolate is a great medium to work with. You can be hugely creative with it as it's very versatile and is not limited to just chocolates as so many things fall off the back of it – baking, patisserie, desserts, etc. It's also fantastic to eat!
Why do you think chocolate holds such sway over us?
Chocolate has always been known as a romantic indulgence – everyone loves chocolate and it comes in the 'fine food' category. People hold chocolate close to their hearts and it's a very popular comfort food. I try to educate people about the origins of chocolate, dark chocolate and fine chocolate – where chocolate comes from and the ways in which you can use it. Some people, when they think of chocolate, think Dairy Milk or Mars Bars whereas I'm attempting to get all those who like chocolate to appreciate it in its real form.
What do you regard as the highlight of your work?
The highlight of my work is definitely, without a doubt, creating new products. I also push myself to be the face of the brand and get myself out there. I tend to get drawn between the two. The creativity involved is definitely my strong point and what I enjoy most about my job. I don't need to see people enjoying the creations – just for them to tell me they enjoy it is enough.
You work with your wife Suzue, also a respected patissier: what are the high points – and low points – of working so closely with your partner?
The high points of working so closely with Suzue is that this job involves working seven days a week – if my wife was not in the same trade then I feel our relationship would become very strained as it would be hard to find time to see each other. We share the same passion, which is great.
The low points are that when we get home at night it's difficult to stop ourselves talking about work – there's always something to discuss and in this way it's hard to switch off and relax. We now have a baby on the way which is really exciting – I'm hoping that this will make our home time and time together more focused on family as opposed to work.
You believe in getting your chocolate from ethical sources, through Amedei…
I believe passionately in creating a unique Patisserie and, therefore, I work exclusively and in partnership with
Amedei
and the Maitre Chocolatier, Cecilia Tessieri. Amedei is an enchanted, magical place, a laboratory of happiness, where people work with an artisanal approach based on the knowledge of yore.
Cecilia says that to create a unique chocolate, one that conveys personality and character, you need to find and identify the best beans on the planet. At Amedei they adopt a new work approach and seek innovation. They boldly mix cocoa and genuine skill to completely change the way chocolate is made. Amedei works ethically to rebuild a lost tradition of cocoa and brings new life to the region, which has an extremely positive impact on the environment.
Now you have two shops (in Belgravia and Richmond) do you find your time is channeled into running a business? How does this affect you creatively?
I know for sure that my strengths in the business are being at the front of the brand and being creative. My strong points are not firefighting with logistics and operations and this is not what I enjoy; however, I understand that as we are still a small business there is a need and demand to multi-task, it's all part of working for a small business and a small team – everyone has to pull their weight.
Experimenting, creating and making new products is what Suzue and I do best and if we can spend more time focusing on the creative side of things and playing to our strengths then the business will get better and better. If you have the correct structure supporting your business, including a financial structure, accountant, PR team and marketing team, it can make things run a lot more smoothly. With this support Suzue and I can continue to do what we love best which is cooking and being creative.
Do you miss working in Michelin-starred establishments or are you happy to be your own boss now?
I do miss the buzz of working in Michelin starred establishments – everything is so focused on food, which is great (well at the top end places anyway). I do miss that. The environment is very intense which I miss at times; however, the same service day in and day out can get boring. It's very repetitive… all day, every day.
We have recently launched our Dessert Bar in Belgravia – this is what I love – I could see a space in the market and a trend that was about to set in. Being your own boss enables you to explore things that you wouldn't have the freedom to do when working in a restaurant.
You collaborated with Claridge's for National Chocolate Week (11-17 October)…
It's an iconic British hotel in one of the best locations in London and I really think it is an excellent partnership. To celebrate National Chocolate Week
I joined forces with Claridge' and set up shop in the hotel creating my signature chocolates, patisseries and cakes, which became part of the hotel's famous afternoon tea menu. A selection of chocolate masterclasses was offered and I was there in person every day creating my chocolate cakes in the Art Deco Foyer.
Visit William Curley's website to find out more…
Subscribe to our magazine
Subscribe to delicious. magazine for HALF PRICE
Subscribe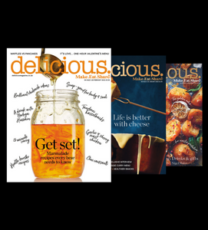 Join our newsletter
Packed with menu ideas, recipes, latest competitions and more...