Five reasons to try Norwegian Fjord Trout
Norwegian Fjord Trout have a lovely, delicate and pure taste that makes them wonderful in a variety of dishes – and here's why.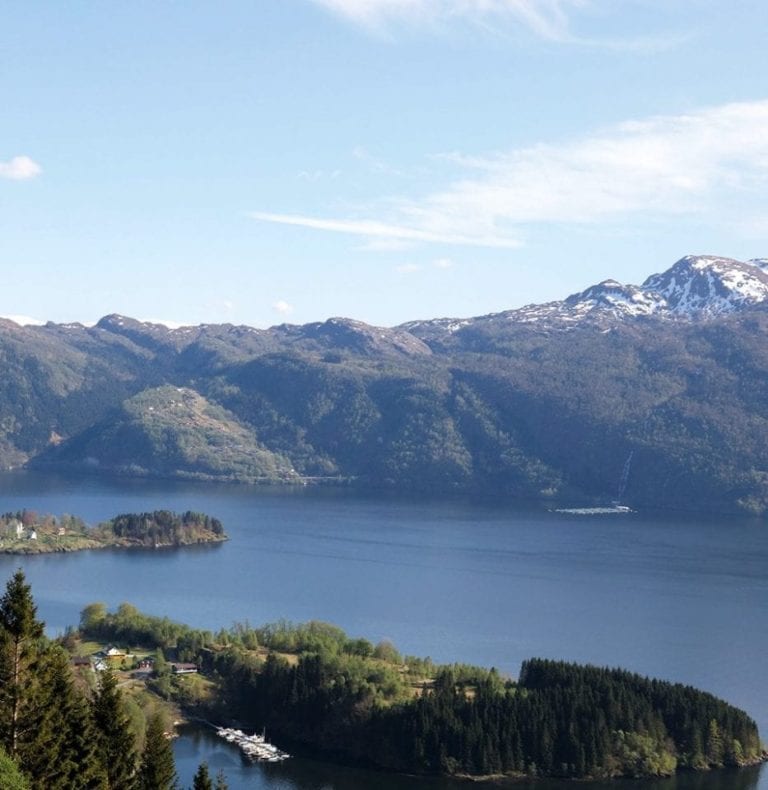 1. It's sustainable
Norway follows stringent industry practices to safeguard sustainability. The responsible aquaculture practices employed ensure that the fish are healthy and well looked after, and also that they're available all year round.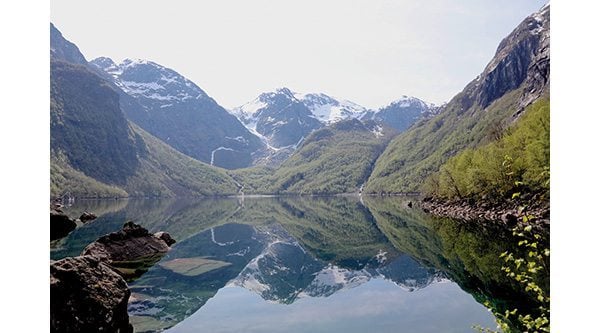 2. It's unique
The Norwegian Fjord Trout live in the fjords of Norway, where pure glacial meltwater and Arctic saltwater merge to create some of the best conditions on the planet for producing healthy – and delicious – fish. The fish are farmed with the utmost care, starting life close to the pure glacial streams that feed the fjord. They are eventually moved into deeper waters where they grow at a natural pace with plenty of space, sustainable feed and a natural flow of currents.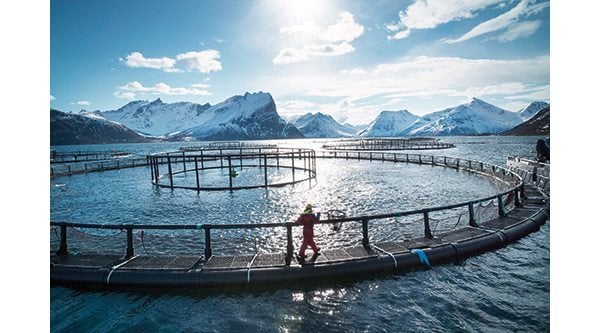 3. It's delicate
Not only in taste but also in texture. At first bite, the flesh is firm; but then it melts in the mouth to reveal a hint of nutty sweetness. Perfect for raw and marinated dishes like sashimi and ceviche, Norwegian Fjord Trout are also good grilled or baked with citrus fruits and herbs.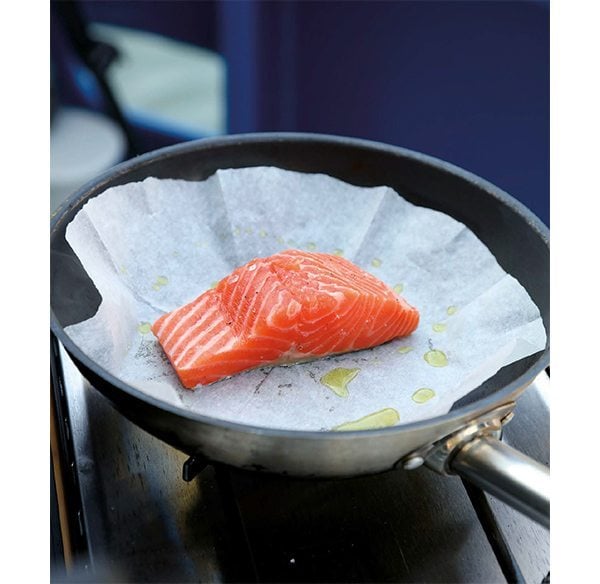 4. It's vibrant
The flesh of Norwegian Fjord Trout is deep red-orange in colour, which is common to the species but also partly a result of its rich, nutritious diet. So, not only is it healthy and wholesome to eat, the fish also looks beautiful on the plate.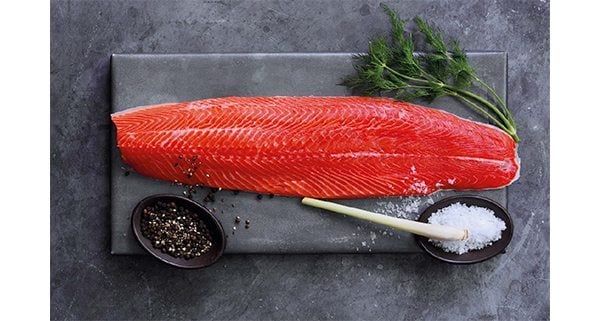 5. It's healthy
Norwegian Fjord Trout store the bulk of their fat around their belly. This means there's less in the flesh, making it lean and firm. They are also naturally high in omega-3 and a great source of protein. Norwegian Fjord Trout are best cooked at low temperatures to keep the flesh lovely and pink and the oils intact.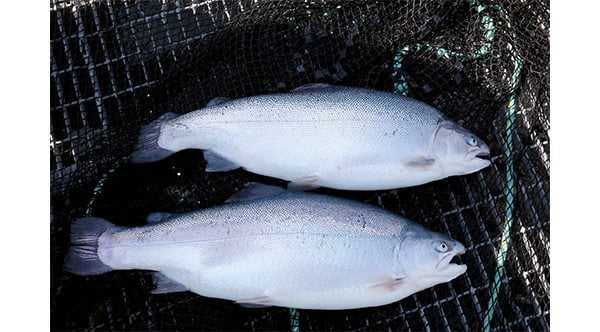 If you want to enjoy the health benefits of oily fish, versatile, sustainable Norwegian Fjord Trout is a great-tasting choice. Try it tonight, in this citrusy recipe. Because the Fjord Trout is served raw, it's the perfect recipe to showcase the fish's vibrant colour and delicate flavour.
Marinated Norwegian Fjord trout with coriander, lime and celery and apple salad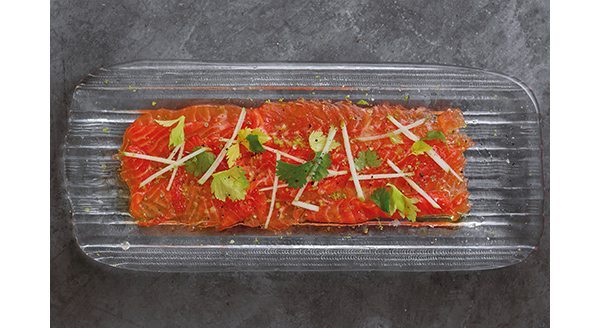 Serves 4
Hands-on time 25 min plus curing
Ingredients
600g piece of fjord trout, skin on
2 tbsp fine sea salt
2 tbsp caster sugar
1 tsp crushed coriander seeds
Freshly-ground black pepper
2 limes, zested and juiced
A handful of celery leaves
1 small bunch of coriander, leaves picked
1 green apple, cut into thin batons
2 tbsp of olive oil
Method
Lay the fjord trout, skin side down, on a large piece of clingfilm. Mix together the salt, sugar and coriander seeds and sprinkle over the flesh side of the fish. Add the lime zest, leaving a little behind for serving, and season with a little pepper.
Wrap in clingfilm and put, flesh side down, in a small baking tray. Lay a small tray and add some weights (such as some books or a heavy pan) on top of the fish.
To cure the fish: refrigerate for 8 hours, depending on the thickness of the fish, turning often.
When cured, remove from the fridge and carefully rinse under cold water to remove the excess cure, then pat dry.
Slice thinly and arrange on serving plates, top with the celery and coriander leaves, remaining lime zest, apple batons and season with black pepper. Drizzle with olive oil and a little lime juice, then serve.
Top tip
Ambassador Daniel Galmiche says: "Marinate for as little time as possible, according to the thickness of the fish. Turn the fish often and do not apply too much weight – simply stack the fillets on top of one another, to avoid crushing and dried edges."
Wine Match
Rias Baixas, Pazo Señorans, Albariño, Galicia, Spain, 2014 – Albariño is a fantastic varietal. The wine is dry, crisp with a lovely and delicate touch of ripe tropical fruits as well as bright lemon zest.  The acidity again contrasts the slightly rich texture of the fish and the aromatics matches with the aromas brought by the coriander, lime, celery and apple.
Subscribe to our magazine
Subscribe to delicious. magazine for HALF PRICE
Subscribe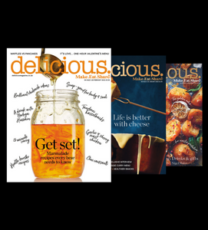 Join our newsletter
Packed with menu ideas, recipes, latest competitions and more...