Florence
Look beyond the artistic masterpieces and discover the gastronomic delights of Florence, Tuscany's capital, with this insider's guide to the best places to eat, drink and shop for Italian delicacies.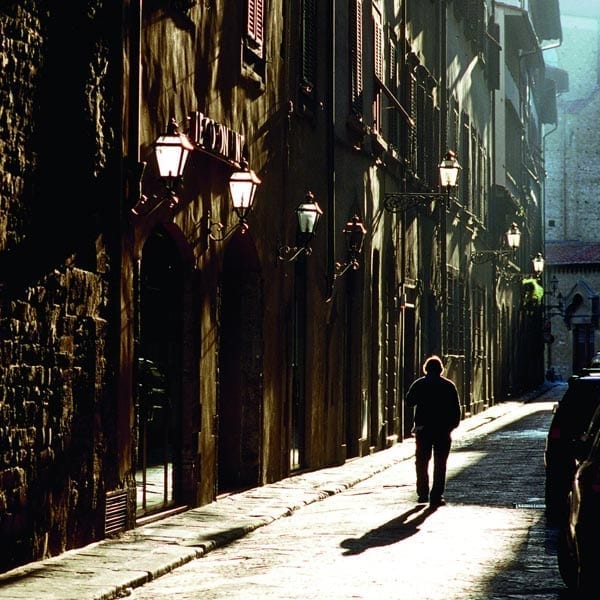 Home to Michelangelo's David and Brunelleschi's Duomo
, capital of the Italian Renaissance, and stuffed with more masterpieces than the average town has traffic lights, Florence is a city that belongs to the world. Each day, hundreds of tourists make their way from the Uffizi Gallery to Pitti Palace and from Ponte Vecchio to Ghiberti's bronze Baptistery doors.
Florence's past is public property but its present is a private place, hidden in narrow medieval streets between the stone palazzi with overhanging roofs, barred windows and gated courtyards. If you'd like to get a glimpse of the working city, cross the Arno river to the left bank (Oltrarno) where there are fewer tourists and the streets are emptier.
You can walk everywhere in Florence, as much of the centre is closed to traffic. Taking in all the Renaissance wonders will spark your hunger, and Florence is home to some fantastic eateries. However, you can eat very well and really badly, as in any tourist mecca – avoid spots with a menu turistico or waiter out front. Italians eat Italian food, and their own region's at that, but that is no bad thing. Tuscan cuisine is rich and flavourful with delicious specialities such as ribollita (bread and vegetable soup) and bistecca Fiorentina, a huge slab of beef on the bone that's best shared.
Here's my guide to the best places to go, on and off the beaten track.
Pretty desserts at Rivoire
Breakfast bars
Coffee culture is central to Italian life, with breakfast consisting of a cappuccino and pastry taken at a bar.
Rivoire
(Piazza della Signoria 5/r, +39 055 211302) seats tourists outdoors on the square, while locals crowd the grand glass and carved-wood interior. As in all Italian bars, you pay low prices to stand at the marble-topped counter – sit down and the price rockets.
Piazza della Repubblica, one of the city's two major squares, has its own 'grand caffè', the
Giubbe Rosse
(13-14/r, +39 055 212280). Its glory days are past but for years this was the political and literary centre – Marinetti's Futurist Manifesto was written here. Study the memorabilia, or stay for the fine buffet lunch. Across the piazza, department store
La Rinascente
(+39 055 219113) has a secret: a pocket-sized, alfresco rooftop caffè with eye-level views of the Duomo. It's worth paying to sit here for light lunches or at sunset. A typical Florentine caffè/bar, it's tiny and crowded, serving superb coffee and individual pastries and cakes (be sure to try a bombolone, a sugared custard-filled bun). At
Pasticceria Nencion
i (via Pietrapiana 24/r, +39 055 241012), the coffee comes in delicate blue cups and there are shiny profiteroles and baby
Sachertortes
. The
Caffè Giacosa
(via della Spada 10/r, +39 055 277 6328), owned by designer Roberto Cavalli, is the fashionistas' choice.
Market traders
Florence's two markets are to foodies what the Uffizi Gallery is to art lovers. At
Sant'Ambrogio market
in Piazza Ghiberti, the farmers have outgrown its covered market hall and colonised the piazza with stalls. Sample Massimo's Pecorino, dried tomatoes, pyramids of olives and milky buffalo mozzarella. On the stall opposite, bearded Angelo, in his Aussie outback hat, sells sophisticated goat's milk cheeses to many top restaurants. Marco, on the stall with the whole roast pig, will slice you a porchetta (roast pork) or prosciutto sandwich for a mid-morning snack. Eat it while exploring the Piazza dei Ciompi's antique shops and Mercato delle Pulci's flea market.
Trattoria da Rocco
(inside the food market) serves a lunch of hot primi (pasta or soup) and secondi (mains) with 250ml of red wine for as little as €13.
Unlike cities that have moved their produce markets to the outskirts, Florence's
Mercato Centrale
remains in the centre, in San Lorenzo. Its two storeys have meat on the ground floor and fruit and veg above.
Perini
(+39 055 239 8306), just inside the front door, is a lovingly presented treasure house of Tuscan specialities, such as salamis, cheeses and oils. Try Pecorino with apple conserve, or Parmesan drizzled with owner Andrea's balsamic vinegar. On their dried goods stall opposite, Eliza will cut giant sandwiches to order, but beware – there's no seating. Foodies flock to nearby
Dino Bartolini
(via dei Servi 30/r, +39 055 211895) for everything from high-tech equipment to the ultimate in kitsch, such as candles in tuna tins.
Produce at Sant' Ambrogio market
Lunch at your leisure
Florentines occasionally lunch on the run or grab wine and toasted snacks at one of the ancient fiaschetteria (hole-in-the-wall bottle shops), like
Casa del Vino
(
via dell'Ariento 16/r, +39 055 215609), hidden behind the tatty tourist stalls in San Lorenzo's street market. But traditionally, lunch is a serious, sit-down affair, with many shops closed until 3 or 4pm. For simple elegance,
Cantinetta Antinori
(Piazza degli Antinori 3, +39 055 292234) cooks seasonal Tuscan dishes in the palace of the famous wine-producing Antinori family.
Across the street,
Procacci
(via Tornabuoni 64/r, +39 055 211656), in a shop like a private drawing room, has been serving Prosecco and bite-sized rolls filled with truffle for over 100 years.
Fuori Porta
wine bar (via del Monte alle Croci 10/r, +39 055 234 2483) pairs Tuscan and Piedmont reds with fettunta (grilled bread rubbed with garlic and drizzled with fresh olive oil).
Enoteca Pinchiorri
(via Ghibellina 87, +39 055 242777) is regarded by some as Italy's finest, thanks to owner Giorgio Pinchiorri's Michelin stars and the incredible wines – with prices to match (expect to pay around €275 for a tasting menu, wine not included).
At the other end of the social and financial – but not the gastronomic – scale, workers' and businessmen's haunt
Trattoria Mario
(via Rosina 2/r, +39 055 218550) is packed at lunch for its pastas and cold roast beef with great chips – a rarity in Florence. They only take cash and there are no reservations: give your name to Fabio and wait in the street until he calls you in. Equally down-to-earth,
La Mescita
(via degli Alfani 70/r, +39 3477 951604) always offers a couple of pastas and a daily special: Monday and Tuesday mean trippa (tripe) and lampredotto (the lower part of the cow's stomach); Wednesday is porchetta.
Talking tripe
You can't discuss the local cuisine without mentioning intestines. Tripe and the even more popular wrinkled, pink lampredotto are the city's street food. There are stalls all over town, such as Sergio e Pierpaolo's three-wheeled truck parked outside super-smart
Trattoria Cibrè
on via dei Macci (122/r). An old man pours red wine from a bottle on the counter while labourers in overalls line up with stylish women in suits for lampredotto in a bun. Should you try it? Probably. Have I tried it? Yes, but that's all I'll say.
Enjoy classic bistecca Fiorentina at Trattoria Sostanza
The main event
Hit
Trattoria Sostanza
(via della Porcellana 25/r, +39 055 212691) for fresh artichoke omelettes and bistecca Fiorentina;
Osteria Belle Donne
(via delle Belle Donne 16/r, +39 055 238 2609) for melting osso buco and hearty pasta e fagioli – soup using the cannellini beans locals love. Try
I'Tozzo di Pane
(via Guelfa 94/r, +39 055 475753) for whatever's cooking that day. All are small, central, modestly priced places with great food.
Camillo
(Borgo San Jacopo 57/r, +39 055 212427) is a classic trattoria run by the third generation of the Massiero family. Expect favourites such as bistecca, fried vegetables, and porcini (in season) grilled whole or sliced raw over pappardelle. In the daytime, settle your meal by walking up the hill to the newly restored and reopened
Bardini Gardens
(much better than the famous but dilapidated Boboli Gardens).
Florentines consider dinner an extension of the theatre. A Hapsburg prince owns atmospheric
La Giostra
(via Borgo Pinti 12/r, +39 055 241341), where they serve huge portions – if you order the bistecca, the antipasti and vegetables come with it.
Trattoria Garga
(via del Moro 48/r, +39 055 239 8898) is another trattoria that's big on atmosphere (some say too big), with an arty clientele.
Garga and Nove
(Lung'Arno Guicciardini 10, +39 055 230 2756) are social scenes for the young fashion crowd, but when I'm in the mood for bistecca, I head to
Il Latini
(via dei Palchetti 6/r, +39 055 210916) for the authentic experience: semi-communal tables; waiters who have seen it all; no menus (unless you insist). Last time I ate there, my table companion was an Italian government minister eating incognito with a woman who may or may not have been his wife.
Local dining at Il Latini
On spring weekends, locals like to take a 10-minute taxi ride out of town to
Trattoria Omero
(Pian dei Giullari 11/r, +39 055 220053) for the view and simple, classic dishes. Be warned – it's not cheap, and gets packed out in good weather.
Firm favourites
Where would any Italian city be without pizza and gelato? Actually pizza, like fish, is not really a Florentine thing: you can get it at many places but only two do it really well (that is, the Neapolitan way). At
Il Pizzaiuolo
(via de' Macci 113/r, +39 055 241171), the
salsiccia e friarelli
(sausage and bitter greens) topping is pure Naples. For a truly authentic Italian experience, try the new pizzeria
near Osteria del Caffè Italiano
(on via Isole delle Stinche 11-13/r, behind the Verdi Theatre, then a couple of doors up from the Caffè; evenings only). It has no real address or phone number and doesn't take credit cards or reservations. It has three tables in the front and five in the back and serves only a few types of pizza. In Florentine terms, this makes it a discovery and über chic.
By contrast, you'll pass gelato places on almost every corner. They all seem fine to visitors but locals argue incessantly over which gelateria is the best.
Vivoli
(on via Isole delle Stinche 7/r, +39 055 292334) held the crown for a long time until Turin'
opened a local branch (on the corner of via del Campanile and via delle Oche, +39 055 216158). With its organic philosophy, flavours made from liquefied fruits, and ingredients such as chocolate and coffee sourced from indigenous tribes in the Amazon (or thereabouts), some consider it the future of ice cream; others find it intolerably pretentious.
Diving gelati at Vivoli
The Picchi supremacy
Last but not least, celebrity chef Fabio Picchi has colonised an entire street by Sant'Ambrogio market. Depending on who you talk to, his flagship
Cibrè
o
(via del Verrocchio 8/r, +39 055 234 1100) is either the city's best restaurant, or overrated and full of wealthy foreigners. Close by,
Trattoria Cibrè
offers the same food more cheaply, in bistro-style surroundings. A colourful character, Fabio also owns
Caffè Cibrè
and
Teatro del Sale
(via de' Macci 111/r, +39 055 200 1492), a members-only restaurant club (you can join for about €7 on the spot). Opt for breakfast, a buffet lunch where the chefs holler out every time a new dish is ready, or an early (by Italian standards) dinner followed by a theatre act or live music. The Teatro is housed in a former convent, next to the workshop where Ghiberti made his Doors of Paradise for the Baptistery. In Florence, history or art seasons every meal.
Travel information
Florence is close to two international airports: Florence airport, which is 6km from the city centre, and Pisa airport, 80 km from Florence. From Pisa, there are regular trains to Florence. The journey costs about €8 each way and takes 1 hour.
British Airways flies from London Gatwick to Florence and Pisa airports, and London Heathrow to Pisa airport. Ryanair flies to Pisa from Birmingham, East Midlands, Edinburgh, Glasgow (Prestwick), Leeds, Liverpool and London Stansted. Easyjet flies from London Gatwick, Luton and Bristol to Pisa.
Visit the
Tourist Information Office
(opposite the train station), for a free town plan and a list of museum opening times and prices.
Words: Carolyn Lyons
Photographs: Carla Coulsons
Subscribe to our magazine
Subscribe to delicious. magazine for HALF PRICE
Subscribe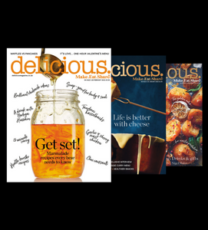 Join our newsletter
Packed with menu ideas, recipes, latest competitions and more...