Food for thought: Ollie Couillaud
Affable chef Ollie Couillaud is chef patron of BORD'EAUX, a French brasserie on London's exclusive Park Lane.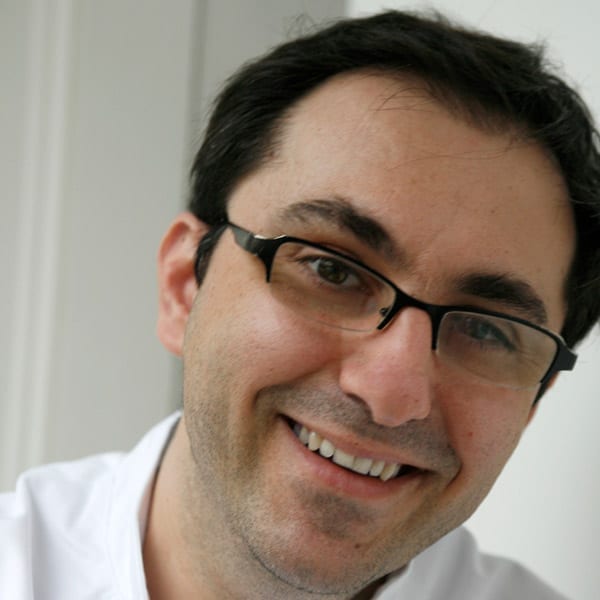 Having worked as head chef in revered eatery La Trompette, followed by stints at The Square and Tom's Kitchen, Gallic chef Ollie Couillard is a man you can trust to create some delectable continental-style dishes; he currently heads up BORD'EAUX, a French brasserie located in the smart Grosvenor House Hotel.
Debra Waters, delicious. magazine's web editor, popped in to sample the menu and found that while it stays faithful to the Aquitaine dishes of France's south-west region it flirts openly with Spanish, British and Italian cuisine. Cheeky.
BORD'EAUXis no intimate bistro – the airy restaurant occupies a space the size of a ballroom. Tall glass doors lead out onto a patio that faces Hyde Park (but also, alas, a busy road). It's not cosy; however, the distinctive brass and burgundy furnishings associated with traditional European cafe decor, proficient, amicable service and – thankfully – the food make this an eatery where most Francophiles would feel at home.
The attention to detail was commendable; complimentary bread and
were top-notch, while the butter (oh, the butter!) must have been produced by a deliriously happy Loire Valley cow. We got off to an excellent start with the entrées, a robust al dente tortellini of white cabbage, duck confit and mushroom that was lifted by the delicate, heavenly flavour of a truffle veloute; the fish soup – presented in a playfully rustic earthenware jug on a wooden board – had oceanic depth of flavour.
But my mind was on steak, and this steak was as good as the one I'd had in mind – a generous lipsmacking slab of sirloin, medium-rare, served with a naughty cohort – a petite copper pot of rich
– and a fistful of watercress. The only disappointment was the fat chips (boo! Bring on the shoestring fries!)
Fortunately, the perfect consistency of the crème caramel and the fresh, summery flavours of the Salade de fraises Gariguette au basilic (strawberry and basil salad with lime mousse and pink Champagne granita) helped wash away any resentment about the supersized frites.
Call 0207 399 8460 to book.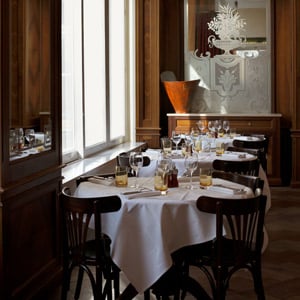 BORD'EAUX: Beurre-fect attention to detail
Why did you become a chef?
I grew up in the kitchen; my mother and aunt had a small hotel/restaurant at home in Poiters and worked there together for 38 years. I spent a lot of time watching them in the kitchen when I was a child and I became increasingly involved with helping them. I learnt a lot from watching them at work.
How does contemporary French cuisine differ from traditional French fare?
It seems that some chefs these days have forgotten that food needs to taste good above and beyond looking good. Obviously presentation is important but, for me at least, taste is paramount. It is as difficult to cook simple food as it is to cook complicated dishes.
Even with seemingly simple dishes, there is a lot of scope for mistakes to be made. I think that quality "simple cooking" can often be harder to get right because you have to understand all the ingredients and combinations. Anyone can mix things together and make them look pretty, but achieving on the taste front is another story.
For steak frites, the quality of the meat is crucial; chips must not be soggy and only the freshest potatoes can be used; béarnaise sauce must be served warm, and the dish should be offset by a perfectly crunchy, fresh watercress salad.
Does working in UK kitchens differ from other countries' kitchens?
I'm not too sure really as I left France when I was just 18 years old. I suspect French kitchens are a bit more old-fashioned and maybe it's harder to get promoted.
You cite
Phil Howard
and Bruce Poole as your mentors; how do they differ and what did they teach you?
I spent 12 extremely happy years working with them as well as 
. They are all honest, hard-working people who understand restaurants and know the industry inside out. They taught me a lot over the years and we had a very good relationship; it was like working with your friends. They understood about treating staff properly, looking after them and training them.
We had so much fun working together and we went through a lot: both at work and outside work. I will always cherish the years I spent with them. When we meet up, we always joke with each other and reminisce about the old times. They are always there when I need advice. The most important thing about them is they're just normal guys.
Can you describe the essential disciplines to cooking haute cuisine?
Never be happy with a dish, always try to improve it. Always try to aim for perfect food, you rarely reach it but you can consistently serve very good food. It's also paramount to remember to have fun doing it!
What makes a kitchen run smoothly and successfully?
Being nice to your staff is so important. You need to have discipline in the kitchen but the most important thing is to spend time cooking with your staff. At BORD'EAUX, I love cooking with them, they're all very good and it's a lot of fun watching them bond together during a busy service. We joke together (I'm quite clumsy!), but there is a mutual respect between us. Some of them have worked with me for years and are very close friends and we socialise together out of work too. As a chef you must always be passionate about what you do and enjoy what you do.
BORD'EAUX: A Francophile's haven
Have you seen an improvement in the standards of English restaurants and cooking?
I've been over here for 17 years and I think that the quality of the food in restaurants has changed a lot; there are so many wonderful places to eat. There are food markets everywhere. When I have relatives or friends coming over, they are always very impressed by the quality of the places I take them to; they think that I must be depressed because it rains and the food's poor in England. How wrong are they, my life over here is great!
How much of your job requires creative thinking and how much of it is delegating and hard slog?
I love my job at BORD'EAUX and my life over here in the UK. Creating dishes is amazing; delegating is always hard because I want to do everything myself, but I've got two great sous chefs – Paulie and Big Pete, they help me a lot. It's a hard job but it's the best job in the world! Managing people is the difficult part though but it keeps my job exciting as my team is always coming up with new ideas. 
What qualities do you believe a restaurant needs to attract – and keep – customers? Does it differ greatly depending on the restaurant's location (you were at the neighbourly La Trompette but now work on Park Lane)…
La Trompette was brilliant; it was my first head chef position and I knew all the locals, the butcher's and the grocer's. Chiswick has that small village feel, I still have loads of friends there. Park Lane is different but the important thing is to stick to your principles and be honest. We have great customers coming to BORD'EAUX.
Keeping the quality of food and service is the tricky bit, customers get fed up very quickly, but we already have a good crowd of regulars coming to the restaurant.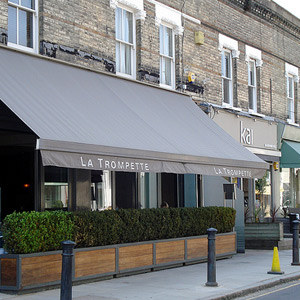 La Trompette: fanfares at the ready
Your advice to budding chefs?
Be honest and have fun!
Apart from your own (!) what restaurants would you recommend in the UK and beyond?
In London:
Chez Bruce
I love all the little places in Soho and I adore Spanish food. I really like the simplicity of these places, you can just have a great time with friends. There's no dress code, even at The Square you don't need to have shirt and tie! We tried to go to Hakkasan the other night, I couldn't get in because I was wearing jeans and trainers, I bet they wouldn't say no to Johnny Depp if he was looking a bit casual!
When I am abroad I love
in Puymirol;
in San Sebastian;
in Madrid;
El Celler De Can Roca, Girona and El Raco De Can Fabes, which is just outside Barcelona. I've had had really outstanding meals in all of those places. I love going to the Basque Country or Spain, they are amazing little places to discover.
BORD'EAUX
Grosvenor House Hotel
86-90 Park Lane
London
W1K 7TN
T: 0207 399 8460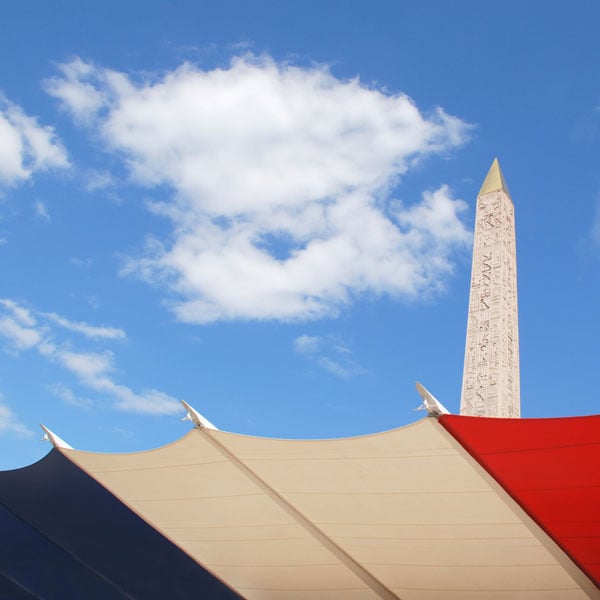 Subscribe to our magazine
Subscribe to delicious. magazine for HALF PRICE
Subscribe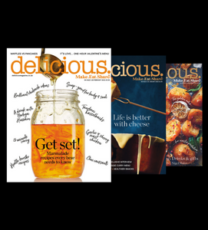 Join our newsletter
Packed with menu ideas, recipes, latest competitions and more...