Great British Bake Off episode 5: post-bincident calm is restored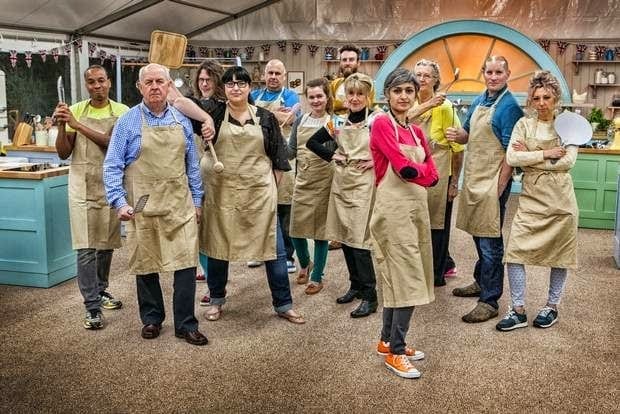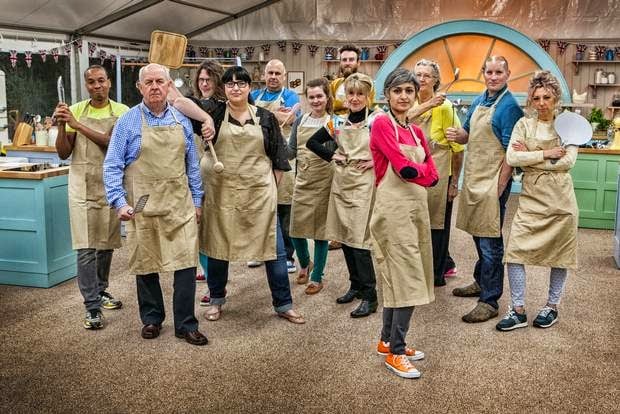 We're halfway through the Bake Off already (sob), and custard wasn't the only thing wobbling in the tent this week.

Tensions were running high as the bakers tackled pastry in this round of pies and tarts. With Diana taken ill, and therefore out of the series, there was a wavering suspicion Paul and Mary might keep everyone safe until next week, but old blue eyes wouldn't let them rest that easily…
Round 1: the steady hand test
The signature bake saw a mix of the classics (Norman, Kate), and the interesting (Nancy, Luis), baked to varying degrees of success. Another week on and Norman's still getting the raised eyebrow from Paul and Mary for playing it too safe. Paul said his simple tarte au citron needed to be absolutely perfect, but instead you couldn't see the tart for the icing sugar. The Rambo of the baking world declared it a mess.
Martha, who's been going from strength to strength, found herself at the mercy of harsh criticism with her apricot, pistachio and honey tart, ironically described by Paul as "too tart". It lacked shine and held too much moisture, prompting quiet tears from the young baker at her bench. Luis on the other hand added a touch of the tropics to the classic northern bake, the Manchester tart. It had it all – sharp citrus, golden pastry and a northern baker to boot – making it "very difficult to critique". And Nancy proved Paul and Mary wrong by using a shallow tin, achieving a perfectly set chocolate crusted and passionfruit tart. Hand me a fork.
Round 2: "I've never even poached a pear!"
…proclaimed Martha as she read through Paul's technical challenge. Instilling confidence from the outset, this challenge would test the baker's timing, ability to make a cheat's puff pastry, and get the cooling of the pears and chilling of the dough spot on so it didn't all collapse in the oven. Controversial sidebar: the freezer makes it back into frame this round, and the ever-thorough Richard makes a point of telling Chetna who's pastry is where. Good to see we all learned something after last week's freezer fiasco.
With none of the bakers familiar with the recipe, there was every opportunity for it to go wrong (don't make me say pear-shaped). Richard's blue pencil couldn't help him with this one, for melt his pastry did. Suffice to say he came last in the challenge with his full house of failures. Kate and Chetna took 3rd and 2ndplaces, and young Martha took back her weepy morning with technical victory.
Round 3: who raised all the pies?
Spirit levels, back-to-basics hand-raising and Norman "aiming a wee bit higher" proved everyone was pulling out the stops to make their self-supporting tiered pie showstoppers.
The bakers who deserved a pie-five:
Richard's steak and ale pie impressed Paul and Mary, as part of his posh builder's selection.

Nancy's hand-raised pies (without tins) won her Brownie points.

Kate's rhubarb, prune and apple pies earned her great comments for colour, amount of filling and flavour.

Chetna was officially re-hailed as "the flavour Queen" with her Indian-inspired pies.

Martha's three little pigs pies – despite some leakage – were inspired with a paprika-flavoured crust.
And those who fell short(crust):
The pastry on Luis' 4-tiered fruity seasonal pies looked great but was too thick for Mary.

Norman finally caved in to recipes with a twist, and baked a Pieffel Tower. Dry haggis, then a sweet pie topped with lavender meringue all took Paul by unpleasant surprise.
Consistency was calling the shots this week, and Kate was awarded Star Baker for hers. For Norman, the episode had a not-so-happy ending, as he and his lavender were sent home.
Did Paul and Mary let the right baker go? Will Luis and Richard go head-to-head in an engineering Bake Off? And now we're at the halfway point, who do you see storming ahead?
Are you a pie or a tart?
Subscribe to our magazine
Subscribe to delicious. magazine for HALF PRICE
Subscribe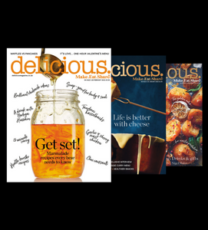 Join our newsletter
Packed with menu ideas, recipes, latest competitions and more...