Hear me, raw
Vegan blogger Naomi Rose explains how she incorporates raw food into her eating regime and shares some raw food recipes that prove that super-healthy foods can be a great addition to a balanced diet.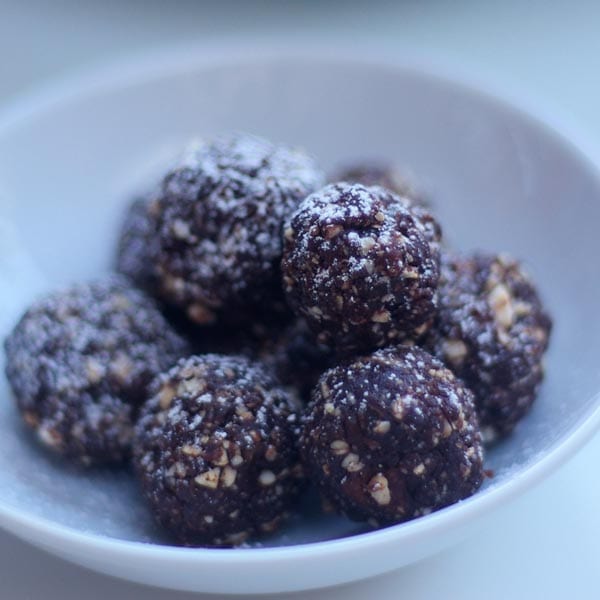 There aren't many things that I love more than coming into the house out of the cold, to a big bowl of warm soup or some hot baked goods, so the idea of taking off my coat and gloves and tucking into a nice cold salad is enough to make me want to hug my oven and never let go.
A raw vegan diet is a prospect that scares me, even as a vegan (a diet that already feels restrictive at times). It involves eating unprocessed foods that haven't been heated above 40°C, overnight bean soakings and dehydrators, substitutes for absolutely everything and definitely no baking.
I spoke to a few raw bloggers in my search for the magical ingredients that stop raw foodies from reverting back to heat and gluttony but most of the things I tried weren't enough to convert me. Pizza bases made of sprouted beans? Green shakes for breakfast? Not for me.
I did, however, manage to figure out three raw dishes that could easily be incorporated into a 'normal' diet without too much of a struggle.
The first one is a raw red cabbage slaw that's become a bit of a necessity in my fridge. There's always a bowl of this to snack on, or to stuff into a pitta with some hummus, or to add to some pasta. It keeps brilliantly, is utterly delicious and is super quick to make.
The second recipe is cauliflower 'couscous'. Not being able to use the traditional cooked carbs as a meal base can be pretty tough but this actually works pretty well as a couscous replacement! The texture is similar and it tastes like a summertime salad.
I had to try and make a half-decent raw dessert and these little brownie bites are definitely acceptable. They'd be great for kids with sugar cravings because they taste chocolatey but are packed with dates and nuts so are super healthy.
Give them a try; take a walk on the raw side.
www.thegluttonousvegan.com
Raw red cabbage slaw recipe
1 red cabbage
1/2 red onion
2 cloves garlic
A decent handful of coriander
1/2 tbsp agave syrup
2 tsp cider vinegar
1 lime
A splash of sunflower/canola oil
1. Grab your blender and throw in the red onion (roughly chopped), the garlic (chopped in half maybe), the coriander, syrup and vinegar.
2. Cut your lime in half and add one half's worth of juice. Whizz it up and add a bit of oil at a time until smooth.
3. Then thinly slice your red cabbage. Put it into a large bowl and put the marinade over the top. Grab some tongs or two forks and thoroughly mix it all, make sure the cabbage is nicely coated.
4. Squeeze the other half of the lime over the top and cover with cling-film. Stick it in the fridge for at least 30 minutes and you're all set.
Cauliflower 'couscous' recipe
1 cauliflower, chopped into florets with as much stalk removed as possible
1/4 red onion, diced
A handful of cherry tomatoes, quartered
A handful of chopped coriander
The juice of 1 lemon
1. Put the cauliflower florets into a blender and pulse until grainy and small like couscous, then just add the other ingredients and mix thoroughly.
2. Refrigerate for at least an hour to let the lemon juice do its job; this is great as a side salad.
Brownie bites
80g / 1/2 cup of dates
30g / 1/3 cup cashews
2 tbsp dark cocoa powder
1. Blend all the ingredients together until finely chopped. Scoop out a spoonful at a time and shape into a ball in your hands.
2. Leave to set for a few minutes until ready. Try not to eat them all yourself.
Subscribe to our magazine
Subscribe to delicious. magazine for HALF PRICE
Subscribe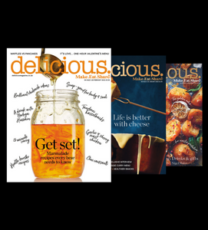 Join our newsletter
Packed with menu ideas, recipes, latest competitions and more...