Hong Kong
As the hot new face of Chinese cuisine, it was only fitting that we sent TV chef Ching-He Huang on a mission to bring you the ultimate foodie tour of Hong Kong.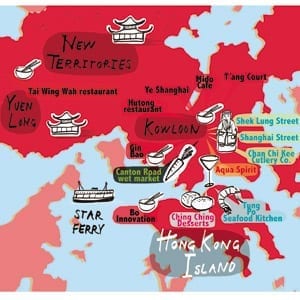 They call Hong Kong the City of Life, and no wonder. Exotic, neon-lit and frenetic, there's nowhere else on earth that teems with 24/7 energy in the same way as this cosmopolitan speck in the South China Sea. But after completing the challenging task of unearthing the best of the former British colony's culinary delights in just 48 hours, I reckon Hong Kong deserves to be renamed the City of Gastronomy. For whether you're in search of megawatt glamour or low-key relaxation, it's a place that offers pure foodie heaven.
First night supper
My previous trips to Hong Kong have been fleeting affairs – quick stopovers or business trips, where I usually ate at safe, recognised places. This time, though, I'm on a mission to push the boundaries to find the city's hidden food gems.
Keen, determined and armed with notepad and pen, I'm not sure where my whirlwind tour will lead. On our first night in Hong Kong, we meet one of our insider guides, Alvin Leung Jr, aka the Demon Chef, of Bo Innovation (U/G F, Ice House, 32-38 Ice House Street, Central; T: +852 2850 8371). Alvin doesn't look like a chef – with his trademark blue-streaked hair, sunglasses, diamond earrings and tattoo (the Chinese characters for 'Demon Chef' adorn his right arm) – he used to be a sound engineer. Now, though, he says that food is the new rock and roll.
Alvin's talented chef-de-cuisine Adeline Grattard, formerly of Paris's three-Michelin-star restaurant L'Astrance, works at his side and together they bring innovative Chinese cooking to an exciting new level at this contemporary black-and-gold-accented venue. We enjoy a formidable tasting menu, including Thousand-Year-Old Egg (a Chinese delicacy served in a crispy, pickled ginger sugar cone); pan-fried sweetbread in green onion ginger sauce; Chinese lettuce stuffed with a moreish oyster and pork filling; sautéed lobster with soy sauce, and grilled black cod, marinated in black bean and honey and served with wafer-thin pickled lotus root.
My favourite dishes are uni Shaoxing crab jelly (sea urchins served on a refreshing, light jelly infused with bitter-sweet Shaoxing rice wine and topped with crunchy chopped spring onions); and toro – the most prized part of the tuna – braised in Szechuan chilli oil, served with tomato confit and salt crystals. The latter's particularly special – the burst of sour and salt, together with intermittent kicks of numbing heat, leave my palate craving more.
The dessert of dragon fruit in ginseng syrup, and the Valrhona crispy chocolate cake with ginseng ice cream makes a fantastic finale.This is "extreme Chinese cuisine," as Alvin puts it. And, for a top-end restaurant, it's not overpriced at around £60 a head. The word is the Demon Chef will be coming to the UK soon, so watch this space.
The street market
Next morning, we rise bright and early for a visit to the local 'wet market' in Canton Road, Kowloon. It's an incredible place where fresh vegetables, seafood, fruits and meats come in daily from China and many other parts of the world.
But there's more to the market than amazing produce. In every city there are places with character, and charm, where food is served with soul and passion. There are many such places in Hong Kong, but the ones that stick in my mind are the cafés tucked away near this  lively street market where you can snatch a fantastic breakfast.
All day breakfasts
We eat at
Gin Bao
(Canton Road 'wet market', Kowloon). It serves incredibly affordable Chinese breakfasts and snacks all day long. You can pop in for a bowl of beef or duck egg congee (a soupy stew); char siu cheung fun (roasted pork with thick steamed rice noodles); fried dough sticks or rice sponge cake. My favourite is Gin Bao 'Golden Jewel' (pork dumplings), a treasure that certainly lives up to its name. We have plain mini cheung fun doused with dark soy sauce; pork congee and spring onions, and fried sesame balls. Each dish is less than £1. This is a real locals' place, where market traders rub shoulders with professionals and students. I hear one old lady shout: "The usual" in Cantonese, then set about her main morning activity – gossiping.
Another charming breakfast haunt is
Mido Café
(G/F, 63 Temple Street, Kowloon; T: +852 2384 6402), a 60-year-old local institution run by a Cantonese mama, Mrs Sing-Fan Huang. Mido is a family-style café that serves local delicacies such as Yin-Yong tea (half coffee, half tea), a famous Hong Kong-style brew, and bo-luo bao, a warm, egg-crusted, sugar-coated bun served with melted butter that tastes like Crunchy Nut cornflakes.
Ching & Mak Kip-Fu of T'ang Court
Lunch
My companion at the market is Mak Kip-Fu, executive chef of the
Langham Hotel'
top restaurant,
T'ang Court
(8 Peking Road, Tsimshatsui, Kowloon; T: +852 2375 1133).
Mak is a charming, zen-like presence with more than 30 years' experience as a chef. He specialises in authentic Cantonese cuisine with original culinary masterstrokes – we end up in his kitchen after an eye-opening morning at the market.Chef Mak prepares two of his simple dishes for me to try: stir-fried prawns in Long Jin tea and garlic chilli beef. Mak is graceful in his cooking style, reminding me of a Kung Fu master as he goes through each of the steps with elegance and precision. The prawns are crunchy and sweet, with a delicate taste of Long Jin tea, and the slivers of beef fillet are beautifully tender.
Then, in a smart silk-draped private dining room, we sample more of Mak's award-winning creations, including crab rice (fresh seafood fried rice presented in a crab shell, topped with a sheet of light, creamy melted cheese). To finish, I'm served a sweet, warm longan snow fungus and gingko nut dessert soup based on a traditional Chinese recipe. The snow fungus is said to be soothing on the throat and the gingko nut has rejuvenating properties. It certainly does the trick!
Shopping
Next up – a spot of shopping. But not for a Fendi bag or Gucci shoes, although there are plenty around! Rather, if you fancy picking up Chinese goodies in the form of authentic cast-iron woks, steel choppers or bamboo rice pots, be sure to visit
Shek Lung Street
or
Shanghai Street
in Kowloon.
Stores all along the street sell catering equipment, from Chinese scales to moulds for Chinese moon cakes. You can also pick up a statue of the Kitchen God – the Chinese burn incense to him to ensure a prosperous restaurant. We stop at
Chan Chi Kee Cutlery Co.
(G/F, 316-318 Shanghai Street, Kowloon; T: +852 2385 0317), where I pick up some vegetable cutters in the shapes of birds, turtles, lobsters, crabs and fish. If it weren't for the weight restriction on my luggage, I would kidnap a Kitchen God. Next time!
Cocktails
After this, we make our way to Peking Road for a pre-dinner cocktail at the chic
Aqua Spirit
(29-30th floors, One Peking Road, Tsimshatsui, Kowloon; T: +852 3427 2288). Vast windows offer an almost 360-degree view of Hong Kong's bustling harbour. What more could you ask for – especially when you're drinking cocktails such as the addictive Sake Lychee Mojito (Havana club rum, Japanese sake, fresh mint, lime, sugar, lychees and club soda); and Ice Volcano (an explosive mix of tequila, Cointreau, blue curaçao, lemon, lime and Bacardi 151). They're all sublime and cost around £6 each.
The bar also offers an array of bar food from Aqua Roma and Aqua Tokyo, the two restaurants downstairs (one's Italian and the other's Japanese). This is definitely a place worth stopping – the view of Hong Kong from the bar is absolutely unmissable.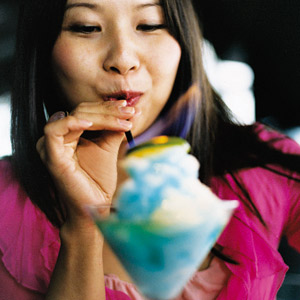 An Ice Volcano from Aqua Spirit
Dinner
The Aqua bar and dining concept was designed by Calvin Yeung, who is also responsible for
Hutong
restaurant (28/F, One Peking Road, Tsimshatsui, Kowloon; T: +852 3428 8342), where we choose to end the evening. Walking into Hutong feels like stepping back in time – its décor is elegant and modelled on the courtyard homes of Old Beijing.
I immediately fall in love with the mysterious and intimate feel of the place – and the food is just as good as the vibe. For starters, we have marinated scallops topped with fresh pomelo; green asparagus dipped in sesame; baby geoduck (a large clam) in Chinese rose wine and chilli sauce. For mains, it's on to crispy de-boned lamb ribs, Hutong-style – my favourite dish, with its crispy skin separating from the tender, smoky meat; crispy soft shell crab in Szechuan red peppers; and a sweet dim sum platter.
A delightful hot infusion of lychee, honey and rose tea leaves served with whole cinnamon bark, and a mildly spiced Cabernet Shiraz accompany the meal.   
Shanghai cuisine
From one chic dining experience to another – we visit
Yè Shanghai
(6/F, Marco Polo Hong Kong Hotel, Kowloon; T: +852 2376 3322), which specialises in contemporary interpretations of authentic dishes from Jiangsu, Zhejiang and Shanghai – three regions now celebrated as 'Shanghai' cuisine.
Yè Shanghai means 'Shanghai nights' and it celebrates Shanghai when it was known as the Paris of the East. The interior has a gangster-like feel – there are 18 private rooms with sofas, and settees out on the balconies for hire, and tables for an after-dinner game of mahjong.
Some of this restaurant's signature dishes are steamed pork dumplings; spicy sea cucumber; baked stuffed crab shells; black sesame crème brûlée; and sautéed minced chicken with pine nuts, served with sesame pastry pockets.
Have a few drinks here, listen to the live band, sample some fantastic food and – since it is located near the Star Ferry – grab your pashmina and take an after-dinner ride to Hong Kong Island. Before you go, pick up a bottle of the Yè Shanghai's Broad Chilli Bean Sauce – it's amazing when added to stews or stir-fries, and costs HK$40 (about £2.60).
 Ching with Toto
Celebrity chef cooking
If you're after the Hong Kong equivalent of dining at Jamie Oliver's Fifteen,
Tai Wing Wah
restaurant (2-6 On Ning Road, Yuen Long, New Territories; T: +852 2476 9888) is a must-visit. The restaurant's Hugo Man-to Leung, nicknamed Toto, is the godfather of Chinese food. A passionate teddy-bear-like frame greets us – and I am awestruck. Toto has won loads of awards, has 10 cookbooks under his belt and several TV shows. In Hong Kong, Toto is a star. He speaks Wai-to – a dialect of the mountain people from northern China – and his cooking reflects this background.
Toto serves us some of his famed dishes: steamed pumpkin with stir-fried garlic chives and fresh herb sauce; crab meat and egg mung bean noodle stir-fry; five-taste chicken; and barbecued pig's 'drippings' (the oil from roast pork is reserved and reheated with soy sauce to create a salty, smoky sauce to accompany rice).
Every dish is outstanding, but my favourite is the five-taste chicken – golden skinned, succulent smoky chicken with flavours of tangerine peel, cinnamon, black peppercorns and hints of bay leaf and star anise. The simple barbecued pig's drippings is a trip down memory lane. This is something my grandmother used to make for me when I was growing up.
Hong Kong island
For around £1.50 a ticket, you can take the Star Ferry to Hong Kong Island and eat at
Tung Po Seafood Kitchen
(2/F Cooked Food Centre, 99 Java Road, North Point, Hong Kong Island; T: +852 2880 9399).
The décor is basic and prices bargain basement – you have to rinse your own chopsticks and bowls first with hot tea, and beer is served in Chinese bowls. But don't be fooled – in this rough-and-ready place, we feast on some of the finest seafood around.
The maître d'/owner, Robby – with his punk-rock hair, ripped jeans and customised white wellies – serves us tiger prawns, golden and deep-fried with a salty egg-yolk batter; cuttlefish balls in squid ink; and razor clams in a pungent, smoky black bean sauce with peppers – so good and fresh I eat three platefuls. The house XO sauce – a dipping sauce made from Jinhua ham, clams, scallops, chillies and garlic – is mind-blowing.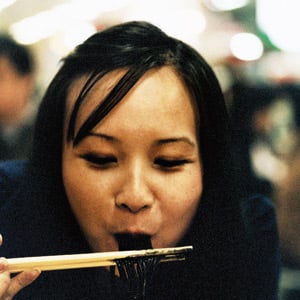 A slurper's paradise
Desserts
Even though we think we can't eat another thing, we end up at
Ching Ching Desserts
(G/F, 77 Electric Road, Tin Hau, Causeway Bay, Hong Kong Island; T: +852 2578 6162). It's a heaven-sent store full of authentic sweet dishes, such as black sesame seed soup with tang yuan – rice flour ball dumplings; and warm silken bean curd in a sago and fresh mango sweet soup.
I love it, and I'm clearly not alone. Even at 10.30pm, be prepared to queue. Each dessert is around £1; takeaway is possible, too.  So we end our whirlwind tour replete, inspired and happy. There's now no question in my mind that Hong Kong should be known as the City of Gastronomy.
Hong Kong fact file
The best time of year to visit Hong Kong is from the middle of September to the end of February. Ching flew with Air New Zealand to Hong Kong. Best fares are available at the Air New Zealand
, or call 0800 028 4149.
Ching stayed at the Five Star Langham Hotel. Visit
for the best online deals.
For more information on Hong Kong, click
.
Photos: Jason Lowe
Subscribe to our magazine
Subscribe to delicious. magazine for HALF PRICE
Subscribe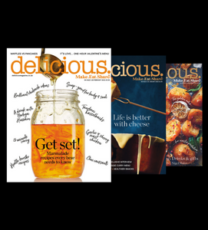 Join our newsletter
Packed with menu ideas, recipes, latest competitions and more...