By Rebecca Smith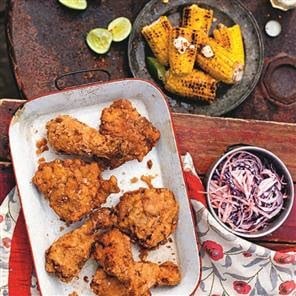 Fried chicken? Bring it on! And the sides too…
First came the burgers: shamelessly brash meaty monsters, groaning with toppings, sauces and sides. Then came the ribs, followed by the fried chicken, then the pulled pork sandwiches. 

A wealth of bourbon and rye cocktails followed hot on their heels and before we knew it, our restrained British dining scene was seeing a dirty food revolution – we were wallowing in the sheer forbidden, greasy pleasure of it all. Eating with your fingers! Loud music! Mac'n'cheese as a side dish!

But now the USA is sending a different scene our way. In the past year a smattering of smarter, 
'c
leaner
'
 restaurants have popped up in the capital – still very much American dining, but this time with less spit and more polish. The newly re-launched Avenue in St James
'
s is a perfect example. Slick service, fantastic American wines 
–
 sadly so difficult to get hold of over here 
–
 and classic American dishes such as clam chowder, cornmeal-coated crab and proper meatloaf. 
It bills itself as 'Manhattan meets Mayfair', and there's something rather refreshing about being served by people very American in their desire to please. It makes the self-consciously truculent staff in the dirty food joints seem a bit silly by comparison.
Christopher's in Covent Garden
and Ollie Dabbous' new
Barnyard
on Charlotte St are doing similar things – there's still an emphasis on good ol' Yankee comfort food, but with more of a nod to the fact that sometimes your dinner doesn't have to drip with fat to be delicious.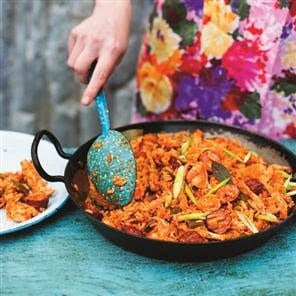 Last year, when dirty food was at its most popular we devoted a large chunk of our July issue to an American foodie roadtrip, and received fantastic feedback about it. While a lot of the recipes featured were unapologetically calorie-laden (see corndogsand Mississippi mud pie), some of our favourite dishes were the most sophisticated – cioppino, an aromatic fish stew from San Francisco, and a proper Louisiana jambalaya, incredibly complex in its flavourings, spring to mind. 

As we get into this next phase of foodie trends we're looking forward to seeing some of the more unusual and subtle dishes that the USA has to offer. Being given a knife and fork again won't be too bad, either…