A foodie guide to Istria, Croastia
The stunning Croatian peninsula is fast becoming one of Europe's hottest foodie destinations. Damir Modrusan, head chef of one of Croatia's finest restaurants, uncovers Istria's culinary secrets.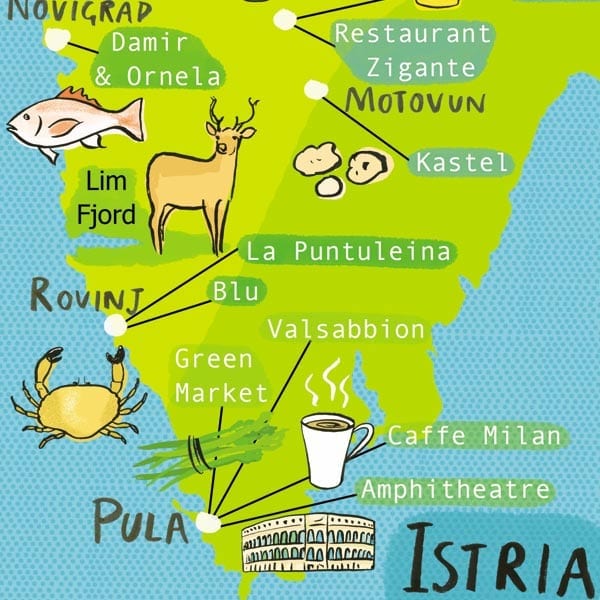 I'm a man on a mission. My passion in life is to wake the world up to the rich and distinctive flavours of my homeland. One day, I believe Croatia will challenge France and Italy for the crown of Europe's best cuisine – and I dream of that day.
But first we must change the world's perception of our gastronomy. Here in Croatia, we're a country that has emerged from the collapse of the former Yugoslavia and the shadow of war. For years, the food served to tourists was uninspiring. To create unforgettable food, you need to lavish love and care on it – but in those days, the restaurants and wineries were state-owned and no-one gave a damn.
Then war broke out and the tourists disappeared. No wonder many still think of Croatia as a gastronomic desert. But nothing could be further from the truth. In the northern peninsula of Istria, we are sitting on a treasure trove of natural ingredients and culinary traditions to rival any in the world.
Our meadows and hills are a riot of wild asparagus, mountain spinach, arugula (rocket), fennel, lavender, sage and wild thyme. Truffles sprout mysteriously in our forests and our coastal waters teem with fish, and I'd defy anyone to consider our salty sheep's cheese, sweet cured hams and freshly baked breads as anything less than a feast.
In the past decade, a new wave of passionate young chefs and producers has appeared – we share a love of our land and a desire to take the very best from nature and our heritage, and blend it with modern new ideas. This is a country where gastronomy is coming back to life after a long period asleep – and that makes it an exciting place.
Pula
Pula, the capital of Istria has its own airport for low-cost airlines. And just a few minutes up the road is the city's Roman amphitheatre, which is still used as a venue – Sting, Pavarotti and even Marilyn Manson have played here. For food lovers there's an exhibition featuring ancient culinary artifacts including amphorae (ceramic vases) that once contained oil, wine and garum, an aromatic fish sauce beloved of the Romans.
Just behind the amphitheatre in the Piazza Primo Maggio is the Green Market (daily) – so called because it's in the leafy shade of giant horse chestnut trees. The market is the heart of Pula – everyone goes for a gossip while nosing among the plump aubergines and courgettes.
In spring and early summer, you'll find one of the region's specialities – wild asparagus with its distinct bitter flavour. Chopped into a frittata, or blended into dough to make green gnocchi, it's typical of Istria.
You could say the market is where I fell in love with food. My very first experience of cooking came when I was nine, and my mother was away. I soon found I loved to experiment. Every morning I'd head for the market, dreaming of the dish I'd create that night.
I still love to experiment – and visit the market most days to buy produce for Restaurant Zigante, one of the best restaurants in Croatia, where I am head chef today. Now, I often take my daughter Debora and teach her to love the local food as I do. Afterwards, we go for a cappuccino and pastry in the Piazza Primo Maggio.
Eating out in Pula
When I was growing up, I never dreamed I'd be feted as one of Croatia's leading chefs. Then, in 1993, I went to Italy and worked in some of the top restaurants. Three years later, I came home bursting with ideas and ambition. That's when I landed a job at Valsabbion – the restaurant where I really learned what it means to be a chef. As one of the best restaurants in Istria, Valsabbion is in a beautiful location, perched on a peaceful bay on the outskirts of Pula. But it's the restaurant's owners, sisters Sonja and Sandra Peric, who make the place special.
At Valsabbion, attention is paid to every tiny detail – everything is beautifully presented with theatrical flair. Before their meal, guests are offered a tasting that celebrates the local olive oil. The menu itself emphasises top-quality local produce but with a modern twist. The constantly changing tasting menu is very popular, and regularly features dishes such as baked sardines with cornmeal crust, tiny oysters served with sea bass carpaccio, courgettes with fresh ewe's milk cheese, peppers with black olive tapenade, aubergine pâté, lobster, a delicate polenta, and squid ink risotto.
Sonja says the idea is to make dishes our grandparents would have eaten, but brought into the modern day. You won't be alone in discovering Valsabbion – stars including Jeremy Irons and John Malkovich have been there. But you will be discovering a hidden gem.
Because of our incredible coastline, seafood is a speciality all over Croatia. You'll find local restaurants serving oysters, salads of octopus and potato, scented with garlic and rich local olive oil, langoustines, crab and risotto of tender squid.
One of the best places to eat seafood is Rovinj, a picturesque medieval fishing town, which is very special to me as my parents used to take me there as a child.
Along one of the town's ancient cobbled streets, you'll find La Puntuleina. Named after the rocky outcrop on which it sits, this restaurant is known for its fabulous views. La Puntuleina serves the best fish in town. Local fishermen land sole, dorado, sea bass and turbot and bring them directly to the restaurant where they're prepared traditionally – grilled with olive oil, tomatoes and garlic.
If it's a more creative take on the fish of Istria that you'd prefer, Blu is worth trying.
Just north of Rovinj is the spectacular Lim Fjord, which is famed for its shellfish. Visit the area's best-known restaurant, Viking. It's a bit stuck in the past, but you'll enjoy mussels and oysters here that are unrivalled anywhere in the Adriatic.
Further up the coast is another charming seaside town, Novigrad, which boasts several worthwhile places to eat, including Damir & Ornela, where fresh fish is cooked at the table.
Inland Istria
Tourists usually stick to the coast, but locals who really value fine food head inland for a fantastic culinary experience. The landscape is like a verdant Tuscany, and it's full of passionate young producers working on the land. Many are producing the fabulous olive oil this region was once famous for – and Klaudio Ipsa of Ipsa Olive Oil  is typical of the trend.
He's from the village of Ipsi – which took his family's name 400 years ago. Klaudio makes the first Croatian olive oil to have won an entry in an Italian guide to the best olive oils in the world, and it has also won a Slow Food award. The olive goes from tree to bottle in less than 24 hours – and has a distinctive fresh, bitter and peppery taste, with a spicy kick. Visitors can book a tasting of the oil at Klaudio's idyllic rural home, along with a spread of rustic local fare such as prosciutto, cheese, sun-dried peppers, porcini mushrooms, white wine, home-made bread and plecka, a local delicacy of shoulder of lamb in olive oil and wine, and served with a bowl of fresh radicchio.
Agrotourism – such as the Toncic Farm run by Orieta Toncic and her brother Sandro – is another growing area, and there's no better way to discover rural Istria. Many farmsteads now offer lodgings and simple restaurants serving inexpensive, traditional dishes such as zgvacet, a stew of boiled lamb or chicken and onions, served with handmade twists of pasta called pljukanci; manestra, a seasonal soup with beans, corn, chickpeas and fennel; and ombolo, a spiced boned pork loin that is briefly smoke-dried over charcoal. This is the food I grew up eating, and I still love it.
But there's also the option of fine dining in the countryside. The fabulous San Rocco is one of my favourite places to eat. Tullio Fernetich has converted the farmhouse and outbuildings that have been in his family for generations into a small hotel and restaurant that manage to combine superb quality with a homely feel.
Everyone in the family has a role and the chef, Zoran, is a protégé of mine. He trained under me at Zigante, and produces delicate and well-presented dishes. Tullio has an extensive wine cellar and, if you're lucky, he may invite you for a tasting.
Fine wine
The wine revolution is probably the most amazing story to come from this region over the past decade. Long ago, Istria was famed for its fantastic wines produced from our local grapes – the white Malvasia, and the red Teran. Wine is part of our national identity – there's even an Istrian saying: Bread is for the body; wine is for the soul – but during the Socialist regime, the vintners had to sell their grapes to the state-owned wineries and quality was poor.
Over the past decade, the quality of Istrian wines has increased dramatically. But you have to come to Istria to try them – these producers aren't generally making enough wine to export, so you can't buy it in your local supermarket.
There are around eight Istrian vintners producing high-quality wine, and most vineyards along the Vinska Cesta, or Wine Road, offer tasting opportunities. My favourite is Kozlovic, which is produced by Gianfranco Kozlovic, whose wine has been voted the best in Croatia.
Gianfranco produces fresh young wines with a flowery aroma and high acidity, and a fuller bodied wine from a ripe grape that is low in acidity. He's also experimenting with maturing wine in barrels made from acacia wood. Visitors are welcome at the vineyard to taste the results and judge for themselves.
Livade and Motovun
Motovun is a medieval, walled hill-top village with romantic views. There's a spot on the road to the village that gives me goosebumps. If I could propose to my wife again, I would bring her to this spot at dawn, when Motovun appears through the clouds hanging above the wooded valley of the River Mirna.
I often bring friends to Motovun, and we have lunch at Hotel Kastel, which offers great views and a decent restaurant serving delicious red wine and affordable, traditional fare.
It's in the woods surrounding Motovun that the truffle hunters – known locally as tartufari – search out their treasure. Truffles, especially the white truffle tuber magnatumpico, are highly prized and can cost thousands of euros. Even the dogs trained to sniff them out are worth a fortune. And it is these mysterious tubers, which grow in the roots of forest trees according to lunar cycles, that lured me to Restaurant Zigante.
When you become a successful chef, it's a bit like being a footballer. I was poached from Premiership Valsabbion, to Championship 'team' Restaurant Zigante three years ago. It was the challenge of harnessing the truffle flavour that convinced me to 'transfer'. Owner Giancarlo Zigante is known here as the 'King of the Truffles'. He was a truffle hunter for 20 years until 1999, when his dog Diana sniffed out the biggest truffle in the world weighing 1.310 kilos, which won him a place in the Guinness Book of World Records. This brought him fame and he opened the restaurant specialising in truffles.
Joining Zigante was exciting – I wanted to challenge my creativity and working with truffles has done that. They are the most mysterious and magical of flavours – people become obsessed with them and it's supposed to be an aphrodisiac. What can I say? I eat them every day!
For me, nothing beats a truffle fresh from the forest. And the trick to capturing its essence is to keep the dish simple – I make an Istrian fritaja of eggs scrambled in the purest olive oil and dressed with black truffles; polenta with truffles and mushrooms; and fresh Istrian tagliatelle dressed with butter and truffles. I even make truffle ice cream, which is hugely popular.
For those who want to take the taste of the truffle home with them, Mr Zigante has a small chain of shops, Zigante Tartufi. The shops sell preserved truffles and truffle-flavoured mushrooms, goat's cheese and even honey. To me, the truffle sums up Istria – a fairy tale of a place, full of unique flavours. Once tasted, never forgotten.
For further information on the region of Istria and Croatia contact the Croatian National Tourist Office.
Croatia directory
Restaurant Zigante
Livade-Levade 7, 52427 Livade-Levade
Tel: +385 52 664 302
restaurantzigante@livadetartufti.com
Valsabbion
info@valsabbion.hr
Pjescana Uvala IX/26, Pula
Tel: +385 52 218 033
La Puntuleina
Sv Kriz 38, Rovinj
Tel: +385 52 813 186
Blu
Val De Lesso 9, Rovinj
Tel: +385 52 811 265
lidia.fabris@pu.t-com.hr
Viking
Limski Kanal, Sveti Lovre
Tel: +385 52 448 223
Damir & Ornella
Zidine 5, Novigrad
Tel: +385 52 758 134
Ipsa Olive Oil
Ipsi 10, Livade
Tel: +385 52 664 010
Toncic Farm
Cabanica 42, Zrenj
Tel: +385 52 644 146
San Rocco
Srednja Ulica 2, Brtonigla
Tel: +385 52 725 000
Kozlovic
Vale 78, Momjan
Tel: +385 52 779 177
info@kozlovic.hr
Hotel Kastel Motovun
Trg Andrea Antico 7, Motovun
Tel: +385 52 681 607
info@hotel-kastel-motovun.hr
Zigante Tartufi
(6 stores)
Umag: Punta (Hotel Sol), 52470 Umag
Tel/Fax: +385 (0)52 714 036
Buje: J.B. Tita 12, 52460 Buje
Tel.: +385(0)52 772 125, Fax: +385(0)52 772 105
Grožnjan: U.Gorjan 5, 52429 Grožnjan
Tel: +385 (0)52 776 099, Fax: +385 (0)52 721 999
Livade: Livade 7, 52427 Livade
Tel: +385 (0)52 664 030, Fax: +385 (0)52 644 031
Buzet: Trg Fontana, 52420 Buzet
Tel: +385 (0)52 663 340, Fax: +385 (0)52 663 304
Pula: Smareglina 7, 52100 PULA
Tel/Fax: +385 (0)52 214 855
Photographs: Cristian Barnett
Subscribe to our magazine
Subscribe to delicious. magazine for HALF PRICE
Subscribe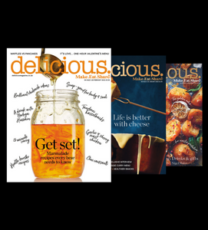 Join our newsletter
Packed with menu ideas, recipes, latest competitions and more...