Loose Ends February
Make the most of your specially bought ingredients from the February issue of delicious. magazine- use them up with these inventive ideas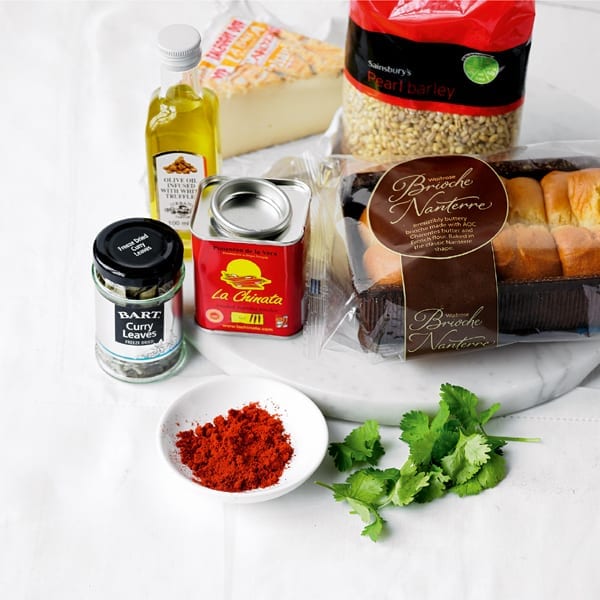 Brioche
For a weekend brunch treat, thickly slice leftover brioche, then dunk into beaten egg. Sprinkle with demerara sugar, then caramelise both sides in a hot pan with melted butter. Serve warm with fresh berries.
Cut thin slices and stamp out rounds using a biscuit cutter. Toast and use as a base for canapés. The sweetness of the bread works brilliantly with rich foods such as pâté.
Tear into bite-size chunks and toast in the oven until lightly golden. Scatter over a salad of winter leaves and add a garlicky dressing for an exciting sweet crunch.
More inspiration
White truffle oil
Truffle oil has a rich flavour and aroma that enhances many dishes, especially those made with mushrooms. Drizzle a tiny bit over homemade mushroom soup before serving for a pretty touch and a punchy finish.
Stir a few splashes into warm spaghetti or tagliatelle and finish with black pepper and grated Parmesan for a speedy supper packed with flavour.
Add a small splash of white truffle oil to scrambled eggs to give this classic breakfast a rich, nutty tang.
More inspiration
Pearl barley
Stir a spoonful of tahini paste, lemon zest, chopped mixed herbs and a drizzle of olive oil through cooked pearl barley, season to taste and use to stuff portobello mushrooms. Bake in a hot oven for 15 minutes or until cooked through. Serve scattered with fresh herbs as a gorgeous starter or light lunch.
Roast chopped winter veg in a hot oven with a drizzle of rapeseed oil. When tender, mix in cooked pearl barley with a handful of rocket and some seared halloumi for a wholesome, healthy supper.
Pearl barley is a great substitute for grains such as couscous, bulgur wheat or rice. Add texture and flavour to the next risotto you make by using half pearl barley and half rice.
More inspiration
Smoked paprika
This key storecupboard spice goes hand in hand with tomato-based dishes. Stir a pinch through homemade bolognese sauce or tomato soup for a deep, smoky flavour.
Mix a teaspoon of smoked paprika with a pinch of chilli flakes and a drizzle of oil. Rub onto the skin of fresh mackerel fillets and sear in a non-stick pan, skin-side down, until crisp and cooked through, turning to cook the other side for 30 seconds. Serve with a green salad for a fine lunch or supper.
More inspiration
Fresh coriander
Use the stems in curry pastes and stews to add a deeper taste, then add the leaves, chopped or whole, to lift the finished dish.
Use to garnish Oriental soups, Indian curries and canapés, or toss whole coriander leaves through simple leafy salads with other herbs to add flavour.
More inspiration
Dried curry leaves
If making your own chutney, add a few whole dried curry leaves to give a hint of Indian spice and a rich flavour.
Sizzle leaves in oil with mustard seeds for 30 seconds, cool and discard the leaves. Whisk the aromatic oil with a squeeze of lemon juice. Season and use as a dressing for salads.
For a cuppa with a twist, steep a handful of dried curry leaves in hot water for a couple of minutes, strain, then add a dollop of honey and a squeeze of lemon to taste.
Taleggio cheese
For a hangover brunch, sauté sliced mushrooms and garlic in butter, then spoon over slices of toasted sourdough. Top with crispy bacon and sliced Taleggio. Finish with another slice of toast, then warm in
the oven until melted.
Add extra creaminess to risotto or pasta. Stir through chopped Taleggio before serving, letting the melted cheese ooze into the dish.
Taleggio is a great addition to a cheeseboard. Serve at room temperature with biscuits and chutney.
More inspiration
Subscribe to our magazine
Subscribe to delicious. magazine for HALF PRICE
Subscribe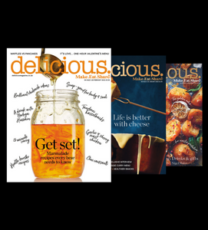 Join our newsletter
Packed with menu ideas, recipes, latest competitions and more...