Master Baker
Dhruv Baker won the coveted title of BBC's MasterChef, and is lauded as an emerging talent with the "palate of an angel". He talks to Debra Waters about what goes on behind-the-scenes at the UK's most popular cooking competition, and how he went from being a home cook to a pro cook.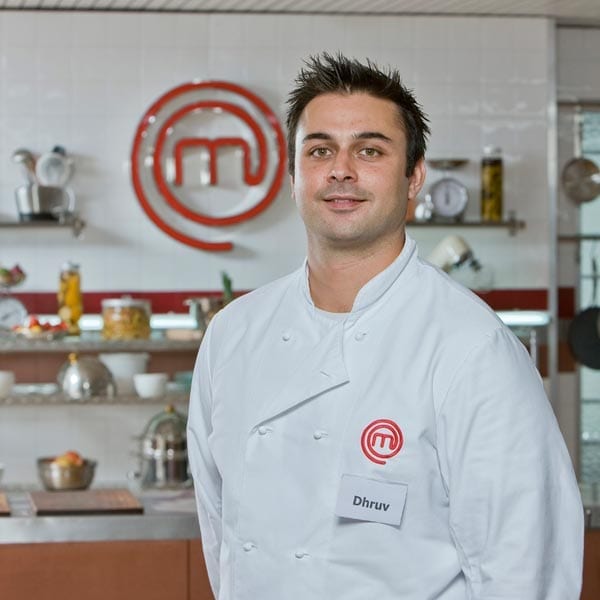 Dhruv, how do you feel about your newfound fame?
To be brutally honest, I'm not in the slightest bit prepared. Even when I applied I had no expectation – the closer I got, the more realistic it got!
Why is MasterChef so emotive?
I watched the show from the start; if you love food you'll love the show. Bits are exciting and glitzy but, at its heart, it's about the food, so it doesn't surprise me that it's so emotive. If people are moved it's testament to what people think of the show and I find that hugely flattering and humbling.
What was your main reason for entering?
Affirmation. That I could be a great cook. My friends and family tell me that but then they would!
You actually won last October; what have you been doing since then?
I had to go back to work; I finished (as a board director at Hi Tech Media) at the end of February. It was really tough to put the win in a box on the shelf and forget about it.
Was it a tight race between you and the other finalists?
So close, but that's what made it so exciting – there was no clear winner.
Are you still in touch with Alex and Tim?
After the show finished we met up a few times, and we email giving each other recipes and sharing advice. They were the only people I could talk about it with. We've come away from the experience close friends.
You had to walk down a lot of streets in slow-mo – was that sometimes harder than the cooking?
We'd arrive in the morning and do lots of walking shots. There were ongoing jokes about the walking shots! But it was a necessary evil.
MasterChef often looked tougher than being in pro kitchen…
There were situations that were barking, but it's about finding someone who can make it as a professional, who can cope. People have said that the task of cooking outside in India was unfair but kitchens in London aren't that much cooler than the Indian sun. Taking food over the cobbles (in a task set at the Tower of London) was only like taking food from an inside kitchen to a marquee on a lawn. We were put in these situations to prove that people can cope in extreme situations.
Any close calls?
At the girls' school in India I nearly burnt a dish. At the Maharajah's palace it was serene but inside the kitchen it was chaos; there was all this kinetic, sweaty energy. I didn't come apart but thought I could come a cropper.
What were your most inspiring moments?
As a personal experience, cooking in the palace of the Maharajah was way up there. In a pure cooking sense, the opportunity to cook for Alain Ducasse is more than I ever dreamed of. I was in jaw-dropping awe. We didn't know who his guest would be (the guests were five of Alain's Michelin-starred protégés); we only realised when we walked in for the criticism.
Dhruv's winning dinner
Starter
Saffron and ginger poached lobster tail with celeriac purée on blanched fennel with a burnoisette foam
Main
Venison with a potato, brunoise and fenugreek crust, sugar-glazed carrots on a carrot and cumin purée, confit chestnuts and venison jus
Dessert
A trio of desserts: poached pear in sauterne and star anise; masala chi ice cream; and a chocolate truffle with a pistachio topping
Did you get to pick what you cooked?
For Alain, they were his signature dishes; we were given a methodology and recipe that we interpreted. At the WI they chose the dishes for us. At the Indian school they were favourite meals. But at the palace they were all our dishes.
How much time did you have to prepare before each task?
The further into the competition the less time you got. After the first show I had six weeks to prepare, then it went down to three days to prepare four dishes, then we were told to 'submit six dishes tomorrow and we'll chose two'. Submit a dish that's not up to scratch and you're told to go away and try harder. You think it's your best but it makes you work – it's a ridiculously high standard and everybody raised the bar.
What did John and Gregg offer as judges?
In the pro kitchen scenarios John took the lead, as that's his background, and it was reassuring to have him around. What he doesn't know about kitchens isn't worth knowing. Gregg has an unbelievable palate; he can really pick out flavours.
You were recognised for your fusion cuisine; is this as a direct result of growing up in Mexico and India?
There's a negative perception of fusion, which I felt at first, but I now see it as an opportunity to clean up the name a bit. Being in close proximity to different flavours, styles and textures, I must have subconsciously absorbed it all, and now I've got a wider pool to take from.
What do you think great chefs have that make them great?
A complete air of confidence and utmost self-belief. They are incredibly well organised and very well prepared. In Holland (for the task in the 3 Michelin star restaurant De Librije in Vwolle) there was a brigade of 19 chefs; if the head chef has doubts then the other 18 have doubts.
Any tips for home cooks?
Be a tidy cook. It was instilled in me from the start; if you use something wash it up then and there and eventually you do it without thinking. It helps you focus on the food – you can't create an immaculate, creative dish if it's a scene of devastation in the kitchen and you're freaking out trying to find a knife. Be organised.
Your dishes were described as elegant, complex, amazing… your palate that 'of an angel'… your starter ' a serious dish' by Alain Ducasse. What three words would you say summed up your cooking?
Fusion. Elegant. Exciting.
What's next?
I'll be at the Summer Good Food Show in Birmingham; I'm gaining more kitchen experience; and I hope to have my restaurant up and running within 18 months. Now that I've got the luxury of restarting my career from scratch, my wife and I could be starting a new lifestyle from scratch, so it could be out of London.
Dhruv will be appearing at the Summer Good Food Show in Birmingham 18-20 June. Visit
for more info.
Subscribe to our magazine
Subscribe to delicious. magazine for HALF PRICE
Subscribe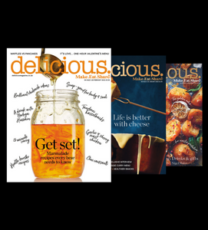 Join our newsletter
Packed with menu ideas, recipes, latest competitions and more...