MEET OUR WINNER! Behind-the-scenes shoot with our 2015 photography competition winner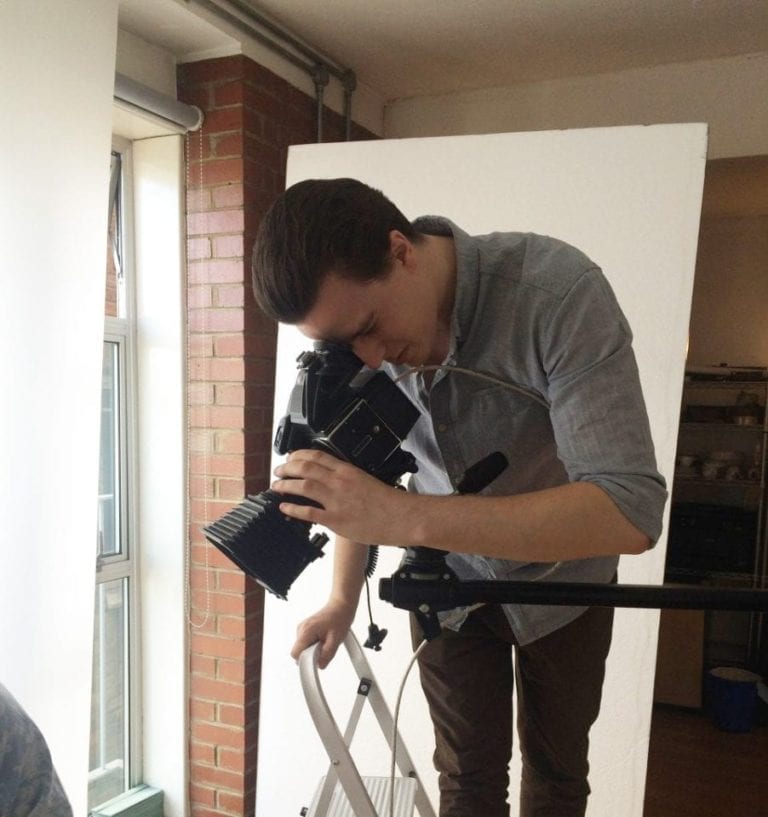 In February we invited people to enter our food photography competition – with the chance of winning a state-of-the-art Nikon camera and the opportunity to shoot a feature for the magazine. The judges were blown away with the incredibly talented photographers amongst you but it was Alex who wowed with his series of nectarine images.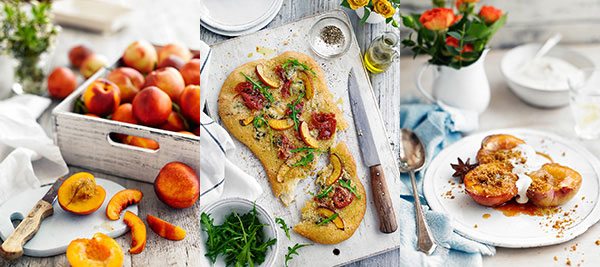 So meet Alex Luck, the 2015 delicious. photography competition winner…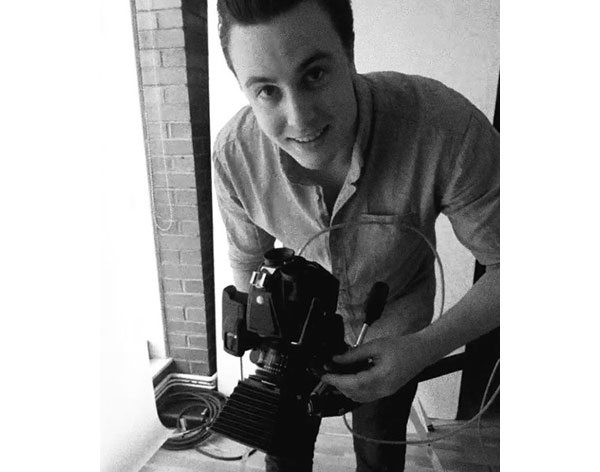 Alex impressed so much we asked him to photograph TWO features for the October issue – you can find them in the magazine out now. We went along to see him at his flat, which doubled as our studio for the day, for his shoot.
Alex was a natural which comes as no surprise – he's been training with photographers and trying to break into the very competitive world of photography for a while now. He said: "I've assisted lots of food photographers, all over London, for nearly three years and I've worked on all kinds of shoots, picking up lots of tips and tricks along the way."<strong> </strong>
First things first, setting up the composition of the shot. There's lots to think about – the background, using different textures to make the shot interesting, which plates or bowls to use, where to place them and which props, such as cutlery, napkins or salt and pepper pots, to use.
Alex said: "The inspiration comes from what's placed in front of it. The shape and texture of the food, combined with a brilliant choice in props, can hopefully lead to some great shots. Beautiful food and great natural light get me excited to take pictures – the food has to look appetising."
Here he is getting ready for the squash and apple soup shot.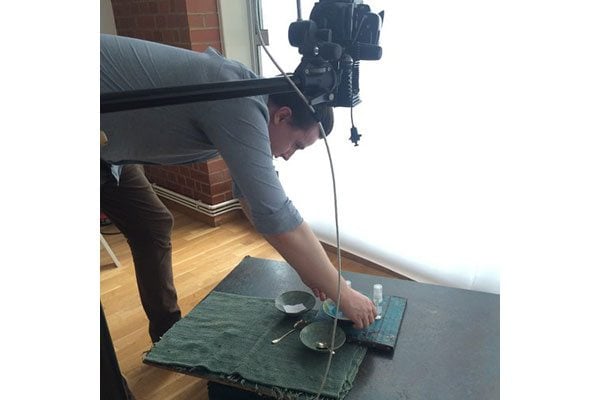 After the props are in place, food editor Becks takes her dish onto the set and Alex makes a quick alteration of the camera. One of Alex's top tips for photographing food is to find the best angle for it. "Some foods have certain graphic qualities and will look best shot overhead" he said "but other foods will need to be shot from a lower angle. It's best to get the composition in place before any food arrives so you can concentrate on it, without having to worry about what's going on in the background."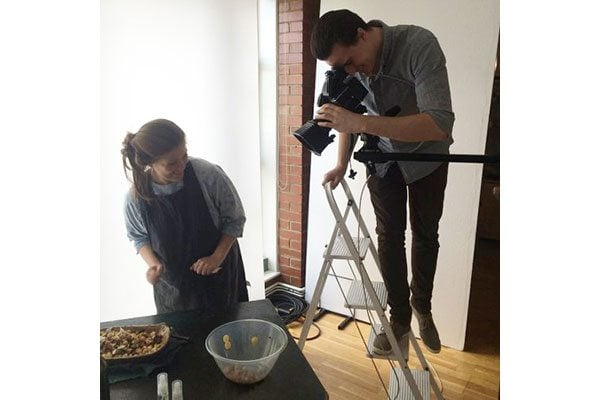 Once snapped Alex goes to his computer to check how the shot looks on screen. He has a great eye for detail and shooting food seems to come so naturally to him. It made sense when he said that he'd always had a passion for food – fuelled by his family who grow a huge variety of fresh fruit and vegetables.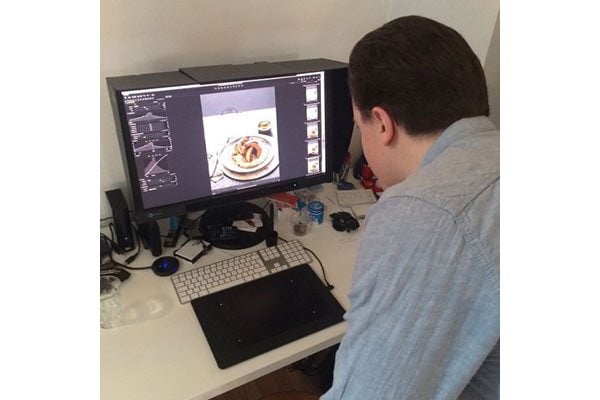 Once all of the shots are taken they are displayed together to make sure they work as a feature… all under the beady eyes of the food team.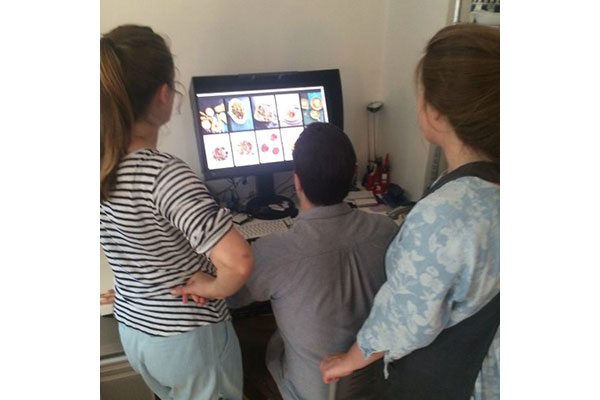 It was a long day with 10 shots all done before the sun went down and light faded. Afterwards I asked Alex how he felt after his first shoot with <strong>delicious. </strong>magazine: "It was great to be able to work with such a fantastic team – to be given a brief and allowed to interpret it in my own way. I'm really pleased with the final images and can't wait to see them in print."
Here's a glimpse of just some of the images Alex took on the shoot.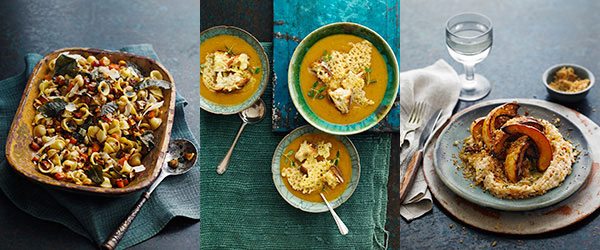 Make sure you heed Alex's sound advice: "Plan what you are going to shoot, don't just pull together some of your favourite images, try to make a story as if you had just been commissioned. Treat it like the real thing. Maybe even write a short brief and choose a theme for the shoot, then select some recipes and decide how best to show off your skills."
Subscribe to our magazine
Subscribe to delicious. magazine for HALF PRICE
Subscribe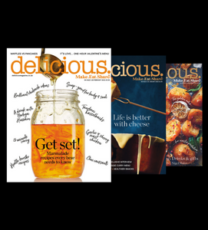 Join our newsletter
Packed with menu ideas, recipes, latest competitions and more...