Minutes with Stephen & Juliette Wall, Pho
Leaving secure jobs to set up Vietnamese café Pho, the husband and wife team now have four restaurants in London and Brighton. They tell Debra Waters the secret of their success.
Lots of people go on holiday and fall in love with the food but not many decide to open a restaurant when they return. What gave you the drive?
We felt we needed to be in control of our own destiny and as we both have a love of food it seemed like the natural industry to move into.
What were your previous jobs and did any of the skills you learned come in handy for running a restaurant?
We both worked in marketing and spent a lot of time understanding what customers wanted and looked for in brands. On a day-to-day basis our jobs involved a lot of planning, negotiation, crisis management in terms of reacting and dealing with the unexpected, and working with a team of staff. All these things transfer well to the restaurant industry.
Potential small business owners would love to know how you go about getting backing for your venture and the right chef and staff…?
Lots of planning and research and a very in-depth business plan that demonstrates a good and viable business model will attract financial backing. Recruitment is no different than any other business: advertising, word of mouth, and training up the people you have already to flourish and grow with the company.
What does a typical working day consist of?
There is no such thing as a typical working day!
You now work together: how do you keep business and pleasure separate?
We both focus on different aspects of the business and have a little 3-year-old boy who makes it impossible to work when he's awake. We have to have "home" life now for his sake but before he came along work/business was our life. One day we hope the balance will be more 'balanced'.
What are the high points – and low points – of running Pho?
Last week was our busiest week ever and it's great to see so many happy customers. Low points… some days can be very stressful as you never know what the day will entail especially working with so many people who all have such a major influence on the business.
What is it about Vietnamese food in particular that you love so much?
It's so fresh, healthy and versatile. You make a dish taste the way you like it with the addition of herbs and condiments. It's never boring.
Where do you source your recipes and how important is authenticity to you?
Authenticity is very important but all over Vietnam things are made differently. Pho in the north of Vietnam is a totally different taste and experience to pho in the south. Authenticity is a very tricky subject as people have very different ideas about what they think is right. We based our menu on our favourite examples of the dishes we experienced in Vietnam on our travels. Our menu is small and specialised so we can make everything from scratch correctly on each site.
Do you think the UK has embraced the fresh, light food of Vietnam?
Yes and it is embracing it more and more each year. It is healthy and lighter than some other Asian foods, which means it is likely to grow in popularity considerably. Travel to Vietnam is also increasing.
You now have four restaurants – three in London and one in Brighton. Do you have further plans for expansion in the UK?
Yes, we are opening in Soho in about a month's time. After that we will have to see but we aim to expand a little more in the London area before considering the rest of the UK.
What three words would you use to describe Pho?
Fresh, healthy and authentic.
Pho website
Subscribe to our magazine
Subscribe to delicious. magazine for HALF PRICE
Subscribe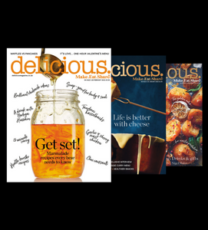 Join our newsletter
Packed with menu ideas, recipes, latest competitions and more...