Minutes with Tom Kitchin
Debra Waters talks to Tom Kitchin, the affable chef proprietor of Michelin-starred restaurant The Kitchin in Edinburgh, about his new venture, Castle Terrace and the secret to his success.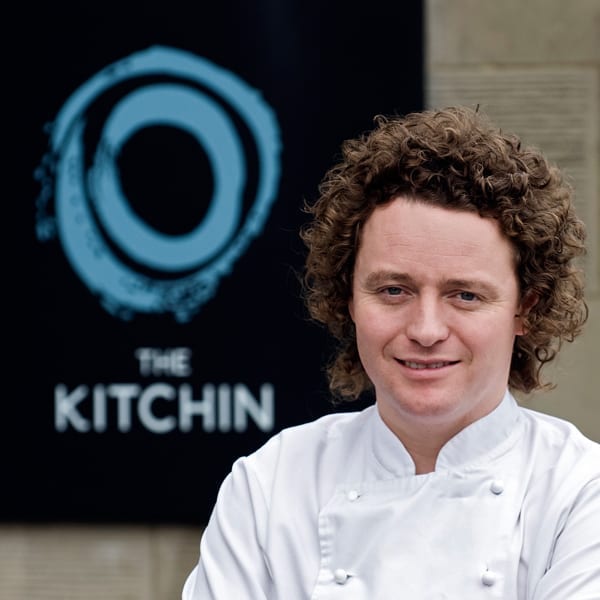 You already achieved admiration for your Michelin-starred restaurant The Kitchin; what do you think Castle Terrace, the new venture you're behind, will bring?
It's hard to tell really but Dominic Jack is such a brilliant chef and the location of the city centre restaurant is fantastic – at the foot of Edinburgh Castle. We've also learnt a huge amount in the last four years at The Kitchin, and despite the current climate, we know there is demand in Edinburgh city centre for a restaurant like Castle Terrace.
We never set out to gain a star when we opened The Kitchin and when we did it was a true surprise – we were so thrilled. Dominic and I trained in Michelin star kitchens so both of our cooking styles very much reflect that standard. What we aim for at Castle Terrace is a busy restaurant and happy diners – and if a star comes well all the better!
How does the new restaurant differ from The Kitchin?
In many ways the two restaurants are very similar – both aim to offer a modern relaxed, welcoming atmosphere and serve the best quality Scottish ingredients. Many of the team were trained at The Kitchin and so share the same values, passion and knowledge. However, Castle Terrace is a city centre restaurant and the interior and menus reflect that.
The restaurant also offers a fantastic private dining space for celebrations or functions. While diners at The Kitchin can see us at work through the kitchen window, Castle Terrace has a unique chef's table that lets guests watch on into the kitchen as they enjoy a glass of champagne or aperitif before they dine. And although Dominic and I have had similar career paths, training with some of the world's top chefs, Dominic's cooking style is very different from mine. His food is more refined, whereas I have a more rustic style.
You have a long-standing friendship with Dominic Jack. How did he come to be your trusted chef patron at Castle Terrace?
Dominic and I met as commis chefs at Gleneagles Hotel when we were just 18 and went off on similar routes, working in some of the world's greatest restaurants. We met again in Paris, where I worked for Guy Savoy, and Dominic was working with Alain Solivérès at 3 star Michelin restaurant Taillevent. I spent about a year sleeping on a lilo in Dominic's kitchen!
We're great friends and share the same ambition when it comes to cooking. I convinced Dominic to come back to Edinburgh about 18 months ago, so we've been planning the new venture for some time. Dominic is a trusted friend and shares my passion for Scottish produce – he has such a way with creating truly fantastic flavours.
What is your input in the menu at the new restaurant?
None – the menu at Castle Terrace is created and developed by Dominic and very much reflects his experience and expertise. Although we do have a long running argument that he actually stole one of my recipes and passed it off as his own!
Do you have a current ingredient or dish you can't live without?
I'm fanatical about cooking 'a la minute' right now – something I had ingrained in me during my time working with Alain Ducasse. It's very much in keeping with our 'From nature to plate' philosophy. We have a new supplier of wild salmon and sea bass, so I'm introducing some exciting new dishes to our menus.
Castle Terrace
Castle Terrace will reflect the same 'From nature to plate' philosophy renowned at The Kitchin. Tell us more.
It's our philosophy at the restaurant and we genuinely live and breathe the ethos – all of our menus are seasonal and we rely on the best suppliers in Scotland to bring us the highest quality, freshest, flavorsome produce there is. I've worked in some of the world's greatest restaurants, but have always championed Scottish produce to be the finest around. We pride ourselves on the fact that all of the produce arrives at the restaurant daily straight off the land or shores of Scotland. All the fish arrive whole, the shellfish alive and all meats and game newly shot in furs and feathers. The butchering and filleting is done in-house to ensure the best cuts and finest flavours.
Edinburgh is gaining a reputation as a food lover's paradise. What is the secret of the Scottish capital's culinary success?
Edinburgh is becoming a real foodie destination. Edinburgh now boasts five Michelin star restaurants – three of them in Leith. There are some great chefs working in the city and the produce we have access to in Scotland is second to none.
It's such a great city for tourism so it makes sense that we have a choice of fantastic restaurants – the more quality restaurants we have, the better it is for the city. The restaurant scene is booming here right now and there is certainly demand for it.
And what, would you say, is the secret to yours?
I'd say my passion and genuine love of cooking with the freshest, seasonal produce around. I'm always trying to push myself when it comes to cooking and I'm dedicated to being in the kitchen for each and every service. I was always taught that the sign of a good restaurant is when you know the chef has put his passion and personality into each dish that comes out of the kitchen.
We never sit still at The Kitchin and I think that has helped us to succeed. That and the support and help of my father Ron and wife Michaela – they're the business minds and I rely heavily on them, as well as Maitre d' Phillipe Nublat. Without them we wouldn't be where we are today.
What makes certain restaurants survive and other fail in a difficult economic climate?
You can't just sit back and hope a restaurant will succeed – even if you're cooking some of the best food around, you need the right elements to make a restaurant a success. My focus is always on the kitchen and making sure we're working with the seasons, the best suppliers and the best chefs and I'm constantly pushing myself to improve what we offer. My wife Michaela plays a huge part in the business – her influence on the interiors, the atmosphere and all of the PR and marketing of the business is invaluable. We've also built up a fantastic team around us over the past four years, and each and every one contributes to the entire restaurant experience.
Awards, accolades and reviews, have certainly helped us along the way too. After our recent five star review from AA Gill, our phone didn't stop ringing. Since we opened the restaurant in June 2006, we have seen the business develop quickly and we have received a lot of recognition and several fantastic awards. We have also re-invested every penny to constantly improve the restaurant by creating new menus and developing the wine list. I believe strongly in consistency and never allowing our high standards to slip and I think that's played a huge part.
You've appeared on Great British Menu and other TV shows. Do go on TV purely for publicity or the challenge?
At first, I refused to do any TV appearances – my place was, and still is, in the kitchen. But I've come to recognise the importance it has on the business and programmes like the Great British Menu – while incredibly tough – are a great way to learn, share ideas and push yourself. The impact TV has is incredible. I prepared a Beef Wellington in the last series of The Great British Menu, and when we put it on our menu at The Kitchin, we were inundated with diners who had followed the series.
I have been involved in the last series of Masterchef the Professionals and it was a great honour to sit alongside some of the world's top chefs. It was great to be able to encourage and pass on our expertise to the aspiring chefs, some of who were incredibly talented – like winner Dhruv Baker who we recently had in The Kitchin for work experience. Encouraging people and passing on what I've learnt in the industry is something I'm really passionate about.
For more information on Castle Terrace or to make a reservation call 0131 229 1222 or visit the website.

Subscribe to our magazine
Subscribe to delicious. magazine for HALF PRICE
Subscribe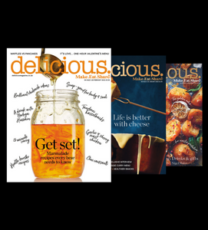 Join our newsletter
Packed with menu ideas, recipes, latest competitions and more...